PSA Set Registry
Collecting the 2001 Pokémon Neo Discovery 1st Edition Set
A Largely Undiscovered Pokémon Issue
by Kevin Glew
It's an early Pokémon set that many collectors have yet to "discover."
Being the second release of the Neo series and lacking any rare Shining cards has made the 2001 Pokémon Neo Discovery 1st Edition set easy to overlook.
"I'd say as far as card desirability, it's on the lower end of the four Neo sets," noted Zack Browning, who owns the No. 1 Current Finest 2001 Pokémon Neo Discovery 1st Edition set on the PSA Set Registry. "But at the same time, it's a great set ... I think it's a desirable set compared to other [non-Neo] Pokémon sets out there."
Produced by Wizards of the Coast (WOTC), this set continued to introduce second-generation Pokémon. At 75 cards, it was significantly smaller than its predecessor, the 2000 Pokémon Neo Genesis series.
The first 17 Neo Discovery cards are holographic singles. In all, this set offers four different levels of cards that are grouped together throughout the issue (see accompanying chart).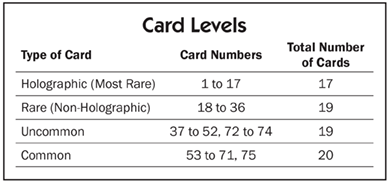 Following in the footsteps of the Jungle and Fossil series, Neo Discovery showcases rare holographic cards (#1 to #17), as well as a second subseries featuring the same Pokémon in non-holographic form (#20 to #36). There are also additional non-holographic rare cards of Beedrill (#18) and Butterfree (#19).
Like the 2000 Pokémon Neo Genesis 1st Edition singles, these cards boast yellow borders with the name and HP at the top above the artwork. The 1st Edition stamp (Edition 1) and the Pokémon's vitals (type, length, weight) ensue, followed by the Trading Card Game information. The Weakness, Resistance, and Retreat Cost can be found at the bottom.
As with the Neo Genesis singles, you'll notice that there are differences between the Neo Discovery cards and the design of the first-generation singles. For example, the HP in the top right is in small black print rather than larger red print. There are also additional graphics below the words Weakness, Resistance, and Retreat at the bottom.
The set symbol, which can be found to the lower right of the artwork, is a Mayan temple.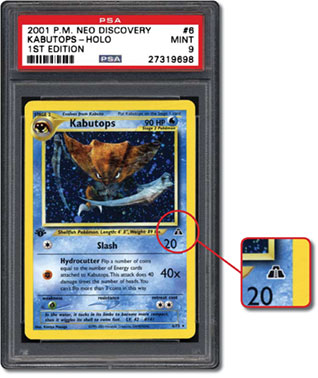 "I think the Neo Discovery artwork is underrated," said well-known Pokémon trading card expert Scott Pratte. "The artwork is really well orchestrated."
Pratte also notes that more work appears to have gone into the backgrounds of the artwork on these cards.
"In this set, you start to see them focus more on the background, whereas if you look at Neo Genesis, it was pretty much just Pokémon with a generic backdrop," said Pratte. "In the Neo Discovery set, you see some of the Pokémon interacting with the background."
Released on June 1, 2001, the Neo Discovery 1st Edition cards were available in 11-card booster packs that consisted of seven common cards, three uncommon cards, and one rare card. Holographic cards were inserted in approximately one of every three packs.
There were four Neo Discovery 1st Edition pack wrappers each highlighting a different Pokémon, either Scizor, Smeargle, Xatu, or Umbreon. There were 36 packs in each booster box. The 1st Edition packs and booster boxes are clearly marked with the "Edition 1" stamp.
Another "unlimited" version of the Neo Discovery cards was manufactured in much higher quantities and is less valuable. The "unlimited" cards do not have the small circular black stamp on the left (that says "Edition 1") below the character box on the front.
Unopened Neo Discovery 1st Edition booster boxes and packs are in high demand and have become tough to track down. Pratte says it appears that fewer Neo Discovery cards were produced than Neo Genesis.
"When you go back and try to collect this set now, it's difficult to collect because it seems like not that many were printed," said Pratte.
Pratte notes that many of the boxes are being opened in box breaks on YouTube.
"The only real way to find one of these boxes anymore is if it's with someone who collected it at the time and they just forgot about it," explained Pratte.
A PSA GEM-MT 10 booster pack fetched $349.99 on eBay in August 2017.
As with the previous Pokémon sets, the most coveted cards in this series are the holographic singles. Two of the most sought-after cards - Espeon (#1) and Umbreon (#13) - are Eeveelution cards. Eevee is a popular, little dog-type Pokémon that can evolve into Espeon and Umbreon.
"Any cards that evolve from Eevee are going to be very collectible," said Pratte. "There's a whole subgroup of people that just collect anything Eevee. There are people out there that just get every Eeveelution card no matter what it is."
These cards can also be considered the Espeon and Umbreon rookies.
Of the 144 Espeon cards submitted, there have been 39 PSA 10s.
The Umbreon card (#13) is the most submitted in the series. This card marks the debut of the popular dark, dog-like creature who is pictured against a striking moonlight blue background.
"I would say that Umbreon is by far the most popular card in the set, and for its artwork alone," said Browning. "It's one of the Eeveelutions which has always been popular. I think it would probably be the most desirable from just a general collectors' point of view."
There are 43 PSA 10s and 103 PSA MINT 9s. One PSA 10 sold for $760 on eBay in September 2017.
Browning also notes that the non-holo rare Espeon (#20) and Umbreon (#32) singles are the only two cards that have different artwork than their respective holographic cards.
The most elusive holographic card in high grade in this series is the Yanma (#17).
"If you're talking about value and grading difficulty, the Yanma would be far and out the most valuable card and the most difficult to grade," said Browning. "In the [PSA] Population Report, Yanma has a pop of four [PSA 10s], which is fairly low."
Browning says poor centering plagues this card, although it can also be found with corner and edge wear.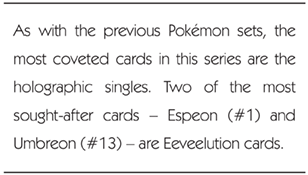 Pratte points out that the most difficult card to obtain in high grade for the Neo Genesis set is also card #17 (Typhlosion), so he says the condition sensitivity of these cards could be attributed to the position of card #17 on the sheets.
"I don't know if it's something about the way the sheets are set up, but it's very coincidental that the No. 17 card in both sets is so difficult to grade," said Pratte. "The Yanma card has the exact same problems as the Typhlosion, and it's mostly around centering."
In general, cards located on the edge of print sheets are the most susceptible to miscuts and centering issues. Unfortunately, an uncut sheet of holographic Neo Discovery or Neo Genesis cards could not be tracked down to verify where these cards were on the sheets.
One of the four PSA 10 Yanma singles garnered $2,286 on eBay in October 2017.
The Tyranitar (#12) is another coveted single. This card features the dinosaur-like monster in action with its mouth open against a reddish background.
"It's kind of like the Dragonite from the original 150 Pokémon," noted Browning. "I always put the two together; they just look very similar."
There's also a subgroup of collectors that focus on Tyranitar cards. Of the 127 evaluated, there have been 30 PSA 10s and 64 PSA 9s.
Another card that stands out for its artwork is the Kabutops (#6). The sinister looking bat ray-like creature looks like it's going to come right out of the card and attack you. There are 26 PSA 10s and 58 PSA 9s.
If you look closely, you'll also notice some minor errors on a few cards in this series. For example, on both the Scizor holo (#10) and rare non-holo (#29) cards, the attack's damage done is listed at 20+ when it should be 20x. Also, the Kakuna single (#41) lists its copyright as 1995-2000 while the other cards have a 1995-2001 copyright.
To a lesser extent, these cards are subject to the same condition issues as many of the previous WOTC Pokémon series, such as poor centering and chipping of the blue borders on the reverse.
"This set has a better overall quality," said Browning. "You'll see the same condition issues that you see across all Pokémon issues, but I think, in general, those issues are less prevalent in Neo Discovery."
As noted earlier, this set enjoys a relatively low profile amongst Pokémon collectors, but with more hobbyists revisiting the early WOTC series and the supply of unopened booster boxes drying up, the demand for Neo Discovery 1st Edition cards could increase.
"I think it will continue to grow," said Browning of the interest in Neo Discovery 1st Edition cards. "And those staple cards, Umbreon and Espeon, will always make Neo Discovery relevant."
For more information on the 2001 Pokémon Neo Discovery 1st Edition gaming card set, please visit https://www.psacard.com/cardfacts/non-sports-cards/2001-nintendo-pokemon-neo-discovery/32700.
---
Please feel free to contact Kevin Glew at [email protected] if you have any additional information or comments. Please note that the Population Report figures quoted and Set Registry rankings reported are those as of December 2017.