The Grading Standard for Over 24 Years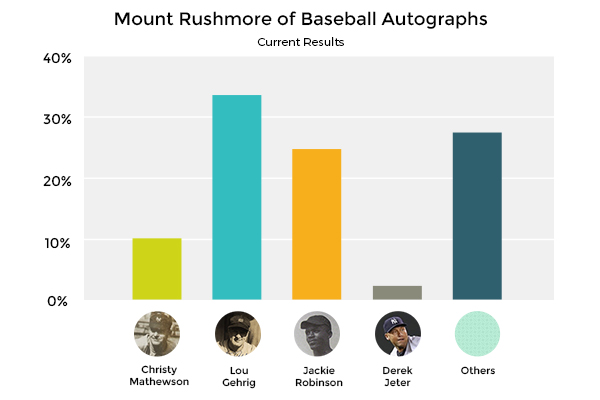 GET MORE HACKS
Thank you for subscribing. You have successfully been added to the bi-weekly PSA Insider Newsletter.
Mount Rushmore of Baseball Autographs - Current Results
Votes: 274
34.16%
Other (please specify)
Votes: 224
27.93%
Votes: 202
25.19%
Votes: 83
10.35%
Votes: 19
2.37%
Taking My Hacks
Taking My Hacks: Building the Mount Rushmore of Baseball Autographs
In our continuing series, building hobby versions of Mount Rushmore, we now turn our sights to the autograph world. The autograph offers a window into the personality of each signer, and when it comes to collecting autographs, there is no doubt that baseball signatures take center stage. In terms of popularity, no other autograph genre comes close.
1962 TOPPS
Roger Maris #1
Ungraded Value: $450
PSA GRADED
Price Realized
$27,171
About PSA
Professional Sports Authenticator (PSA) is the largest and most trusted third-party grading and authentication company in the world. PSA is the preferred choice of collectors, dealers and auction houses worldwide. PSA has processed over 30 million cards and collectibles with a cumulative value of over a billion dollars.
Founded by PSA in 1998 in response to widespread counterfeiting, forgery and piracy of autographed collectibles, PSA/DNA is the world's leading third-party authentication service for autographs and memorabilia.
"PSA is, without question, the industry leader in authentication and grading. All you need to do is check our prices realized at the end of each auction. It is clear that people will pay more for items certified by PSA than any other service in the industry."

- Brian Drent Owner of Mile High Card Company
---