The HOF Hobby Blessing

This past weekend, the baseball Hall of Fame enshrined pitcher Bert Blyleven and second baseman Roberto Alomar in Cooperstown, NY. From this point forward, both men will be recognized amongst the greats of the game alongside other legends of the game. What both Blyleven and Alomar may not realize is that their status in the hobby has also changed forever. In the following piece, Joe Orlando discusses the impact of the HOF blessing. More...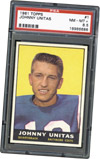 The 1961 Topps Football Set, An Affordable Vintage Gridiron Offering

The 1961 Topps football set is certainly not one of the toughest trading cards sets to complete in high-grade but it remains a popular choice. This 198-card issue boasts a colorful design, a terrific "In Action" cards and even a great #1 card of Hall of Fame quarterback Johnny Unitas - the 3rd consecutive time Unitas led-off a Topps set. In the following piece, we discuss this classic set with some collectors on the PSA Set Registry. More...

Set Registry Spotlight

The Allison Collection - The Number One Current Finest 1948 Bowman Football Set
This classic black and white issue is filled with HOF rookie cards and the design offers a simplicity that many collectors love. It also represents the beginning of an 8-year span, with the exception of 1949, where Bowman dominated football card production. It wasn't until 1955 when Topps started to make a real run of their own. Headlined by inaugural issues of Sammy Baugh, Bulldog Turner, Pete Pihos and Sid Luckman, this 108-card set also contains a number of tough short prints, which add to the challenge. This award-winning set carries a GPA of 8.26, which makes it the finest set ever assembled on the registry. Click here to view this multi-award winning set.

PSA Set Registry Luncheon August 5th
Our staff looks forward to seeing many of you at the National Sports Collectors Convention this summer at the Donald E. Stephens Convention Center in Rosemont, Illinois.

Set Registry Special
All Sports and Non-Sports - $14 Per Card/No minimum - Cards Valued Under $500 Each. Click here for details.