James67 - The Number One Current Finest 1967-68 Topps Hockey Set
James has been a "Best of the Registry" winner for 2002, 2003 and 2004. Although there is a lot of activity by other members in this set, James still holds a substantial lead with his 8.61 GPA. An amazing 80% of the cards in this set are "Top Pops" and 18 cards are the finest graded. Congratulations! Click here to enjoy.
New Auto-Email for Missing Specs
Last week we added a new feature which sends an automatic email to the Set Registry customer service when you attempt to add a card that does not yet have a spec number in the Registry. As a reminder, spec numbers are PSA's internal numbering system and are how the Registry recognizes valid cards for the sets. The automatic email informs us that a spec number needs to be added to a set. Effective immediately, you no longer need to email us with your cert# and set name. After one business day, you will be able to add your cards.
24 Hour Wait After Grades are Posted
It has come to our attention that many of you attempt to add new cards to your sets immediately after your grades have been posted online. There is a lag time between the posting online and the time the PSA database is updated with your certification numbers. If you attempt to add cards before your certification numbers have been updated in the database, you will get an error message. Therefore, please allow 24 hours after your grades are posted before attempting to add new cards to your sets.
New Online Form for Player Set Card Requests
There is now a form online that will allow you to send us a list of cards you would like added to basic and/or master sets. All it requires is the cert# of the card and your email address. The form is located on the Set Requests page. If you are active in the players sets, you should bookmark this page:
http://www.psacard.com/set_registry/player_additions.chtml
This form saves you time because all you need do is type in your cert# and email address. It saves the Set Registry customer service team time because we will be able to quickly add the cards to the sets directly from the form. Please note that effectively immediately we will only accept card requests to the player sets that are submitted through this form. Email requests will no longer be accepted. Also, your email address is required on the form in case we have any questions. We are still running weeks behind on requests for new cards to player sets, but hopefully, we will soon be able to decrease the wait time. Thanks for your patience and cooperation!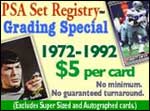 New Set Registry Special!
1972-1992 $5 per card. No minimum. No guaranteed turnaround. (Excludes Super Sized and Autographed cards.) Click here for details.
Change in Free Grading Policy
We will no longer be issuing free grading codes by email. Should you qualify for free grading, email your name, address and phone number to [email protected] and you will be mailed a submission form to be used exclusively for your free gradings. For more information, click on the BENEFITS link which is at the top of every web page in the Set Registry.
Set Registry Luncheon Planned in July
This year's PSA Set RegistrySM luncheon will be held on Friday, July 29, 2005 at the Donald E. Stephens Convention Center in Rosemont, Illinois, during the National Sports Collectible Show. Formal invitations to this event will be emailed to all Set Registry members at the end of May. We look forward to seeing old friends and new members this July.
Visit the Set Registry News page and learn which set composites have been recently added to the Registry and other Set Registry news. The following are new set composites added to the Registry:
2000 Black Diamond Football
2002 UD Graded Football
2004 Upper Deck Foundations Signatures Foundations Football
Dan Abramowicz Master Set
Marvin Harrison Basic Set
Marvin Harrison Master Set
Don Maynard Basic Set
Don Maynard Master Set
1973 Topps Miami Dolphins
1974 Topps Miami Dolphins
1975 Topps Miami Dolphins
1984 Topps Miami Dolphins
Mike Bossy Basic Set
Mike Bossy Master Set
1969-70 O-Pee-Chee Boston Bruins
1923 The Rocket Famous Knock-Outs
1956 Topps Adventure Boxing
2003 Bench Warmer Series 1 Kiss Card Autograph
2003 Bench Warmer Series 3 Kiss Card Autograph
2004 Bench Warmer Series 1 Kiss Card Autograph
Jack Nicklaus Master Set
Fun, informative, and sometimes controversial, the PSA Set RegistrySM Messageboard is the place to get involved with other collectors who are currently participating in the Set Registry program or are just beginning. Click here to chat on the Set Registry Messageboard.
The PSA Set RegistrySM is a work in progress and we invite your comments and ideas. Send your suggestions to [email protected].