Have your sports autographs authenticated by Jimmy Spence, this country's foremost sports autograph expert. Submission forms are available online at the
PSADNA web site.
Just click here.


Find out what
your cards are
really worth.
Subscribe to the
Sports Market Report and have it delivered to your door every month. Click here.


The Man Who Owns THE Card
THE card, the Holy Grail, the most valuable sportscard of them all -- the T-206 Honus Wagner. Everyone knows THE card, but only one person owns it -- Brian Seigel, a longtime collector from Southern California. This Sports Market Report article takes a close look at THE card and the man who can call it his. Click here to read it.

What Really Happened? An Interview with Major League Pitching Great Milt Pappas
Pappas pitched in two of the most famous regular-season games in history. What did he say to Maris and Mantle the night before the "asterisk" game? What happened in the ninth inning at Wrigley in the near-perfect no-hitter? The straight facts on these games and more are here in this exclusive interview! Click here to read more.

Charity Vulgarity
What's vulgar about charity? Nothing, but when charity auctions become a "dumping ground" for fake or counterfeit items (even unknowingly), it's bad news. Unfortunately, according to PSA's Joe Orlando, it happens more often than you may think. Click here to read more.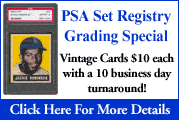 Robert McBride - The Number One Current Finest 1961 Topps New York Yankees
We've had so many team sets added to the Registry lately that we thought it appropriate to recognize one of the top sets. Last year, Robert McBride's 1961 Topps Yankee team set was a 2002 Best of the Registry award winner. This set is 100% complete with a GPA of 8.85. As a special treat, the set also displays many high quality images. Click here to view and enjoy.
Grading Special! Are you collecting Vintage cards? If so, submit your pre-1972 Vintage cards for $10 a card and receive your grades within 10 business days! Normally, this is a $15 per card service. There is no minimum required. Hurry! This special expires in two weeks and your packages must be postmarked no later than April 30, 2003. Click here for details.
Player Set Compositions. If you've requested a player set, you've probably been waiting for a long time for that set to go online. There are a number of factors that contribute to the delay, but YOU can help speed up the process. We are looking for volunteers to weight the master sets and identify the basic sets for us. Once this is done and the sets are approved, the player sets can be immediately loaded. If you are interested in volunteering your services, please e-mail [email protected] with the name of the player set on which you would like to work. You will be sent the master set in Excel format. Any help will be greatly appreciated!
Please Note: We are in the process of reviewing Basic Player sets now for inconsistencies and will be making edits to these sets in the coming weeks. Your patience is appreciated and we go through this process.
Visit the Set Registry News page and learn which set composites have been recently added to the Registry and other Set Registry news.
To see what new sets are soon to be added, visit the Set Request List. If your set is not listed, send us your request using the Set Request Form.
New composites recently added include:
Dirk Nowitzki Basic Set
Dirk Nowitzki Master Set (Updated)
1968 Topps New Orleans Saints
1969 Topps New Orleans Saints
Marcus Allen Basic Set (Updated)
Dan Marino Basic Set
Dan Marino Master Set
1908 WD & HO Willis Portraits of European Royalty Series 2
1934 Ardath Tobacco Famous Film Stars
1935 Gallaher Famous Film Scenes
1935 Gallaher Shots from Famous Films
1939 Cope Bros. & Co. Castles
1939 Gallaher My Favourite Part
1939 Ogden's Cigarettes Sea Adventure
1958 Topps Fabian
1965 Clover Daires Prehistoric Animals
1966 Topps Monster Laffs
Bobby Jones Basic Set
Bobby Jones Master Set
Fun, informative, and sometimes controversial, the PSA Set Registry Messageboard is the place to get involved with other collectors who are currently participating in the Set Registry program or are just beginning. Click here to chat on the Set Registry Messageboard.

The PSA Set RegistryTM is a work in progress and we invite your comments and ideas. Send your suggestions to set[email protected].
Question: I am a current PSA Collectors Club member. I had a question about the vintage common bulk rate (100 cards for $7 each). I know I cannot submit star cards through this service. How do I know the difference between a common and a star card?
Answer: That's a very good question. Of course, star cards would include those of guys like Mickey Mantle, Johnny Unitas and Wilt Chamberlain but it would also include any card that would sell for a significant premium above the commons price. So, for example, a tough League Leader card or Team Card may not qualify under the common bulk rate. While there is no real scientific rule here, PSA merely asks the submitters to be reasonable. If you check your Sports Market Report price guide, that would be a great start in determining values. Annual pricing catalogues may also be helpful in case the cards cannot be found in SMR. If in doubt about a particular card, please call our customer service at 800-325-1121 for more information.
April Collectors Club Grading Special
(Special for Gold & Platinum Members)
Express Service for only $10 per card.
5 Business Days - Guaranteed*
Hurry! All orders must be postmarked between 04/01/03 - 04/31/03.
Submit any card through the Express service for only $10 per card during the month of April. Turnaround time is five business days -- GUARANTEED*. This offer is open to all Gold or Platinum Collectors Club members only.
To download a submission form, click here.
To join the PSA Collectors Club, click here.
Your order must be postmarked between April 1st and April 30th 2003.
Please mark the outside of your package APRIL CC SPECIAL
Unmarked packages may not qualify for guaranteed service.
Offer expires April 30, 2003.
* PSA's turnaround guarantee assures you that PSA will have grades available
in the number of business days specified.

See PSA at These Upcoming Shows!
83rd Philadelphia Sports Card Show
Ft. Washington Expo Center
1100 Virginia Drive
Ft. Washington, PA 19034
May 2 - 4, 2003
Long Beach Coin and Collectibles Expo
100 S. Pine Ave
Long Beach, CA
May 28 - June 1
SportsFest
Donald E. Stephens Convention Center
5555 N. River Road
Rosemont, IL 60018
June 27-29, 2003
83rd Philadelphia Sports Card Show and SportsFest Shows: PSA will be accepting cards for all PSA grading levels at the shows. Cards submitted will be graded at PSA and returned via mail.



Special $10/10 Day Show Service: $10 per card for 10 business day turnaround.
For more information on the 83rd Philadelphia Sports Card Show, call 215-643-0910 or go to www.phillyshow.org.
For more information on the Long Beach Coin and Collectibles Expo, call 562-436-3636 or go to www.longbeachshow.com.
For more information on the SportsFest Show, call 715-445-2214 or click here.
Bonus! Autograph Experts, James Spence and Steve Grad will be on-site to offer authentication at the 83rd Philadelphia Sports Card Show & SportsFest for previously signed memorabilia.
For more information about PSA services, call PSA Customer Service at (800) 325-1121.

© 1999 - 2005 Collectors Universe Inc. All Rights Reserved.