Have your sports autographs authenticated by Jimmy Spence, this country's foremost sports autograph expert. Submission forms are available online at the
PSADNA web site.
Just click here.



Find out what
your cards are
really worth.
Subscribe to the
Sports Market Report and have it delivered to your door every month. Click here.


PSA MARKET REPORT

A Legend Passes -- Ted Williams
Ted Williams passed away Friday, July 5, at the age of 83. He is generally considered the greatest hitter who ever played the game. He could hit for power (521 career homers) and average (.344 career average). Let's not forget that in addition to being a legendary ballplayer, he was also a great man who served our country. Despite losing nearly five years of his prime to military duty as a fighter pilot, Ted's career numbers are amazing. He was also the last man to hit .400 in a season (.406 in 1941) to go along with a host of other incredible accomplishments. In the following article, we take a look at Ted's career through his wonderful sportscards.
PSA EXPERT'S CORNER

The Equipment Manager
What could be better for the baseball fan than owning a piece of equipment used on the field by a favorite player? Between jerseys, gloves, bats and cleats, there's plenty of player paraphernalia waiting to make its way into collectors' hands. Yet surprisingly, game used memorabilia failed to draw major collector attention until the 1970s. Now of course, game used items are hot properties. In this article, Lelands.com president Mike Heffner takes a look at game used equipment and what makes it so special.
PSA SPORTS HISTORY

The All-Star Game -- A Look Back
The 2002 All-Star Game is only the latest edition of a baseball institution that brings together the top players and lets them do what they do best. Almost every year since 1933, the top major league players have assembled to show us why they're called All-Stars. This look back at All-Star Games past touches on some of the highlights from the most memorable contests from the early years.
SET REGISTRY SPOTLIGHT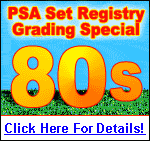 Carlos Aponte - The Number One All Time Finest 1976-77 Topps Basketball Set
Carlos doesn't do things halfway. Not only has he registered the only 100% complete 76-77 Topps set, but he has great images that you can view for every single card in his set. The #12 Corky Calhoun is a PSA GEM-MT 10 and rest of the 144-card set contains 44 MINT 9 graded cards! Congratulations to Carlos for putting together a wonderful set that we can all view and enjoy. Click here.
WE HAVE A WINNER! Congratulations to Paul Long's 1977 Baseball, winner of three free gradings, who registered the 2,000th set in the PSA Set Registry last week. The total number of registered sets now stands at 2,057. Visit the ever expanding PSA Set Registry and join the fun!
There are only three weeks to go before the 1980s Set Registry Grading Special deadline. Send in your cards from the '80s for a special grading fee of only $5 a card! But hurry. The special ends July 31st. Click here for details.
New composites recently added include: 1910 American Caramel Pirates (E90-2) Baseball, 1914 Polo Grounds Game Baseball, 1915 The Sport News (M101-5) Baseball, 1933 Delong Baseball, 1936 Goudey Baseball, 1964 Topps Tattoos Baseball, 1966 O-Pee-Chee Baseball, 1967 Topps Who Am I? Baseball, 1969 Topps 4-in-1 Baseball, 1971 Topps Supers Baseball, 1972 Topps Cloth Stickers Baseball, 1978 Kellogg's Baseball, 1984 Fleer Update Baseball, 1984 Topps Tiffany Baseball, 1986 Fleer Baseball, 1986 Fleer Update Baseball, 1986 Topps Traded Baseball, 1988 Fleer Glossy Baseball, 1948-1957 A Decade of Dodgers, Steve Carlton Player Set, Gary Carter Player Set, Brooks Robinson Player Set, Nolan Ryan Player Set, 1981-82 Topps Basketball, 1987-88 Fleer Stickers Basketball, Tim Duncan Player Set, Pete Maravich Player Set, Dirk Nowitzki Player Set, 1999 SPx Football, 2000 SPx Football, 2001 SP Authentic Football, Steelers All-Time Team Set, Joe Namath Player Set, Walter Payton Player Set, 1983-84 O-Pee-Chee Hockey, 1984-85 Topps Hockey, 1985-86 Topps Hockey, 1986-87 Topps Hockey, 1987-88 Topps Hockey, 1988-89 Topps Hockey, 1998-99 SP Authentic Sign of the Times Hockey, 1932 U.S. Caramel Presidents, 1941 Sky Birds, 1951 Bowman Jets, Rockets, Spacemen, 1978 Donruss KISS, 1994 Spiderman, Amazing.
Which Basketball sets are the current leaders for the first annual PSA Set Registry Awards? Click here to find out.
Bookmark PSA Set Registry News and find out what's new in the registry. To see what new sets are soon to be added, visit the Set Request List. If your set is not listed, send us your request using the Set Request Form.
Get involved with other collectors who are currently participating in the Set Registry program or are just beginning. Click here to chat on PSA Set Registry Message Board.
OUR READERS ASK
Question: Why is the 1941 Play Ball Ted Williams card considered more valuable than his 1939 Play Ball rookie card?
Answer: Great question. The rookie card, while considered extremely important and valuable in its own right, does not exhibit the visual appeal that the 1941 version does. In 1941, Play Ball decided to add color to their design and it was a smash hit. In addition, the 1941's are actually considered tougher to obtain than the 1939's. Finally, 1941 was a magical year that Williams will always be remembered for with his .406 average -- he was the last man to reach .400 in a season. The combination of these three aspects really drives the appeal of Teddy's 1941 card.
COLLECTORS SURVEY
There have now been more than 70 All-Star baseball games played. While every one of them is memorable for one reason or another, a few of them are truly special. If you could see one of the classics from the past in the little time-travel machine that we provide for you, which one of these five would you choose?
1933, of course! The first All-Star game and the Babe hits one out. What could be better than that?
1934. Carl Hubbell strikes out Ruth, Gehrig, Foxx, Simmons and Cronin in succession. Perhaps the most famous event in All-Star history.
1941. The great Ted Williams comes to the plate with two out in the ninth and the American League trailing. BOOM! One swing, American League wins.
1946. Teddy again. This time Williams hits two home runs and adds two more singles and a walk. Just another day at the office.
1955. The National League rallies from a 5-0 deficit in the seventh and wins it in the twelfth on Musial's home run.
Click here to answer. Results will be posted in the next Insider.
Results from last survey: 34% selected "Pride of the Yankees" as the finest baseball movie of all time, from our five choices. Click here for a complete breakdown.
ANNOUNCEMENTS
See PSA at the National in Chicago!
23rd National Sports Collectors Convention
August 6 - 11, 2002
Donald E. Stephens Convention Center
5555 N. River Rd., Rosemont, IL
Booth #820
PSA will be accepting cards at their booth for On-Site Grading.
PSA ON-SITE GRADING SERVICE: Guaranteed Two-Hour Show Service -- $50 per card; Standard Show Service (same or next day at show) -- $35 per card.
PSA/DNA Vintage Autograph Authentication: Nationally Known Autograph Experts, James Spence and Steve Grad will be on-site to offer authentication for previously signed memorabilia.
PSA, the Official Card Grading Company of the National Invites You to Stop By and See What's New:
PSA/DNA game-used bat authentication by top experts in the field
The Top 200 Sportscards in the Hobby, a new book by Joe Orlando, will be available for sale
On display! The World's Most Valuable Sportscard, T206 Honus Wagner PSA NM-MT8
Enter the PSA Set Registry Contest and check out the new featured sets in the registry
For more information about the National show, go to: www.thenational.net.
For more information about our services at the show, contact PSA at 800-325-1121.
---
© 1999 - 2005 Collectors Universe Inc. All Rights Reserved.