Have your sports autographs authenticated by Jimmy Spence, this country's foremost sports autograph expert. Submission forms are available online at the
PSADNA web site.
Just click here.



Find out what
your cards are
really worth.
Subscribe to the
Sports Market Report and have it delivered to your door every month. Click here.


PSA MARKET REPORT

PSA Enters Game-Used Bat Authentication
As game-used bat collecting continues to explode in popularity, collectors need a way to be sure that a bat is the real deal. A new alliance between PSA and Grey Flannel A.A., Inc., will address this issue by employing PSA/DNA technology to authenticate game-used bats. Also: avoiding "heirloom doom," what happens when collections are left as heirlooms to loved ones who may not understand their true value.
PSA EXPERT'S CORNER

Campy's Cards: A Look at Roy Campanella's Career through his Cards
Roy Campanella, despite his short time in the game, left a permanent mark on baseball and the fans who watched him play. Although his career was hampered by racism and injuries, and ultimately cut short by a car crash, Campy's skill on the diamond ensured that he will always be remembered by fans and card collectors alike. Among the limited number of Campanella cards available are some true gems and major condition rarities, including a few that not all collectors may know.
PSA VINTAGE SET REVIEW

1916 Tango Eggs Baseball Cards -- Mixing the Passion of Collecting with the Fun of Discovery
In 1916, a New Orleans egg company decided to create a 20-card baseball set. It seems not many collectors took notice, because the cards were forgotten for 75 years until a hoard was uncovered in 1991, the year the hobby finally "discovered" this set. Now, the increasing popularity of vintage card collecting is "egging" on interest in these seldom-seen cards.
SET REGISTRY SPOTLIGHT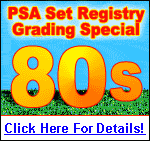 William Gray - The Number One All Time Finest 1948 Leaf Football Set
The 1948 Leaf set is a tough one to put together in high grade due to chipping problems, but William Gray has managed to compile a set worthy of the number one spot. With the best possible set currently at 7.91, William's set rating is 7.86, which will make his set hard to beat. The Sammy Baugh, Bobby Layne, and Sid Luckman rookies are all NM-MT 8. Click here to view this great set.
The total number of registered sets now stands at 1,894. Visit the ever expanding PSA Set Registry and join the fun!
The 1980s Set Registry Grading Special has been a huge success and continues until July 31st. Send your cards from the '80s in for a special grading fee of only $5 a card! Click here for details.
New composites recently added include: 1953 Johnston Cookies Baseball, 1980 Argus Publishing Baseball, 1981 Kellogg's Baseball, 1982 Kellogg's Baseball, 1983 Kellogg's Baseball, 1984 OPC Baseball, 1985 Topps Minis Baseball, 1986 Topps Baseball, 1986 Topps Tiffany Baseball, 1987 Classic Game Baseball, 1987 Fleer Baseball, 1987 Fleer Glossy Baseball, 1987 Topps Tiffany Traded Baseball, 1988 Topps Baseball, 1989 Donruss Baseball, 1989 Topps Baseball, 1989 Topps Traded Baseball, 1989 Upper Deck Baseball, David Robinson Player Set, Nolan Ryan Topps Player Set, 300 Great Baseball Cards by Mike Payne, 1984 Topps USFL Football, 1985 Topps USFL Football, 1989 Topps Football, 2001 Topps Chrome Black Border Refractors Football, 1979-80 OPC Hockey, 1979-80 Topps Hockey, 1980-81 OPC Hockey, 1981-82 OPC Hockey, 1982-83 OPC Hockey, 1984-85 OPC Hockey, 1985-86 OPC Hockey, 1986-87 OPC Hockey, 1987-88 OPC Hockey, 1988-89 OPC Hockey, 1980 Topps Star Wars, 1983 Topps Star Wars, 1988 Maxx Charlotte Racing.
Which Vintage Football sets are the current leaders for the first annual PSA Set Registry Awards? Click here to find out.
Bookmark PSA Set Registry News and find out what's new in the registry. To see what new sets are soon to be added, visit the Set Request List. If your set is not listed, send us your request using the Set Request Form.
Get involved with other collectors who are currently participating in the Set Registry program or are just beginning. Click here to chat on PSA Set Registry Message Board.
OUR READERS ASK
Question: Why is the 1958 Topps Bobby Hull rookie card considered so valuable in high-grade?
Answer: The 1958 Topps Bobby Hull rookie is, of course, very popular because he is a Hall of Famer and he was one of the brightest stars of the era. The reason for the huge price on PSA NM-MT 8's or better is the fact that the card is nearly impossible to find with great centering. Due to its location on the sheet -- the extreme bottom right edge -- many of the cards were cut with 70/30 or worse centering. This is, perhaps, the greatest reason for the value.
COLLECTORS SURVEY
What's the greatest baseball movie of all time? If the top 15 were listed here probably all of them would get a few votes, but the limit is five, so here goes. Yes, we left out Field of Dreams and a few other favorites, too. Sorry!
Pride of the Yankees. The story of Lou Gehrig touches everyone, and this is the classic of classics.
Bull Durham. Life in the minor leagues with Kevin Costner, Tim Robbins and Susan Sarandon all sparkling in their roles.
Bang the Drum Slowly. Robert De Niro made what could have been maudlin into a great, if heartbreaking, story.
The Natural. Polished, dramatic and nostalgic. Robert Redford comes through in the ninth!
Major League. The reviews weren't too kind, but it has become a mini-classic over the years. Wild Thing!
Click here to answer. Results will be posted in the next Insider.
Results from last survey: 45% chose, from our five options, the USA hockey team's defeat of Russia and subsequent win of Olympic gold as the greatest moment in the history of sports. Click here for a complete breakdown.
ANNOUNCEMENTS
PSA Saturday
Next event: Saturday, July 6 from 10 a.m. - 2 p.m.!
Submit cards directly to PSA without going to a show or sending your cards through the mail! This event is held on the first Saturday of every month. Next event: Saturday, July 6 from 10 a.m. - 2 p.m.!
Check out our Specials:
$10 PSA Saturday Special. Cards submitted to this service will be ready for pick up at the next PSA Saturday.
$35 PSA Saturday Special. Cards submitted to this service will be ready for pick up the following Tuesday after 2 p.m.
We're located off the 55 Freeway at: 1921 E. Alton Avenue, Santa Ana, CA 92705. Exit Dyer (east), right at Redhill, right at Alton, mid-block on the right.

See PSA at the National in Chicago!
23rd National Sports Collectors Convention
August 6 - 11, 2002
Donald E. Stephens Convention Center
5555 N. River Rd., Rosemont, IL
Booth #820
PSA will be accepting cards at their booth for On-Site Grading.
PSA ON-SITE GRADING SERVICE: Guaranteed Two-Hour Show Service -- $50 per card; Standard Show Service (same or next day at show) -- $35 per card.
PSA/DNA Vintage Autograph Authentication: Nationally Known Autograph Experts, James Spence and Steve Grad will be on-site to offer authentication for previously signed memorabilia.
PSA, the Official Card Grading Company of the National Invites You to Stop By and See What's New:
PSA/DNA game-used bat authentication by top experts in the field
The Top 200 Sportscards in the Hobby, a new book by Joe Orlando, will be available for sale
On display! The World's Most Valuable Sportscard, T206 Honus Wagner PSA NM-MT8
Enter the PSA Set Registry Contest and check out the new featured sets in the registry
For more information about the National show, go to: www.thenational.net.
For more information about our services at the show, contact PSA at 800-325-1121.
---
© 1999 - 2005 Collectors Universe Inc. All Rights Reserved.