Have your sports autographs authenticated by Jimmy Spence, this country's foremost sports autograph expert. Submission forms are available online at the
PSADNA web site.
Just click here.



Find out what
your cards are
really worth.
Subscribe to the
Sports Market Report and have it delivered to your door every month. Click here.


PSA MARKET REPORT

High Quality Items Remain a Hot Ticket with Collectors
April MastroNet auction proves that collectors are still willing to pay top dollar for high quality items. Highlights include a Willie Mays game-used glove catching over $26,000, and a pair of Muhammed Ali fight-worn trunks going for just a shade under 100 grand. Sale prices push Barry Bonds home run bats into the $20,000 range.
PSA COLLECTOR PROFILE

The Lakers Hall Home of Fame
The Basketball Hall of Fame may be in Springfield and the Lakers in L.A., but if any place could be considered to have a Lakers Hall of Fame, it would have to be Orange County, CA. That's where SportsCards Plus President David Kohler makes his home, and his home is where he has assembled the single greatest collection of Laker memorabilia in existence. Even Magic Johnson was blown away when he first saw this "Home" of Fame.
PSA VINTAGE SET REVIEW

Looking Back at 1960s Topps Baseball Cards
The 1960s have gone down in history as a decade of change -- ten years of triumph and tragedy that changed the world. Sports cards were no different, and nowhere are the effects of this exciting decade more evident than in 1960-69 Topps issues. Collectors were introduced to memorable innovations such as short prints, Tattoo Bubble Gum and multi-player rookie cards. And of course, the players. Names like Mantle, Ruth, and Koufax appeared on cards throughout the '60s. The decade also brought us some new names that were destined for bright futures.
SET REGISTRY SPOTLIGHT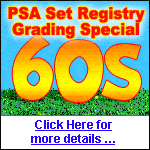 Dave Johnson - The Number One All Time Finest 1931 Churchman's Small Golf Set
There are a lot of other very cool cards to collect besides the mainstream baseball, basketball, and football cards. Just ask Dave Johnson, who has completed a 1931 Churchman's golf set. This set includes 50 cards and may be one of the hardest golf sets to assemble. Dave's current GPA is 6.54 and his plans are to continually upgrade the set as cards become available. Click here to view this great little set.
Over 100 sets have been added in the last two weeks! The PSA Set RegistryTM is exploding and now sits at 1,185 registered sets. Registrants tell us how much fun they are having and thank us for providing a place on the Internet to show off their collections. We are having fun, too! It's very rewarding to work with such enthusiastic and wonderful collectors.
NEW SET REGISTRY GRADING SPECIAL! Got 60s cards? Send them in for a special grading fee of only $6 a card! Click here for details.
New composites recently added include: 1912 Plow's Candy (E300) Baseball, 1957 Swift Meats Baseball, 1960 Bell Brand Baseball, 1961 Morrell Meats Baseball, 1969 O-Pee-Chee Baseball, 1975 Kellogg's Baseball, 1975 SSPC Baseball, 1976 Topps Traded Baseball, 1977 Pepsi-Cola Baseball Stars, Sandy Koufax Player Set - weighted, 1961 Hawks Essex Meats Basketball, Lakers Team Key Card Set - weighted, 1963 Fleer Football, 1965 Philadelphia Football, 1966 Philadelphia Football, 1966 Topps Football, All-Time Great Quarterbacks Key Card Set - weighted, All-Time NFL Rushers Key Card Set - weighted, 1960-61 Parkhurst Hockey, 1961-62 Topps Hockey, 1962-63 Topps Hockey, 1963-64 Topps Hockey, 1970-71 O-Pee-Chee Hockey, 1972-73 Topps Hockey, 1928 Millhoff Famous Golfers, 1957 Topps Hit Stars, 1965 Gilligan's Island, 1977 Topps Star Wars.
This fall we will recognize those collectors who have registered outstanding sets in the First Annual PSA Set Registry Awards. Click here for details and watch for updates and more information coming soon.
Find out what's happening by visiting the PSA Set Registry News which is updated frequently. To see what new sets are soon to be added, visit the Set Request List. If your set is not listed, send us your request using the Set Request Form.
Get involved with other collectors who are currently participating in the Set Registry program or are just beginning. Click here to chat on PSA Set Registry Message Board.
OUR READERS ASK
Question: I am a collector of Hall of Fame Rookie cards and I am having a hard time locating rookie cards of a couple of major players. One of them is Jimmie Foxx. Why is that certain players, like Foxx, don't have official rookie cards?
Answer: First of all, that's a good question. There are a few major Hall of Famers that do not have official rookie cards because, during their rookie campaign, there were no mainstream baseball card sets. For instance, Jimmie Foxx made his debut in the 1920s, however, his first mainstream sportscard appeared in the 1932 U.S. Caramel set. The same thing can be said for Lou Gehrig and a few other major Hall of Famers. While there are no official rookie cards for those players, some collectors still place extra importance on their first "official" card.
COLLECTORS SURVEY
There has been some buzz in the press recently about Barry Bonds being "the greatest to ever play the game." While this infuriates some fans, many others feel that Bonds has a valid claim to such accolades. Here are four of the greatest players in history, along with a fifth choice (see below). Whom, in your opinion, is/was the best?
Barry Bonds. Today's athletes are the best of all time and Bonds is the best of today's crop. In addition, by the time he retires he'll own dozens of records, including a handful of major ones.
Babe Ruth. The most dominant player in the history of the game and the clear winner in any poll.
Ty Cobb. Who else had a lifetime batting average over .365? This man was the best, and if he hadn't played in the dead ball era his stats would be even more unbelievable.
Rogers Hornsby. Don't forget the man with the highest right-handed batting average in history. He was incredible!
Someone else! What about Pete Rose? How about Walter Johnson, Napoleon Lajoie, Hank Aaron, Lou Gehrig, or.....?
Click here to answer. Results will be posted in the next Insider.
Results from last survey: 51% chose Cy Young's incredible 511 wins as the greatest record in all of sports, at least among the five significant choices we listed. Click here for a complete breakdown.
ANNOUNCEMENTS
See PSA at the Ft. Washington Show!
79th Philadelphia Sportscard & Memorabilia Show
May 3 - 5, 2002
Ft. Washington Expo Center
1100 Virginia Drive
Ft. Washington, PA
Cards may be submitted to all PSA grading levels at the show.
Cards submitted at the show will be graded by PSA and returned via mail.
PSA/DNA Vintage Autograph Authentication is also available at the Ft. Washington Show.
For more information, call PSA Customer Service at 800-325-1121.