Have your sports autographs authenticated by Jimmy Spence, this country's foremost sports autograph expert. Submission forms are available online at the
PSADNA web site.
Just click here.



Find out what
your cards are
really worth.
Subscribe to the
Sports Market Report and have it delivered to your door every month. Click here.


PSA MARKET REPORT

Centering Now Center Stage
Centering has always had its place, but it wasn't always the major issue with collectors that it is today. Eye-appeal is currently a key concern of many collectors, and there's no doubt that a well-centered card looks better than one that's way off the mark. In some cases, collectors may be more willing to pay for a perfectly-centered card than for an off-center card of higher grade. But will this trend continue?
PSA COLLECTOR PROFILE
And You Thought it was Just a Man's Hobby...
Men do dominate the sports card and memorabilia collecting hobby, but nevertheless there are some women who are deeply involved in it, as collectors or dealers. Carol Murphy is a woman who happens to be both. She started off by buying some baseball cards as a gift for her son, but soon became caught up in the hobby herself, and now sets up shop at nearly 125 shows every year.
PSA VINTAGE SET REVIEW

1910-11 Sporting Life (M-116): Rare and Popular, but Almost Zero Quality Control
Sporting Life, an early 20th century sports-only newspaper and competitor to Sporting News, sold this set by mail in 1910 and 1911. The 287 featured players include some big names, and several that are not so big, making the set as significant a historical record of the game as it is a collecting challenge. Mint State examples are extremely scarce, and even Near Mint specimens of this highly varied set are tough to find.
SET REGISTRY SPOTLIGHT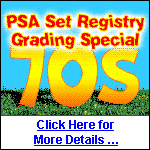 T-206 King - The Number One Finest 1954 Topps Hockey Set of All Time
As the name implies, T-206 King also holds the number one all time finest 1909-11 T-206 White Border baseball set, although the set is now retired. But T-206 King has interests elsewhere and this week's spotlight highlights his 1954 Topps hockey set, which is 100% complete and holds a GPA of 7.83. The two key cards, Gordie Howe and Terry Sawchuck, are solid PSA NM-MT 8. Click here to view the collection online.

The PSA Set RegistryTM now has 877 sets registered. New composites added in the last week include: 1910-11 Sporting Life baseball, 1972 Kellogg's baseball, 1993-94 Finest Refractor basketball, Basketball Hall of Fame, Football Hall of Fame, 1959-60 Parkhurst Hockey, and 1961-62 Parkhurst Hockey.

Find out what's happening by visiting the PSA Set Registry News which is updated frequently. To see what new sets are soon to be added, visit the Set Request List. If your set is not listed, send us your request using the Set Request Form.

We are continuing to get weighting suggestions from our registrants and are adding those weights to sets. Should you want to send us weighting for your favorite sets, we will review the weights and add them to your set composites.

Get involved with other collectors who are currently participating in the Set Registry program or are just beginning. Click here to chat on PSA Set Registry Message Board.
OUR READERS ASK
Question: I know that the Honus Wagner T206 card is the most valuable sportscard in the world. It sold for $1,265,000 in the summer of 2000. I also know it is a very rare card. Is this the scarcest card on the planet?
Answer: Actually, the legendary Honus Wagner card, while rare, is not the toughest card to find in the world. There are other cards that are rarer such as the 1948 Leaf Rocky Graziano boxing card. Even till this day, only a handful of these cards have been discovered while there are about 50 Wagners in existence. There are many other factors as to why the Wagner card is worth as much as it is. The Wagner has legendary status as a symbol of the hobby in addition to rarity and the fact that Wagner did not want to promote tobacco use to children.
COLLECTORS SURVEY
Ahhh, Spring, and a young man's fancy lightly turns to thoughts of... the 2002 baseball season! Yes, it's that time again, and it's time to speculate on which team will win it all this year. Which one of the five options is your favorite?
The Seattle Mariners. This is a great team! They should've won it all in 2001 and with an extra year of experience they'll coast to the World Series title this year.
The New York Yankees. They win it almost every year and there's no reason why 2002 will be any different, especially with the marvelous new additions.
The Arizona Diamondbacks. They're the world champs and they've got the pitching. Why pick anyone else?
The Atlanta Braves. They're a strong contender every year and the pitching is oh-so-good!
Someone else! This might be the year for the San Francisco Giants, the St. Louis Cardinals, the Red Sox or even the Cubbies!
Click here to answer. Results will be posted in the next Insider.
Results from last survey: 29% believe that Gonzaga is the biggest NCAA surprise this year, and that they have a real shot at taking it all. Click here for a complete breakdown.
ANNOUNCEMENTS
Come Meet L.A.'s NBA Basketball Legends & Young Phenoms!
Showtime 1
April 6-7, 2002
Marina Beach Marriott Resort
4100 Admiralty Way
Marina Del Rey, California
Corey Maggette
April 6, 1 - 3 p.m.
Limited 500
Autographs Available!
Quentin Richardson
April 6, 3 - 5 p.m.
Limited 500
Autographs Available!
Darius Miles
April 6, 3 - 5 p.m.
Limited 500
Autographs Available!
James Worthy
April 7, 12 - 2 p.m.
Limited 500
Autographs Available!
Michael Cooper
April 7, 2 - 4 p.m.
Limited 500
Autographs Available!
Magic Johnson
April 7, Time TBA
First Public Signing
to inscribe "HOF 2002!"
(Additional Charge)



Tickets are available online at www.sportscentreauthenticated.com
or call: 508-767-0786.

Join us at the Marina Beach Marriott, purchase your autograph
and GET REAL with PSA/DNA!

PSA/DNA is the official authenticator of the show.
---
See PSA in New York!
A Gloria Rothstein Show
April 5 - 7, 2002
Metropolitan Pavilion
125 West 18th Street
New York, NY 10011
212-463-0200
PSA will be accepting cards for all PSA grading levels at the show. Cards submitted will be graded by PSA and returned via mail.
James Spence On-Site Sports Autograph Authentication will be available at the PSA booth.
For more information about the Gloria Rothstein show, contact Francine Barbieri at 845-928-1170.
For more information about PSA services, call PSA Customer Service at 800-325-1121.
PSA Saturday
Next event: Saturday, April 6 from 10 a.m. - 2 p.m.!
Submit cards directly to PSA without going to a show or sending your cards through the mail! This event is held on the first Saturday of every month. Next event: Saturday, April 6 from 10 a.m. - 2 p.m.!
Check out our Specials:

$10 PSA Saturday Special. Cards submitted to this service will be ready for pick up at the next PSA Saturday.
$35 PSA Saturday Special. Cards submitted to this service will be ready for pick up the following Tuesday.
We're located off the 55 Freeway at: 1921 E. Alton Avenue, Santa Ana, CA 92705. Exit Dyer (east), right at Redhill, right at Alton, mid-block on the right.