Grades (Click to filter results)
1/21/2019
$100.77
4
eBay
probstein123
Auction
15856777
8/20/2018
$190.50
5
eBay
probstein123
Auction
22760732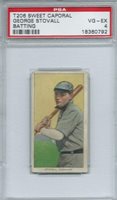 6/21/2018
$75.00
4
eBay
aes006
Buy It Now
18360792
12/20/2016
$36.00
3.5
eBay
eastcoastrarecoins
Auction
14180348
11/27/2016
$203.15
6
Heritage Auctions
Sunday Internet Sports Collectibles Auction Nov 27, 2016
Auction
04799882
11/6/2016
$27.69
2
eBay
gradedcardman
Auction
20550661
2/12/2011
$111.86
5
Goodwin and Co. Auctions
Masterpieces and Uncommon Commons XXXI
Auction
16110006
8/15/2010
$597.38
7
Memory Lane, Inc.
Sizzling Summer 2010 Treasures Auction
Auction
16806460
3/8/2008
$282.00
6
Goodwin and Co. Auctions
Masterpieces and Uncommon Commons XXIV
Auction
40676853
5/5/2007
$896.25
7
Heritage Auctions
2007 May Sports Collectibles Signature Auction May 5, 2007
Auction
31767661
Every effort has been made to ensure the integrity of the data but transcription and other errors may have occurred. Before using this information to make a buying or selling decision, confirm the data by consulting the actual sales catalog and prices realized. Collectors Universe disclaims any liability from the use of this information. If you notice an error, please report it using our "Report Item" tool.