Grades (Click to filter results)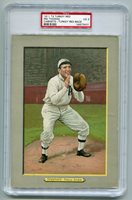 3/20/2018
$225.00
3
eBay
wchappell
Buy It Now
04573431
12/8/2017
$702.27
5
Mile High Card Company
December 2017
Auction
18771619
5/22/2017
$720.00
5
Robert Edward Auctions
2017 Spring
Auction
31383302
11/7/2015
$2,031.50
5.5
Heritage Auctions
2015 November 5 - 7 Sports Collectibles Catalog ... Nov 7, 2015
Auction
14679293
3/14/2014
$1,050.00
5
Greg Bussineau Auctions
Spring 2014 Vintage Trading Cards and Memorabilia Auction
Auction
90636417
2/1/2013
$1,117.41
5
Mile High Card Company
January 2013 Auction
Auction
90465382
12/16/2011
$657.25
5
Lelands
December 2011 Catalog
Auction
18771619
6/10/2010
$345.45
3.5
Goodwin and Co. Auctions
Masterpieces and Uncommon Commons XXVII
Auction
14432788
9/14/2008
$1,261.95
5
Memory Lane, Inc.
Hot Summer Classic Rarities
Auction
90636417
11/26/2006
$252.15
(MK)
4
Heritage Auctions
Sunday Internet Sports Auction Nov 26, 2006
Auction
07165037
Every effort has been made to ensure the integrity of the data but transcription and other errors may have occurred. Before using this information to make a buying or selling decision, confirm the data by consulting the actual sales catalog and prices realized. Collectors Universe disclaims any liability from the use of this information. If you notice an error, please report it using our "Report Item" tool.