PSA APR Update
Ten Notable Prices for PSA-Certified Items Sold During the Spring/Summer of 2019
By Terry Melia
Auction houses across the country were bustling once again this past spring/summer. Thousands of pre-war and vintage sports cards and other valuable pieces of sports memorabilia were sold, many at record prices. Leading the way this time around was a private sale conducted by SCP Auctions in late May that garnered much publicity after the fact. The southern California firm sold a 1909-11 T206 Honus Wagner card - graded PSA Good 2 - for $1.2 million, which constituted the hobby's first million-dollar sale of a single item in 2019. Not to be outdone, Tustin, California-based Memory Lane Inc. conducted its own private sale by selling a PSA-certified, circa 1910 Type 1 photo showing Detroit Tigers Hall of Famer Ty Cobb sliding into third with a stolen base for $250,000. It marked the highest price ever paid for a Type 1 photo, one that PSA defines as a first-generation print developed from the original negative within two years of when the picture was taken.
Including the aforementioned sales, PSA is pleased to report that 10 top-selling sports collectibles sold via auction houses throughout this past spring/summer season were all authenticated and/or graded by PSA. With a combined value of $3.4 million, the sought-after lineup of PSA-certified collectibles is well defined by pre-war cardboard as four of the valuable items consisted of baseball cards released between 1909 and 1932.
In April, courtesy of Heritage Auctions, a 1915 Cracker Jack Ty Cobb #30 (graded PSA Mint 9) finished second overall at $504,000, while a 1932 U.S. Caramel Babe Ruth #132 (graded PSA Mint 9) was not too far behind at $432,000. The item that actually finished third overall, selling in June for $480,000 via Hunt Auctions, was a Lou Gehrig signed and personalized photo to his longtime Yankee teammate, Babe Ruth. The 4" x 6" circa 1932 photo, taken by Chicago-area photographer Charles C. Burke, established a new industry benchmark for a signed photo. The heartfelt inscription reads: "Babe, May I always be deserving of your friendship. Cordially, Lou Gehrig."
10 Standout Prices from Spring/Summer of 2019
Here is the lineup, in descending order, of notable auction prices realized during the spring/summer of 2019: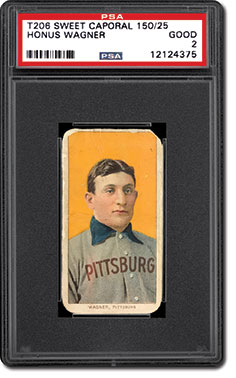 1909-11 T206 Honus Wagner
PSA Good 2
$1.2 Million
SCP Auctions (May 2019)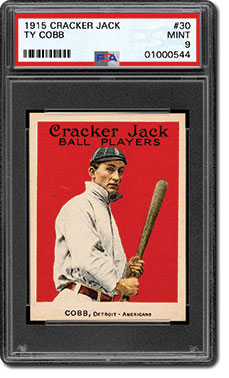 1915 Cracker Jack Ty Cobb #30
PSA Mint 9
$504,000
Heritage Auctions (April 2019)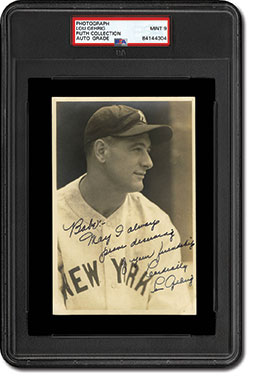 Circa 1932 Lou Gehrig Signed, Personalized Photo to Babe Ruth
PSA/DNA LOA
$480,000
Hunt Auctions (June 2019)
1932 U.S. Caramel Babe Ruth #32
PSA Mint 9
$432,000
Heritage Auctions (April 2019)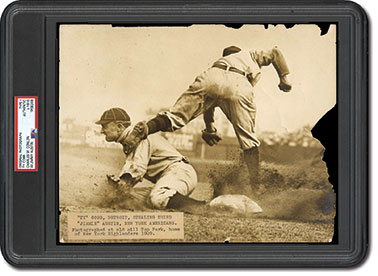 Ty Cobb Circa 1910 Type 1 Photo
PSA/DNA LOA
$250,000
Memory Lane Inc. (June 2019)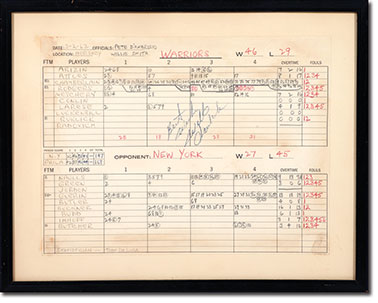 Wilt Chamberlain Signed 100-Point Scoresheet
PSA/DNA LOA
$214,579
SCP Auctions (April 2019)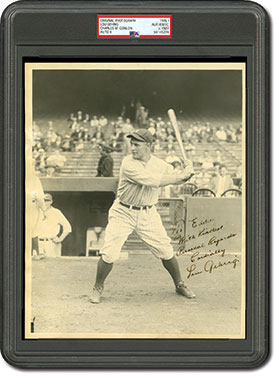 1927 Lou Gehrig Signed, Personalized Type 1 Photo
PSA/DNA LOA Auto Grade 8
$122,500
SCP Auctions (June 2019)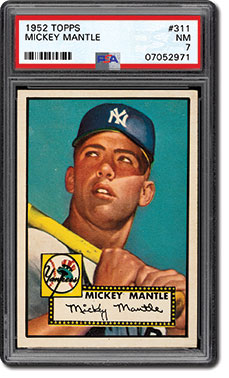 1952 Topps Mickey Mantle #311
PSA NM 7
$120,000
Heritage Auctions (April 2019)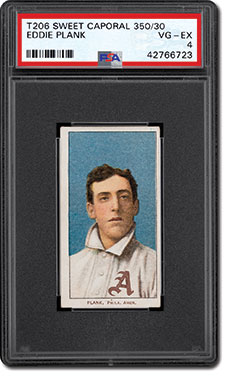 1909-11 T206 Sweet Caporal Eddie Plank
PSA VG-EX 4
$96,000
Heritage Auctions (April 2019)
1935 Babe Ruth Signed Boston Braves Document
PSA/DNA LOA
$96,000
Hunt Auctions (June 2019)