Artist Profile
Tim Carroll
Turning Sports Cards into Modern Art
Beyond the monetary value, every card collector - those who are truly passionate about cards - would love to be the owner of a 1915 Cracker Jack Ty Cobb, a 1933 Goudey Babe Ruth, a 1947 Bond Bread Jackie Robinson or a 1953 Topps Mickey Mantle.
While those cards, in high grades, are out of reach for most collectors, one enterprising and creative card lover by the name of Tim Carroll has devised a highly unique way to pay homage to some of the hobby's most rare and iconic offerings.

Employing the use of actual sports cards issued by major manufacturers, Carroll has become an alchemist of sorts, turning low-value modern cards into artistic depictions of the most coveted and valuable vintage cards ever produced.
Aided by a few formal art classes when he was in high school and college, Carroll says his artistic talent first surfaced when he was young and, over the years, blossomed as he learned various techniques through experimentation with several mediums from the traditional to the avant-garde.
While most artists rely on tried-and-true materials such as pens, brushes, paints or pastels, Carroll uses baseball cards which, based on their colors, he meticulously cuts into various shapes and then pieces them together in a mosaic that renders a work of art based on whatever specific card he is recreating.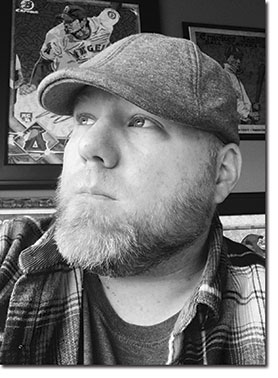 Artist Tim Carroll
Beginning with a recreation of the legendary T206 Honus Wagner card made from nearly a thousand cut up modern Topps, Fleer and Score cards, Carroll has been able to achieve remarkable detail right down to subtle skin tones, eye color, jersey lettering and even signature recreations.
After investing more than 40 hours in creating the Wagner mosaic, Carroll was extremely satisfied with his completed work and became hooked on "cutting up cards" as he likes to say. He went on to recreate other noteworthy cards including a 1952 Topps Mickey Mantle made up of over 1,100 Topps and Fleer cards from the 1980s and a few 1991 Score cards, all held together with the adhesive rendered from 11 glue sticks.
"I take my commons - and only my commons - and use them to create the cards I could only dream of owning," Carroll says with a laugh. "Everything you see in one of my completed works is a card cut into a shape or a sliver that works together to recreate a legendary card."
Since creating his first mosaic work, Carroll has gone on to carve out a niche in the art, sports memorabilia and card collecting world that has placed him in demand for commissioned work; so much so, that he left his job as a teacher to become a full-time artist.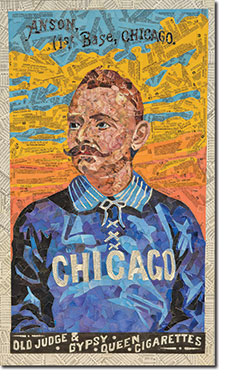 1888 N162 Goodwin Champions Cap Anson
Along with the commissioned art he does for private individuals, Carroll also works with Coastal Carolina University in Conway, South Carolina, and the Upper Deck Company, who, in 2014, during their 25th anniversary celebration, used a Carroll recreation of the 1989 Upper Deck Ken Griffey, Jr. #1 rookie card that was created out of a 1989 Upper Deck set. He has also worked with Major League Baseball, which commissioned a recreation of a Joe Torre card that was presented to Torre by MLB when he was inducted into the National Baseball Hall of Fame. Carroll's work is also displayed at the Sports Museum of Los Angeles as well as the Ted Williams Museum & Hitter's Hall of Fame in St. Petersburg, Florida.
Sports Market Report recently caught up with Carroll at his home in South Carolina where he talked about how he came to create this new, unique and even controversial addition to the sports card collecting hobby.
Sports Market Report: (SMR) Where did you grow up, Tim?
Tim Carroll (TC): Just outside of Tupelo, Mississippi, in a little town called Fulton.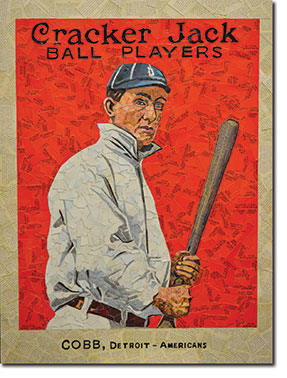 Cracker Jack Ty Cobb
SMR: That area of the country didn't give you close access to any professional sports teams.
TC: That is so true, and that is one of the reasons I was happy when we moved to South Carolina. I was happy just to have the Myrtle Beach Pelicans, which is a minor league baseball team affiliated with the Chicago Cubs, and where we are in South Carolina isn't too far of a drive to Atlanta.
SMR: As a kid, to what pro team did you profess your allegiance?
TC: I didn't really have an allegiance to any one team. I kind of liked the Minnesota Twins, although I can't really tell you why other than that I liked Kirby Puckett. I had put together a 1987 Topps set, which was the first set I ever completed, and it included a Kirby Puckett card. I know this may sound crazy, but I just liked the name "Kirby" [laughs]. Then, as time went by, I started watching and following the Boston Red Sox.
1933 Goudey Babe Ruth
SMR: So, you were a card collector as a kid.
TC: I was. I started collecting in 1987. I really started out of pure boredom, picking up a few cards here and there. There was a little gas station near my house and they carried baseball cards, so I would get packs there. I'll be honest with you, and this may sound unbelievable, but even after I started collecting cards, I had never watched a baseball game.
I remember the first game I ever watched. It was a stormy October night. Now I would have usually been outside playing until late, which is what we did back then, but it was really raining - just pouring - and that happened to be the night of Game One of the 1988 World Series between the Oakland A's and the Los Angeles Dodgers. That was the game when Kirk Gibson hit the walk-off home run. That was so exciting it gave me chills, and I thought every baseball game was like that. That was the game that really got me into baseball.
SMR: Did you play?
TC: [Laughs] No, not really. I couldn't throw a baseball with any sort of accuracy and I didn't have any desire to play football. But I did play a little basketball, just for fun.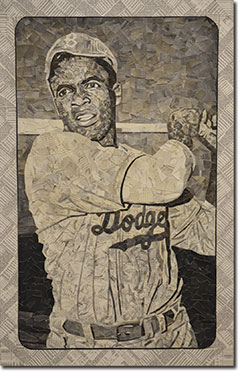 1947 Bond Bread Jackie Robinson
SMR: You mentioned that you started collecting cards out of boredom. As time passed, and you got more into baseball, did you ever become serious about collecting?
TC: By 1988, when I was 10 years old, collecting cards became a big part of my life. My dad noticed that I was getting more and more into it. He saw that I really had an interest and fascination with cards and was always studying the information on the backs. So he jumped on board with me. He started taking me to local card shows and would help me find things I was looking for or that we thought were interesting.
I remember he got me a 1962 Topps Mickey Mantle card. That was a big deal. It was the centerpiece of my collection. I still have that card to this day. It is something I will never give up. So my dad and I really got into it. We even began setting up at card shows. We both had a real interest in cards, and he did all he could to keep my interest going.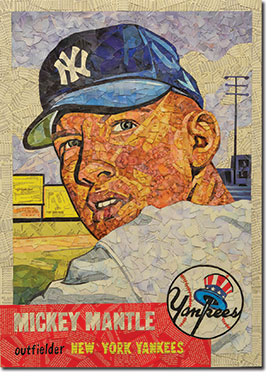 1953 Topps Mickey Mantle
SMR: What did you collect during that time? Did you collect certain teams or players, or were you putting together sets?
TC: I would say that from 1989 on, I was always interested in collecting sets. I even got into putting together multiples of the same sets.
SMR: How did your collecting progress as you got into your teens?
TC: Well, it kind of stopped around the mid-1990s. That was when I was graduating from high school and making plans for college. I had met the woman who would become my wife and, like most kids who were card collectors, that time of life seems to be when you put your collection into boxes and tuck them away in your closet.
Then, after I got married, I started collecting a little again. At that time, I was picking up cards of local players who had made good. Bill Hall from Mississippi was one of them. When he made it to the major leagues with the Brewers, I went on a hunt for his cards.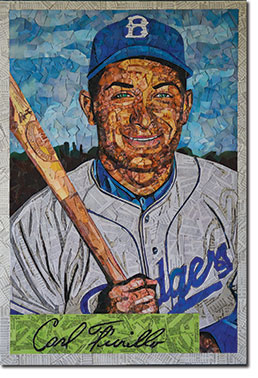 1954 Bowman Carl Furillo
SMR: Are you currently collecting?
TC: Yes. I collect with my two boys. We have become fans of the Coastal Carolina University baseball team, the Chanticleers. So we collect cards of NCAA players in their college uniforms. And I have picked up a few PSA-graded Hall of Fame rookie cards here and there. Nothing big or extreme, just a few that appeal to me and that I think may appreciate in value.
SMR: Has condition always been important to you?
TC: Well, when I was a kid, condition didn't mean anything to me. I just loved colorful cards. I remember the 1972 Topps cards that I was a fan of. I just thought they were great looking cards. The only card I did care about as far as condition goes was my 1962 Mantle. I had that one graded and it came back as a PSA [EX-MT] 6.
But, like most collectors, as I got older and began understanding more about the hobby and what increases a card's value, condition did become important to me. Even with the modern cards my kids and I collect, we care about keeping them in excellent condition. I know they will never have the value of vintage cards, but we really emphasize taking care of them and making sure they are kept in the best condition possible.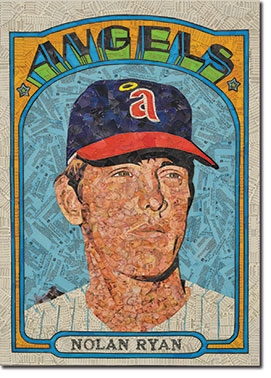 1972 Topps Nolan Ryan
SMR: We've talked about your card collecting interests, what about your artistic interests and ability? Does that also go back to when you were young?
TC: I always loved to draw from as far back as I can remember. My parents always gave me what I needed, and sometimes what I wanted, but we never really had the money for much, certainly not for me to buy oil or acrylic paints or brushes or anything. So, I began to express myself through art with whatever I could find - sticks, toothpicks, pine cones, feathers, fruit pits - whatever was available to me. I would use those things to create pictures and doing that just continued into my adulthood.
SMR: So the type of art you produce, your genre, if you will, stemmed out of your desire to create even though you didn't have the traditional tools.
TC: I think so. I am a believer that everything that happens in our lives leads us to what we will eventually end up doing - what we're supposed to be doing. All the experiences I had as a kid - finding whatever I could to create something - most definitely had a big influence on what I do today.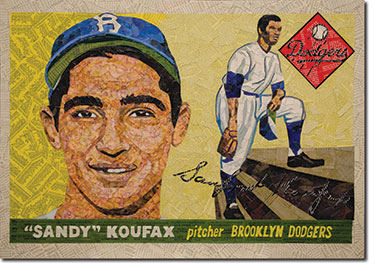 1955 Topps Sandy Koufax
SMR: Do you remember the first time you looked at a baseball card and had the "ah ha" moment that these would make for a great collage?
TC: I clearly remember it. It was in March of 2009. I was working as a teacher and went on a trip for science teachers with my wife to New Orleans. While we were there, we went into a 7-11 and I picked up a magazine that had a little blurb about Honus Wagner and how much his card is worth. I jokingly commented to my wife that I would love to go home, collect all my cards and trade them in for a Honus Wagner card. She thought that was a good idea, so I had to explain to her that with cards it isn't about quantity, it's about rarity and condition.
But that got me thinking about the large number of cards I had and that maybe I could use them to create a Honus Wagner card, or at least a recreation of it. So when I got home I spread my cards out all over the floor and started looking at the colors. I started overlapping some of them to see if I could do what I had envisioned in my head. Then I began clipping off the borders and cutting the cards into shapes, and it just took off from there. The first recreation I did was the Wagner and then I did one of the 1952 Topps Mantle card.
SMR: Tell us about your process. You most likely sketch out a drawing first and then look at your colors to see how to arrange them over your drawing, right?
TC: That's it. And, from the start, it really has all been just trial and error. I am really a self-taught artist, although I did take a few art classes in high school and college. From those classes I learned the grid approach to drawing and how to get proportions correct. So, like you said, I start with a sketch and then look for blocks of color. When it comes to doing flesh tones, I will usually use players' faces or their gloves. I have found that gloves offer a good variety of shades and flesh tones. I try to get as close as I can to match the colors of the card I am recreating.
When I first started doing this, the result was just a representation. Then, as I began doing more and more, I got better at it and transitioned into making them much more realistic - as close as possible to the actual card. By simply doing so many, I have gotten better at creating the likeness of the players. I have even gone back and redone some now that I am more proficient at it.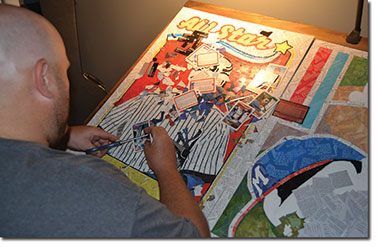 Carroll in the midst of a new creation.
SMR: Tim, is your artwork considered to be a collage or mosaic?
TC: It's really a combination of the two. I am overlapping colors and even using the text of cards to create certain effects like the under shadow of a jawline or an eye. I would say it's more collage because of the overlapping.
SMR: When you first started doing this, was it just for your own satisfaction, to see if it could be done?
TC: Absolutely. I just started doing that first one, the Wagner card, when I got home from that trip in 2009. It was fun and relaxing. At the time I was finishing up getting a degree at Ole Miss [University of Mississippi], and I had pretty much finished my courses and had a little time on my hands. So I knocked that piece out fairly quickly and then posted a photo of it online.
Then, within no time, my email account went crazy, just blowing up with people telling me how great it was and others who were livid that I was destroying perfectly good baseball cards. I heard from a lot of people who told me that I would be sorry someday for destroying cards that could be worth something in the future.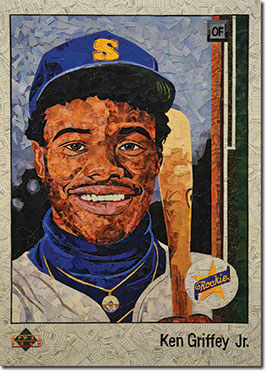 1989 Upper Deck Ken Griffey, Jr.
SMR: You are being featured in a magazine that reveres cards and promotes the proper care of them, so we've got to ask you to address that.
TC: I myself am a collector who has great respect for vintage and rare cards. The cards I use are from the late 1980s and early 1990s and there are millions of them out there. They were produced by Topps, Donruss, Score and Upper Deck by the millions during the card boom that hit back then. I could cut up the cards I use from that era for the rest of my life and not even put the tiniest ripple in what would still exist out there.
Obviously, I would never use a card that had even the slightest value or potential for value. Frankly, even if they aren't worth anything, because there are so many of them in existence, I still won't use a Hall of Fame player's card. I'll pull them out and give them to kids. I was a teacher until 2016, and I would give them to my students as little rewards. So the important thing for SMR readers to know is that I would never use any card that had any sort of impact on the hobby.
SMR: Almost every artist, at some point in their career, creates what they consider to be their Mona Lisa - their masterpiece. Is that true with you?
TC: There is something about every piece I have created that I love. However, if I had to pick one favorite, I recently worked on Norman Rockwell's Tough Call (Game Called Because of Rain) from cut baseball cards. It is a massive, 34½" by 37" piece that took over 300 hours to complete. While I love certain aspects of each piece, the Rockwell tribute is my current favorite.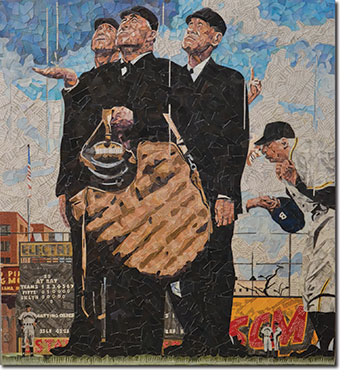 Tough Call (Game Called Because of Rain)
SMR: Tell us how you became aligned with Upper Deck.
TC: I created a 1989 Upper Deck Ken Griffey, Jr. card by only using 1989 Upper Deck cards. I had posted it and got a call from them asking if they could use the original for their 25th anniversary. I thought that was great, so I sent it to them and then they wanted to know if it would be alright if Griffey signed it, which I also thought was great [laughing]. Then they asked me to do recreations for their Wayne Gretzky card and a couple others. I have even traveled around with them doing a few events.
TC: You mentioned you were a teacher. Is that now a thing of the past?
TC: Yes. I taught second through fifth grade math, but I left teaching in 2016 because I had so many art commissions piling up. It was a scary thing to do, leave a secure job to work full-time as an artist, but my wife and I talked about it and we prayed about it and decided it was the right thing to do. So we'll see where this takes us.
As crazy as it sounds, I left a secure teaching job to cut up baseball cards. But that's the dream becoming a reality. Now I have an actual studio that is my work place and so far it's working. I'm really having fun.
I feel like this has made me a part of the game of baseball in a small way. I never had the talent to play ball. I would have loved to coach and thought I would get that chance during my teaching days, but that opportunity never presented itself. But by doing these creations, I feel like I am contributing something unique and different to the sports card hobby. It's my way of putting my own little unique stamp on the hobby.
I've met so many advanced collectors who are really wonderful and who call me because they want me to create something for them. They have also taught me so much about cards, manufacturers and the hobby itself - things I would otherwise have never known. They introduced me to cards I didn't even know existed like the Dan-Dee Potato Chip cards from the 1950s and the Bond Bread cards from 1947. They have opened up a whole new world for me. It makes getting up each day worth looking forward to. Having breakfast with my wife and then heading off to the studio to do what I do - cut up cards. I have to believe that, besides me, you have never had someone featured in SMR ever say that [laughing].
• • •
For more information on Tim Carroll's creations, follow him on Facebook at timcarrollart, on Twitter at @timcarrollart, on Instagram at @timcarrollart or email him at [email protected].
Visit PSA CardFacts to learn more about the trading cards featured in Tim Carroll's artwork.
---
Please feel free to contact SMR at [email protected] if you have any questions or comments.