Collector Profile
Zack Browning
A Pokémon Collector Who Has Grown with the Hobby
By Todd Tobias
In many ways Zack Browning is a collector much like any other. If you think back to your own introduction to trading cards and the growth of your desire to collect, it likely isn't much different than his experience.
"My grandmother bought me some packs from the store," Browning recalled recently. "This was in 1999, a little bit after the cards had been released. I still remember opening the packs and falling in love with the cards right away. As time went on, I would get more for Christmas, and of course anytime I would see my grandmother she would get me another two or three packs, but that was enough to keep me hooked."
As many do, Browning had an instant preference for contemporary cards. The imagery and technology used in the design and overall appearance of the cards immediately caught his attention. As he became more knowledgeable about the hobby, his passion became fueled by set building and the competitive aspect that can develop when you collect within a community.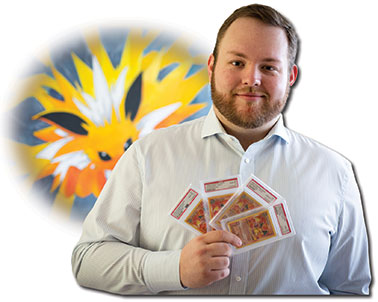 "I think it boils down to the fact that I like shiny things, and once I pulled a holographic card out of a pack, I became addicted instantly," he said with a chuckle. "The collector in me came out and all I wanted to do was collect every single one of them. There is a competitive spirit that makes you want to out-collect your friends. The sense of competition drives you. I didn't know how many cards were in the set and I didn't really understand the concept of the game, but I knew that I really liked these shiny things and I wanted more."
This is the point where Browning's story begins to diverge from other sports card collectors because, in fact, he was not collecting sports cards. His passion is Pokémon, and while the nuances of his hobby experience may differ from others, non-sports, trading card game (TCG) and sports collectors all essentially speak different dialects of the same language.
A lot of sports card collectors don't understand the TCG world and therefore have a difficult time grasping the enormity of that hobby segment. It is understandable as TCGs have existed for only about 30 years and the subject matter involved in those cards is vastly different from that of the sports world. However, a simple comparison can be used to illustrate the popularity of TCG collecting.
Pokémon cards came into existence in late 1998 and early 1999. At that point baseball cards had already been collected in various forms for more than 100 years, so the collector base was already well-established. Still, Pokémon cards have needed comparatively little time to catch up with modern baseball in terms of popularity. As of February 2019, just 20 years after our comparison year, a bit of simple addition involving the PSA Population Report reveals the following statistics:
BASEBALL CARDS ISSUED IN 1999
Number of Sets Documented by PSA - 474
Total Items (Individual Cards) Graded - 161,575
POKÉMON CARDS ISSUED IN 1999
Number of Sets Documented by PSA - 45
Total Items (Individual Cards) Graded - 283,031
As mentioned earlier, Browning's interest in Pokémon came along with the advent of the TCG and grew right along with its popularity. His early interest, passionate pursuit of cards and dedication to the growth of the genre has helped Browning to achieve his current position atop several of the PSA Set Registry listings and his status as one of the leading Pokémon collectors in the hobby.
From early on Browning knew his style of collecting. "I wanted one of everything," he said. "It's never mattered to me to have multiples of Charizard or anything else. I wanted one Charizard and that was it. I was always a set builder, so I had goals from the beginning. As my financial means increased, so did my goals. I think it is very important to have scope when you collect."
And what exactly might Browning's scope be? "My overarching goal would be to get one copy of every Wizards of the Coast Pokémon card in the highest grade possible," he added.
Renton, Washington-based Wiz ards of the Coast was the company that in 1999 began producing Pokémon cards before the rights to the production of the game were transferred to The Pokémon Company International by Nintendo.
"The goals I had when I started collecting were not that advanced," Browning recalled. "I started off just wanting base set holographic [holo] cards, which gradually became Jungle and Fossil holos. Then it eventually transitioned into all Wizards of the Coast holos. Now I am just two cards shy of having all Wizards of the Coast holos, so I have expanded that to include every card that Wizards of the Coast has made. Of course, the non-holos are much easier to find and much more accessible and affordable."
A quick look at Browning's PSA Set Registry listings (username: Gem Mint Pokémon) reveals that while his scope may have increased over the years, he has held to the basic tenants of collecting complete sets in the highest grade he can obtain.
Browning currently participates in 77 different Pokémon-based PSA Set Registry categories, and at the time of this writing, he has the No. 1 set (or is tied for the No. 1 set) in 54 of them. The lowest weighted GPA of any of his sets (1999 Pokémon Fossil) is 9.74, with all other sets over 10.0. An incredible 62 of his sets contain no cards graded lower than PSA GEM-MT 10. In the Pokémon world, perfection and completion converge at Browning's doorstep.
As one of the longest-standing and most advanced Pokémon collectors in the hobby, Browning has had the opportunity to grow as a collector right alongside the genre itself. While collecting would likely be defined as a solitary activity, like other savvy hobbyists, Browning has taken advantage of the growth of social media and used it to connect with other Pokémon enthusiasts to build his collection and the greater Pokémon community.
"What happened to me is that I simply got frustrated," he said. "I had goals that I could not achieve on my own. I couldn't complete sets because I couldn't find the cards. I didn't know who had the cards graded, and really, I just didn't know enough fellow collectors. That's when I shifted to becoming more of an outgoing collector. I was private for a while; I didn't tell anyone I was collecting Pokémon. In fact, I didn't even tell my family or friends. But then I made a YouTube channel to show off the collection I had and to connect with others in the hobby. I wanted to exchange information with other people and help us all collect. Let's be friends and see what we can trade with each other that will help both of our collections.
"I probably spend time every single day doing something Pokémon-related. Whether it is buying, selling or just talking to someone who has a collection, I am engaging with the collecting community daily and it is something that I enjoy. Whenever I get a chance I will hop on YouTube and reply to comments. Not every relationship needs to have a net-positive for me. A lot of time it is just about helping someone out.
"A huge part of collecting is the connections you make. Making deals with other people, building relationships and collecting together. If you collect alone, it becomes a very lonely hobby. I go to the Worlds [Pokémon World Championship tournament] every year and I don't go for the cards that I need, I go for the friends that I have met. That's what makes it meaningful and keeps me involved."
In fact, social media has now become such a major component of Browning's collection-building arsenal that the idea of purchasing a card at a show or event has become almost laughable.
"At the most recent World's I found a card that I actually needed. It was a variation of a first edition base set card. I was only three cards away from the complete set when I found a guy that had one of the cards that I needed. I bought it instantly. It was such a win because I had no intention of finding it. I didn't think it was available. I'm used to people selling rare cards on eBay or Facebook or whatever medium they use. I just assume that if it isn't on one of those platforms, then it's just not available. Seeing that card at World's was quite a surprise," he laughed.
As advanced hobbyists sometimes notice trends in the sports card world, the same can be said for Pokémon. In fact, often the trends are similar, even nearly identical - the lone difference being the cards in question. For Pokémon collectors, the development of PSA grading quickly became as integral a part of the hobby as it is to sports card enthusiasts.
"I realized pretty quickly that condition was important and that I needed to put cards in some sort of sleeve to protect them, but I didn't really understand anything about card quality or condition. I knew that you probably shouldn't scrape them together because you would get a bunch of holofoil scratches, but card care pretty much meant putting them in nine-pocket sheets at that time. It wasn't until around 2013 that condition became a huge motivating factor for me getting back into collecting, and once that occurred, then PSA was the obvious choice for building high quality Pokémon sets."
Browning's submissions have been a portion of what some believe to be the single-hottest segment of the hobby in recent years. Submissions of Pokémon cards flood into the PSA offices not only through private and show submissions in the U.S., but from other points around the globe. Consider that beginning in 2015, the number of Pokémon cards submitted to PSA for grading has nearly doubled each year. In fact, for the first time, PSA graded more Pokémon cards in 2018 than basketball, football or hockey cards. Things don't appear to be slowing down in 2019.
As one of the genre's most dedicated and respected collectors, Browning has studied Pokémon's growth in great detail and is often asked for advice on the subject. His response is simple, a bit cautionary and an excellent road map for people who are just learning about Pokémon from a collector's or investor's standpoint.
"I tell people to just watch the market," he said. "It's never a bad idea to sit back and simply watch the market. There are a lot of reasons for prices to move in certain directions and it helps to begin to understand why cards are priced as they are. I have 'buy prices' for particular cards, meaning that if a card hits a certain price, I will buy it. But you always want to be rational when collecting. It is not something that should be rushed. You don't want to ever feel the pressure to jump in because you must have something. That is not the right mentality. Do your research, sit back and find something that you like. And when you make your first purchase, it will be something that makes you happy. You will be satisfied.
"I think there is a lot of supply coming down from the older cards and the populations are continuing to grow. I think you are going to see an explosion in prices when the population growth of Base Jungle and Fossil First Edition slows down. The supply is strong now and the population of graded material for those sets is still growing steadily. They're not all PSA 10s, but they are being submitted with regularity. Once that slows down and the number of 10s is reasonably set, then I think the prices will take off. Then the younger collectors who grew up with Ruby Sapphire will begin grading those cards as well because they're not as attracted to the older sets since that is not what they grew up with. I think you will see growth in prices of the newer stuff as well.
"Of course, if you are asking what cards to purchase, then I am going to use a Scott Pratte quote and say, 'the older, the rarer, the minter, the better.' If you adhere to those first three things, then you will generally be happy with your acquisitions."
Older, rarer, minter, better... sound advice that can be applied whether your collection is focused on Mantle, Jordan, Namath, Gretzky or Charizard.
• • •
Zack Browning Doesn't Play Pokémon?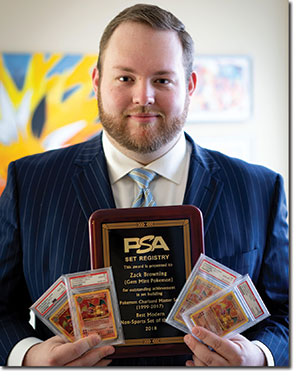 "I've actually never played the Pokémon game," Browning revealed when talking about his collection. "I did have to learn how to play the game in 2016 when Evolutions came out. To get the pre-release Charizard promo you had to play the game at a pre-release event, and because there was a reprint of the original base set Charizard artwork, I learned how to play and showed up at the event with a ton of kids ranged from 8 to 12 and ended up getting some interesting looks from their mothers. But I sat down, and I played. The way the event worked, you got one of four promos, but you did not know which one you were going to get. I was very fortunate to get the Charizard in that case. It was worth it, but I did have to swallow my pride a bit and show up and play. I did win a game, though, so I was pretty proud of myself."
• • •
What Does Zack Browning Consider His Finest Collecting Achievement?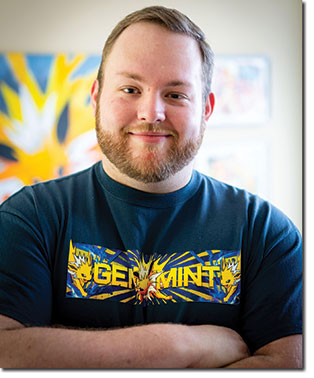 "If I had to pick just one, it would be completing the Legendary Collection Reverse Hologram Set in PSA 10. That was a very challenging set that took me more than three years to complete, and my average cost for the set was more than $100 per card because the population was so low. It was zero in many cases and two or three in many more. I just couldn't find the cards and Legendary packs were over $100 at the time, so opening packs wasn't a great option. My submission rate for PSA 10s was in the single digits, so it didn't make lot of sense to invest in raw cards either. This is a 110-card set and it all happened over a weekend. There were three different collectors who I dealt with a lot and each one just happened to have two of the final six cards that I needed. Between the three of them, they had all six cards. I ended up getting two on Friday, two more on Saturday and the final two on Sunday. When the cards finally came in and I had completed the set, I made a video of the set for my YouTube channel. I really couldn't believe it happened because one of the cards had been a Pop 0 for the longest time, and then it became a Pop 1."
• • •
For more information on Pokémon gaming cards, please visit PSA CardFacts.
---
Please feel free to contact Todd Tobias at [email protected] if you have any additional information or comments. Thank you to Zack Browning for providing the cards featured in this article. Please note the PSA Population Report statistics and Set Registry rankings quoted are as of May 2019.