Collector Profile
Bryan Esmaili-Doki
Kickin' Up Collector Interest in Soccer Cards
Sports fans are well aware of the very first places they would visit while in Cooperstown, New York; Canton, Ohio; Springfield, Massachusetts; and Toronto, Ontario, Canada.
If you are not aware of the sports-related attractions that are located in those four cities, one can only assume you are either not a sports fan or live on a deserted island and the only reason you are reading this issue of Sports Market Report is because it washed up on shore inside a bottle.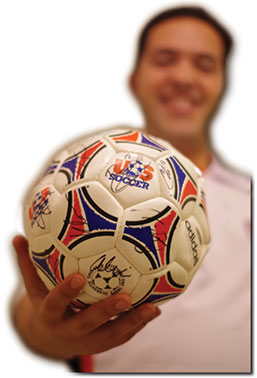 Halls of Fame that honor the history, individuals and teams of professional sports have proven to be a huge draw, and as of October 2018, a new one has been added to the aforementioned list of cities: Frisco, Texas, which is now the home of the National Soccer Hall of Fame.
While soccer had extremely limited appeal to Americans prior to the 1970s, as the years have gone by, more and more young people in the U.S. have become fans and gotten actively involved in the sport.
American kids, both male and female, who grew up playing organized soccer in the 1980s and 1990s, have continued to follow the sport in varying degrees. That interest was clearly bolstered by the World Cup taking place in the U.S. in 1994 and the establishment of Major League Soccer two years later.
With the newly established National Soccer Hall of Fame now on American soil, and the World Cup set to return to the U.S. in 2026, the future of the sport, which has dominated just about every other country on the planet, has promise to further gain acceptance among Americans.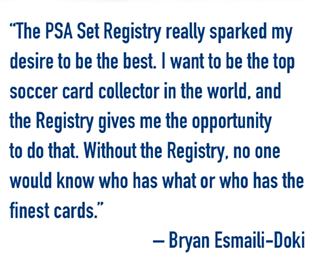 Bryan Esmaili-Doki, a life-long soccer fan and card collector, believes that soccer cards are on the verge of receiving far more interest from collectors than they have up to this point.
"The kids who grew up watching and playing soccer in the 1980s and 1990s are now adults with jobs and incomes," Esmaili-Doki pointed out. "I think they will be just like the kids who came before them who, as they grew up, wanted cards of the football, baseball and basketball players they loved when they were young."
Esmaili-Doki, who has amassed a large and significant collection of PSA-graded soccer cards and ticket stubs, has been involved with the hobby for almost 25 years.
Sports Market Report recently caught up with him at his Texas home, where he shared his thoughts on why he believes soccer cards are well positioned to garner a far higher level of interest than the sports card hobby has ever seen.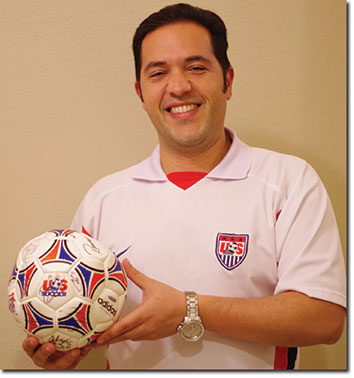 We began our conversation with Esmaili-Doki by asking him how he developed such a passion for soccer.
Bryan Esmaili-Doki (BED): I've spent my whole life in Sherman, Texas, which is about 50 miles north of Dallas. I've been a huge sports fan ever since I was a kid. I've always loved all sports, but my favorite has been soccer. For as far back as I can remember, soccer has been a part of my life. The earliest memories I have are of me kicking around a soccer ball, and my childhood dream was to become a professional soccer player.
My dad is from Iran, so he grew up playing soccer. He came to the United States when he was 18 and played soccer for the University of Arkansas, where he studied engineering. When he first came to the U.S., he didn't really understand American football, or even baseball, so soccer was always his sport.
Sports Market Report (SMR): So his love of the game was passed on to you.
BED: Yes, by all means. I really got into the game and started learning about the players and teams when I watched the 1986 World Cup, which was held in Mexico. I was just five years old, and to this day, I still have vivid memories of watching those games on television with my dad. The big star at that time was Diego Maradona from Argentina, who led his team to the championship.
Then, as the years went by, I came to love soccer more and more, although my dream of becoming a professional player never panned out [laughing]. I did well in school academically, much better than I ever performed athletically, so I followed in my dad's footsteps and became an engineer. But I still love to play and do so to this day with some adult leagues here in Sherman and the surrounding communities.
SMR: Did you follow any specific team as a kid?
BED: When I was young, there was no professional soccer league in the United States. My dad used to tell me about the old North American Soccer League [NASL], which was big when he was a kid. But that was gone by 1985, so I don't remember it. Back in the days of the NASL, he had been a fan of the Dallas Tornado. Because the NASL folded, I never got the chance to follow a local team.
Back in those days, there was no Internet, and we had no cable television or satellite dish to watch international games. At some point though, my dad bought one of those great big satellite dishes. It was huge. Once he got that set up, we were able to watch soccer games from various places around the world. I remember we watched a lot of Mexican and German teams. We would also watch games from England, Italy and Spain. Those were the leagues we followed until 1996, when I was in my teens and the newly-founded Major League Soccer [MLS] had its inaugural season.
In 1994, the FIFA [Fédération Internationale de Football Association] World Cup was held in the United States. There were games in various cities and, because we live close to Dallas, we were able to go to two games that were held at the Cotton Bowl. That was the fulfillment of a dream for my dad and, of course, for me as well.
SMR: After the formation of MLS, did you become a fan of any team?
BED: Yes, the Dallas Burn, as they were known back then. Today they are known as FC Dallas. Back then, the Burn played their home games at the Cotton Bowl, and my dad and I followed the team and went to as many games as we could.
SMR: Were you a card collector back then?
BED: When I was really young, I wasn't really a card collector. What I did collect was comic books, especially those of Batman and Superman. I was probably nine or so when I got into collecting comic books. That continued for a couple years and then, when I was about 12 or 13, I got into collecting sports cards.
I can vividly remember what got me into cards. It was the John Madden video games on Super Nintendo. My friends from the neighborhood and I loved those games. I was a fan of all the Dallas teams: the Cowboys, the Rangers, the Stars, the Mavericks. But it was when I got into those Madden video games that I started to have a real interest in the National Football League.
It was the early 1990s, the dynasty years for the Cowboys, so it was easy to get caught up in them. My very first purchase of sports cards was a pack of 1993 Upper Deck Football cards. I remember that vividly. Buying that pack was where my focus on collecting football cards began.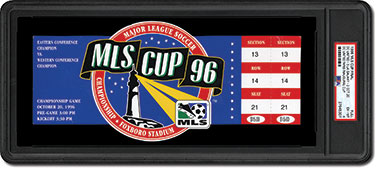 SMR: Were you only collecting football cards?
BED: At that time, yes. Now remember, this was before MLS really got established. If there were soccer cards back then, I didn't know about them. This was before the Internet, and there were no soccer cards available in my area. As time went by, I branched out a little and started to get baseball and basketball cards, even a few hockey cards.
But then, I recall going to the store when the World Cup was being played in the United States. Upper Deck had created a card set for the World Cup, and that was it for me. That was my first introduction to soccer cards. I became obsessed with those cards and bought many packs. But that was a short-lived thing. Once the World Cup was over, there were no other soccer cards available.
SMR: Would you say you were a serious card collector as a kid?
BED: Not really. It was just a hobby. I loved them, but I was a kid, so money was limited and there was no Internet. I would say I was like most young kids back then. I would buy a pack or two of cards when I went to the store once a week.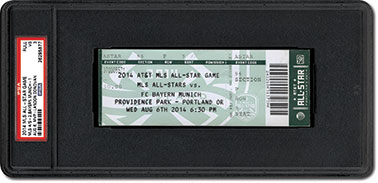 SMR: Tell us how your interest in card collecting progressed.
BED: After the excitement of the World Cup was over, I started to really get into basketball for the first time. This is when Michael Jordan was dominating the game. I loved him, but I was a fan of the Dallas Mavericks, who at the time were not very good. I started collecting basketball cards and began looking for cards of Shaquille O'Neal and Penny Hardaway.
Then, around 1996, I remember there were some MLS promo cards that were issued by Upper Deck. And in 1997, they released an MLS set. But I was still in high school and on a limited budget. So, because of the limited supply of soccer cards available, my lack of money and the fact that I was looking toward college at that point, my interest in cards began to wane.
SMR: When did you get back into collecting?
BED: I had always followed the hobby from a distance you might say. I was always buying a pack of cards here and there throughout my time in college. Upper Deck had put out soccer cards in 1999 and 2000, and then, when I graduated in 2004, I really got into collecting on a serious level. By then the Internet was widely available, and there was eBay which opened collectors up to a worldwide market. That year, 2004, Upper Deck also released another set of MLS cards.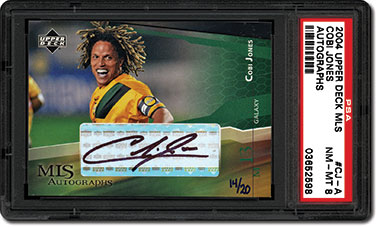 SMR: Were you knowledgeable about card grading back then?
BED: I was aware of it, but I was not knowledgeable about it at all. When I would get to a card show or was browsing online for cards, I would see the graded cards. That's when I first became knowledgeable about PSA and what they do.
It wasn't until a friend of my dad's and fellow co-worker of mine, Ronnie Perry, showed me his amazing card collection. He was a big PSA card collector. He was the one who really educated me on what PSA does, the process of how grading works and how important it is to the online collecting culture.
Along with cards, he also collected old World Series ticket stubs. That really grabbed my attention because, from the time I was very young, I always kept ticket stubs from any event I ever attended: sporting events, movies, anything. I kept them in this old shoebox. He had all of his tickets graded by PSA. That captivated my interest in grading and what PSA does. I had World Cup tickets I wanted to get graded, along with a lot of my cards.
SMR: How would you categorize your collecting today?
BED: I am a very active soccer card collector. Now that I'm a professional engineer, I have the financial means to purchase cards, and there is now quite a bit of soccer material available when it comes to cards. Topps started manufacturing MLS soccer cards and Panini produced its World Cup cards. So today, there is just so much more available, which means there is a bigger following with collectors.
When the league first started, there were only 10 teams. That's when David Beckham came on the scene. Then we saw the emergence of America's own soccer stars like Landon Donovan and Clint Dempsey. I've had the opportunity to meet both players and admire them for elevating soccer in the United States to a new level. I have always collected their cards. So I've been serious about collecting since 2004.
SMR: What do you focus on?
BED: Soccer cards are my total focus. I love those early MLS Upper Deck cards. In 1999, they put out a Sign of the Times autographed insert set. When they were first released, I got a few packs, and, as the years have gone by, I have gotten so many more. It has taken me 15 years, but I finally completed that full set of signed cards from 1999. That was a real accomplishment because it is hard to find or put together a complete set.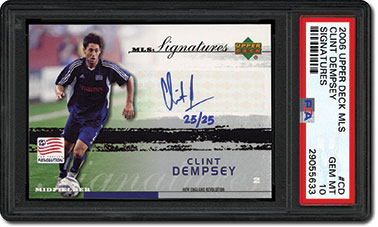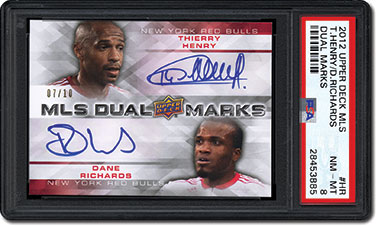 SMR: Do you have a favorite card in your collection?
BED: Yes I do. It's a card from that 1999 Upper Deck MLS Sign of the Times set. It was a really tough card to find. The signed cards were inserted at the rate of one per 36 packs. It was the last card I needed to complete the set and I just couldn't find it anywhere. Then, after years of searching, I got it. It's the Eric Wynalda card.
He was a great player, and for a long time he held the U.S. goal scoring record. He also scored the first goal in MLS history. That's my favorite card because he was such a great player and because that card represented the completion of such a difficult set for me.
By the way, I have also been able to track down a ticket stub from that game when Wynalda scored the first goal. So that's a nice accompaniment to my Wynalda card. Along with cards, I have also gotten into collecting PSA-graded ticket stubs from significant soccer games.
SMR: Do you participate in the PSA Set Registry?
BED: I do. My friend Ronnie, who I mentioned before as having introduced me to PSA, also introduced me to the Registry. I love the Registry because I'm a competitor. When it comes to the cards and ticket stubs I collect, I want to put together complete sets in the best grades I can find. As an engineer, it is extremely important that what I do is very precise and the best. That is what my job demands and it's the same way I approach collecting.
The PSA Set Registry really sparked my desire to be the best. I want to be the top soccer card collector in the world, and the Registry gives me the opportunity to do that. Without the Registry, no one would know who has what or who has the finest cards. My goal is to have an unrivaled soccer collection on the Registry. That's a lofty goal, I know, but I think it's achievable.
SMR: Let's go back to the Wynalda insert card. It was so tough to come by, but you finally got it. Is there any other card that has eluded you or been equally as tough?
BED: There sure is. There is a card from the 2004 Upper Deck MLS release. That year, they did a limited run of autographed insert cards. They only produced 20 cards for each player, so they were very limited. They also had a few cards that had both autographs and small pieces of game-worn jerseys inserted into them, which were even more limited. They only made 15 per player of those.
As you can imagine, the signed jersey insert cards are extremely hard to find. I have worked hard and have gotten some of them, but I'm still missing the autographed Landon Donovan jersey card. Think of it: He's a major star and they only made 15 of them. That makes for a tough card. I did see it listed in an online auction once, but at that time, there was no way I could afford it. That was the only time I have ever seen that card come up for sale. That's the one that has eluded me, but I will get it. One day it will happen.
SMR: What are your thoughts on the future of collecting soccer cards?
BED: Soccer has been growing for a long time in the United States. Today, you have kids who have grown up with the sport and played it throughout their youth. Those kids are now adults, and many of them may develop an interest in soccer cards. The World Cup has also become huge for many Americans. There has been a huge growth in both U.S. and international soccer, and that has been reflected in the growing number of soccer-related collectibles.
I read a recent poll that said more American kids today recognize the names of international soccer players such as Lionel Messi and Cristiano Ronaldo than they do the names of some NFL or Major League Baseball players. That doesn't mean soccer cards will ever rival baseball cards, but to me, that points toward a growing interest in soccer cards.
Then, once people start collecting soccer cards, I believe they will do the same thing baseball and football card collectors do: They'll start looking for the cards of the players they remember watching as a kid. They will start learning about the older material. Once they learn about the older cards, they'll want to acquire them. That's just the way it works with card collecting.
So, I think there's a bright future for soccer cards. And I believe the newly opened National Soccer Hall of Fame will only help the hobby. It's not far from where I live, so, hopefully, the day will come when I may have some of my collection placed on display there. That's another goal of mine.
---
Please feel free to contact SMR at [email protected] if you have any questions or comments. Thank you to Bryan Esmaili-Doki for providing the cards and images for this article.