PSA Set Registry
Collecting the 1969 Topps Basketball Set
Still Standing Tall After 50 Years
By Kevin Glew
It's a set that has stood tall for 50 years.
Measuring 2-1/2" by 4-11/16" each, the tallboy cards that comprise the 1969 Topps Basketball set are some of the most coveted vintage hoops singles.
"I think the 1969 set is clearly in the top three basketball sets of all time," said Michael Watchorn, who owns the No. 3 Current Finest set on the PSA Set Registry.
Geoff Burt, who has compiled the Registry's No. 5 Current Finest set, offers a similar assessment.
"In my opinion, the 1957 Topps, 1961 Fleer and this 1969 Topps set are the big three basketball sets," he said.
One of the major attractions of the 1969 Topps offering is its design. The tallboy format is fitting for its towering subjects, and the size of these singles made a statement for Topps who was re-entering the basketball card market after a 12-year absence.
The fronts of these cards showcase a color player photo inside an oval. Many of the subjects are pictured with their jerseys on backwards or in their warm-up gear. This was reportedly due to licensing issues with the team logos.
Aside from the player photo, the white-bordered fronts also flaunt the player name and position at the top and the team city at the bottom. There are small, black cartoon images at each corner of the oval.
The backs of these singles present the card number, player name and vitals (Height, Weight, Birthdate, etc.) at the top, followed by a short write-up and yearly statistics. There's also a cartoon near the bottom that provides a fact about the player. This cartoon generally highlights the player's skills or on-the-court accomplishments, but in some cases, it shares a glimpse into the player's life away from the court.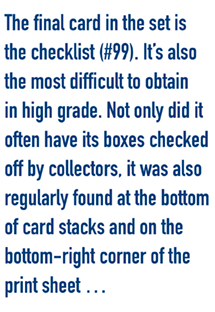 Some of these cartoons illustrate that players held off-season jobs. For example, Bailey Howell (#5) sold insurance, John Block (#9) managed a coffee house and Don Ohl (#77) operated an office supply company.
A few of the cartoons also describe the player's prowess in other sports. Jack Marin's card (#26), for instance, shares that he was an excellent golfer that shot in the 70s, while Dave DeBusschere's single (#85) notes that he previously pitched for the Chicago White Sox.
The cartoons also provide some light-hearted facts. On Dick Van Arsdale's card (#31), we're informed that the Phoenix Suns forward's favorite song is fittingly "By the Time I Get to Phoenix," while Larry Siegfried's card (#59) heralds him as "one of the NBA's most eligible bachelors."
The 1969 Topps Basketball cards were printed in one series, with all 99 cards on a single sheet (nine rows of 11 cards). These cards were distributed in 10-card, 10-cent packs with a slab of gum and a poster ruler insert. This insert features a cartoon drawing of the player beside a ruler design that illustrates his height.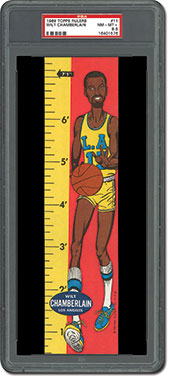 By reading the card backs, we can gain insight as to when these cards were manufactured. For example, the Jim Washington (#17) and Chet Walker (#91) cards both mention the trade in which Washington was shipped by the Chicago Bulls to the Philadelphia 76ers in exchange for Walker. This deal occurred on September 2, 1969. This is the latest transaction noted on a 1969 Topps Basketball card, so we can deduce from this that the production of these cards was not completed until after this date.
This 99-card set offers 98 player singles and a checklist. Each of the 14 NBA teams at the time is represented with seven cards.
The final card in the set is the checklist (#99). It's also the most difficult to obtain in high grade. Not only did it often have its boxes checked off by collectors, it was also regularly found at the bottom of card stacks and on the bottom-right corner of the print sheet - a position that generally makes cards more susceptible to flaws during the production process.
Since 2008, the last time SMR published an article about this set, more than 300 checklists have been submitted for grading. Of the 566 graded, there are three PSA MINT 9s and no PSA GEM-MT 10s to date. Watchorn was fortunate to buy one of the three PSA 9s.
"The No. 1 and the No. 99 cards are difficult to obtain in high grade because most kids stacked their cards, so the first and last cards were always subjected to the most severe handling. They got the rubber bands wrapped around them," explained Watchorn. "Plus everybody used the checklist to check off the cards that they had. It's really tough to get the checklist in a good grade."
Ray Bernstein, who has assembled the No. 7 Current Finest 1969 Topps Basketball set on the PSA Set Registry, has been assembling his set for several years, but he has only managed to track down a PSA NM-MT 8 example of the checklist within the last 12 months.
"The checklist is the hardest card in the set," he said.
The checklist was also one of the last singles that Burt needed to complete his set in PSA 8 or better.
"I think the checklist is the 'Holy Grail' of this set," he said. "You just don't see them."
As noted earlier, there are just three PSA 9s. One PSA 9 fetched $12,998 in an SCP Auctions sale in January 2017.
The last major basketball set before this issue was the 1961 Fleer offering. So because there was a seven-year gap between major sets, the 1969 issue boasts rookie cards of numerous Hall of Famers, including Gail Goodrich (#2), Nate Thurmond (#10), Gus Johnson (#12), Connie Hawkins (#15), John Havlicek (#20), Lew Alcindor (#25), Billy Cunningham (#40), Bill Bradley (#43), Jerry Lucas (#45), Dave Bing (#55), Wes Unseld (#56), Willis Reed (#60), Tom Sanders (#72), Elvin Hayes (#75), Earl Monroe (#80), Don Nelson (#82), Dave DeBusschere (#85) and Walt Frazier (#98).
The Alcindor card is the most sought after of these rookies. It features the NBA legend with the Milwaukee Bucks in his warm-up gear. The dominant center would later change his name to Kareem Abdul-Jabbar.
"Lew Alcindor was the man back then and this was his rookie year," noted Burt, who collected the 1969 Topps Basketball cards when they originally came out. "I was a big fan and I was following him at a young age, doing skyhooks with the Nerf hoop in the TV room. Having his card in this series was my big draw. That's why I kept buying the packs. I wanted to get Lew Alcindor."
When the last SMR article about this set was published 11 years ago, only one PSA 10 had been graded at that time. Over 1,500 more Alcindor cards have since been submitted and only one of those has received the esteemed PSA 10 grade. There have also only been three more PSA 9s during that stretch. This card was in the bottom row of the print sheet (fourth from the left), a spot that tends to make cards more vulnerable to condition woes. This helps to explain why it's often found poorly centered.
"The one thing that I kind of kick myself for is that it has only been in recent years that the Alcindor card in a PSA 9 has started to command just an amazing amount of money," noted Watchorn. "I remember watching the PSA 9s for years and you could buy one for around $5,000 to $6,000. But I kept thinking, well, that's my reach card. I'll save up for that card. And now that card is nearly $50,000. It's certainly north of $35,000 to $40,000."
Bernstein, who possesses a PSA NM 7 example, shares the same regret.
"Before all the rookie cards started to skyrocket in price a few years ago, you could have gotten a PSA 8 for $2,000," said Bernstein. Unfortunately, he missed this opportunity and "now they want crazy money for those."
Of the 2,589 submitted, there have been two PSA 10s and 17 PSA 9s. A PSA 10 sold for $240,000 in a Heritage Auctions sale in November 2017, while a PSA 8 fetched $4,650 on eBay in August 2018.
The second-most desirable rookie in this set is the Havlicek (#20). This card pictures the Celtics great in a posed shooting position with his jersey on backwards. It's located on the far-right edge of the sixth row of the print sheet, which made it susceptible to flaws. Of the 1,368 submitted, there have been just two PSA 10s and 29 PSA 9s. One PSA 10 sold for $100,655 in a Goldin Auctions sale in October 2018.
On top of its vast number of Hall of Famer rookies, this set also boasts desirable cards of legends Wilt Chamberlain (#1), Oscar Robertson (#50) and Jerry West (#90). Being the first card in the set, the Chamberlain is particularly elusive in top grade. This card suffered additional wear and tear being at the top of collector piles. In the last decade, just one additional PSA 9 has been recorded. Most impressively, a PSA 8 Chamberlain fetched $565 on eBay in January 2008, but 10 years later another PSA 8 sold for $2,402 in March 2018.
The Hal Greer (#84) is another tough Hall of Famer card to find in pristine form. This card is located two-to-the-right of Alcindor in the bottom row of the print sheet and is also challenging to track down well-centered. Of the 341 submitted, there have been eight PSA 9s. One PSA 8 commanded $110 on eBay in November 2018.
Collectors of this set say some of the most difficult cards to find in high grade feature common players. For example, there are just four PSA 9s and no PSA 10s of the Tom Boerwinkle single (#7). This card is located on the left edge of the fifth row of the print sheet, so that's a key reason why it's tough to find well-centered. One PSA 8 example sold for $150 on eBay in April 2018.
The Tom Meschery single (#19) is also elusive in top grade. This card is located to the right of the Alcindor card in the bottom row of the print sheet and is hard to find properly centered. Of the 263 evaluated, there has been one PSA 10 and five PSA 9s. One of the PSA 9s garnered $1,799 on eBay in May 2018.
When Watchorn is asked about the key cards in this set, he's quick to cite these low population commons.
"When those come up, I'm much more drawn to them," said Watchorn. "You can always find a PSA 9 Alcindor. You can always find a PSA 9 Bradley or Havlicek. Those come up. You don't see a Meschery or Boerwinkle come up very often at all."
If you study the cards closely, you'll also notice an error on the Lenny Wilkens single (#44). His last name is mistakenly spelled "Wilkins" on the front but is spelled correctly on the back. This error was not corrected.
In general, the 1969 Topps Basketball cards are hard to uncover in top condition.
"The cards were so bulky to lift and store because they're oversized," said Bernstein.
There were no protective holders or customized pocket sheets for these cards when they were originally released.
But Bernstein and Burt say the biggest condition issue with the cards is poor centering (see sidebar article).
"I think it's more the side-to-side centering," said Burt. "I have probably gotten a couple hundred cards graded that have not made the cut for my Registry set and there are a lot of 9 (OC)s."
This set continues to be one of the most desirable vintage basketball issues, and the prices of the key rookies and the checklist have climbed significantly in recent years.
"Every sport has their iconic sets, and this will always be one of them for basketball," said Burt. "I think it will certainly hold its value. I don't think there's much new inventory coming in of cards grading PSA 8 or higher. So, I have to believe the values are going to hold up and continue to appreciate a bit."
• • •
Collecting an Off-Center 1969 Topps Basketball Set
So just how deceptive is the centering on the 1969 Topps Basketball cards?
Veteran collector Steve Jones can provide you with a thorough answer to that question. He spent 14 years tracking down all 99 cards in this set in PSA MINT 9 (OC) grade.
"If you look at cards from sets like 1952 Topps Baseball, when they're off center, it tends to jump out at you," said Jones. "The reason I started this set was because if you look at a regular [non-qualified] 1969 Topps card and an off-centered one, you can see the difference, but you really have to scrutinize them."
Jones says it's the oval which contains the player photo on the card front that makes the centering so tricky to evaluate.
"The oval on a centered card is really close to the borders," explained Jones. "And then for an OC card, it's really hard to tell from a regular one. I mean you can see it, but it's nuanced."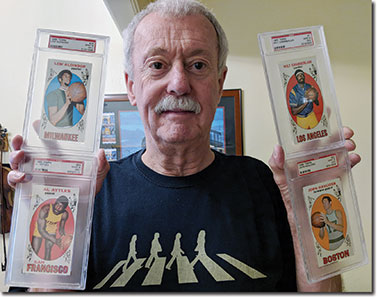 Jones says the 1969 Topps Basketball cards are commonly found off center both left-to-right and top-to-bottom, but in his experience the left-to-right centering is a bigger problem.
Another appeal of assembling this set in PSA 9 (OC) grade is the affordability of the cards.
"I put this set together for a fraction of the cost of a PSA 9 set," said Jones.
The long-time hobbyist says his PSA 9 (OC) Alcindor rookie (#25) was one of the first cards he purchased for his set back in 2002 or 2003. He paid $455 for it. Around the same time, he bought his Havlicek rookie (#20) for under $100.
"The second-most expensive card that I bought was the checklist (#99) for just under $500," said Jones.
He paid "in the $25 range" for most of his PSA 9 (OC) commons.
"I was stuck forever [trying to obtain] the Jim Barnett (#51), Adrian Smith (#97) and John McGlocklin (#14) cards," said Jones. "And at one point, I thought to myself, I don't know whether I will ever complete the set. Then, in a one-month period, a 9 (OC) Barnett appeared and so did Adrian Smith."
The McGlocklin card was the last card that he needed.
"I probably submitted 30 raw John McGlockins to PSA, hoping to get a 9 (OC). But they would come back 8 (OC); they just didn't fit the qualifications for a 9 (OC)," said Jones.
He's proud of his set and it has become a conversation piece for him. When he shows it to other collectors, they're impressed that a PSA 9 (OC) set looks so good and that he was able to assemble it for so little.
"PSA does not have a GEM-MINT 10 (OC) grade, but I think that if some of my 9 (OC)s were centered better, they would probably be PSA 10 contenders," said Jones. "They're that nice."
• • •
For more information on the 1969 Topps Basketball card set, please visit PSA CardFacts.
---
Please feel free to contact Kevin Glew at [email protected] if you have any additional information or comments. Please note that the Population Report figures quoted and Set Registry rankings reported are those as of March 2019.