Collector Profile
And the Winner Is... Dr. James "Jay" Swartz
Recipient of the 2018 PSA Set Registry "Best Collection of the Year" Award
In 1980, a small group of enterprising sports card dealers and collectors came together at a Los Angeles hotel to meet like-minded hobbyists, share stories, and buy, sell and trade cards and other sundry items of sports memorabilia.
As the years went by, that humble convergence of collectors blossomed and grew into the National Sports Collectors Convention, the largest sports card and memorabilia convention and trade show in
the world.
Today, attracting thousands of collectors from all over the U.S. and abroad, "The National," as it is colloquially referred to, provides all its attendees, whether they be dealers or collectors, with big wins.
Those wins come in various forms.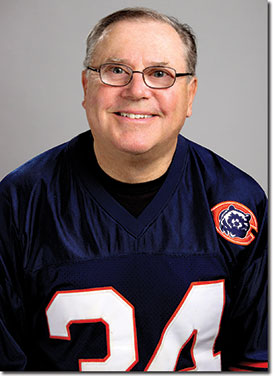 For some, they are financial, as a dealer has the opportunity to present and offer his or her products and items of memorabilia. For others, they come in the form of achievement, as a collector finds a long sought-after card to complete a difficult set. Lastly, some hobby wins are strictly sentimental, as a life-long fan gets to meet and interact with a legendary athlete that they have admired since childhood.
For Dr. James "Jay" Swartz, last summer's National, which was held in Cleveland, Ohio, gave him a very special win as his vast amassment of cards was recognized as the Best Collection of the Year at the 2018 PSA Set Registry Awards luncheon.
With more than 133,000 total sets registered at the time of the 2018 awards deadline, Swartz's card collection was recognized for its exceptional size and quality condition.
Swartz's collection of high-grade cards not only consists of an impressive number of vintage cards, it also covers a wide array of subjects and genres that are included within the PSA Set Registry.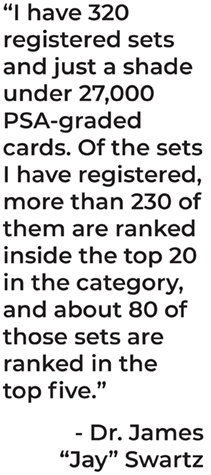 "Dr. Swartz has a collection that most hobbyists would be envious of," said Joe Orlando, who serves as the president and CEO of PSA's parent company, Collectors Universe, Inc., and the editor-in-chief of Sports Market Report.
"Baseball, basketball, football, golf and more are all represented in his collection," said Orlando. "From mainstream classics like the 1953 Bowman Color baseball and 1952 Bowman Large and Small football sets, to timeless beauties such as the 1954 Red Man Tobacco baseball set, this immense collection of sets that date from the 1940s through the 1970s show great breadth and diversity."
Sports Market Report recently visited with Swartz to get a better understanding of his passion for cards and how, in spite of a monumental setback, he has compiled a collection that earned the top award at last year's luncheon.
We began our visit with Swartz by congratulating him on his win.
Jay Swartz (JS): Thank you. It really is a great honor, and I'm extremely grateful to Joe [Orlando] and everyone at PSA for recognizing my collection.
Sports Market Report (SMR): Speaking of Joe Orlando, he has used various superlatives to define both the range of genres and sheer size of your collection. Just how large of an accumulation is it?
JS: It's actually even bigger than he knows. Bigger than what I have on the Registry. I have 320 registered sets and just a shade under 27,000 PSA-graded cards. Of the sets I have registered, more than 230 of them are ranked inside the top 20 in the category, and about 80 of those sets are ranked in the top five. Half of the sets are complete, while the other half are all short by just a card or two.
So, yes, it is by all means a vast collection, and I was thrilled to get the phone call last spring identifying it as the PSA Collection of the Year. I've been all over the United States and the world, but, believe it or not, Cleveland was the only major city in the U.S. I had never been to in my life. So the entire experience was very exciting for me: Getting to see Cleveland for the first time, receiving the award, attending the National, and meeting so many of the luminaries from the collecting world.
SMR: Let's take a step back in time. Were you a card collector as a kid?
JS: Yes. I especially loved collecting cards of the Chicago White Sox players. I grew up on the South Side of Chicago, so I was a White Sox fan, as opposed to the people who grew up on the North Side, who were Cubs fans. Back when I was a kid the Cubs stunk, while we had the "Go-Go Sox" with Minnie Minoso, Jungle Jim Rivera, Billy Pierce, Nellie Fox and Little Luis Aparicio. Every year we were fighting the Yankees for the pennant, and finally, in 1959, we broke through and got to go to the World Series at long last. That was the hey-day for a young lad living on the South Side of Chicago in the late-1950s.
SMR: Were you exclusively collecting White Sox cards back then?
JS: No. I collected every card from every pack I ripped open. The first set I remember collecting was the 1955 Bowman Color TV set. We had this little local shop that sold cards. Naturally, they had Topps cards, but when I was a kid, I always liked the Bowman cards better. Of course, no one knew then that would be Bowman's last hurrah.
SMR: Were you on the lookout for any specific card or cards back then?
JS: One card I didn't want was any Mickey Mantle card. That was the case with all my friends, who were all White Sox fans and Yankee haters [laughs]. So, if we ever got a Mantle card, it went right into the spokes of our bikes. I, unsurprisingly, wanted cards of the Sox players - Pierce, Fox, Minoso - those were the premium cards in my hood back then.
SMR: Were you a set builder?
JS: Not really. I guess you could say I was a team set collector, as long as the team was the Chicago White Sox [laughs]. But, for me, as a boy, I just loved buying cards, ripping packs and trading with my friends just for the fun of it. We devised a lot of different games with our cards because not one of us gave any thought to damaging corners or causing scratches. Our cards were play things to us. I may have gotten every card from a set here or there, but I can't say it was ever my goal, or even a thought, to complete a set.
SMR: Were you exclusively a baseball card collector?
JS: No. The baseball cards surely made up the lion's share of my collection, but I also collected non-sports cards. One of the sets that came out when I was young, in 1956, was the Davy Crockett set. I remember those cards vividly. I also liked the 1956 Topps Flags of the World cards.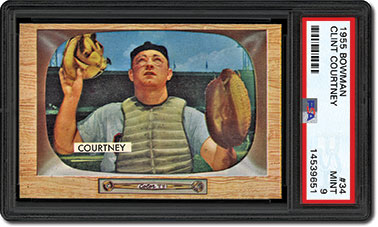 SMR: Did you continue to collect as you got older?
JS: I had started collecting in 1955 and was active until around 1961. That was the year when Mickey Mantle and Roger Maris were chasing the Babe, the White Sox were again chasing the Yankees, and I was getting ready to enter high school and start chasing girls. So I collected up until 1962, and then cards lost out to girls [laughing].
SMR: It's true, high school girls and mothers determined to unclutter their sons' bedrooms when they went away to college were the ruin of many a great card collection.
JS: That's right [laughing]. Luckily, my mother didn't throw my cards away. I was a real pack rat as a kid, and when I went away to college, I had all my cards in little stacks with rubber bands around them. They wound up in cardboard boxes and just sat in my parents' house for the next 20 years.
SMR: So, you went on to graduate college and pursue a career, right?
JS: I did. I had gone on to work as a sports reporter in the city of my alma mater, the University of Missouri. Then I went on to TheCincinnati Enquirer as a sports reporter. While I was there, I got an invitation to become a beat reporter for the new Cincinnati pro hockey franchise. That seemed interesting, but I also had a letter of acceptance to go to grad school and be a part of the inaugural Mizzou Washington Reporting Program, which was a very prestigious program. They only selected eight people for the program each year, and I felt I just couldn't pass up the opportunity to go to Washington, D.C. So I went, and while I was there, I got a job at the old Washington Star covering sports.
Then, once again, opportunity knocked and I got a call from a friend in Florida who had heard Sports Digest magazine was looking for a managing editor. I thought it was too senior of a gig for me, but I applied and, surprise, surprise, I heard from them. They flew me down to Miami, wined and dined me, and offered me the job. I was 25 and couldn't believe this was happening to me. However, I could quickly see that things weren't going well financially for the magazine. When I saw that writing on the wall, I decided to go back to school and get a Ph.D. Soon thereafter, I heard that Sports Digest magazine went under, so I got out when the going was good.
SMR: Where did your career path take you after getting your Ph.D.?
JS: I then went on to work at Penn State as a professor, and then I got a call from a guy who was the chair of the journalism department at Southern Methodist University [SMU]. He asked if I would be interested working for them and helping create a new department in their communications division. So, I was wined and dined again. They offered me a lucrative compensation plan, and it was a lot warmer in Texas than it was in Pennsylvania, so I took that job in Dallas.
The reason I bring this up is because this was when card collecting came back into my life. One day, a friend of mine invited me to go with him to a ball game in Houston. I had never been to an indoor stadium, so I was interested in seeing the Astrodome. While we were at that game, my friend mentioned they had a card show going on at the stadium and that after the game we should check it out. My first reaction was to say: "Why? I don't play poker or any card games, so why would I want to go to that?" I just didn't connect the dots that he meant a sports card show.
We went down to where they were holding the show, and as soon as we got there, I saw a display case with a lot of old cards I recognized from my childhood and which were still tucked away in those boxes. One of the cards that caught my attention was a Sandy Koufax rookie card. I asked the dealer what he wanted for that card, and he said: "Well, that's a really nice one, so I'll need six-fifty for that." My response was something like: "Six dollars and fifty cents! For one card!" And he looked at me like I just fell off some turnip truck and said: "Six-hundred and fifty DOLLARS!"
I was stunned, and I started thinking, if that's a $650 card, I have stacks of cards like that in my boxes back home! So that really opened my eyes for the first time to how the card collecting hobby had dramatically changed since I had left it for girls and a career. I couldn't wait to get home and start going through my cards to see what I had. The minute I got home I was, lickety-split, busting into the closet and pulling out all my old cards that I hadn't gone through in over 25 years. Right away, I came across a Clemente rookie card, a Maris rookie card, a few Mantle cards, but I had no real idea what they were worth.
SMR: Sounds like something exciting is coming.
JS: I started doing some research. I got hold of a price guide from my Dallas pal Dr. Jim Beckett, and I reached out to people who really knew about cards. And what I found was in fact exciting: I discovered I had between $50- and $100-thousand dollars' worth of cards on my hands. Around that same time, the entire atmosphere at SMU was about athletics, in my opinion, more so than academics, and we all know where that got them. I became increasingly displeased with what I saw unfolding at SMU, so I left and became a professor out here in California.
It was during that time that I really began looking at my card collection and decided to see what I had as far as complete sets went and what I still needed to complete, knowing there would be a few cards I would never be able to acquire. This was the mid-1980s and card shows had really taken off. The hobby was exploding and the first National took place. As I got deeper into cards, I ran into a guy who had all the commons one may need to complete various sets. I began working with him, and that led me to become a dealer myself. By the early-1990s, I had completed every baseball and football issue from the 1933 Goudey to the 1975 Topps set.
I had this fabulous collection, and, at the time, I was building a new house. As I was building the house, I gave thought to what had, by that time, become a multi-million-dollar card collection and how I could best protect it. With that in mind, I decided to add an addition to the home that included a closet-sized vault with three-inch thick steel walls and a high-security lock. This was perfect in that I felt I could keep my collection accessible for whenever I wanted to pull something out and still be sure it was protected.
Well, one day, in the mid-1990s, I was away for work. When I came home, I drove up to my house and saw my front door was open. I knew this wasn't good. I ran in and went straight to the vault, found it open and completely cleaned out except for a 1962 Topps set that was in a binder. I called the police and they came out to file a report and see if they could figure out how someone could have gotten into my safe, or even the house with all the high security I had installed. They couldn't figure it out. My collection had been wiped out, and the insurance company wanted to give me pennies on the dollar. I took all of that really hard and stopped collecting.
SMR: Did you ever find out how it happened?
JS: I did, years later, when I got a call from a neighbor who tipped me off on who did it: It was the guy I had contracted to build the vault! She had just learned that he was in the West Virginia State Penitentiary for armed robbery.
SMR: What a story! So, obviously, at some point in time, you got back into collecting.
JS: I did. I had another eureka moment in 2008. By that time, PSA was the major force in the hobby, which was completely booming. I decided to get back in and replicate what I had done before. But then, as I began the process and realized what the prices were, I thought to myself: "I'm not poor, but I'm also not a billionaire, so this may not be a great idea."
So I started thinking of what I could do that would be within my budget. I figured I would start with a few select sets, 25 or 30 of them, and things just started expanding from there. Now, I have all the basketball sets from 1948 Bowman to 1975 Topps. I have almost every football set from 1950 Bowman to 1972 Topps. Every baseball set from 1950 Bowman to 1976 Topps, and also a growing number of non-sports sets.
SMR: Having successfully assembled all these sets now, are you still actively collecting?
JS: I would say I'm actively upgrading. If I have a card in PSA [NM-MT] 8, I'm looking for a PSA [MINT] 9, if I have a PSA 9, I'm looking for a PSA [GEM-MT] 10. I look at my collecting today as a giant jigsaw puzzle. I have a mathematical formula for what I call "value buying" that I have come up with, but don't ask me how it works because I'm not going to share it [laughs].
SMR: Are you still enjoying it as much as when you were chasing all those sets?
JS: I always have cards that are being graded, so I enjoy getting them back and seeing how they graded. For me, this always has been, and continues to be, a lot of fun. It's a labor of love. It's mentally challenging and extremely time consuming. It's also an introverted activity, and that is why I miss all the little local shows they used to have, where you could meet other collectors, talk to them, and share stories.
The Internet has been wonderful for the hobby, but it has also all but done away with the little local shows, so I miss the social aspect of it. The PSA Set Registry is a tremendous way to connect with other collectors, but I wish there were even more ways to share memories and stories and such. I'm a guy who loves the social aspect of the hobby. For me, there's nothing better than when a bunch of guys get together who really know and love cards.
SMR: Your passion for cards is clear. Have you ever stopped to think what it is about collecting cards that you love so much?
JS: When it comes to our hobby, whether we are dealers or collectors on any level, we're all in the memory business. As cliché as it may sound, there is something about the innocence of childhood that holds our fascination. When we become adults, we have all the big responsibilities that come along with it: mortgages, taxes, and issues here, there, and everywhere else. But in those precious few years of our lives - our childhoods - when, hopefully, you were protected by your parents, were lucky enough to have lived in a home and had a little discretionary money to spend on a pack or two of cards, there was just nothing more pure and innocent than getting outside of that store and ripping packs to see what you got.
I think that little boy still exists in every card collector. Everyone who loves cards - who is truly passionate about them - has a time from their childhood that they remember and treasure. It's like hearing an old song and revisiting a little vignette from our past. It harkens us back to a time when things were innocent, a time without problems. I mean, who doesn't yearn to recapture those precious moments. I think cards are a tangible link to that time. They certainly are for me.
SMR: Can you share any particularly special memory from your childhood that cards conjure up for you?
JS: I remember the first wax pack I ever bought. I bet many collectors don't, but I do. It was a 1955 Bowman pack. I remember it so vividly that I know the very first card I pulled out of that pack. It was a Clint Courtney card. Now, even the most diehard baseball fan might not be able to identify Clint Courtney if one's life depended on it. But, during the '55 season, Courtney was a platoon catcher on my beloved White Sox. He was the guy behind Sherm Lollar.
When I opened that pack, the first thing I remember thinking as I looked at the picture of Courtney was: "Why is this player holding a bunch of bananas?" He had his catcher's mitt on his one hand and in the other it looked, to me, like he was holding a bunch of bananas. It was only when I looked at it closer that I realized he was holding his catcher's mask. That is such a vivid memory I have from my childhood, from when I was seven or eight years old. It's a moment captured in my brain, and the physical connection between that moment and my current memory of it is that Clint Courtney 1955 Bowman card.
I grew up in a great time. Eisenhower was president. The country wasn't at war. We didn't have the constant chatter of Fox, CNN and MSNBC droning on and on. Today, we're bombarded with instantaneous information, and, as I mentioned earlier, we're not as socially interactive with people except for online. I also think we're not as civil to one another as we once were because of that. We've become a critical society, and I have concerns for the kids that are growing up in this environment. I'm just so grateful I got to grow up when I did - and my cards are the connection to that very special time.
To participate on the PSA Set Registry®, start your online account at PSAcard.com and visit the PSA Set Registry® site for more details.
---
Please feel free to contact SMR at [email protected] if you have any questions or comments.