Collector Profile
Dan Collins
Parting with a Remarkable Collection of T206 Rare Backs
By Kevin Glew
It's a true rags-to-riches collector's story.
Growing up in the 1980s in a home of very modest means in the Cleveland area, Dan Collins had to scrounge together enough change to buy a wax pack, let alone dream of putting together a high-grade T206 set. But spurred by the encouragement of his mother, the success of his business, and his intense hobby focus, Collins has managed to assemble one of the world's finest collections of rare T206 card backs.
"One thing that I want to relay with this story is that this can be done. You can put together a rare collection like this," said Collins, who just turned 40. "I mean I was a poor kid from a divorced family and my mom had to clean houses to get by. It was a lot of work for a lot of years, but I managed to do it."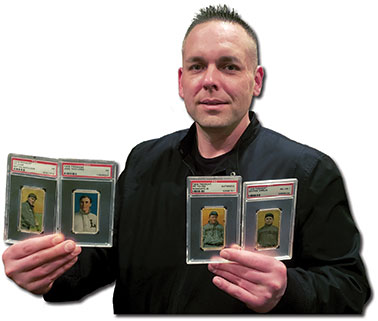 Collins' mother, Eva, helped him buy one of his first T206 cards. When he was 12, his mother drove him through a blizzard to a local card shop to purchase a low-grade Ty Cobb (Bat on Shoulder version) single for $70. And in the ensuing 27 years, his mother continued to encourage him to collect the set until she passed away last February.
"A lot of this collection is due to my mom. She was just an amazing person," said Collins. "I remember one time about 10 years ago, I was frustrated with the collection and I told her I was going to sell it and she chewed me out. She said, 'You better not sell that damn collection. I'll be so mad at you.' She was the biggest promoter of this collection. She inspired a lot of it."
Sadly, Collins' mother and older brother, Johnny, passed away within six months of each other in 2018. Their deaths caused Collins to think about his own mortality and how his three children, Landyn, Ashlyn, and Brooklyn, would be looked after if something were to happen to him. So after 28 years of meticulously assembling his T206 set, he decided to part with it. It will be sold by Robert Edward Auctions in their March 2019 sale.
"My decision to sell my cards was strictly based on estate planning," said Collins.
He plans to put the money from the sale into a trust fund for his kids.
"I think if my mom were alive today, she would agree that I'm making the right choice by selling it," he said. "My gut feeling was that now is the time to do it."
But that doesn't mean that it wasn't difficult for him to let go of something that he has been devoted to for close to three decades. His passion for T206 cards began when he was in the sixth grade.
"The first two T206s I ever acquired were the George Gibson and the Irv Young," said Collins. "I was in sixth grade in study hall and I think I would've been about 12 years old; there was a kid sitting next to me and he started leafing through about seven of these cards that I had never seen before."
Collins was fascinated, so he asked his classmate about them and he told him that he bought them from an antique store.
"I had to trade this kid an arm and a leg of newer stuff to get those cards off him," recalled Collins with a chuckle.
That trade ignited his T206 obsession, and it was shortly after that first transaction that his mother took him to buy the Cobb card.
"I was so excited to get that Cobb card," recalled Collins. "We were really struggling. We didn't have a lot of money, and I used the Christmas money that my mom gave me to acquire the card. It was $70. It's now a PSA [Poor] 1. It's in pretty rough shape, but I remember that my mom drove me through a blizzard to get that card, so it has sentimental value."
His father, Ed, also assisted him in the early days of his collection. When he was 12, he went to his dad's house in Portland, Oregon, and began calling card shops until he found one that had T206 cards.
"My dad drove me all the way across town to a card shop where I bought a Jake Thielman T206 card with my Christmas money," said Collins.
So really, both of his parents helped him start his collection. And with such fond memories underlining those initial acquisitions, Collins has decided to keep the first four T206 cards he got when he was 12.
Prior to those early days, Collins' focus, like many kids who grew up in the 1980s, was on newer cards. And being an Indians fan, he tracked down rookie cards of Albert Belle, who was his favorite player. But it didn't take him long to shift his focus to the T206 cards.
"In my younger years, my teenage years, I would find T206s here and there," said Collins. "I probably had about 50 by the time I was 19, but they were mostly lower grade. I was just buying more and more of them until I got a good chunk of the set."
After high school, he continued to collect T206 cards when he was a manager at a Best Buy store. But after he started his own business (Rentech Solutions, a high-tech equipment rental company) 15 years ago and it became successful, he decided to focus on the rare backs.
"My goal became putting together an entire T206 set with nothing but rare backs," said Collins.
However, he also wanted nothing but high-grade cards, so he set specific standards for himself. For example, if he was going to buy a Lenox back, it had to be a PSA VG 3 or PSA VG-EX 4.
"Most of my cards are higher grade, rare backs," said Collins. "My goal was to put together the rarest set that exists."
According to Robert Edward Auctions President Brian Dwyer, Collins' T206 set, which is over 96% complete and boasts a 5.18 GPA on the PSA Set Registry, includes the following backs: 50 Sovereign, 31 Hindu, 28 American Beauty, 20 Cycle, 19 El Principe De Gales, 14 Lenox, 13 Carolina Brights, 12 Broad Leaf, 11 Tolstoi, seven Uzit, and three Drum. The bulk of these cards will be auctioned off individually in March.
"I'm very excited to have Dan's collection in our auction," said Dwyer. "Dan is a collector who has been on my radar for six or seven years. His set always stood out as a special one whenever I looked at the Registry, and I always thought to myself how great it would be if we had the opportunity to offer this set at auction. We stayed in contact, but the timing was never right for him until recently."
Dwyer said this is one of the best assortments of T206s his company has ever had the opportunity to sell.
"We've had auctions in the past where we have had a sample of many, if not most, of the rare T206 backs, but what makes Dan's set unusual is that many of them are present and many of them are in the highest grade known," said Dwyer. "So it will be a unique offering in that not only is there rarity, but there's condition rarity, and I think that combination will make it very exciting."
Needless to say, Collins has invested a lot of time and effort in his set.
"Every day I checked eBay. I checked Net54. I checked the auction houses. I pretty much knew what was out there for sale at any given time," said Collins.
He was also fortunate when about 10 years ago, local seller Paul Fusco, of Fusco Auctions, connected him with an Ohio collector who had a nice ungraded T206 set that he was able to purchase.
On top of the encouragement his mother provided, the feedback he has received from other collectors inspired him to keep building his rare back set.
"It was rewarding to hear from collectors who told me that I was inspiring them with their collections," said Collins. "There were a lot of collectors who would call me up and I would tell them how I got started."
He also cherishes the friendships he has made during this collecting journey.
"One of the things that has been very cool is that I have become friends with a lot of people in the hobby, and they actually helped me with my set," said Collins. "I did a lot of buying, selling, and trading. I emailed a lot of people on the PSA Set Registry that had rare backs to see if I could work a deal with them."
From his set, he ranks his four Cobb cards among his favorites. They range in grade from PSA EX 5 to PSA NM 7.
"I love the whole set really," said Collins. "I love the Walter Johnson cards. I have a bunch of rare backs of the Johnny Evers card. Those were really tough to get. I really like the Southern Leaguers in the set. I tried to get a lot of those in Hindu backs."
As for which are the rarest cards in his set, he said it is a toss-up between his Drum backs and Broadleaf 460 backs.
"I think the rare backs will command a good price in the auction," said Collins. "Most of the Hall of Famers are in high grade, so they should command some good money as well."
Collins has never owned the Honus Wagner card, but he kicks himself now because he and a friend once seriously contemplated buying a PSA 1 example that sold for between $100,000 and $125,000 more than 10 years ago. A Wagner card in the same grade fetched more than $609,294 in 2017.
But Collins' collection isn't only T206 cards; he will also be parting with some 1887 N172 Old Judge cards, 1911 T205 Gold Border cards, 1912 T207 Brown Background singles, and his extensive tobacco box collection.
Whatever vintage cards Collins has collected, it has been important for him to have them graded by PSA.
"I love PSA. I can buy raw cards and send them in for grading and I have a fairly good idea what the results will be. The grading is that consistent. I also like the holders and the Registry, and PSA-graded cards tend to command higher dollars."
Collins said it's been tough for him to sell his T206 set because he has poured his heart and soul into it for close to three decades, but he's not done with collecting.
"I want to get my son, Landyn, interested in collecting," said Collins. "He's in fourth grade, going into fifth soon, and he's at the age when I started my real collection. He's a really good, responsible kid, so whatever set I collect next, I'm going to sit down with him to look at the sets and I'm going to let him choose the one he wants to collect. We'll do it as a father/son project and maybe add a card or two a month to the collection. Hopefully that will lead him to amass something like this [T206 set]."
But even after his T206 cards sell in March, they will continue to hold a special place in his heart.
"It's a daunting task to build a collection like this, but it can be done," said Collins. "It just takes time, perseverance, and dedication."
He hopes that his rare back T206 set will also inspire collectors.
"I've seen a lot of collectors on message boards and the Registry, and all they could afford were PSA 1s and PSA 2s - and not the rare backs. But a set like mine can be achieved," said Collins. "You just have to peck away at it as a long-term goal. A lot of people get in touch with me and ask how I did it, and I say, 'I was a poor kid and I started off with a couple of cards in sixth grade, and then my mom helped me.'"
For more information on T206 cards, please visit PSAcard.com/CardFacts.
---
Please feel free to contact Kevin Glew at [email protected] if you have any additional information or comments. Thank you to Dan Collins and Robert Edward Auctions for providing the cards featured in this article. Please note the PSA Population Report statistics and Set Registry rankings quoted are as of January 2019.