PSA Set Registry
Collecting the 2003 Pokémon Skyridge Set
A High-Flying Pokémon Issue
By Kevin Glew
The "sky" seems to be the limit as to what collectors will pay for unopened booster boxes from this series.
One 36-pack box of 2003 Pokémon Skyridge cards sold for $7,700 on eBay in August 2018, and two boxes commanded $7,000 each the previous month.
Zack Browning, who owns the No. 2 Current Finest 2003 Pokémon Skyridge set on the PSA Set Registry, says prices for Skyridge boxes have increased rapidly in recent months.
"There are still some booster boxes out there. I know some people that have them, but they're treating the booster boxes like investment vehicles," explained Browning. "It's becoming very difficult to find boxes. We're getting to a point where it's not how much the box costs, it's can I find a box?"
Even single, nine-card packs have been fetching north of $260 each.
So why is there such a bidding frenzy for Skyridge packs and boxes?
Well-known Pokémon trading card expert Scott Pratte believes the production run of the Skyridge series was lower than many of the previous issues because the popularity of Pokémon had started to wane around this time. As a result, it's hard to find unopened booster boxes today.
"Skyridge is definitely one of the scarcest sets out there," said Pratte.
The fact that there are six Crystal cards - including a Charizard - also adds to the desirability of this set. This was the second Wizards of the Coast (WOTC) offering to include rare and valuable Crystal cards, which are the e-Series equivalent of Shining cards, and this set offered double the number of Crystal cards as its predecessor (Aquapolis).
And although there was no official indication from WOTC as to how many Crystal cards were included in each booster box, there were generally one to three. These rare and sought-after singles showcase the word "Crystal Type" in red below the artwork.
On top of its rarity and coveted Crystal cards, the 2003 Pokémon Skyridge set also has historical significance. It's the last WOTC set before Nintendo took over the Pokémon trading card license and it's the final e-Card set that was printed to be compatible with the Nintendo e-Reader.
"People want the last thing that was made by any company," said Browning. "To me, Skyridge defines Wizards of the Coast's advancement in Pokémon in the TCG [Trading Card Game]. It's the best artwork they have produced. It's the final product they made and it was well received compared to other sets. I think people really enjoyed it. There are a lot of chase cards, a lot of big cards. And over the years, it's continued to be one of the most valuable and expensive sets out there."
Pratte shares a similar assessment.
"I would say it has secured itself a spot on the top five list in terms of status [among Pokémon WOTC sets]," he said, adding that the set's popularity has especially taken off in the past few years. "I think the reason it's so popular is a combination of its scarcity, it being the last WOTC set, and the artwork's appeal for some. Plus, some collectors want the Crystal cards. So, there are a lot of different reasons people collect this set."
At 182 cards - including 144 regular singles, six Crystal cards, and 32 separately numbered holographic cards - the 2003 Pokémon Skyridge set is also one of the largest Pokémon trading card sets.
One of the reasons this issue is so large is that it is based on two Japanese sets called "Split Earth" and "Mysterious Mountains."
The 2003 Pokémon Skyridge set offers five different levels of cards that are generally sequenced in order by rarity (see accompanying chart).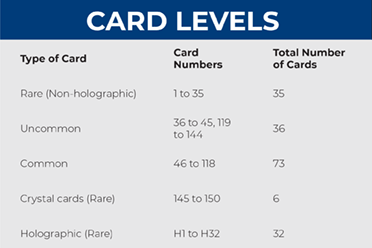 It should be noted that a reverse holographic foil card (sometimes referred to as "reverse foil" by PSA) was manufactured of all of the singles except for the holographic rare cards. This was the second set to number the holographic cards separately (#H1 to #H32), which essentially made them a subset of their own.
The 2003 Pokémon Skyridge cards were unveiled on May 12, 2003. There were nine cards in each booster pack. Of the nine cards, one was a reverse holographic foil card, one a rare, two were uncommons, and five were commons. The regular holographic cards could be found in approximately one in every three packs.
If there is a regular holographic card in the pack, there will also be another rare card. In these instances, the regular holographic card takes the place of one of the common cards (and reduces the number of common cards in a pack to four).
There are four Skyridge pack wrappers each highlighting a different Pokémon, either Ho-Oh, Kabutops, Poliwrath, or Vaporeon. There are 36 packs in each booster box.
One of four box topper singles - Kabutops, Charizard, Crobat, and Ho-Oh - could also be found when you opened each booster box. These are the final four of a 12-card subset, with the first four box toppers being distributed in Expedition booster boxes and the second four in the Aquapolis boxes.
Two theme decks - Mind Machine and Eeveelution - were also released for this series.
Similar to the Aquapolis series, these cards boast yellow borders with the left and bottom borders being distinctively wider to accommodate the Dot Code strip for the e-Reader. The Pokémon name and HP can be found at the top above the artwork, while the trading card game information, the Weakness, Resistance, and Retreat Cost can be found below the artwork.
In terms of the original Base set, Browning remarks that there's certainly the "nostalgia" factor to explain it's popularity. "But if you go through each [WOTC] set and you look at the progression of the artwork, the art on Skyridge is phenomenal." In his opinion, "it is the best artwork that Wizards of the Coast has ever done."
The set symbol, which is printed on the bottom right of the card, was designed to represent the two Japanese sets (Split Earth and Mysterious Mountains) that this offering was based on. The symbol is two mountains with a halo around the taller one.
Collectors lucky enough to open up packs of this product are hoping to pull one of the six Crystal cards, and not surprisingly, it's the Charizard Crystal (#146) that they want the most.
"That's the marquee card," said Pratte. "It's definitely one of the more iconic Charizard cards to collect."
Of the 332 submitted, there have been 136 PSA GEM-MT 10s. One PSA 10 fetched $2,436 on eBay in August 2018.
The Ho-Oh Crystal single (#149) is another highlight. Pratte points out that Ho-Oh is a legendary Pokémon. The "legendary" term was reserved for the rarest Pokémon and typically the most powerful.
"It also has pretty solid artwork," said Pratte. Whenever he has the cards laid out and someone spots the Crystal card, they always comment that it "looks really cool," he says.
There are 64 PSA 10s, one of which commanded $1,626 on eBay in August 2018.
Another sought-after single is Celebi (#145) who is also a legendary Pokémon.
In terms of the character alone, Browning thinks "there are more fans of Celebi than Ho-Oh." "But while more people would prefer the Celebi card and artwork, Ho-Oh goes for a higher price at this point," he adds.
Much of this has to do with the fact that Celebi is more readily available in PSA 10. Of the 204 submitted, there have been 93 PSA 10s. One PSA 10 sold for $1,100 on eBay in May 2018.
Another of the set's strengths is its solid lineup of holographic cards.
"There's tremendous value in those holographic cards," said Browning. "I mean, we're talking Umbreon, Gengar, Gyarados. There's a pretty awesome Alakazam card as well. And the value of those individual cards is driving the pack price up."
Pratte agrees.
"You just have so many popular Pokémon," he said. "You have Alakazam, legendary birds Articuno and Moltres, Jolteon, Gengar, Flareon, and Gyarados. These are all very solid Pokémon. It's a stacked set."
Browning says the Gengar (#H9) single is likely the most valuable. Gengar is a purple, round-shaped, bipedal dual type (Ghost/Poison) Pokémon that's powerful in the TCG. Of the 124 submitted, there have been 36 PSA 10s, one of which garnered $1,050 on eBay in July 2018.
Hobbyists say the production values were very high for this set and the cards are generally found in top grade.
"Similar to Aquapolis, the cards in this set don't really experience significant print lines, edge wear, or centering issues like many other sets," said Browning. "The issue it has are nicks on the corners. It's usually the two opposite corners on the back of the card (top-right, bottom-left or top-left, bottom-right). There will be a little white dot on the corners."
Pratte says damage to these cards from the e-Reader is less of a factor than with singles from the earlier e-Series.
"Damage from the e-Reader is not as much of an issue," said Pratte. "The problem with the e-Reader is that it wasn't that popular. It was definitely a factor when you get into Expedition because Expedition was the first e-Reader set. So the probability is that more Expedition cards are going to have that damage from the e-Reader."
As noted earlier, the 2003 Pokémon Skyridge set is the last of the three e-Series sets and the final WOTC set. This historical significance, combined with the set's relative scarcity and long list of sought-after Crystal and holographic cards, has made it one of the most coveted WOTC sets.
"I think this set is going to continue to pick up steam. It's going to continue to maintain its momentum," said Browning. "Really, the highest point that Skyridge can go is wherever First Edition Base is. It's always going to be priced below that set, but as long as First Edition continues to grow in price, Skyridge will as well. ... It's the last set that Wizards of the Coast made and, in my opinion, it will always be top two or top three in terms of Pokémon sets ever made."
For more information on the 2003 Pokémon Skyridge gaming card set, please visit https://www.psacard.com/cardfacts/non-sports-cards/2003-nintendo-pokemon-skyridge/32895.
---
Please feel free to contact Kevin Glew at [email protected] if you have any additional information or comments. Thank you to Zack Browning for providing the cards featured in this article. Please note the PSA Population Report statistics and Set Registry rankings quoted are as of November 2018.