PSA's QuickOpinion™ Service Provides Hobby Assist for Collectors
Buying Autographs on eBay Can Oftentimes Be a Guessing Game
by Terry Melia
Have you ever been hesitant about purchasing an autographed item on eBay because it comes without reputable, third-party certification? Well, now you have the option of asking the industry's leading autograph authentication company for their cursory opinion regarding a signature's authenticity before clicking the "Add to cart," "Place bid," "Make Offer," or "Buy It Now" buttons. Autograph authenticators at Professional Sports Authenticator (PSA) are available to render their preliminary opinion regarding an autograph's possible authenticity through a convenient online service called QuickOpinion™.
"This is an important step in our efforts to add confidence for buyers in the marketplace," said PSA President Steve Sloan. "Before a collector makes a purchase, it's now incredibly easy to get an initial opinion from our autograph authentication division."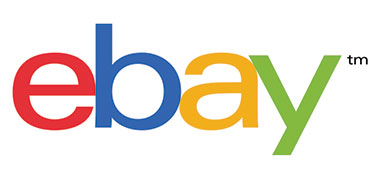 Affordable and Simple
With more than 175 million shoppers utilizing eBay's global marketplace, PSA's QuickOpinion™ option is music to collectors' ears. The service has been available on eBay for quite some time (nearly 17 years) but is now highly visible on the site via a PSA QuickOpinion™ link that reads "Get a PSA Authenticator's Opinion" that's included on each listing inside eBay's autographed memorabilia categories.
The QuickOpinion™ service is also quite affordable at only $10 per item. Here's how it works:
Click on the QuickOpinion™ link and enter the eBay item number for the autographed piece you are interested in, along with the seller's username and a brief description of the item.
Next, make a fast and easy online payment. The item listing page is then sent to PSA's autograph authentication staff for an online examination.
Within approximately 24-to-48 hours you will receive an email with PSA's opinion on whether they feel the item is "likely genuine" or "likely not genuine" based on the online images.
While every effort will be made to examine all item listings submitted, requests for opinions on listings closing in less than 24 hours will likely be too late to examine. With most eBay auctions lasting five or seven days, collectors are encouraged to submit their opinion requests promptly.
If the situation arises where QuickOpinion™ officials are unable to render an opinion, the collector is provided a refund to his or her account.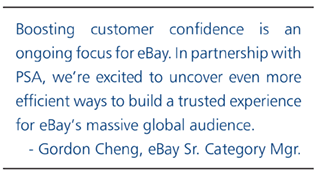 Policing the Category
The unfortunate spread of forgeries in today's marketplace has awakened buyers and sellers alike to this sad reality. Gordon Cheng, eBay's senior category manager for sports collectibles, agrees that there is a need for PSA's services.
"At eBay, we utilize a variety of models and processes to deter the listing of inauthentic items on the marketplace," said Cheng. "PSA's QuickOpinion™ service has helped complement these existing channels by surfacing questionable listings."
What's more, the QuickOpinion™ option is simple to use and can be done completely online to avoid shipping items back and forth. It also has helped boost customer confidence when purchasing autographed memorabilia.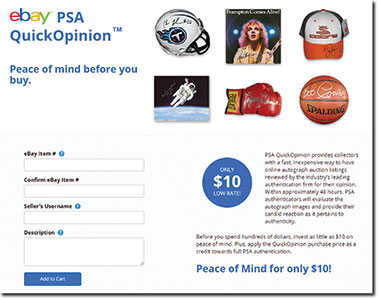 "Now a customer can submit the listing through PSA's QuickOpinion™ service and have a specialist provide a candid opinion prior to making the purchase," added Cheng.
The number of eBay buyers who utilize the service has steadily increased since its inception. With a total of 7,838 cases from 2017 - of which 2,080 autographs were found to be "likely genuine" and another 4,410 were considered "likely not genuine" - the program's benefits are clear. Through just the first eight months of 2018, the QuickOpinion™ link has been used by collectors a total of 6,184 times from which 3,912 cases have yielded "likely not genuine" determinations by the PSA autograph authentication team. At that rate, a total of 9,276 cases could be documented by year's end.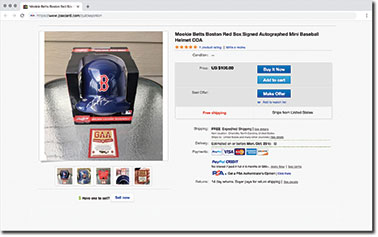 "There are millions of autographed listings on our site without clear proof of authenticity," said Cheng. "QuickOpinion™ provides an extra layer of support for customers looking to make a purchase."
If you purchase QuickOpinion™ and ultimately wind up with the autographed item on eBay, you have the option of sending the piece in to PSA for a formal and complete examination. If PSA receives the item within 90 days of the close of the auction, you will be entitled to a $10 credit off the company's regular authentication fee. All you need to do is attach a copy of your paid QuickOpinion™ invoice to the PSA submission form.
---
The QuickOpinion™ service is subject to Terms and Conditions, available at https://www.psacard.com/quickopinion.