In a League of His Own
Fishing for Mike Trout Autographs & Professional Model Bats
by Kevin Glew
Mike Trout is a superstar on the field and with his fans.
Just ask the young boy in the video that went viral in August 2016, who after having a ball signed by the Angels slugger raced into his father's arms and burst into tears of joy. (If you haven't seen the video, search "Boy gets Mike Trout autograph.")
And there are other similar videos of Trout's interactions with fans.
The two-time American League MVP is one of the rare modern stars that still regularly signs autographs before games.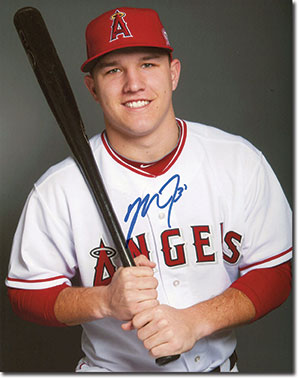 "[W]hen I was kid coming to baseball games, I just [remember] the feeling I had when I wanted to get an autograph and then the feeling when I got the autograph; it always stuck with me," said Trout in March 2017, when asked by MLB Network's Sean Casey why he signs so consistently.
Not surprisingly, Trout's autograph has become more sought after as he has established himself as one of baseball's best players.
Having turned 27 on August 7, 2018, and having played his 1,000th big league game on June 21, Trout is now being mentioned in the same breath as some of the greatest to ever play the game. For example, using Baseball Reference data, the only two players in major league history to have a higher Wins Above Replacement (WAR) than Trout (61.1) through their age-26 seasons are Ty Cobb (63.4) and Mickey Mantle (61.4).
"Trout hasn't even entered his prime yet," said Mike Maida, who owns the No. 2 Current Finest Mike Trout Master Set on the PSA Set Registry. "You keep hearing Mickey Mantle, Mickey Mantle, Mickey Mantle [when experts talk about Trout] ... Trout is not a partier. He's into working out. He could play into his late thirties and early forties, and if he does, then it's going to be scary what kind of numbers he puts up."
An All-Star in each of his first seven full big-league campaigns, Trout is the first player in major league history to record 200 home runs and 175 stolen bases before his 27th birthday. His resume also boasts a Rookie of the Year Award, two American League MVP Awards, and two All-Star Game MVP Awards.
"He's just consistent," said Kevin McHolland, who owns the No. 7 Current Finest Mike Trout Master Set on the PSA Set Registry. "He puts up the numbers. He never seems to go into a big slump. He stays out of trouble and really doesn't give anyone any reason not to like him ... His projections of where he is now and [where he intends] to be are just amazing."
Perhaps the best illustration of Trout's excellence is that despite having played only seven seasons, he already owns a career WAR that's better than more than 70 position players elected to the National Baseball Hall of Fame, including Willie Stargell, Yogi Berra, Kirby Puckett, and Vladimir Guerrero.
"When you consider the era in which he has come up and what he has done, if he stays healthy, this guy could arguably break almost every record there is. I don't know about the home run record, but he's an amazing player; there's no question," said PSA/DNA bat authenticator John Taube.
And as outstanding as he has been, some people think his 2018 season is his best yet. Earlier this season, some speculated that Trout could become MLB's first 50-home run, 30-stolen base player.
With all that he has accomplished, it's no wonder then that despite his autograph being plentiful, there's still a great demand for it and it can command large sums on certain items.
In-Person Signatures
As mentioned earlier, Trout signs for his fans before almost every game.
His in-person signature has been reduced to an M then a wavy line followed by a T and sometimes his uniform number (37), but there was a relatively brief period early in his minor league career that he was signing his full name. This ended, however, before he graduated from the minors.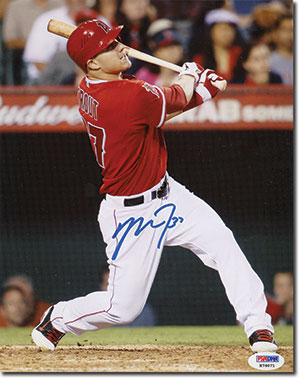 It used to be that the M in his first name and the T in his last name were separated, but in recent years, that M and T have become connected.
In person, Trout often grabs one pen (usually a Sharpie) and signs everything with it. He also doesn't sign balls on the sweet spot as much as he used to do.
Autograph Deals
Trout has had an autograph deal with Major League Alumni Marketing since 2011. This company's items tend to offer a more meticulous and clear signature.
He has also had an exclusive trading card autograph deal with Topps since 2014 and his Topps certified autograph issues have been red-hot in recent months.
"Everything has gone up in value," said Maida of Trout's certified autograph cards. "He doesn't have one card that has gone down."
The crown jewel of Trout's Topps certified autograph cards is his 2009 Bowman Chrome Draft Picks & Prospects Autograph (#BDPP89) single. Inserted on a limited basis into packs of 2009 Bowman Draft Picks & Prospects, this is Trout's most coveted card in any format. It showcases the multi-talented star in an upright batting pose in an Angels uniform and boasts an on-card signature. Prices for PSA GEM-MT 10 examples have risen dramatically in the last two years.
"Back in 2016, you could find one in the $2,000 to $3,000 range, but the last one that sold in June 2018 sold for $9,000," noted McHolland.
Maida has noticed the same trend.
"The market for his autograph rookie cards has skyrocketed like you wouldn't believe," said Maida. "Every time you see an auction on eBay, it's just incredible how much it sells for."
Collectors can also track down five refractor parallels of the 2009 Bowman Chrome Draft Picks & Prospects Autograph single: regular (#/500), Xfractor (#/225), blue (#/150), orange (#/25), and red (#/5).
A PSA 10 regular refractor sold for $19,288 on eBay in July 2018.
"I have a PSA 10 blue refractor, serial-numbered out of 150. I bought it three or four summers ago for $2,000, and the SMR value is now $55,000," added Maida, who's not looking to sell his card.
Trout's 2009 Bowman Sterling Prospects Autograph single (#BSPMT) has also seen a boost in price in recent months. This card pictures Trout in the follow through of his mighty swing in an Angels uniform. It's somewhat less coveted than his aforementioned Bowman Chrome single because it has a sticker autograph. In September 2016, a PSA 10 fetched $729 on eBay, but if you fast forward nearly two years, a PSA 10 garnered $3,050 on eBay in July 2018.
There are also three refractor parallels of this card - regular (#/199), gold (#/50), and black (#/25) - that command more. A PSA 10 regular refractor sold for $3,999 on eBay in June 2018.
PSA/DNA Authenticated Items
Prices for Trout's PSA/DNA authenticated items have also increased significantly. For example, a ball with a PSA/DNA 10 signature (on the sweet spot) fetched $699 on eBay in July 2018, while a signed 8x10 photo from his rookie season sold for $249.
Several cards that were signed in person with the autographs later authenticated by PSA/DNA have also commanded lofty sums. A 2010 Topps Pro Debut card, for example, sold for $250 on eBay in June 2018, while a signed 2014 Panini Flawless single went for $361.
Game-Used Bats
Trout has an exclusive memorabilia deal with Anderson Authentics and they have sold many of his game-used bats.
"Everything that comes from Anderson into the free market is signed," explained PSA/DNA bat authenticator John Taube. "The only bats that you see that are not signed are bats that come from the Angels team store."
The most notable gamer that has hit the market was a bat that Trout used in his first major league game (July 8, 2011) and for his first major league hit (July 9, 2011). It was sold for $58,800 by Goldin Auctions in May 2018. This bat was graded PSA/DNA GU 10 and PSA/DNA provided six photos that matched it to Trout's first game.
Goldin Auctions have also offered several less historic Trout bats, including the bat that he used to belt his 34th home run of the 2015 season. Graded PSA/DNA GU 10, this bat sold for $21,600 in the same May 2018 auction.

Meanwhile, a cracked bat graded PSA/DNA GU 9 that he flew out with in the first inning in a game on June 10, 2014, (his first MVP season) was also available in that sale and it fetched $4,200.
"The Mike Trout bat market is dependent on the season you're buying," explained Taube. "The prices will fluctuate with an MVP season as opposed to a regular [non-MVP] season. Also, if it's an event bat or if you can match it to a home run, those sell for a premium."
But what are the defining characteristics of Trout's game-used bats?
Taube says Trout's brand of preference is Old Hickory and he has used 33.5 and 34-inch bats that weigh from 31 ounces to 32.5 ounces.
"He is very loyal. He's been with Old Hickory since day one," explained Taube. "He used a couple of Rawlings bats in his rookie year, early on, but that was it."

Trout has also used distinctive tape jobs on his bats over the years.
"From his rookie year until a couple of years ago, he used a small, three-inch tape application on the lower handle to the knob," noted Taube. "Then he morphed into Lizard Skin like many players are using today."
Taube adds that Trout bats have "always had a distinctive pine tar application up around the Old Hickory logo, up on the upper handle."
The majority of Trout bats are manufactured with a cupped end. Some of his early gamers showcase his No. 27 on the knob, but many just have his initials in pencil.
For more information on Mike Trout autographs and professional model bats, please visit https://www.psacard.com/facts/.
---
Please feel free to contact Kevin Glew at [email protected] if you have any additional information or comments. Please note that the Population Report figures quoted and Set Registry rankings reported are those as of August 2018. The signed balls referred to in this article are official major league balls, unless noted otherwise.