Collector Perspective
My 1955 Topps Baseball Card Collecting Journey
by Owen Randell
As far back as I can remember I've been collecting baseball cards, amassing a collection spanning nearly every era of our hobby's history. At first my collection was unfocused. I attempted to collect everything from the 1909-11 T206 set to the most recent Topps issues, but none of them stuck with me. I deliberated building many sets, but many were too expensive or just not that interesting. I had to have a set that had star power and a great design that could also be realistically completed.
My decision on which set to collect was almost made for me. By chance, I found out that a family friend's uncle was a former New York Yankee. He heard about my interest in baseball cards and he very generously sent me a package of signed memorabilia. Among the items he sent was a card that captured my interest, a 1955 Topps card. Specifically it was a card of the man himself, Steve Kraly, number 139. Steve pitched a 19-2 record while playing for the Binghamton Triplets in early 1953 before being called up to play with the New York Yankees in August.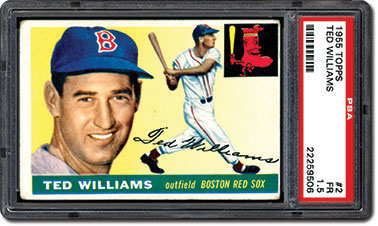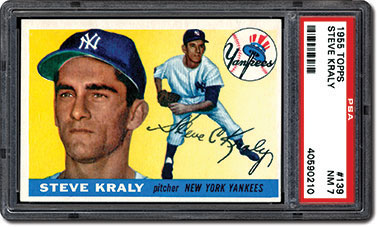 I was instantly hooked on the 1955 Topps set thanks to its bright colors, high-quality photographs, impressive checklist, and a wealth of information on the card backs. The set boasts 206 cards of the best major leaguers at the time, with rookie cards of Sandy Koufax, Harmon Killebrew, and Roberto Clemente, to name a few. What also drew me in was the fact that almost every player in the set was noteworthy, from the Gene Conley, the only man to win both a World Series and a NBA championship, to Harvey Haddix, pitcher of twelve perfect innings.
I initially wanted to assemble a high-ranking PSA Set Registry set, but I soon discovered that the 1955 Topps set was incredibly competitive and therefore expensive in high grade. I decided the best course of action was to buy cards that had great eye-appeal and were still affordable.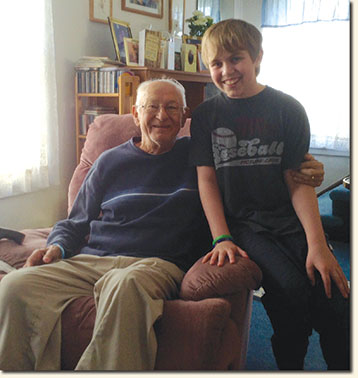 Steve Kraly and Owen Randell in April of 2015
During my time building the set, I was able to meet Steve and show him some of the cards I had bought. He seemed to have something to say about almost every player, like how Ted Williams was "such a great guy" or about Yogi Berra's notoriety for pranks. Hearing Steve's tales about the players of the time made the set much more valuable to me.
A couple years ago, at that point well into my 1955 Topps journey, my grandfather mentioned to me that he may still have some of his old cards in his attic. After battling the intense heat of his attic, we retrieved several sealed cardboard boxes, the contents of which had likely not seen the sun for decades. It was the world's most exciting box break; it might contain anything I could imagine. I was astonished to find his entire childhood card collection, thousands of cards assembled during the 1950s, all still in good condition. Among early cards of stars such as Mickey Mantle and Willie Mays was a partial 1955 Topps set, including Sandy Koufax and Harmon Killebrew rookies.
Like me, my grandfather began collecting at a young age. His collecting journey began in 1952 in a rural upstate New York town, at a farm where his father was employed. Many of the other farm hands chewed tobacco and included with their Red Man-brand tobacco packs were baseball cards, which they gave to my grandfather. He especially sought cards of his favorite team, the Yankees. He continued to collect various issues until 1959, but he never stopped being a baseball fan.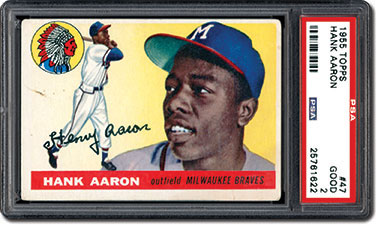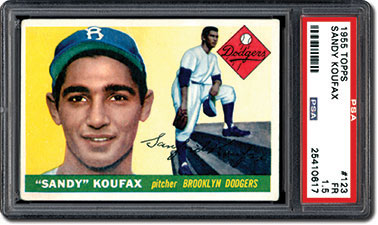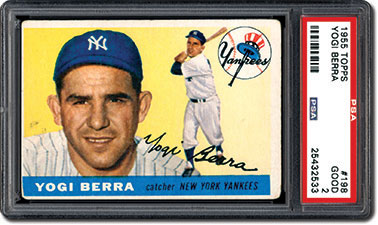 My luck in getting to meet Steve Kraly, my decision to collect 1955 Topps, and my grandfather's love for the legends of the '50s baseball era came together when there was an opportunity for my grandad to meet Steve. Over the years, we were able to meet Steve several times and learn more about his time as a ballplayer. He shared stories of his friendship with my grandad's idol, Mickey Mantle. He also recounted a visit by Joe DiMaggio and Marilyn Monroe to the Yankees' locker room. He was proud to show us his World Series ring which he was awarded when the Yankees won their fifth consecutive series in 1953.
I will always treasure my friendship with Steve and that first 1955 Topps card he sent to me. Sadly, Steve passed away at the age of 86 in 2016. He inspired me to continue collecting my set and to appreciate that historic era of the game. I went on to acquire 1955 cards of many all-time greats, but the one I treasure most is still Steve Kraly's card.
---
Please feel free to contact SMR at [email protected] if you have any questions or comments. A special thanks to Owen Randell for contributing this article and the accompanying images.