PSA Set Registry
Collecting Cards of Maurice "Rocket" Richard
A Canadian Legend Both On and Off the Ice
by Kevin Glew
He inspired the longest standing ovations in Montreal Canadiens history and his suspension sparked a riot.
And when he passed away in 2000, he became the first non-politician to be honored with a state funeral in his home province of Quebec. So while there may have been more skilled hockey players than Maurice "Rocket" Richard, it would be difficult to name a player that has aroused more passion.
"Here in Quebec, Rocket Richard is a hero," said Frederic Morency, who owns the No. 1 Richard Master set on the PSA Set Registry. "It goes way beyond the hockey. It goes to the culture. It goes to the revolution of French Canadians expressing themselves and having a hero that succeeded ... I think he will forever remain an important symbol in the evolution of Quebec."
Ron Vender, a collector of Richard's trading cards, offers similar thoughts.
"The fans loved him. He really meant something to the people. They cared about him," he said. "There was that hometown type of attraction, that Quebec attraction. There was this relationship between him and Canadiens fans that 'he's one of us.'"
Natan Obed, who has assembled the No. 1 Richard Basic set on the Registry, says fans could sense the Rocket's passion for hockey.
"You could just see the fire he had for playing hockey," said Obed. "I've played hockey my whole life and I can sort of relate to that intensity. It's something that's intangible, but when you look at pictures of Richard, you can see the magnetic presence he had even in those pictures."
Born in Montreal on August 4, 1921, Richard was the eldest of eight children in his family. His father worked for the railway, but he lost his job during the Great Depression and the family relied on government assistance for much of his youth.
Richard was given his first pair of skates when he was four and played shinny on local ponds and rivers, but he didn't compete in organized hockey until he was 14. His speed and puck-handling skills soon dazzled local scouts, and by the time he was 19, Richard was suiting up for the Montreal Canadiens' Quebec Senior Hockey League affiliate.
Unfortunately, around that time, Richard suffered a broken ankle followed by a broken wrist, which led some to view him as being too fragile. In spite of this reputation, Richard started the 1942-43 season in the NHL, before breaking his leg after just 16 games.
The following campaign, Canadiens coach Dick Irvin shifted the left-handed shooting Richard to right wing and placed him on a line with Elmer Lach and Toe Blake. The line became known as the Punch Line and it evolved into one of the NHL's most dominant. In his first full season, Richard tallied 32 goals in 46 games to help propel the Canadiens to their first Stanley Cup victory in 13 seasons. In the playoffs, Richard topped the Canadiens with 12 goals - including five in the second game of the semi-finals against the Toronto Maple Leafs.
In 1944-45, Richard became the first NHLer to score 50 goals in a season, completing the feat in 50 games. On December 28, 1944, he set an NHL record for most points in a game when he collected five goals and three assists for eight points in the Habs' 9-1 drubbing of the Detroit Red Wings.
Over the next several seasons, Richard continued to be an offensive force, and in 1946-47, he potted 45 more goals and was awarded the Hart Trophy as the league's MVP.
"Most of the people who analyze hockey will say he was the most dangerous from the blueline to the goal," said Morency. "If you were a goaltender and you saw him coming at you one-on-one, he was intimidating. He was coming [towards you] like a train with fire in his eyes, and there was nothing that was going to stop him."
But that didn't stop his opponents from trying. They knew that Richard was hot-tempered and they attacked him verbally and physically. More often than not, this inspired him to play better, but sometimes they succeeded in getting under his skin. It didn't help that Richard consistently clashed with NHL President Clarence Campbell, who had fined Richard several times for on-ice incidents. The high-scoring forward felt that Campbell doled out harsher penalties to French Canadian players than English-speaking players. Their feud reached its crescendo after Richard's most notorious outburst, which came on March 13, 1955.
On that date, the Canadiens were facing the Boston Bruins when Bruins defenseman Hal Laycoe hit Richard in the head with his stick and the Rocket later responded by viciously clubbing Laycoe in the face and shoulder with his lumber. As linesman Cliff Thompson tried to intervene, Richard punched him in the face twice and knocked him unconscious. Campbell reviewed the incident and suspended Richard for the rest of the season and the playoffs. The Canadiens were battling for first place at the time and Richard was the NHL's leading scorer. After the suspension, Campbell appeared at the next game at the Montreal Forum and fans pelted him with debris. One fan threw a tear-gas bomb and the arena had to be evacuated, forcing the Canadiens to forfeit the contest to the Red Wings.
Outside the rink, a crowd of over 20,000 people rioted, overturning cars, setting fires, and smashing windows of the Forum and nearby shops. Between 40 and 100 people were arrested and close to 40 people - including 12 police officers - were injured. The next day, Richard, himself, made a statement on national television asking his supporters to stop.
The Canadiens were defeated in the Stanley Cup Finals by the Red Wings that season and Richard lost the scoring title by one point to teammate Boom Boom Geoffrion. But a 34-year-old Richard returned the ensuing campaign and collected 38 goals to lead his team to their first of an NHL record five consecutive championships.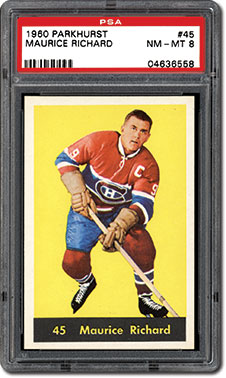 On October 19, 1957, he tallied his 500th career goal to become the first NHLer to reach that mark. Injuries would slow him down in the ensuing years and he opted to retire in 1960.
In all, which comprised 18 NHL seasons, Richard tallied 544 regular season goals to help the Canadiens win eight Stanley Cup championships. He played in 13 consecutive all-star games from 1947 to 1959. For his efforts, the three-year waiting period was waived and he was elected to the Hockey Hall of Fame in 1961. In 1999, the Maurice "Rocket" Richard Trophy was created to honor the NHL's top regular season goal scorer each year.
"I don't think Richard was the most talented," said Morency. "When you look at Wayne Gretzky or Bobby Orr, they had more raw talent than Richard, but I think he was the most determined player, the one who had to work the hardest to get to the highest level."
Obed expresses similar sentiments.
"I'd put Rocket Richard, his influence on the game, and his legacy right up there with the best that ever played," he said.
After retiring as a player, Richard remained in the public spotlight as a pitchman for various products and as an ambassador for the Canadiens. He died of respiratory failure on May 27, 2000, and he received a state funeral in his home province of Quebec.
"I recall watching the funeral on TV and the whole country was in mourning," said Obed. "And I remember feeling that sadness of his passing. Even for those of us who weren't fortunate enough to have met him, his passing felt like that of a leader of the country or of a politician that was larger than life within Canadian society."
With this kind of legacy, it's easy to understand why Richard's cards are still in high demand. There are two Richard sets - Basic (9 cards) and Master (23 cards) - on the PSA Set Registry.
"In terms of post-war [Montreal Canadiens] cards, he's probably the top most-wanted collectible," said Vender.
Morency says he not only competes with Richard collectors for high-grade cards, but he's also up against 1950s Parkhurst set collectors. The veteran collector believes there will continue to be a strong market for Richard cards in the future.
"I think Rocket is a classic," he said. "He's like Gretzky, Bobby Orr, or Gordie Howe. They transcend from generation to generation. They're at the top. Guys that were good but were not superstars tend to get forgotten or replaced by more modern players. But I think if you like the 1950s [as a collecting era], the Original Six, and players with guts, Rocket Richard will remain popular forever."
Here's a rundown of some of Richard's key cards: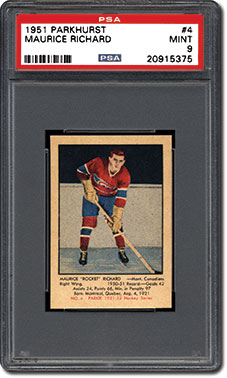 1951 Parkhurst #4. Richard's first mainstream card was not issued until the 1951 Parkhurst series. Measuring 1-3/4" by 2-1/2", this card was printed on thin stock and features a colorized image of Richard on the front above his name, team, position, 1950-51 statistics, birthplace, and date in black, followed by the card number and series name in red. The back is blank.
"In PSA [NM-MT] 8, it's difficult but not impossible to find," said Obed. "I've been trying to find a PSA [MINT] 9 to purchase for some time, but the recent run-up in prices for just about all superstar Hall of Fame rookie cards has made that search longer than I anticipated. It's surprisingly affordable when you think about it in relation to other sports figures, but it's still one that doesn't come up very often. And when it does, the centering might not be the greatest or the image might be a bit blurry, so finding a high-grade example is truly challenging."
Vender notes that the 1951 Parkhurst cards were reportedly collated in a cement mixer, a process that wasn't easy on the cards.
"I think the Richard rookie is undervalued for how tough it is to find in high grade," said Vender. "And as times goes on, people will realize that there's good value in the card."
Of the 391 submitted, there have been five PSA 9s, three PSA NM-MT+ 8.5s, and 33 PSA 8s.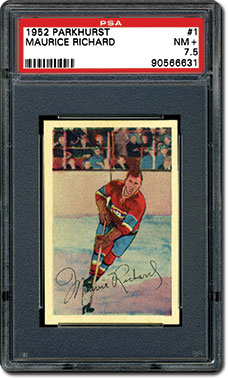 1952 Parkhurst #1. Richard's second-year card is more elusive in top grade than his rookie. Measuring 1-15/16" by 2-15/16", this card showcases a colorized action image with Richard's facsimile signature extending across it. The horizontal back exhibits the card number, his name, position, team, and vitals above biographical information and his 1951-52 statistics. This single is tough to find in flawless form because it was the first card in the series and was often damaged on top of collector piles.
"It's virtually impossible to find a PSA 8," said Obed. "I was very fortunate to acquire a PSA [NM-MT+] 7.5 from another collector a few years ago. It's the No. 1 card in the set and it has big centering issues."
Morency, who owns a PSA NM 7 example, has had a similar experience.
"The second-year card is probably 10 times more difficult to locate [in high grade] than his rookie," he said.
The two PSA 8s are the highest-graded examples.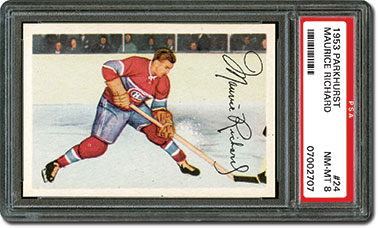 1953 Parkhurst #24. With their 1953 release, Parkhurst increased the card size to 2-1/2" by 3-5/8". This card flaunts a horizontal action image of the Rocket shoveling a backhander towards the goal with his facsimile signature running down the image's right edge. The back provides the card number, his name, position, team, 1952-53 stats, and biographical information in English and French. Poor left-to-right centering and toning on its white borders regularly hamper this card.
Of the 269 submitted, there have been two PSA 9s, one PSA 8.5, and 26 PSA 8s.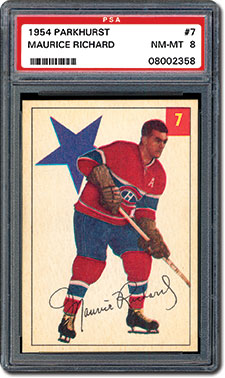 1954 Parkhurst #7. This card presents another action image on the front, this time against a white background with a blue star on the top left and the card number on the top right. The card back displays Richard's name, position, team, 1953-54 stats, and biographical information in English and French. Poor top-to-bottom centering and toning on its white borders frequently plague this card.
There's rumored to be a Lucky Premium back variation that encouraged collectors to redeem the card (with money) to receive items like cameras and hockey gloves.
"I'm not sure if the Lucky Premium back exists [of the Richard card]," said Morency. "I've seen Lucky Premium back cards, but I don't think I've ever seen a Rocket Lucky Premium back card."
There has yet to be a Lucky Premium back Richard card graded by PSA. Of the 233 regular 1954 Parkhurst Richard cards evaluated, there have been 28 PSA 8s and one PSA 9.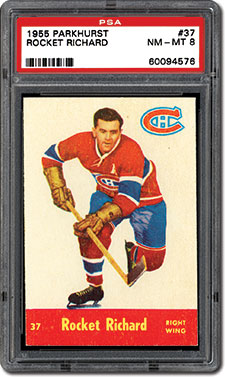 1955 Parkhurst #37. This card showcases a standout action image of Richard in his red Canadiens jersey against a white background that looks like he's about to skate right out of the card. There's a Canadiens logo on the top right, while his card number, name, and position are indicated in a red banner at the bottom. This red banner extends right to the bottom and is susceptible to chipping.
"The 1955 Parkhurst is a pretty tough card to find in PSA 8," noted Obed. "It's also my favorite Rocket Richard card of all time. I love the red border. I love the image of him at full stride. The red border is so condition sensitive."
On one example Morency owned, someone tried to touch up the red border to compensate for the chipping.
The 15 PSA 8s are the highest-graded examples.
Richard is highlighted on two additional action cards in the 1955 Parkhurst series - "Rocket Roars Through" (#72) and "Richard Tests Lumley" (#73) - but the regular issue is his most sought after.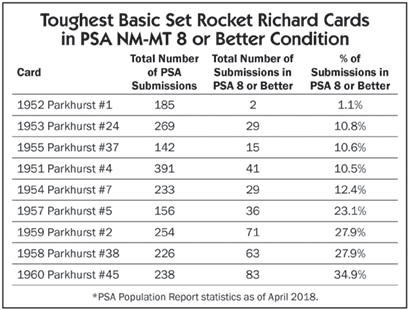 1955 Parkhurst Quaker Oats #37. Quaker Oats collaborated with Parkhurst to release its own version of the 1955 cards. The fronts are identical to the regular Parkhurst singles, but the backs are printed in green ink (as opposed to red ink in the regular series). The backs also share information about what products these cards can be found in and flaunt Quaker Oats branding ("Quaker Oats Trading Card") at the bottom.
Collectors could redeem cards for prizes. For example, you could submit the entire 79-card series and receive a bicycle. If you just sent in the Leafs (#1 to #20) or Canadiens cards (#35 to #54), you would win a pair of skates. Certain cards, including the regular Richard card (#37), were short-printed to limit the number of prizes awarded.
"The Quaker Oats Richard parallel card is nearly impossible," said Obed. "There are only two copies that are known to exist."
The two examples graded by PSA have been deemed PSA Good+ 2.5 and PSA Good 2.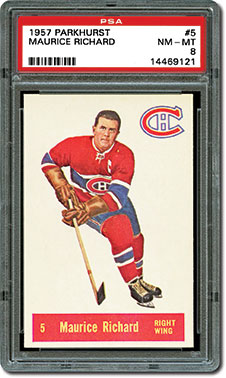 1957 Parkhurst #5. This card boasts an action shot of the legendary winger in his red jersey against a white background with the Canadiens logo on the top right and his card number, name, and position in a red banner at the bottom. Unlike the 1955 card, however, there's a white border between the red banner and the bottom of the card.
The back flaunts his name, vitals, biographical information in English and French, and career statistics. This card is regularly uncovered with flaws in its white background and toning on its front borders.
Of the 156 evaluated, there has been one PSA GEM-MT 10, three PSA 9s, one PSA 8.5, and 31 PSA 8s. The sole PSA 10 fetched $15,100 on eBay in June 2016.
For more information on Maurice Richard trading cards, please visit https://www.psacard.com/cardfacts#1hockey-cards.
---
Please feel free to contact Kevin Glew at [email protected] if you have any additional information or comments. Thank you to Natan Obed for providing some of the cards featured in the article. Please note the PSA Population Report statistics and Set Registry rankings quoted are as of April 2018.