PSA Set Registry
Collecting the 1961 Topps Dice Game Set
Gambling on an Elusive Vintage Test Issue
by Kevin Glew
In January 1978, hobby pioneer Larry Fritsch offered a complete 1961 Topps Dice Game set for sale in an ad in The Trader Speaks magazine.
"As far as I can determine, I have the only complete set of these cards," writes Fritsch in the ad. "At this time, I am offering this set for sale to the highest bidder. Single card bids will be accepted, but would prefer to sell as a set."
Baseball card historian David Hornish, who uncovered and shared this ad, indicates that an article in the same publication a few months later reveals that Fritsch didn't sell the set and that he was just testing the market to ascertain the set's value.
It seems likely that this is the 18-card uncut sheet of 1961 Topps Dice Game cards that was reported to be in Fritsch's inventory over the years. Fritsch referred to this sheet in a 2007 article in another hobby publication. Sadly, he passed away that same year. His son, Jeff, who took over his dad's business, died in April 2017.
Allison Fritsch, who is Jeff's daughter, said in a phone conversation in late January 2018 that the sheet was part of her grandfather's personal collection that they haven't sorted through yet, so she was unable to confirm if they still have it.
But for collectors other than Fritsch, it's been "no dice" when trying to complete the 1961 Topps Dice Game issue.
"With these cards, it goes back to my definition of what makes something rare, which is, 'Could you buy one if you had the money today?' And with the Dice Game cards, you can't," said Bob Fisk, who owns three of the set's 18 cards in PSA-graded form.
This, however, could change marginally over the next year as Robert Edward Auctions (REA) sells an unparalleled 10 Dice Game cards, including the almost mythical Mickey Mantle single, they secured from a long-time collector.
"This group of 10 is by far the largest assembly of these cards that we are aware of," said Brian Dwyer, president of REA. "It's just incredible. It's the type of thing where prior to this collection, the Camilo Pascual [sold in their Fall 2017 auction] was the only Dice Game card that REA had ever handled in a couple of decades."
Dwyer says four of the cards, including the Mantle, will be sold in their spring 2018 auction.
To give you an idea of just how rare these cards are, Fisk believes there are no more than four of each available. The general consensus is that this offering was inspired by board and dice games, like APBA, at the time and that the few examples that have surfaced were somehow extracted from Topps' files and made available for sale.
"The collector who assembled this group also collects wrappers, boxes, and display material, and he said he had never seen or heard of a wrapper or display box ever being produced for the Dice Game set," noted Dwyer.
Hornish, who is the author of The Modern Hobby Guide To Topps Chewing Gum: 1938 to 1956, believes the intent was for these cards to be sold as a set as part of a game.
"As there are 18 cards in the set with seemingly matched pairs of AL and NL players by position, I would surmise the intent was to sell the entire set, with two regular dice, one die for pitch selection, another for something else and possibly some score sheets, as a self contained toy," wrote Hornish in a January 2009 post on his website, toppsarchives.blogspot.ca. "I would guess 29 cents at retail would have been the going rate."
The fact that some of the Dice Game cards have surfaced with staple or pin holes in them seems to lend credence to the theory that they came from Topps' files. Hornish has seen examples with staple holes in the "upper left-to-center" of the card.
"Topps would keep an archive copy in a book, sometimes with a matched display of fronts and backs stapled or taped to a page for executives to refer to," noted Hornish in his 2009 blog post.
Measuring 2-1/2" by 3-1/2" inches each, the unnumbered, white-bordered 1961 Topps Dice Game cards present black-and-white photos. The player's name, position, and league are highlighted in a rectangle at the bottom.
The vertical backs flaunt black text against an off-white background. The player's name, league, and position can be found at the top above the game data. There's no Topps copyright information on these cards, so collectors were initially confused about who produced them, but the sharp-eyed Fisk recognized several of the photos from a previous Topps set.
"For many of the 1961 Dice Game cards, the image used is the same as the black-and-white side picture from the 1960 Topps regular issue set," he shared.
Fisk notes that the photos used on the Dice Game cards match the side pictures used in the 1960 Topps set for the following players: Don Drysdale, Al Kaline, Mickey Mantle, Willie Mays, Stan Musial, Brooks Robinson, Del Crandall, and Leon Wagner. However, they do not match for the Earl Battey, Camilo Pascual, and Frank Robinson singles.
There are five other 1961 Topps Dice Game cards - Bill Mazeroski, Dick Groat, Norm Siebern, Jim Davenport, and Bill White - that Fisk and the long-time collector that REA secured their cards from have never seen. So Fisk, who also hasn't seen the Kubek single, has been unable to match the photos on these.
In a September 2011 blog entry, Hornish offered further evidence that the Dice Game cards were, indeed, a Topps product when he linked them to the 2010 Topps Heritage set. Cards in this series mimic the regular 1961 Topps Baseball design on their fronts, but their backs have the same format and game information that was on the 1961 Topps Dice Game singles.
Both Fisk and Hornish question whether this set was actually released in 1961. Fisk feels that it could have been released after the 1962 All-Star Game because 16 of the 18 players featured competed in that Midsummer Classic. Hornish feels the design is more comparable to some of the pre-test and internal proof sets (non-sports and sports) that Topps produced starting in 1965.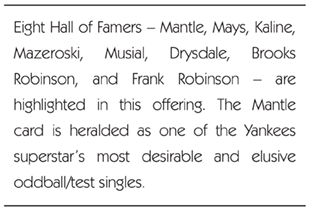 The Dice Game set is essentially an all-star issue that includes one player from each position from each league. Eight Hall of Famers - Mantle, Mays, Kaline, Mazeroski, Musial, Drysdale, Brooks Robinson, and Frank Robinson - are highlighted in this offering.
The Mantle card is heralded as one of the Yankees superstar's most desirable and elusive oddball/test singles. Fisk possesses one of the two known examples of this card, which boasts a full-length photo of the legendary outfielder in a left-handed batting pose. REA is set to auction off the other in April. Dwyer says this copy has "beautiful presentation," but because of the staple holes in it, it has been graded a PSA POOR 1.
"I think the Dice Game Mantle card is the Holy Grail [of Topps cards] in that no matter how much money you have, you just can't go out and buy one," said Dwyer. "With a 1952 Topps Mantle, if you want a [PSA NM] 7 or a [PSA NM-MT] 8 or a [PSA NM-MT+] 8.5, they are available. It might take a little bit of time to get one, but you can go out and buy one."
Fisk offers a similar assessment.
When you look at the population numbers for the Mantle cards within each of these two sets, the 1952 Topps Mantle rookie is "a total common" in comparison to the Dice Game Mantle, comments Fisk.
Both Fisk and Dwyer say it's difficult to put a price tag on this card because it's so rare.
"Is it a $25,000 card or is it a $100,000 card? We don't know, and frankly, nobody knows," said Dwyer. "I do believe that the cachet of Mantle combined with the cachet of Topps will combine to make this a very expensive card when the auction hits."
Fisk says the Mays card would be the set's second-most coveted single. This card features the "Say Hey Kid" after a swing in a posed batting shot. The two evaluated by PSA have been deemed PSA EX-MT 6 and PSA EX 5.
Brian Erickson, who has built the No. 2 Current Finest Mays Master Set on the PSA Set Registry, owns the PSA 5. He ranks this as one of the top three most difficult Mays Master Set singles to obtain.
Similar to the Mantle card, it's tough to estimate what Erickson's Mays single might bring at auction.
"It would be difficult to put a number on it, as the demand far exceeds the supply," said Erickson. "There are only 17 graded samples in the entire [PSA] Population Report for the set, so rarely does a sample ever come up for auction. Within the last few years, a [PSA 7] Don Drysdale sold for over $15,000 in a Mile High Card Company auction. For a Willie Mays, that would be a good starting point. But if you were to put a card like this up for auction, you set an opening bid and get out of the way. Value will be determined by how much someone with means wants it. With that, I wouldn't expect we'd see one at auction any time soon."
Even commons from this series command significant sums. For example, REA sold a PSA 6 Camilo Pascual for $6,600 in their Fall 2017 auction.
As noted by Erickson, just 17 cards in total have been submitted to PSA from this series, and the four PSA 7s represent the top graded specimens. So competition is understandably fierce for these cards. A small group of determined collectors are attempting the seemingly impossible and are trying to complete this set, but they must outbid the passionate player collectors for the Hall of Famers' cards.
"The Dice Game set is always going to be in the conversation about the rarest 1960s sets," noted Fisk. "Because it contains a Mantle, I think it's on a lot of people's radar more than some of the other sets ... so there's a buzz [around it]."
For more information on the 1961 Topps Dice Game baseball card set, please visit https://www.psacard.com/cardfacts/baseball-cards/1961-topps-dice-game/4898.
---
Please feel free to contact Kevin Glew at [email protected] if you have any additional information or comments. Thank you to Robert Edward Auctions, Bob Fisk, and Brian Erickson for providing cards and images for this article. Please note that the Population Report figures quoted and Set Registry rankings reported are those as of March 2018.