Collecting the 1967 Kabaya-Leaf Set
An "American" Japanese Baseball Card Issue
by Mark Holt
On August 7th of 2016, Ichiro Suzuki lashed a triple for his 3,000th hit in the major leagues. Sometime in the next seven or eight years, he will likely become the first player to be elected into both the Japanese and American Baseball Halls of Fame. Today, it's pretty common for Japanese players to wear American uniforms and also for Americans to wear Japanese team logos. Twelve players from Japan have been named to the Major League All-Star Game, while Americans have won plenty of awards in Japan.
The connection between American and Japanese baseball goes back a lot farther than you may think. Just for fun, let's imagine there was a baseball card set issued about 50 years ago with classic Topps styling, full-color photos, and stats on the back ... one that contained the Japanese equivalents of Babe Ruth, Lou Gehrig, Pete Rose, Cy Young, and the nefarious "Black Sox Scandal" players.
How about we throw in the first Japanese player to play in the U.S., plus the only American player to win the Japanese equivalent of the Cy Young Award, and a total of 22 Hall of Famers? Oh, and just to make it interesting, the cards we've imagined would be issued with two types of products, feature short prints and impossibly hard-to-find cards, and use a skip-numbering system that resulted in hundreds of phantom cards. Now, wouldn't that be a fun set to chase?
Stop dreaming! That set exists, and it is the one-and-only 1967 Kabaya-Leaf Japanese Baseball set.
The Set
Kabaya-Leaf, Inc. was a joint venture confectionary company based in Okayama City, Japan, and was partially owned by Chicago, Illinois-based Leaf, who had issued a set of football cards stateside in 1948-49 and a set of baseball cards in 1960. In 1967, the company decided to spur its Japanese confectionary product sales by issuing an American-style baseball card set on the other side of the Pacific.
The complete set today consists of 105 cards featuring six of Japan's twelve teams (the top three in each Japanese league that year). The missing teams and skip numbering suggests that Kabaya-Leaf intended to have a second series with the other six teams, but for some reason (poor sales most likely), they were never issued.
The card fronts combine two distinct designs that are "borrowed" from previous Topps American issues. Half of the cards look like the 1959 Topps issue with a solid color background and circular photo featuring mostly action shots of the players. The other half of the set seems to resemble the 1963 design, although some suggest they match up better with the 1958 Topps design. The second half of the set has a full color photo with a solid color base.
The text and graphics found on the front of either design is certain to confuse American collectors. Aside from the KL logo, all three forms of Japanese writing are featured on the card fronts. Japanese player names are written out in large Kanji characters, last name first.
However, since Japanese children first learn to write and spell in Hiragana (phonetically), each player's name is written in smaller Hiragana characters above the Kanji. The player's position is listed in Kanji after or below his name, and the team names are displayed using two Kanji characters, followed by some Katakana (the third form of Japanese writing). Finally, all the foreign players' names written are in Katakana. (Don't worry - there won't be a quiz on this!)
The card backs are a bit more conventional and feature full stats for the first time on any Japanese baseball card issues. But things aren't quite as simple as that: The years follow the Showa calendar. (On the Showa calendar, 1967 is year 42, if that helps you any!) Each player's stats lead off with his uniform number and then list the way he throws and bats.
This information is followed by the player's date of birth (year, month, and day), school, height, weight, years played in pro ball, then a more detailed playing record. For hitters, those stats show the year, club, games, at bats, runs, hits, doubles, triples, homers, total bases, RBIs, sacrifices, walks, stolen bases, strikeouts, and batting average. For pitchers, it's: year, club, games, complete games, games won, games lost, win pct., inning pitched, hits, home runs, walks, strikeouts, earned runs, and finally ERA.
The History
Kabaya-Leaf promoted two products with their baseball card set. First off, the Yomiuri Giants were issued one card at a time in a 30-yen pack of Air Bon Chocolate Balls with the players' picture visible through a slot in the package (anyone up for grabbing all the Sadaharu Oh and Shigeo Nagashima cards?). All 20 of the Giants cards were sold in this manner, but evidently there were two levels of short prints to keep kids buying.
The second distribution method was for a single card from one of the six teams (including the Giants) to be packaged with a ten-yen pack that contained two sticks of gum. Some of those packs had a "lucky number" that could be redeemed for prizes, and one of the prizes was a Kabaya-Leaf pack containing five cards. (The author has never seen a sample of either the Air Bon or gum packaging, and continues his hunt ... )
There were nine short print cards in the set. Four of them (numbers #2, #3, #8, and #17) are harder to locate than a needle in a haystack (notable Japanese card collector and Kabaya-Leaf authority Rob Fitts has never seen any of them firsthand), while the less-difficult short prints include card numbers #1, #4, #6, #14, and #18 - coincidentally, all are Giants players, three of which are also Hall of Famers.
Kabaya-Leafs' distribution method suggests that Giants cards that were actually opened in Japan might have been handled a bit more roughly. At any rate, the promotion was evidently not that successful and Kabaya-Leaf ended up with a considerable amount of unsold stock.
Enter American serviceman Captain Mel Bailey, who happened to be serving in Japan and was also a baseball card collector. Mel spotted the cards in candy stores and, after the promotion concluded, contacted Kabaya-Leaf directly. He ended up buying all their remaining stock, which allowed Mel to build quite a few 101-card sets (missing the four tough short prints) and assemble what cards remained into 96-card runs.
The 101-card Kabaya-Leaf sets - along with a fact sheet and checklist - were available via mail order for just $4 each into the early 1970s. A classic photo shows Mel's wife and sons sitting and standing around a table with stacks of singles ready to mail. In case you are wondering, there appear to be about 300 sets stacked up on the table, which begs the question: Was that everything left of the Kabaya-Leaf inventory? How many of those 300 sets were also missing the remaining five "semi" short prints?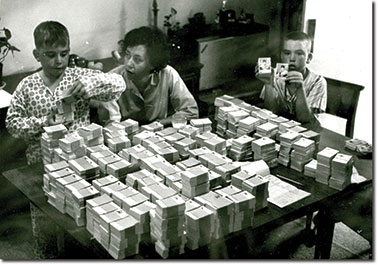 Mel Bailey's wife and sons pictured with stacks of 1967 Kabaya-Leaf singles ready to mail in.
In late 1971 or early 1972, Mel was transferred back stateside and he brought back whatever Kabaya-Leaf cards he still had in order to sell them off in both 101-card and 96-card sets to California-area collectors. The final batch was disposed of at a meeting of old-time area collectors that took place at Mel's house.
All we can really be sure about is that there are probably far more Kabaya-Leaf baseball cards in America than remain in Japan, and the cards found on this side of the Pacific are probably in much better condition as they were sold as hand-assembled sets, rather than packaged as singles with candy and gum.
And there's the oddity of it all: By the early 1970s, what remained of this landmark Japanese baseball issue was mostly divided up by hardcore adult American collectors! Where are all those collectors now? Perhaps they're sitting on stacks of near-mint 1967 Kabaya-Leaf cards while waiting for their next Social Security check to arrive. (Full disclosure: That pretty well describes the author, minus the stacks of near-mint Kabaya-Leafs ... )
The Japanese Hall of Fame Players
The 1967 Kabaya-Leaf set is loaded with stars. Heading the list is a group from the champion Yomiuri Giants, who won seven Japan Series titles in the 1960s. The set's key card is most assuredly Japanese home run king Sadaharu Oh (card #11), famous for his 868 dingers. Oh was a 15-time league home run king and an 18-time Japanese All-Star. Next in line is card #12, Shigeo Nagashima, likely the most popular and best all-around Japanese baseball player ever. Nagashima was the league MVP five times and made the Best Nine 17 times.
Card #6 in the set showcases Japan's all-time winning pitcher Masaichi Kaneda, the only Japanese pitcher to win over 400 games with 20 or more wins in 14 straight seasons (many of those while pitching for the often-struggling Yakult Swallows). He is also the all-time strikeout leader with 4,490 (the only pitcher over 4,000 Ks in Japanese league history).
In 1967, the Giants were managed by Hall of Fame player Tetsuharu Kawakami who is featured on the #1 card in the set. Card #4 shows Hall of Famer Tsuneo Horiuchi, a pitcher whose combined 1966 and 1967 record was an impressive 28 wins and only 4 losses.
The Chunichi Dragons are the next team numerically in the Kabaya-Leaf set, and three of their Hall-of-Famers grabbed the spotlight: card #51, Michio Nishizawa (three Best Nines and a batting title); card #66, Morimichi Takagi (four-time All-Star with 2,274 hits); and card #68, Shinichi Eto (two batting titles, 367 home runs, and 2,057 hits).
The Hanshin Tigers sat in the third slot and they managed to get four Hall of Famers into the set, including card #101, Sadayoshi Fujimoto (team manager with nine league titles and 1,657 wins); card #103, Minoru Murayama (Rookie of the Year, three Sawamura awards (Japanese Cy Young), a 2.09 lifetime ERA, and 222 wins); card #113, Yoshio Yoshida (nine-time Best Nine and best known for his defense as a shortstop); and card #116, Kazuhiro Yamauchi (one batting title, two home run titles, nine Best Nines, and an MVP award).
The Fukuoka Hawks batted cleanup and four of their Hall of Famers got on a pasteboard, including card #301, Kazuto Tsuruoka (a great player with eight All-Star appearances and a .295 lifetime batting average who then became an even greater manager with 11 league pennants and two Japan Series titles); card #304, Tadashi Sugiura (won Rookie of the Year and compiled an astonishing 38-4 record in 1959, 187 wins lifetime, a 2.93 lifetime ERA, and one MVP award); card #305, Mutsuo Minigawa (Japan's last 30-game winner with 242 wins and a 2.42 lifetime ERA); and card #310, Katsuya Nomura (one of the top four all-time players and the best catcher in Japanese history with five MVP awards, 657 homers (2nd all-time), and 2,901 hits (2nd all-time)).
The Nishitetsu Lions are the fifth team in the set and they featured three Hall of Famers including: card #351, Futoshi Nakanishi (one MVP award to go with a. 307 lifetime batting average); card #352, Akira Ohgi (a good player, but elected to the Japanese Hall of Fame as a manager with two Japan Series titles - plus, he discovered Ichiro as a scout); and card #356, Kazuhisa Inao (one of the top three all-time Japanese pitchers with a Rookie of the Year award, two MVPs, five Best Nines, and 276 wins, along with a 1.93 lifetime ERA).
The Toei Flyers are the sixth and final team in the set and there are just two Hall of Famers from their club - card #401, Shigeru Mizuhara (voted in as a manager with five Japan Series titles) and card #409, the incredible Isao Harimoto (also known as the Japanese Pete Rose) who banged out 3,085 hits and also pounded 500 homers.
Masanori Murakami
Card #302 features Masanori Murakami, who is famous for being the first Japanese player to play in the major leagues. He went straight from high school to the Nankai Hawks who then sent him and two other players to the San Francisco Giants organization in the U.S. to get more experience. Murakami pitched for single-A Fresno at age 20, and he did well enough to get called up to the big leagues as a reliever in 1964.
He was only supposed to be in the U.S. for a short while, but Nankai failed to call him back and the Giants opted to keep him on the squad for the 1965 season where he went 5-1 as a reliever with 100 strikeouts and an ERA of 3.43. Even more importantly, Murakami-san managed to get on a 1965 Topps baseball card (#282, Giants Rookies).
The Hawks brought him back to Japan for 1966. He won 18 games in 1968 and pitched into the 1982 season, finishing with a Japanese W-L record of 103-82 and a 3.64 lifetime ERA. He was profiled in The Great American Baseball Card Flipping, Trading and Bubble Gum Book (Mariner Books, 1991) as being the only major league player who could not speak English (along with the possible exception of Yogi Berra ... )
Gaijin
Gaijin (foreigners) had played baseball in Japan sporadically in the first half of the 20th century, but American players really started coming into the league in force in the 1960s. The Kabaya-Leaf set features four American players:
Card #102 shows Gene Bacque, who is the only non-Japanese pitcher to win the Sawamura Award. He followed up that honor by breaking his finger in a brawl caused when he tried to bean Sadarahu Oh not once but twice, thereby clearing both benches.
Card #312 depicts Kent Hadley, who is famous in the U.S. for being a bit player in the trade that sent Roger Maris from Kansas City to the Yankees in 1959. He went to Japan in 1962 and had one great year over there, hitting 30 homers and batting .295 in 1963 while making the All-Star team that year.
Card #360 features Tony Roig, who averaged over 21 home runs for six straight years in Japan and was an All-Star there once.
Finally, card #361 displays Jim Baumer, who broke into baseball at age 19 with the Chicago White Sox in 1949, hitting .400 (yes, you read that correctly - he went 4 for 10) after which he spent 12 years in the minors. He averaged .260 in four years with the Hawks but had some power too, knocking 74 round-trippers over the four-year period.
The Black Mist Scandal
In October of 1969, the Nishitetsu Lions discovered that their pitcher, Masayuki Nagayasu, was taking bribes from an organized crime family to throw games. The team dumped him and Japanese baseball banned him for life, the first player over there so "honored." In April of 1970, Nagayasu gave an interview to the Shukan Post (shades of Olympic cyclist Tyler Hamilton) where he implicated seven of his ex-teammates in the scandal, including team ace pitcher Masaaki Ikenaga (card #353 in the Kabaya-Leaf set).
The scandal spread to other teams, and in May of 1970, Ikenaga and two other players were banned for life with numerous suspensions and fines. At the same time, it was discovered that a number of Japanese auto racers were paid to throw races as well. As that scandal spread, the Dragons' star pitcher Kentaro Ogawa (Kabaya-Leaf card #52) was found to be involved in fixing races and he too wound up being banned for life.
The conspiracy was nicknamed the "Black Mist Scandal" after a political scandal during the Sato administration of 1966-67 where "bribery was said to envelop politics like a black mist." Masaaki Ikenaga protested his ban for years, and finally, in 2005, Japanese baseball declared him "reformed" and allowed him to return to baseball.
Other Notables
Eiji Bando (card #53) had an undistinguished 10-year career as a pitcher with the Dragons mainly because he threw his arm out in high school. Bando once pitched 18 innings in a single tournament game, which led the Japan High School Baseball Federation to decree pitchers couldn't pitch successive games in 1958.
He kept his sense of humor even after his baseball career ended with him being unable to extend his pitching arm, and he eventually got into show business. He has starred in multiple movies and TV shows which have garnered him multiple commercials. His career as an entertainer makes his Kabaya-Leaf single sell for a premium price, despite a less than stellar baseball career. (Bando still has limited motion in his pitching arm to this day.)
Card #18 is Isao Shibata who knocked out 2,018 hits and was a four-time Best Nine player. He may make the Japanese Hall of Fame someday, becoming the sixth Giant in the set to do so.
Collecting the Set
Fast forward to today and 1967 Kabaya-Leaf cards are quite scarce. There are only five active sets on the PSA Set Registry. As of February 2018, 1,096 Kabaya-Leaf cards have been graded by PSA, with considerably fewer encapsulated by other grading companies. The big question is: What happened to all those stacks of cards shown on Mel's kitchen table? From the "impossible four" short prints, PSA has graded exactly one example each of cards #2, #8, and #17 and two copies of card #3. The remaining very-tough five short prints have collectively been graded 25 times by PSA, so they're not in abundance.
The 1967 Kabaya-Leaf cards and sets do come up at auctions now and then.
Even though you can find ungraded and PSA-graded singles on eBay today, completing a set is likely to take a long time - the author has been working on a set for seven years and has come across all of three Kanedas in that time. Like Rob Fitts, I've never spotted any of the four "impossible" short prints.
Regardless of their baseball career, #2 Watanabe, #3 Jonouchi, #8 Takahashi, and #17 Yoshida have become the "impossible dream four" in obscure Japanese collector circles. If you have an interest in Japanese baseball, the 1967 Kabaya-Leaf set is a "must collect" given its design and loads of top stars.
Are you up to the challenge?
For more information on 1967 Kabaya-Leaf trading cards, please visit >https://www.psacard.com/cardfacts/baseball-cards/1967-kabaya-leaf/32662.
---
Please feel free to contact SMR at [email protected] if you have any additional information or comments. Please note the PSA Population Report statistics and Set Registry rankings quoted are as of February 2018.
---
Copyright © 2020 PSA – A Division of Collectors Universe. Nasdaq: CLCT. All rights reserved.