Collecting All Things Ichiro
One Name and Thousands of Fans in Two Countries
by Kevin Glew
The biggest legends don't require a surname.
As baseball fans, we don't need anyone to explain to us who Mickey, Jackie, and Willie are, but none of these greats had only their first name on the back of their jersey like Ichiro.
And when you take into account his zealous following in two countries, Ichiro (whose last name is Suzuki) has become one of the most popular and widely collected athletes in recent history.
"There are tons of Ichiro collectors out there. He has a huge fan base in Japan, as well as Seattle, where he started in the U.S.," noted Marc Schoenen, who owns the No. 2 Ichiro Rookie set on the PSA Set Registry. "There are many baseball fans that collect him because of his hitting prowess and Hall of Fame-caliber career. Although many MLB players have been 'imported' from other countries with much fanfare, Ichiro is perhaps the quintessential example of a player that lived up to the hype."
Born in Nichi-Kasugai-gun, Japan, on October 22, 1973, Ichiro began training rigorously with his father to become a professional baseball player when he was six years old. Though slight in stature, Ichiro batted over .500 and socked 19 home runs during his high school career. Despite his success, Ichiro wasn't selected until the final round of the 1991 Japanese draft by the Orix BlueWave.
Ichiro reported to the BlueWave and struggled for two seasons under manager Shozo Doi before Akira Ogi took over as bench boss in 1994 and installed Ichiro at the top of the club's lineup. As a 20-year-old in 1994, Ichiro batted .385 and set a league record with 210 hits. This was the beginning of his outstanding run with the BlueWave that saw him win seven consecutive batting titles and three MVP awards. In nine professional seasons in Japan, he hit .353 and notched 1,278 hits.
After the 2000 campaign, the then 27-year-old Ichiro became the first position player to be posted by a Japanese professional squad. The Seattle Mariners won the rights to him with a reported $13-million bid. They then signed the speedy outfielder to a three-year, $14-million contract.
Ichiro was virtually an instant star in the U.S. in 2001, batting .350 and registering a rookie record 242 hits for the Mariners. He also topped the American League with 56 stolen bases and led the M's to a franchise record 116 wins. For his efforts, he was not only an All-Star, Gold Glove recipient, and Silver Slugger Award winner, but he also became the second player in major league history to secure the American League Rookie of the Year and MVP Awards in the same season.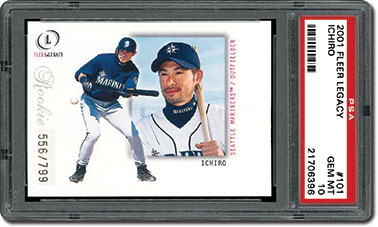 Not surprisingly, sales of his cards during the 2001 season were off the charts.
"It was crazy; I made so many sales that year," explained author Rob Fitts, who also buys and sells Japanese cards. "[The market for his cards] was so big that when he first came over, his BBM rookie card was selling for like $10 in Japan and it shot up to $100. His regular [BBM] cards were 20 cents each at the start of the season, and we started selling them for like $10 or $15 each in the States."
Engel had a similar experience.
"I went to the National [Sports Collectors Convention] during Ichiro's rookie year, and I sold out of everything," he said. "I was selling 100 Ichiro cards to this guy and 30 cards to that guy."
And Ichiro's first major league season was an omen of things to come. The multi-talented outfielder compiled a record 10 consecutive, 200-hit seasons, and he was an All-Star and Gold Glove Award winner in each of those campaigns. In 2004, he racked up 262 hits to break George Sisler's 84-year-old mark for most hits in a season.
After 12 seasons with the Mariners, he was traded to the New York Yankees and played parts of three years with the Bombers before landing with the Miami Marlins. On August 7, 2016, with the Marlins, he registered his 3,000th major league hit to become the 30th player to reach that milestone.
Heading into 2018, Ichiro has 3,080 big league hits, the most by any foreign player in history. He has 4,358 professional hits combined between the majors and Nippon Professional Baseball.
David Saba, who collects Japanese rookie cards, believes that Ichiro would have broken Pete Rose's major league hit record if the athletic outfielder had come to the U.S. earlier.
"He was playing a 130-game schedule and then it moved up to a 135-game schedule in Japan. He would have had those extra 30 games here, and it's not like when he got here his numbers took a dive," said Saba. "He won an MVP Award in his rookie year, so I have no doubt that he would have broken Pete Rose's record."
It's no wonder then that Ichiro's cards, autographs, and game-used bats are highly coveted. Here's a rundown of some of Ichiro's key rookie cards, as well as information about his autographs and game-used bats.
Japanese Rookies
Ichiro had been featured on dozens of Japanese baseball cards before he ever played a major league game.
Here's a summary of his 1993 Japanese rookies:
1993 BBM #239. It's not his rarest Japanese rookie, but it's definitely his most renowned. This card measures 2-3/8" by 3-3/8" and resembles a 1990 Pro Set sports card. A young and intense Ichiro is pictured batting with his name, team, number, and position in English at the bottom. The back offers a headshot, vitals, stats, and biographical information in Japanese. This card was originally available in wax packs and factory sets, and Engel estimates that between 10,000 and 50,000 were produced.
"[The] 1993 BBM [set] is sort of like 1989 Upper Deck," explained Saba. "It's the first attractive set that BBM released and it just so happens to coincide with the first year that Ichiro was featured on the cards."
Engel noted in a 2001 SMR article that the "color borders and a common factory miscut" make high-grade examples difficult to uncover.
"Nearly all cards tend to be 'tilted,' with the width of the top border being greater at the upper left than at the upper right," wrote Engel.
Of the 814 graded, there have been 118 PSA GEM-MT 10s. One PSA 10 sold for $561 on eBay in November 2017.
1993 Tomy I.D. #102. This is the first Japanese Ichiro card to boast the same dimensions as a standard U.S. single (2-1/2" by 3-1/2"). This purple-bordered rookie showcases him after a swing. His name, number, position, and team are highlighted at the bottom, while the back presents the card number, a headshot, vitals, and statistics. It was printed in smaller quantities than the BBM rookie, but it's generally not as widely coveted.
"My favorite [Ichiro] card is the Tomy I.D. card," said Saba. "First of all, it's a larger card; the BBM and the Takara cards are a little bit undersized. Plus, it features a big, bold action shot of his iconic swing with him running out of the box before he is even finished swinging."
Engel says the purple borders on this card are susceptible to chipping.
1993 Takara BlueWave #51. This card pictures Ichiro in a fielding shot with his team name at the top and information in Japanese below. It has rounded corners and was distributed as part of a 30-card team set that came in a plastic case inside a box. Engel notes that these cards were sold at toy stores and card shops.
"Takara cards were originally designed in 1978 to be used as part of a dice game, and dice and a paper 'board' are included in the box," wrote Engel in his 2001 article. "However, Japanese baseball card collectors began snapping them up long ago, and by 1993, Takara cards were classified by Japanese collectors as true baseball cards - just like BBM and Tomy I.D. The Takara game is very similar to Strat-O-Matic and was very popular in Japan during the 1980s."
Fitts adds that these cards are often found in top condition.
"They're great for grading because they had rounded edges," he said. "They came sealed in a plastic box, so when you opened it up, you knew you had a good chance of obtaining a PSA NM-MT 8, PSA MINT 9, or PSA 10."
Of the 102 evaluated, there have been 65 PSA 10s.
U.S. Rookies
2001 SP Authentic #91. This is not Ichiro's rarest North American rookie, but it's his most prominent. From one of Upper Deck's signature brands and serial-numbered out of 1,250, this card flaunts a photo of Ichiro in a throwing motion.
"This Ichiro rookie card is aesthetically pleasing, relatively minimalist in an era of heavy design, with a popular brand and serially-numbered," said Schoenen. "This card is easily obtainable, though it can be expensive in top grade."
Of the 303 submitted, there have been 167 PSA 10s. One PSA 10 sold for $765 on eBay in November 2017.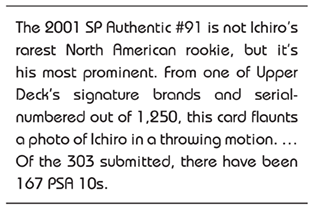 2001 Ultimate Collection Autograph #120. This is Ichiro's only hard-signed rookie and it is serial-numbered out of 250, so it's not surprising that it's also his most valuable rookie.
"The Ultimate Collection series from 2001 is printed on very thick card stock, so a dull blade or the lightest touch can quickly downgrade a card to near-mint condition or worse," explained Schoenen. "As all 250 of these cards were autographed on the card, they went through handling by Ichiro, by Upper Deck representatives, etc. all before making it into the pack. That is why, over 15 years later, only 17 examples of this card have graded PSA 8, PSA 9, or PSA 10."
Of the 29 submitted, there have only been three PSA 10s.
"When I upgraded my 2001 Ultimate Collection autographed Ichiro rookie card from PSA [NM] 7 to PSA 8, I consigned my PSA 7 to Love of the Game auctions, where it sold for nearly $2,100 [in August 2017]," said Schoenen. "Although there are 250 examples of this card, very few make their way to the auction circuit, with fewer than five of them transacting in a given year."
2001 SPX Signed Jersey #150. This was the only Ichiro rookie to boast an autograph and a jersey swatch. Though very desirable, this card is a little less pursued because it's not serial numbered and because it offers a cut signature rather than being hard signed.
Of the 220 submitted, there are 78 PSA 10s. One PSA 10 garnered $1,976 on eBay in October 2017.
2001 Bowman Chrome Refractor #351. "This Ichiro rookie card was only found in a Refractor version," explained Schoenen. "Interestingly, there are two variations of this card - one with Japanese language on the reverse, and the other with English. Both are widely collected, and this card can go for hundreds of dollars in mint or better condition."
The Bowman Chrome brand is one of the most desirable for rookie collectors and there are also several more limited refractor versions of this card.
One PSA 10 refractor (Japanese version) sold for $681 on eBay in November 2017.
2001 Leaf Limited Game-Used Base #374. Schoenen deems this "another white whale Ichiro rookie card."
"With only 100 produced, this card features a piece of game-used base and is a super short print from the 2001 Leaf Limited base set," noted Schoenen. "An extremely thick card, there are currently only five examples graded by PSA, with the three PSA 8s being the highest graded. I am lucky enough to have a PSA 8 in my collection that I personally submitted many years ago. This is a card so scarce that it only comes up for sale once every year or two. And that's in any grade."
Schoenen says it's often found with soft corners or surface scratches.
Autographs
Ichiro has one of the most sought-after signatures of the modern era. For many years, he has had a working agreement with Mill Creek Sports, a long-time autograph and memorabilia seller located near Seattle, Washington. Demand for his autographs has consistently outweighed the supply, which means collectors should be prepared to pay a premium for his signature. For example, when Mill Creek Sports held a private signing with Ichiro in February 2016, the fee was $250 to have a ball or a flat item signed.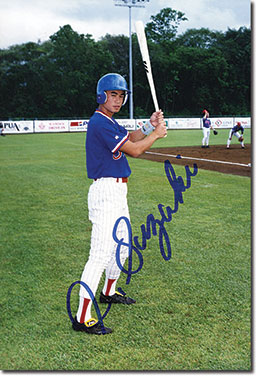 Ichiro Suzuki Signed Photo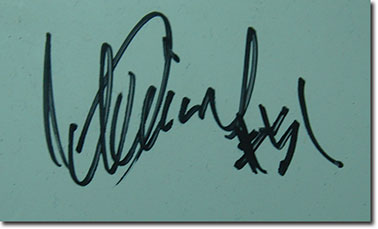 Ichiro Suzuki Signature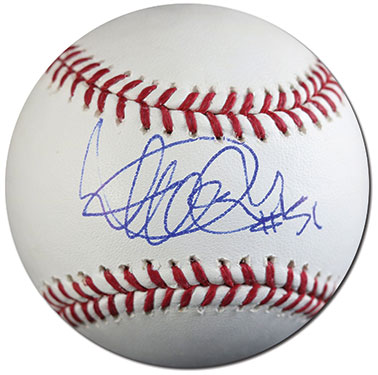 Ichiro Suzuki Signed Baseball
Ichiro has a fast-paced flowing signature that regularly appears as "Ichiro S." He sometimes adds his uniform number (51). He generally signs his full name on official documents, but he rarely signs his name in Japanese anymore. However, you can find examples of his signature from early in his career.
A PSA/DNA authenticated, single-signed Ichiro ball commanded $229 on eBay in December 2017.
Game-Used Bats
Ichiro treats his bats with reverence. He carries them around in a special moisture-free case.
PSA/DNA game-used bat expert John Taube says Ichiro has predominantly employed black Mizuno models throughout his career.
"Since Day 1, it has been strictly Mizuno. I don't think he's had a major league plate appearance without a Mizuno," said Taube, adding that Ichiro was even using Mizuno bats in Japan.
Ichiro's bats do have a few distinctive characteristics.
"His bats tend to have a light to a moderate coat of pine tar on the upper handle," explained Taube, noting that Ichiro doesn't use tape on his bats.
The veteran bat authenticator says Ichiro bats generally measure around 33.5" inches and weigh "between 29 and a fraction and 31 ounces."

2013 Ichiro Suzuki PSA/DNA GU 10 Signed Game-Used Bat
Unfortunately for collectors, Ichiro game-used bats rarely surface for sale, and when they do, they command big bucks.
"The early Seattle Mariners bats are the most desired," said Taube, adding that he has never seen an Ichiro milestone bat hit the market.
A 2002 PSA/DNA GU 8.5 signed Mizuno bat was sold by Goldin Auctions for $4,287 in the spring of 2017.
"The supply has never been abundant and I think the demand will increase, so it's a good picture for people who own Ichiro material right now," said Taube.
For more information on Ichiro Suzuki trading cards, autographs, and game-used bats, please visit https://www.psacard.com/facts/.
---
Please feel free to contact Kevin Glew at [email protected] if you have any additional information or comments. Thank you to Marc Schoenen and David Saba for providing cards and images for the article. Please note the PSA Population Report statistics quoted are as of February 2018.