PSA Set Registry
Collecting the 1909-11 American Caramel (E90-1) Baseball Card Set
A Classic Caramel Issue
by Kevin Glew
It's been called the T206 of the caramel candy sets.
And that comparison seems apt when you consider that the 1909-11 American Caramel (E90-1) set was released in the same years as its storied tobacco rival and it features a similarly long list of Hall of Famers and intriguing variations and rarities.
"I would tend to agree that it has some similarities [to the T206 set]," said Joel Tschantz, who owns the No. 5 Current Finest, 1909-11 American Caramel (E90-1) set on the PSA Set Registry. "It's larger in size than the typical E [caramel] set. It has a few scarce variations, multiple HOFers, multiple poses of some of the biggest stars, and some very rare cards that make it a challenge to complete."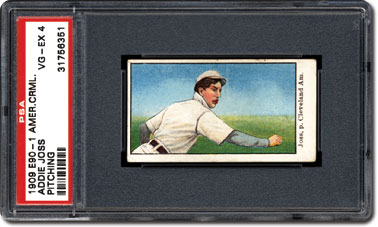 Tschantz adds that the E90-1 set is also, likely, the most collected caramel set.
But at 120 cards, the E90-1 set is less comprehensive than the monstrous T206 series (524 cards), and it only features major leaguers. Also, the E90-1 singles were packaged with caramel rather than cigarettes and marketed to children, so it could be argued that these were subjected to more wear and tear as a result.
At 1-1/2" by 2-3/4" each, the E90-1 cards are also slightly larger than the T206 cards. The white-bordered singles were manufactured with rounded corners and exhibit an artistic rendering of a photo on the front. Some of the artwork is the same as that in the 1909 Dockman & Sons (E92) series, but the majority of the images are original.
"The cards look strikingly similar to T206s, but they do depict poses that you typically don't see repeated by other sets," said Tschantz. "I especially like the action poses with the various colors in the horizon behind the player. In my opinion, this set is a good complement to the T206 set."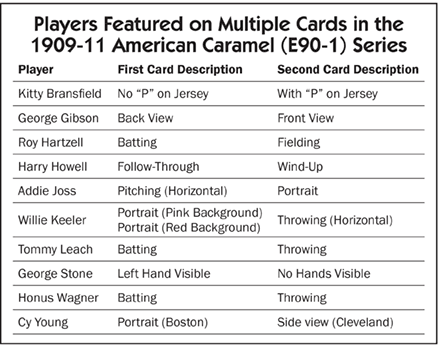 Bill Nichols, who has assembled the No. 9 Current Finest E90-1 set on the PSA Set Registry, is also fond of the design.
"I just love the graphics on the cards," he said. "I love the backgrounds and the colors. I think it's a phenomenal set."
Ten players in the E90-1 series are highlighted on two cards in different poses (see accompanying chart). Four of those players - Addie Joss, Willie Keeler, Honus Wagner, and Cy Young - are Hall of Famers.
The player's last name, position, team, and league are generally indicated in the white border at the bottom. But there are five cards - Buster Brown, Charley Hall, Addie Joss (Pitching), Willie Keeler (Throwing), and Johnny Siegle (Misspelled Seigle) - with a horizontal layout that share this information along one of the sides.
The vertical card backs serve as an advertisement for the American Caramel Co. The text at the top mistakenly indicates that there are 100 subjects in the series. There are actually 108 different players featured (some, as noted, with more than one card). A drawing of two crossed bats with a ball at the top and a glove at the bottom and the words "Base Ball Caramels" dominate the middle, while the manufacturer's information and location (Phila, Pa.) is printed at the bottom.
As noted earlier, the E90-1 cards were reportedly issued from 1909 through 1911. One common theory is that the bulk of the cards were printed in 1909 then progressively fewer were produced in 1910 and 1911. Some advanced collectors, however, believe the print process was far more complex than this and involved several print runs.
By taking into account design characteristics, player transactions, and even what position a player manned in a certain year, Lew Lipset, in his trailblazing 1984 publication, The Encyclopedia of Baseball Cards, made a case that 10 cards - Fred Clarke (Pittsburgh), Hugh Duffy, Peaches Graham, Ed Karger, Willie Keeler (Horizontal), Mike Mitchell, Tris Speaker, Jake Stahl, Bill Sweeney, and Ed Walsh - were produced and distributed in 1911.
Collectors seem to agree that these 10 cards are tough to track down. But a recent examination of the PSA Population Report revealed that just one of these cards - Stahl - currently ranks among the set's lowest population cards (see accompanying chart).
The E90-1 cards were likely issued one per caramel package. During the research for this article, no one could confirm exactly how the cards were inserted into packages, but the consensus is that the cards must have been protected from the caramel.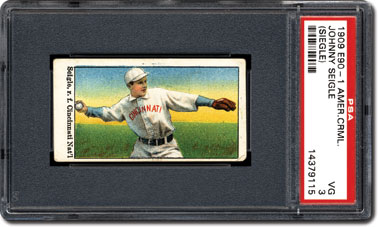 "If the cards were in direct contact with the caramel, I would think more would be stained, like the 1914 Cracker Jack cards," noted veteran hobbyist Peter Calderon, who's the founder of www.caramel-cards.com. "I believe there would have been some type of protection. It is possible the cards were separate and were handed out - like we now know did occur [with other sets] thanks to the E98 Black Swamp Find."
Calderon adds that it's also possible that the cards were distributed in a box.
A significant number of E90-1 cards have turned up in collections on the U.S. West Coast, which is surprising given that the American Caramel Co. was based in Philadelphia. One possible explanation for this could be that the American Caramel Co. formed a marketing partnership with a company on the West Coast.
However collectors managed to purchase these cards, they would have been lucky to pull a Shoeless Joe Jackson card. Widely considered Jackson's rookie, this single features the star outfielder in a Philadelphia A's uniform leaning on his bat against a light purple background.
"This set's [T206] Wagner would be the Joe Jackson card, even though there are actual Honus Wagner cards in this set," noted Nichols.
Cory Weiser, who owns the No. 2 Current Finest E90-1 set on the PSA Set Registry, offers a similar assessment.
"The Joe Jackson is by far the most expensive card in the set," he said. "But if you look at the PSA Population Report, it's really not that tough to find; it's just a highly popular card."
Of the 83 submitted, the two PSA NM-MT 8s represent the highest graded examples. A PSA EX 5 sold for a whopping $143,400 in a Heritage Auctions sale in August 2016.
Though this set houses cards of 22 Hall of Famers, it's the Mike Mitchell single that has traditionally been dubbed the set's key card. This single showcases the largely forgotten Cincinnati right fielder in a head-and-shoulder image against a yellow background.
"For decades, I would say it has been widely regarded as the most difficult card in the set," said Weiser. "But if you look now, the Population Report seems to demonstrate that it is not that much tougher to obtain than some of the other cards."
Tschantz shares similar observations.
"Many consider the Mitchell card to be the absolute most difficult, but I have seen that card offered in auctions a little more lately," he said.
The PSA EX-MT 6, which represents the top graded specimen, sold for $10,800 in a Robert Edward Auctions sale in October 2016.
Of the other "1911" cards identified by Lipset, four - Clarke (Pittsburgh), Duffy, Keeler (Horizontal), and Speaker - are Hall of Famers. The most common version of the Clarke card erroneously lists his team as Philadelphia. This card was later crudely updated to reflect his real team (Pittsburgh). The Pittsburgh version is much harder to uncover. Just 29 have been evaluated and the PSA 5 is the highest graded example.
There are actually three different Keeler cards. His most abundant showcases him in a portrait image against a pink background, but another version that boasts a red background is far scarcer. Equally as rare is the third Keeler card, which shows him in a throwing pose on a horizontal card. Of the 32 submitted, the highest graded example has been a PSA NM 7.
The Tris Speaker is another extremely tough Hall of Famer card. It presents the legendary outfielder in a full-length batting pose with mountains silhouetted against a sunset sky in the background. A PSA 5 is the highest graded example.
Though not as difficult to track down as the aforementioned Hall of Famers, the Ty Cobb single is also highly sought after. This card depicts "The Georgia Peach" in a batting pose against an orange background. There have been 164 sent in to PSA and the two PSA 8s represent the top graded specimens.
Also, if you're looking for a more affordable alternative to Honus Wagner's T206 single, there are two attractive cards of the Pirates legend in the E90-1 series. One card features him in a batting pose, while the other rarer card presents him throwing. Just 15 of the "Throwing" variation have been evaluated and the top example is a PSA 6.
According to the PSA Population Report, the three least submitted cards from this series are George Gibson (Back View), Tommy Leach (Throwing), and Dave Shean (see accompanying chart). Weiser and Nichols both cite the Shean as being particularly elusive. This single features the Boston Braves second baseman in a fielding position against an orange and yellow sky. Just 12 have been evaluated and the three PSA VG 3s are the highest graded examples.
If you look closely, you'll also notice several spelling errors in this series. Most notably, Christy Mathewson's last name is misspelled "Matthewson." Other players with their last names spelled incorrectly include Tex Erwin (Irwin), Buck Jordan (Jordon), Stuffy McInnis (McInnes), and Johnny Siegle (Seigle).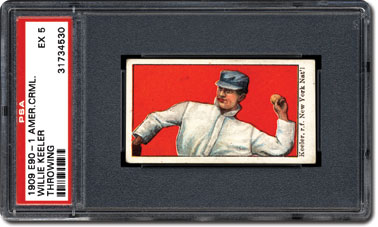 E90-1 cards are very difficult to track down in top condition. Of the 4,468 submissions, there has yet to be a PSA MINT 9 or PSA GEM-MT 10 example and there are just 14 PSA 8s and two PSA NM-MT+ 8.5s.
"You see these cards with a lot of creasing," said Weiser. "And if you compare an E90-1 card with a T206, you'll notice that the stock is not as stout on the E90-1 card. The cards just don't hold up as well."
Tschantz has also found it tough to locate high-grade cards.
"It is very difficult to find cards in PSA VG-EX 4 or higher condition," he said. "Caramel stains, corner wear, centering, and creases are the usual culprits."
Nichols adds that trimming can also be an issue.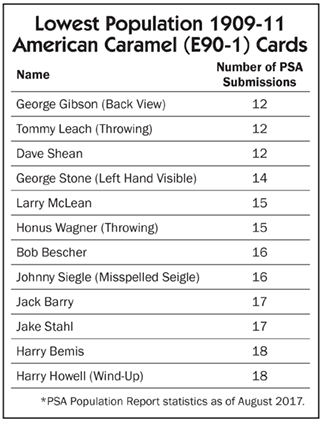 This helps explain why competition for high-grade E90-1 singles can be strong, but it's not nearly as heated as it is for T206 cards. Weiser says the E90-1 cards were generally commanding more in high grade 10 or 15 years ago, but he feels that more collectors are likely to pursue these cards in the future.
"This set is a lot more manageable than the T206 set and it's not as common," he said. "You see peaks and troughs [in the hobby], and I think right now this set is in a trough. But I believe it will eventually grow in popularity."
Nichols' take is much the same.
"People might get tired of collecting the T206 set just because of the sheer size of it," he said. "This set is 120 cards. It's manageable. You have one really, really tough and expensive card in the Joe Jackson card, but you also have a ridiculous amount of Hall of Famers. I just think it's a beautiful set."
For more information on the 1909-11 American Caramel (E90-1) Baseball card set, please visit https://www.psacard.com/cardfacts/baseball-cards/1909-11-american-caramel-e90-1/113.
---
Please feel free to contact Kevin Glew at [email protected] if you have any additional information or comments. Please note that the Population Report figures quoted and Set Registry rankings reported are those as of August 2017.