PSA Set Registry
Collecting the 1958 Topps Baseball Card Set
A Set About Maris, Musial, and Moving Teams
by Kevin Glew
It was the year that broke the hearts of Brooklyn Dodgers fans.
In 1958, not only did the team's owner Walter O'Malley move the club to Los Angeles, but Dodgers' all-star catcher Roy Campanella was paralyzed in a car accident.
With this weighing heavy on their minds, it must have been devastating for Brooklyn kids to open a pack of 1958 Topps Baseball cards - which were produced right in their own city - and see the words "L.A. Dodgers" emblazoned across the bottom of photos featuring their favorite players.
But Dodgers' fans weren't alone. They could commiserate with their neighboring New York Giants supporters, who also watched helplessly as their team shifted to San Francisco that same year.
The 1958 Topps Baseball set reflects the dawn of this new era in Major League Baseball, where regular season games would be played from coast to coast. Aside from updating the Giants and Dodgers cards to highlight their new cities, Topps made several other changes to the design and composition of their product.
While the cards still measure 2-1/2" by 3-1/2" each, the set was increased to 494 cards (534 cards in the Master Set) from 407 the year before. The regular 1958 Topps cards boast white borders and present player photos against a vibrant, single color background. Most photos are portrait shots, but there are some posed action images. The player's name was exhibited in big, bold letters at the top, while their position and team were indicated in a rectangular color banner at the bottom. A team emblem was included above this banner.
"The 1957 cards to me are a little bit drab," said Jack Stevenson, who has assembled the No. 10 Current Finest, 1958 Topps Baseball Master Set on the PSA Set Registry. "The 1958 [cards] are a lot more colorful."
The horizontal card backs display the card number in a baseball design on the top left, with the player's name to its immediate right. A short paragraph of biographical information and two cartoons illustrating facts about the player ensue. The information is generally restricted to their on-field accomplishments, but some singles mention the players' military service, off-season job, other sports they have excelled in, or famous relatives. Dave Sisler's single (#59), for example, notes that his dad is Hall of Famer George Sisler, while Gene Conley's card (#431) shares that he spent a couple of off-seasons playing basketball for the Boston Celtics.
The cartoon images are humorous and aimed at children. Some of the facts shared on the cards are also lighthearted. For instance, the caption that accompanies the second cartoon on Chuck Stobbs' single (#239), shares that an umpire "once chased Chuck, his father and his brother off the field during a high school game." While the text above the second cartoon on the back of the Rocky Bridges card (#274) states that "Rocky will always have the biggest wad of chewing tobacco in his mouth."
To the right of the cartoons is a vertical rectangular box that offers the player's vitals (Height, Weight, Bats, Throws, Home, Born, etc.). The bottom of the backs presents the player's major league or minor league stats. For position players, their batting record is on the left and their fielding record is on the right. The fielding record was not included on pitchers' cards. Topps copyright information runs up the right side of the card.
For the first time in a Topps baseball offering, the team cards exhibited checklists for different series on their backs. Four of the team cards, Milwaukee Braves (#377), Detroit Tigers (#397), Baltimore Orioles (#408), and Cincinnati Reds (#428), had two versions: one with an alphabetical listing of players on the back and a second, less common version that lists the players by card number. Don Wilburn, who built the No. 18 All-Time Finest, 1958 Topps Baseball Master set on the PSA Set Registry, says the numerical versions of these team cards are tough to find in high grade. With less than 10 PSA NM-MT 8 examples each (and no examples grading higher), the Tigers and Orioles numerical checklist cards are particularly elusive.
Topps also introduced Sport Magazine All-Star Selection cards (#475 to #495) with this set. Thus, this offering houses multiple cards of legends like Ted Williams (#485), Willie Mays (#486), Mickey Mantle (#487), and Hank Aaron (#488). It should also be noted that the Sport Magazine All-Star card of Stan Musial (#476) is his first Topps card. Musial once said that the reason he had never appeared in a Topps set up to that point was because they hadn't previously met his financial demands.
It's also been widely reported that the Musial (#476) and Mantle (#487) All-Star cards were triple-printed, and to produce them in these quantities, four cards - Billy Harrell (#443), Carroll Hardy (#446), Preston Ward (#450), and Gary Geiger (#462) - were replaced on print sheets. As a result, these four cards are considered short prints.
"I don't have access to the Topps circulation numbers from 1958, but I can tell you those four cards are pretty darn hard [to obtain]," said Chris Murphy, who owns the No. 4 Current Finest, 1958 Topps Baseball set on the PSA Set Registry.
Topps also increased the number of multi-player cards in this issue to 11. Many of these present more than one Hall of Famer. The most coveted multi-player card is the World Series Batting Foes (#418) single that highlights Mickey Mantle and Hank Aaron. Of the 3,765 submitted, the 15 PSA MINT 9s are the highest graded examples.
The 1958 Topps cards were distributed in six series (#1-88, #89-#176, #177-#264, #265-#352, #353-#440, and #441-#495) in one-card, penny packs and six-card, nickel packs. Twelve-card cellos have also been uncovered. Murphy, Stevenson, and Wilburn say that in their experience, the first-series cards are more difficult to track down than the high numbers.
Collectors may have also searched fruitlessly for card #145. Reports indicate that this card was supposed to feature Philadelphia Phillies first baseman Ed Bouchee, but it was yanked from production due to the legal troubles Bouchee got himself into after the 1957 season.
Another idiosyncrasy of this set is that 33 cards (see accompanying list) between card #2 and #108 have white or yellow name or team variations on their cards. The yellow variations are generally rarer and are considered keys to the 1958 Topps Master Set. Among the highest profile players with white and yellow variations are Hall of Famers Hank Aaron (#30), Roberto Clemente (#52), and Al Kaline (#70).
"Just going from memory, most of the yellow variations are about two to two-and-a half times rarer than their white letter equivalent," said Murphy.

By reading the information on the card backs closely, you also can gain insight as to when some of the 1958 Topps series were printed. For example, a sentence has been added to the end of Bud Daley's bio on card (#222) that states he was traded to the Baltimore Orioles in March. He was actually traded to the O's on April 1, 1958. Daley is in the third series, so we can safely say that Series 3 (#177 to #264) was not printed until after that date. Similarly, the last sentence of the bio on Lou Berberet's single (#383), a Series 5 card, says, "Traded to the Red Sox at the time we went to press." He was traded to Red Sox on May 1, 1958, so Series 5 was printed shortly after this date.
Finally, the back of Carroll Hardy's card (#446), which is in Series 6, offers the following.: "He broke up an extra-inning ball game earlier this season with a sudden-death homer." Hardy's only home run in 1958 was a walk-off, three-run shot on May 18 to give the Indians a 7-4 win over the Chicago White Sox. So we can safely say that Series 6 was not printed until after May 18.
The Orlando Cepeda single (#343) represents the only Hall of Famer rookie in this set. This card features a fielding shot of the Giants slugger. Of the 1,614 submitted, there have been 19 PSA 9s.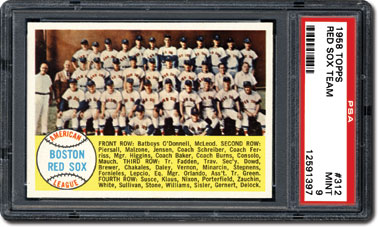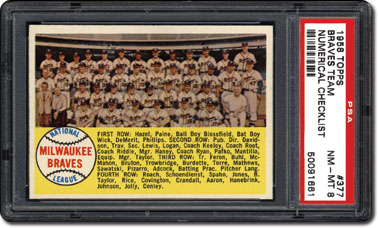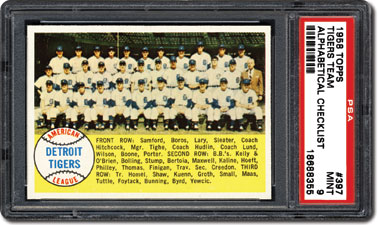 But even more popular than Cepeda's first-year card is Roger Maris'cardboard debut (#47). Maris clubbed 61 home runs in 1961 for the New York Yankees to break Babe Ruth's record for most home runs in a season. The card features a portrait image of Maris with the Cleveland Indians. One of the 34 PSA 9s garnered $14,380 in a Memory Lane auction in January 2017.
This set also houses the rookie card of Curt Flood (#464), who's best known for challenging baseball's reserve clause and for paving the way for the free agency that major leaguers now enjoy. Murphy calls the Flood rookie one of the set's most attractive cards. It features a close-up headshot of the trailblazing St. Louis Cardinals outfielder.
"The deep green [background] on the Flood makes for a very cool kind of contrast against the white borders," said Murphy.
Stevenson has had trouble finding a high-grade example of the Flood rookie.
Of the 924 evaluated, there have been two PSA 9s and none higher.
The 1958 Topps Baseball set also harbors the rookies of several other prominent big leaguers, including John Roseboro (#42), Ryne Duren (#296), Jim "Mudcat" Grant (#394), Vada Pinson (#420), Charlie Lau (#448), and Milt Pappas (#457).
Aside from Cepeda, 36 other Cooperstowners are highlighted on cards in this series. Ted Williams is the first card in the set. This card offers a large headshot of the Red Sox legend against a yellow background.
"That's Ted Williams' last appearance on a Topps card," noted Murphy.
This card suffered additional wear and tear being at the top of collector piles. Of the 2,805 sent into PSA, there have been nine PSA 9s and no PSA GEM-MT 10s.
The yellow variations of the Aaron, Clemente, and Kaline cards are also highly coveted. These are much more difficult to track down than their white name or team equivalent (see accompanying chart).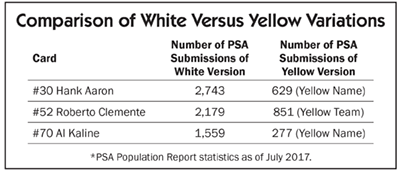 The Aaron single flaunts a close-up headshot of the slugger against a green background. Of the 629 yellow name examples, there has been one PSA 9 and 38 PSA 8s.
Clemente's first name is listed as "Bob" on his card (#52).
"I think the Clemente is an excellent looking card," said Murphy. "I love the full body shot of him batting."
Murphy says the yellow team Clemente card was the last star card he needed for his Master set.
Of the 851 yellow team Clemente cards submitted, there have been seven PSA 9s and one PSA NM-MT+ 8.5.
Stevenson, who's originally from Detroit, cites the Kaline card (#70) as one of his favorites. Murphy is also fond of this single, which offers a headshot of the Tigers legend.
"I love the Kaline card because of its deep red background," said Murphy. "In my mind, that's probably the best-looking card in the set."
Just 277 of the yellow name variation have been evaluated and there are five PSA 9s, one PSA 8.5 and 36 PSA 8s.
But not surprisingly, it's the Mickey Mantle card (#150) that still commands the most in top condition. This card offers a profile headshot of Mantle against an orange background. There have been 27 PSA 9s graded to date.
The Mays card (#5) is also in high demand.
"That's a great card with his picture against a blue background," said Murphy. "And Mays looks really happy on the card. It's a great shot of him. He looks very joyful."
Of the 2,764 submitted, there have been five PSA 9s.
But even with all of these Hall of Famer cards, collectors say the key Master Set single is the Pancho Herrera error card (#433). One rare version of the Phillies first baseman's card has the "a" missing from his last name on the front. This is the only card that Stevenson doesn't have for his Master set.
"People will pay four figures even for unappealing examples of that card," said Murphy. "It's the only card in the set that can do battle with the Mantle price-wise."
Just 55 have been submitted.
There are also numerous uncorrected errors in this issue. For example, the photo on the Mike McCormick single (#37) is actually Ray Monzant, similarly the picture on the Milt Bolling card (#188) is Lou Berberet and the picture on the Bud Byerly single (#72) is Hal Griggs.
The 1958 Topps Baseball cards are more difficult to find in high grade than their 1957 or 1959 Topps counterparts (see accompanying chart). Murphy says the cards were printed on thinner stock, which made them easier to crease. These cards are also regularly plagued by print defects, centering issues, and poor registration.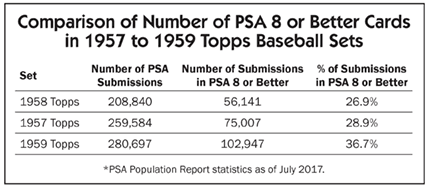 "When I was putting the set together, you had to watch for off-centered cards," said Wilburn.
The veteran collector says the yellow variations were particularly elusive in flawless form.
"For some reason, I saw some little yellow speckles that would show up [in different areas] on those cards," said Wilburn.
These condition woes are one of the reasons that competition for high-grade cards from this issue can be very strong.
"I completed my set in the middle of last year [2016], and at the time, it seemed to be surging [in popularity]," said Murphy. "One of the things that's fun about the 1958 set is the relative scarcity of the PSA 8s and 9s compared to the 1957s and 1959s. It makes it more of a challenge. It makes it more fun, and in the long term, it should make the set more valuable."
Stevenson also believes the future of the set is bright.
"I think it's going to continue to grow [in popularity]," he said. "I can't see it decreasing. I believe the 1958 [Topps] cards will definitely hold their value and go up over time."
For more information on the 1958 Topps Baseball card set, please visit https://www.psacard.com/cardfacts/baseball-cards/1958-topps/168.
---
Please feel free to contact Kevin Glew at [email protected] if you have any additional information or comments. Please note that the Population Report figures quoted and Set Registry rankings reported are those as of July 2017.