PSA Set Registry
Collecting the 1960 Fleer Baseball Greats Card Set
Some Salty Dogs and No Pepper Grace This Small but Distinctive Issue
by Doug Koztoski
Two of a handful of the most talked about home runs in major league history sailed over their respective outfield walls within around two weeks of each other.
In mid-October 1960, Bill Mazeroski smashed the only Game 7 walk-off homer in World Series play, sealing both a tremendous comeback in that contest and a Fall Classic victory for the underdog Pittsburgh Pirates over the New York Yankees.
Near the tail end of that September, Ted Williams played the final game of his career. After swinging and missing a pitch that he thought he should have hit well, the Red Sox outfielder promptly deposited the next pitch for a homer in front of many of his home field Fenway Park fans in his last big league at-bat, a true exclamation point on the slugger's storied time with Boston.
That same season, the Topps Company released its second straight baseball issue of 572 cards. Not one of them, however, singled out Williams. There was good reason for the absence of "Teddy Ballgame" from the Topps collection: he reportedly inked an exclusive three-year deal with the Fleer Company a couple years before. That led to the 80-card Williams set in 1959, covering many facets of the hitter's life, and "The Splendid Splinter" appearing in both Fleer Baseball Greats offerings in 1960 and 1961.
In the 79-card 1960 Fleer Greats set, Williams was the only active player on the roster (#72) and undoubtedly surprised many collectors who bought wax and cello packs of the cards that looked as if they were mounted in a scrapbook.
Larry Berlant has a mounting mountain range of 1960 Fleer Greats. Not only does he own the No. 1 set on the PSA Set Registry's Current Finest list, he also proudly possesses four other sets in the Top 7 on that list, with others in progress. In addition, he also owns the No. 1 "1960 Fleer with Optional Rarities" set.
"It's a fun set and it presents well," Berlant said. "Every player in the set was a big name in his day." Plus, the uber-collector described the issue's size as "manageable."
Berlant first obtained some 1960 Fleer cards, which he was unfamiliar with at the time, years ago when he bought a collection–and they were more of an afterthought. "The guy [who he purchased them from] kind of just threw them into the deal," the collector recalled. Many years later, some of the cards from that purchase earned high grades via PSA. In his No. 1 set, about two-thirds of the cards are PSA GEM-MT 10s, the rest are PSA MINT 9s.
No surprise, Berlant owns the bulk of the 125 cards that have earned PSA 10 status thus far from this issue.
Berlant noted Dr. Larry Pliss and Dave Bardo played a substantial role in his accomplishment. In the last few years, those collectors sold their top 1960 Fleer Baseball Greats Registry issues and Berlant bought some of their key cards that now rest in his No. 1 Registry set.
"Without their fastidious efforts in putting together their own pristine sets in the early years, it would not have been possible for me to have put together such a high quality set," noted Berlant.
A Strong Contender
Wedging his way, for now, between Berlant's No. 1 and No. 3 ranked sets, rests Norman Oberto, who collected the offering when it debuted and then revisited it decades later. "I've had fun building the set. I built it fairly quickly over a couple years period," Oberto said. "They are colorful cards," he added, "but it is ironic that the Ted Williams card is probably the most unflattering of the whole set, especially compared to his 1959 Fleer cards; however, it carries the most weight."
Maybe it was to draw more attention to the Williams pasteboard, but the slugger's 1960 Fleer, compared to others in the set, contains extra thick side margins, chiefly distracting from an otherwise well-posed image. Oberto's set contains a PSA 10 Williams and, like many, regards it as one of his favorites in the issue.
Babe Ruth also ranks near the top of the offering for Oberto and several others. Superstars such as Lou Gehrig, Ty Cobb, Honus Wagner, Walter Johnson, and Christy Mathewson, just to mention a few, also populate the set.
The player populating the leadoff spot, Nap Lajoie, is a favorite for some, including Berlant, mainly because the hitter is so elusive to find in or near Gem Mint condition. Only two PSA 10 Lajoies currently reside in the hobby, and, hard to believe, it is one of the few unimprovable cards for this collection that Berlant does not own, yet. PSA 9 Lajoies have rarely shown up, as well.
The numbers are even thinner on the set-ender, Ralph Kiner, but Berlant has the lone PSA 10 of the home run hitter. "This set is notorious for bad centering," he said, making supreme samples almost as hard to find as the fiery Cobb sliding gently into a base.
Mark Hellman (No. 18 on the PSA Set Registry) remembered the 1960 Fleer baseball set appearing on store shelves "sometime after the 1st Series of [1960] Topps Baseball," and he was hooked from the start. "At the time, I was entranced by the colorized pictures of the legends I had only read about," Hellman said, "and the backs provided all the stats and thumbnails I needed to know about these guys."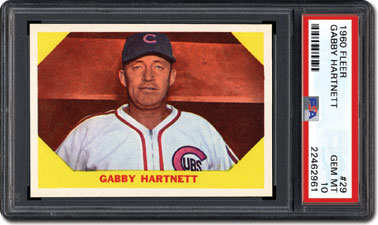 From thumbnails to a lifelong thumbs up for the issue, Hellman and the 1960 Fleer product still go hand-in-hand. "I've handled more ungraded sets of this issue than any other," he said. "And my graded set is actually my last run at it."
Hellman has seen a significant rise in the issue's price in the last 25 to 30 years. "I remember selling complete [ungraded] sets for $80; you can't touch them for that now." Many complete run, ungraded samples in even Excellent shape sell for $200 to $300.
My Favorite Martin
For most, the 1960 Fleer set is complete at 79 cards, but it was originally designed to be 80. Yet, like the 1960 MLB season itself, a twist came at the end. The set's 80th slot was supposed to go "Pepper" Martin, the outfielder/third baseman who played an integral part of the St. Louis Cardinals' "Gashouse Gang" winning World Series crowns in 1931 and 1934.
Also nicknamed the "Wild Horse of the Osage" for his aggressive base running skills, Martin is rumored to have had some sort of contract dispute with the Fleer Company, but whatever sparked the change, his card was "picked off" the main printing presses and never regularly issued for the 1960 Greats set. Even so, a few copies of a Martin-backed card with Lefty Grove, Eddie Collins, or Joe Tinker on the front have circulated the hobby for years, likely coming from a few proof production sheets. A few other player combos, not involving Grove or Martin, have also surfaced.
This Grove/Martin "error," among the rarest and most sought after of its era, has helped the offering keep a much higher profile than it might have had otherwise.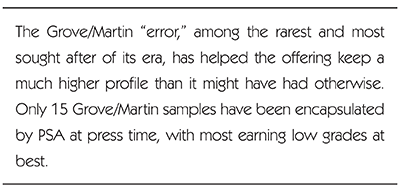 Only 15 Grove/Martin samples have been encapsulated by PSA at press time, with most earning low grades at best. Oberto owns a Grove/Martin, which normally changes hands between collectors starting at a few thousand dollars. "I got mine [a PSA EX 5(MC)] about 10 or so years ago through an auction," Oberto said. He recalled it costing somewhere "between five to ten thousand dollars."
While the Martin is missing from most collectors' 1960 Fleer Baseball Greats collection, Berlant sometimes thinks about the players that every collector is missing from that issue. "There is some arbitrariness with the player selection," he said. "Joe DiMaggio definitely should have been in there."
Berlant then ticks off some of the other missing legends that would have thrilled many had they been included in the set: "Jackie Robinson, 'Shoeless' Joe Jackson, Satchel Paige, Rogers Hornsby, and Hank Greenberg ... " Perhaps, at the time, Fleer's card making budget and player participation/interest did not align for some of those athletes. Whatever the reason for their absence, it is fun to think how much richer this set would have been if even a handful of the superstars were included.
The Long View
Berlant, Oberto, and Hellman all see a strong enough decade ahead for the issue. Hellman added reasons for this forecast which some might initially overlook. "I think it hit at a good time. It was probably the first old-timers set with any legs, and since it followed Fleer's [1959] Ted Williams set, I think it will always be popular because of that," he noted. "The 1959-63 Fleer sets are as much a part of baseball card collecting as the Post [Cereal] sets of the same years, if not more so."
In other words, for several collectors and many reasons, the 1960 Fleer Baseball Greats offering is a home run, much like those historic homers blasted by Williams and Mazeroski at the start of the Swingin' Sixties.
For more information on the 1960 Fleer Greats baseball card set, please visit https://www.psacard.com/cardfacts/baseball-cards/1960-fleer/235.
---
Please feel free to contact Doug Koztoski at [email protected] if you have any additional information or comments. Thank you to Larry Berlant for providing the cards that accompany this article. Please note that the Population Report figures quoted and Set Registry rankings reported are those as of June 2017.