PSA Set Registry
Collecting the 2000 Pokémon Team Rocket 1st Edition Card Set
An Issue That's Blasting Off Among Pokémon Collectors
by Kevin Glew
It's a set that has "rocketed" towards the top of many Pokémon collectors' want lists.
A quick review of the PSA Set Registry reveals that more hobbyists are pursuing the 2000 Pokémon Team Rocket 1st Edition issue than any other 2000 Pokémon set.
"I think the allure with the Team Rocket series is that in the show and in the game, Team Rocket are the villains and the Pokémon in this set are all dark," explained Scott Pratte, a well-known Pokémon trading card expert. "I think part of the reason why this set is collectible is because it was the first time that the Dark Pokémon were ever featured in the TCG [Trading Card Game]."
Ed Brennesholtz, who has assembled a top-ranking 2000 Team Rocket 1st Edition set in all PSA GEM-MT 10, offers a similar assessment.
"There were basically four Pokémon sets that came out in 2000," he explained. "Team Rocket introduced what some consider to be the evil Pokémon or the Dark Pokémon. A lot of people were drawn to that. It added diversity."
Pratte notes that the "Dark" Pokémon in this series are intended to look more angry and aggressive than those in other series, and they need to be so in order to fend off Team Rocket, a criminal organization whose main objective is to secure rare and strong Pokémon to assist them in taking over the world.
Manufactured by Wizards of the Coast (WOTC), the 2000 Team Rocket 1st Edition set was released in April 2000 and consists of 83 cards. The cards are numbered to 82, but the 83rd card is a secret rare Dark Raichu holographic single (numbered 83/82) that was inserted on a limited basis into booster packs.
Team Rocket 1st Edition cards were only available in 11-card booster packs, with each pack containing seven common cards, three uncommon cards, and one rare single. The rare card was a holographic card in one in approximately every three packs.
But while these 1st Edition cards are getting tougher to track down, it should be noted that another unlimited version of these cards was produced in much higher quantities and is far less valuable. A 1st Edition card can be distinguished from an unlimited card by the small black-and-white stamp that says "Edition 1" on the left below the character box on the card front.
Pratte doesn't know how many 2000 Team Rocket 1st Edition cards were produced, but he believes more 1st Edition cards were printed for this series than there were of the 1999 Pokémon 1st Edition (Base) series.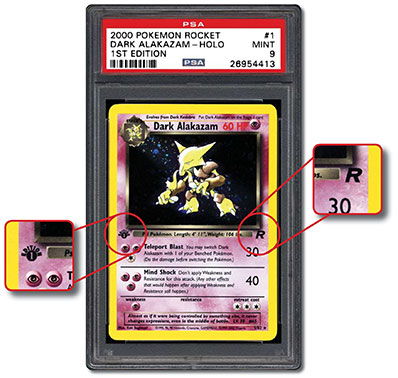 "The [2000] 1st Edition Rocket cards are slightly more available than [1999] 1st Edition Base cards because [1999] 1st Edition Base had such a concentrated release [mostly on the U.S. West Coast]. On top of that, it has the highest demand as well," said Pratte.
The 2000 Team Rocket 1st Edition booster boxes are clearly marked with the 1st Edition stamp. "Edition 1" is indicated in a black-and-white circle on the bottom-right of the top of the box.
These booster boxes have become increasingly rare and now command approximately $800 each. Pratte says the booster packs also bear the 1st Edition stamp. The packs have been selling for around $20 to $30 each on eBay.
The cards in this series boast yellow borders with the Pokémon's name and HP at the top above the artwork. The 1st Edition stamp ("Edition 1") and the Pokémon's vitals (type, length, weight) ensue, followed by the trading card game information. A sentence describing the Pokémon's special abilities can be found on the lower portion above the copyright information.
These cards can be differentiated from other 2000 Pokémon issues by the capital letter "R" (which stands for "Rocket") under the right part of the artwork (on the opposite side of the "Edition 1" stamp).
"The artwork is darker on these and the Pokémon look more aggressive," said Pratte. "I think the main attraction for the Team Rocket set is the artwork. Rocket has an identity based around being the dark set. I know multiple people that say Rocket is their favorite set."
The card backs flaunt the Pokémon name and branding and have blue borders.
This set offers four different levels of cards that are sequenced (with a few exceptions) in descending order by rarity (see accompanying chart).

The first 17 cards (#1 to #17) and the last card (#83) - which is the secret Dark Raichu card - are holographic cards and are in the most demand. In fact, many collectors solely pursue the holographic cards from this issue. These cards boast a holographic background behind the artwork and, as noted earlier, these were inserted at the approximate rate of one in every three booster packs.
"Rocket is the first set to feature a different holofoil pattern," noted Pratte. "The [1999 Pokémon] Base and Fossil sets had a star holo-back pattern. This one, however, has what people refer to as a 'Galaxy-type' pattern."
Similar to the 1999 Pokémon 1st Edition (Base) series, the key card in this series features Charizard on a holographic single (#4). Not only is it tough to pull from packs, this card presents one of the most popular Pokémon figures and is one of the most valuable cards in the Pokémon TCG.
"I think it's a unique, sharp-looking Charizard card," said Brennesholtz. "A lot of people like it because it's supposed to be a 'Dark' version."
Pratte says collectors can expect to pay more than $300 for a PSA 10.
The Dark Blastoise holographic single (#3) is the second-most coveted card. Blastoise is a ninja-turtle-esque Pokémon armed with pressurized water jets on its shell. Like Charizard, Blastoise is sought after because of its species and its status in the Red and Blue video game. Pratte estimates that a PSA 10 Dark Blastoise holo card would sell for at least $275.
Pratte says there's also a high demand for the Dark Dragonite holographic card (#5). A limited number of these cards (reportedly about 5,000) were mistakenly printed as non-holographic.
"These cards have the holographic numbering [#5/82], but they are non-holographic," explained Pratte. "This is the most valuable error in the set. It's significantly more valuable than the regular holo card and the natural non-holo card."
Pratte estimates that a PSA 10 of the error version might garner more than $1,000, while a PSA 10 of the regular holographic version should realize $150 to $200.
The Dark Magneton holographic card (#11) has proven to be one of the more difficult Team Rocket 1st Edition cards to uncover in flawless form. And because it's a relatively low population card in high grade, Pratte says a PSA 10 would likely command $275 or more.
The secret rare Dark Raichu holographic card (#83) is also one of keys to this set.
"Dark Raichu was the first secret rare card ever featured in a Pokémon set," said Pratte. "It should have a lower pull rate than a standard holographic card."
Brennesholtz agrees.
"I've opened a lot of boxes and I don't think I've ever pulled a Dark Raichu," he said.
The veteran collector likes the design of this card.
"The Dark Raichu is one of my favorite cards," said Brennesholtz. "I love the artwork on that card."
If you look closely, you'll also notice that the Dark Raichu card has two uncorrected errors on it. The Evolution Box is colored light gray rather than dark gray and the text on the upper-right reads "Put Raichu on the Basic Pokémon" when it should say "Put Dark Raichu on the Basic Pokémon."
There are also non-hologoraphic cards of Dark Blastoise (#20), Dark Charizard (#21), and Dark Dragonite (#22) that command a premium, but they generally sell for less than their holographic equivalents.
"What they basically did is they took all of the holographic cards and printed them in non-holo as well," said Pratte.
These three cards are ranked as rare cards, but they are not as rare as their holographic singles.
Another notable single is the "Here Comes Team Rocket!" card (#71). This, too, was classified as a rare card.
"When these cards first came out, this was the hottest card," said Brennesholtz.
Pratte points out that this was the secret rare card for the 2000 Japanese Team Rocket set instead of the Dark Raichu holographic card. Pratte says a PSA 10 would likely fetch around $100.
If you examine the 2000 Team Rocket 1st Edition cards closely, you'll notice a few other uncorrected errors. For example, the copyright line on the holographic Dark Arbok card (#2) and the regular Dark Arbok card (#19) reads "1999-23000 Wizards" rather than "1999-2000 Wizards."
The 2000 Pokémon Team Rocket 1st Edition cards were designed with rounded corners, so collectors didn't have to worry about damaging them. The most common condition flaw is chipping of the blue borders on the backs.
"They have blue backs that are very similar to the borders on the 1979 O-Pee-Chee Hockey cards, so it's very difficult to find a card that has no chipping," said Pratte.
Brennesholtz notes that WOTC appears to have used dull cutting blades for this series, and as a result, a lot of the edges on the cards are not clean. Also, the holo material on the 18 holographic cards is often found scratched or "silvered."
"Silvering is basically front whitening or chipping," explained Pratte. "Silvering refers to the silver of the holographic layer showing through on the front border. Basically, it's exactly the same issue as the chipping of the borders on the card backs, but on the front it is considered 'silvering' because of its color. Also, this is something unique to Pokémon, as this holo layer is not commonly seen in sets from other genres."
Poor centering can also be an issue.
"You can open a whole box and find out that all of the cards have been miscut, so they're centering is outside the parameters for a PSA 10," noted Brennesholtz.
Prices for unopened 2000 Pokémon Team Rocket boxes have risen significantly in recent years, as have the prices for key high-grade singles.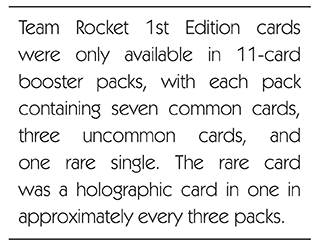 "The prices have consistently inclined for all WOTC sets in general, from [the 1999 Pokémon 1st Edition] Base set forward," said Pratte. "I would say Rocket is more available right now than some of the other early sets, but I don't know how long that's going to last."
Pratte believes these cards will continue to rise in value in the future.
"No set is ever going to be 1st Edition Base, but I think all of the original Pokémon sets are going to grow in value consistently; I just don't know at what pace," he said. "My general catch phrase is, 'The older, the rarer, the minter, the better.' And the Rocket set in high grade nicely fits that criteria."
Brennesholtz is similarly optimistic about the set's future.
"This is just my opinion, but I predict that in two years, the price of Team Rocket [1st Edition booster boxes] will double and maybe more," he said. "The Team Rocket [1st Edition] set might be the best investment [among Pokémon sets from the same era] right now for short-term gain."
For more information on the 2000 Pokémon Rocket card set, please visit https://www.psacard.com/cardfacts/non-sports-cards/2000-nintendo-pokemon-rocket/32534.
---
Please feel free to contact Kevin Glew at [email protected] if you have any additional information or comments. Thank you to Scott Pratte for providing his input and images for this article. Please note that any Population Report figures quoted and Set Registry rankings reported are those as of May 2017.