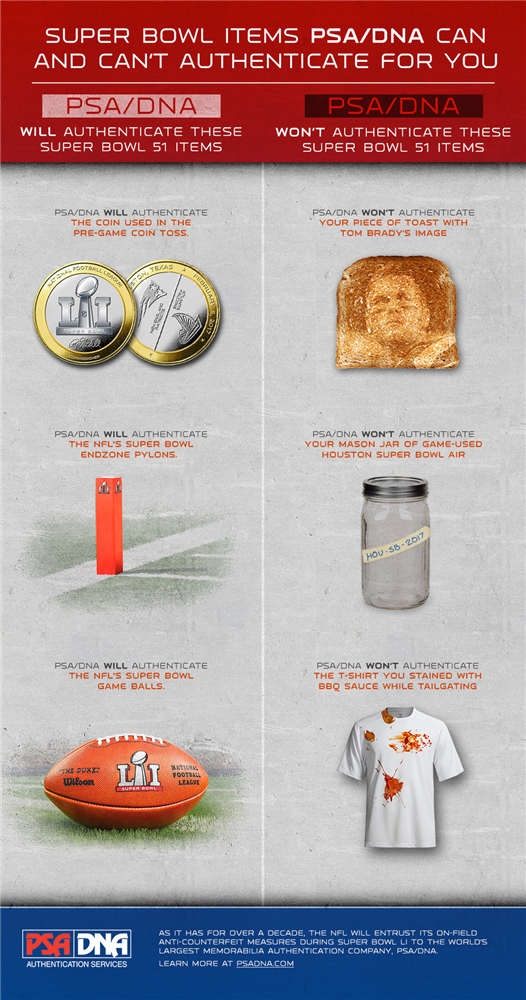 (Houston, Texas) – On Sunday, February 5, the New England Patriots and Atlanta Falcons will not be the only forces facing off during Super Bowl 51. Before kickoff at NRG Stadium in Houston, a silent war will be waged against counterfeiters.
Each of the approximately 100 footballs used during the National Football League's championship game, as well as each rear sideline pylon and the coin toss coin, will be "tagged" with synthetic DNA ink. These imperceptible marks act as a counterfeit deterrent and are virtually impossible to replicate.
As it has for over a decade, the NFL will entrust its on-field anti-counterfeit measures to the world's largest memorabilia authentication company, PSA/DNA (www.PSADNA.com). Prior to the game, a PSA/DNA representative will mark each ball, rear sideline pylon and coin toss coin with the company's proprietary synthetic DNA, visible only when illuminated by a specific laser frequency.
Following the game, a portion of the PSA/DNA-authenticated items will be auctioned on www.nflauction.nfl.com to benefit NFL and team charities. The remaining items will be split between the organizations of the two competing teams.
"Game-used items are always a commodity, especially items surrounding a game at the pinnacle of a sport, such as the Super Bowl. As a collector, you want the peace of mind knowing that what you are purchasing is, in fact, authentic and game-used," said PSA/DNA President Joe Orlando.
Counterfeiters are hard pressed to duplicate the authentication company's synthetic DNA technology, as each marking has a 1-in-33 trillion chance of being accurately reproduced.
"Staying on the cutting edge is key to curtailing counterfeiting," explained Orlando, "and giving each item its own fingerprint is one of the many ways PSA/DNA fends off counterfeiters."
Experts at Professional Sports Authenticator (PSA) and its PSA/DNA Authentication Services division have examined and certified over 27 million different sports, entertainment and historical collectibles with a combined total value of over $2 billion.
For additional information, contact PSA/DNA Authentication Services at (800) 325-1121. Email: [email protected] Online: www.PSADNA.com.