PSA Set Registry
Chasing "Bambi"
Collecting Trading Cards of the Chargers' Lance Alworth
by Todd Tobias
When recalling the old American Football League (AFL), numerous talented athletes and colorful characters come to mind. On defense there was Ernie "The Giant Cat" Ladd, Edward "Wahoo" McDaniel, "Big Buck" Buchanan and Rich "Tombstone" Jackson. Offensively, "Broadway Joe" Namath, Daryle "The Mad Bomber" Lamonica, Carlton Chester "Cookie" Gilchrist and Otis Taylor come to mind, and that is just the beginning. At a time when the National Football League (NFL) was thought to be conservative in their style, the AFL, in contrast, was new, colorful and always exciting. In this league of long passes and memorable nicknames, a man that they called "Bambi" stood (or leaped?) above all others.
An honors student and multi-sport athlete who earned 16 varsity letters at Brookhaven High School in Mississippi, Lance Alworth had many options after graduation. The one that he wanted most adamantly, however, was not available to him. "I wanted to play football at Ole Miss," Alworth recalled recently, "but the head coach there did not allow married players on his team." At the time, Alworth was married to his high school sweetheart, and so his hopes of starring at the University of Mississippi were dashed.
The University of Arkansas had no such restrictions and Coach Frank Broyles wanted Alworth desperately, and so Lance and his young family moved to Fayetteville, where he became a Razorback. The National Collegiate Athletic Association (NCAA) rules prohibited freshmen from playing varsity football at that time, so Alworth's play helped lead the frosh team to an undefeated season. The multi-sport star participated in baseball and track in the spring and set school records in the 100- and 200-yard events.
His transition to varsity football the following year was a smooth one. As a sophomore, Lance Alworth earned starting spots on offense and defense, in addition to returning kicks and assuming regular punting duties. The following year he led the Razorbacks in rushing as a junior and helped them to the Cotton Bowl where Arkansas lost to Duke by a narrow 7-6 margin. Still, Alworth's performance became the stuff of legend after he posted 33 rushing yards, 41 receiving yards, punted six times, returned two kickoffs for 50 yards, recovered a fumble and provided the Razorback's only points by returning a punt 49 yards for a touchdown.
As a senior, Lance Alworth became the first University of Arkansas athlete to win letters in three sports in the same school year, which he did in football, baseball and track. He again led the Razorbacks in rushing, in addition to receiving, punt returns and kickoff returns. After Arkansas lost to No. 1 Alabama in the Sugar Bowl, Alworth's season was capped with All-America honors.
Tempting as baseball may have been (he had been offered contracts by the New York Yankees and Pittsburgh Pirates), football was Alworth's true calling. In those days of separate AFL and NFL drafts, Lance Alworth was selected by the San Francisco 49ers in the NFL and the Oakland Raiders in the AFL. Al Davis, then in his role as an offensive coach with the San Diego Chargers, had scouted Alworth heavily at Arkansas. Davis was convinced that in the Chargers' pass-heavy offense, Alworth would be even more valuable as a receiver than he had been in the Razorbacks' backfield. So the Chargers engineered a trade with the Raiders, sending Bo Roberson, Hunter Enis and Gene Selawski to Oakland in exchange for the rights to sign Lance Alworth.
Despite having options, the decision of where to begin his career was a simple one for Alworth. "I played baseball in college and ran track ... I did the whole thing. But football was just so much easier to play and more active. I played centerfield, and I would sit out there and just wait for someone to hit the ball so I could chase it. In football I got to chase a much bigger ball, so it was easier to catch," he joked. Al Davis had done a masterful job of scouting and recruiting Alworth, befriending not only the young athlete, but his parents as well. When the opportunity came about to play in the new AFL, on a team in which Davis guaranteed that he would be featured, the decision was clear. So on January 1, 1962, still wearing his pads and uniform just moments after the conclusion of the Sugar Bowl, Lance Alworth signed his first professional contract to play football for the San Diego Chargers.
Early Collectibles
A combination of movie-star good looks, unrivaled athletic ability and star billing in an exciting new football league made Lance Alworth an instant hit with fans, and thus a popular subject for trading cards and other collectibles. Collector Lee Mooney recalls what initially drew him to the star receiver whose career began more than 50 years ago. "It all started from just being a Chargers fan. Growing up in South Jersey in the 1960s, everyone was an Eagles, Jets, Giants or Colts fan. This was in the era of Namath and Unitas. I wanted to be different and picked the Chargers. The whole AFL experiment was happening and everything about the Chargers appealed to me. Lance just became the focus of my attention as he was the lead character of a cast that included John Hadl, Ron Mix, Gary Garrison, Jacque MacKinnon and others. He was an incredible talent to watch."
Lance Alworth first appeared on trading card-type materials in three different 1962 releases, none of which are particularly easy to find today. The earliest of the three is a black-and-white, postcard-sized issue produced by clothing manufacturer Lee. Little is known about the set and the checklist is likely incomplete, although it appears that the cards were mainly produced as items to be autographed and given away at public appearances. Alworth's Arkansas teammate, Jimmy Collier, and Packers Hall of Fame (HOF) running back, Jim Taylor, have known cards in this set, and there are likely others as well.
The most common of the earliest Alworth issues is a 6" by 8" Union Oil "card" that was printed on a lightly textured and very thin stock. The card fronts feature illustrations of Chargers players by an artist named Patrick, with detailed biographical information on the reverse. The cards and an accompanying booklet were distributed with the purchase of gasoline at participating service stations in the San Diego area.
Lastly, and likely the most difficult of the three to obtain, is a 1962 Golden Arrow Dairy Milk Cap. Located in the San Diego area, the Golden Arrow Dairy capped their bottles of milk with cardboard depictions of Chargers players and management. The milk caps, which were documented as collectibles for the first time in 2008, feature crudely-illustrated headshots, accompanied by the player's name, position, height and weight. Thirty-two player caps were issued, along with AFL Commissioner Joe Foss, Chargers' Owner Barron Hilton and Chargers Head Coach Sid Gillman.
Although he was a highly-touted rookie, Fleer did not include Alworth in their AFL trading card set in 1962. Looking back now, the omission seems a foreshadowing of his rookie season: Four games into his first year, Alworth suffered a season-ending leg injury while kicking field goals in practice, leaving fans and Alworth himself unsatisfied with the young star's first year in professional football.
Lance Alworth Makes His Trading Card Debut
Both Fleer and Alworth returned the following year and made significant impressions on professional football and the trading card world in 1963. In his first full season in the AFL, Alworth wreaked havoc on opposing defenses. He averaged 19.8 yards-per-catch for the season and hauled in 61 receptions for 1,205 yards and 11 touchdowns. The Chargers won their lone AFL championship, and Lance Alworth was named first team All-AFL and the American Football League's Most Valuable Player by the United Press.
The 1963 Fleer card set was equally impressive. In what came to be their final season of producing AFL trading cards, Fleer issued an 88-card set that incorporated a color image with white lettering atop a red background. A simple white border completed a crisp and clean look.
In a set with high-caliber rookies including eventual HOF members Len Dawson and Nick Buoniconti and Buffalo Bills star Cookie Gilchrist, the #72 Lance Alworth card leads the proverbial pack. Alworth is shown from the waist up in his collegiate #23 jersey, though the image was airbrushed to more closely resemble Chargers team colors.
As with the majority of 1963 Fleer cards, centering is a typical problem with the Alworth rookie card. "It seems like all of the 1963 Fleer cards are off-center left-to-right," said Paul Howard, owner of the top 1963 Fleer set on the PSA Set Registry.
It has taken Howard roughly 15 years to assemble his set, and he's still not completely satisfied. "The image of Alworth itself is shifted to the left to begin with, and that makes even slightly off-centered cards appear to be worse than they really are," he said recently.
While PSA 9s may fall outside the price range of many collectors, the Alworth rookie card remains popular with hobbyists in a range of conditions. More than 400 of the cards are currently listed in the PSA Population Report, with the majority falling into the more affordable and still attractive PSA EX-MT 6 to PSA NM-MT 8 range.
As with most players from his era, relatively few Alworth trading cards were produced during his playing days, and several of those issues are subject to various condition issues. Like 1963 Fleer, 1964 Topps cards are notorious for being off-center. "Centering is tough on the '64s as well," agreed Howard, who also once owned the PSA Set Registry's No. 1 1964 Topps set. "But centering is all over the place with the '64s, not just left-to-right like 1963 Fleer."
The 1965 Topps cards tend to show up in rough shape due to their oversized nature, and 1966 Topps is difficult because of the wood grain borders and an apparently inferior card stock, which was susceptible to chipping. All told, Lance Alworth's first four regular issue cards pose significant challenges to high-grade collectors. To further complicate the issue, the Lance Alworth Master Set consists of just 23 items, with only a few more rarities known to exist. However, 12 of those pieces were either regional issues, inserts or had an otherwise limited distribution, which makes them difficult to locate, especially in top condition. In fact, the 1968 Cornflakes Champions, 1969 Eskimo Pies and 1970 Action Cartridge cards are all difficult to locate regardless of condition.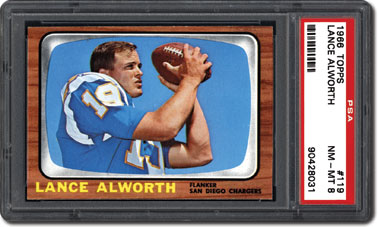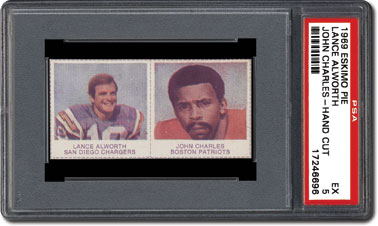 "Like most early collectors, I put boxes of cards in storage while going through life, career, family, and so forth," recalled Lee Mooney, owner of the No. 1 Lance Alworth Master Set on the PSA Registry. "When I returned to the hobby, I sent in a lot of my early cards for grading. Some are still in my sets, but most fell short. The Registry made chasing upgrades interesting. Along the way several issues proved very problematic, especially the fringe issues. The 1968 Corn Flakes, 1969 Eskimo and Glendale, the 1970 Cartridge, 1971 Bazooka and poster/pin-up issues are all difficult as expected. Most are all low pops and some are impossible in high grade. When the highest grade is a PSA 6, as is the case with the 1968 Corn Flakes Champions issue, you have a very tough card to upgrade."
Eric Wells owns the No. 2 Lance Alworth Master Set and echoes Mooney's thoughts. "I really like the hand-cut 1969 Eskimo Pie Lance Alworth card. It took me a really long time to find that card in that kind of condition [PSA NM 7]. I submitted that one to PSA myself and was really pleased with the result."
Wells took a methodical approach to assembling his Alworth collection. "I am primarily a Pro Football Hall of Fame rookie card collector. However, I also went through the Hall of Fame list and selected my favorite offensive and defensive players and began to build their player sets. Lance Alworth was one of the guys that I chose."
Once he had selected the players that he wanted to collect, assembling their PSA Master Registry Sets was his next most logical step. "I like the completion aspect of working with the Registry," Wells said. "There is no question that I want my cards in PSA cases. It takes the guesswork out of collecting. There is no question as to condition, and it is my belief that PSA adds a considerable amount of value to cards, even if they happen to be in low grade. PSA is it for me."
Lance Alworth on Collecting
Despite being a professional athlete and having signed thousands of autographs in his life, Lance Alworth is still amazed by the popularity of the hobby. "I am still surprised at how the hobby has gone from kids coming up to me after a game with a program or little booklet to sign, to people mailing me things from all over the country and being willing to pay for my signature. I formed a little trust for my daughter that I put all of the money in. It's amazing to me. I'm just totally blown away by it all."
While he has made occasional public appearances to celebrate aspects of his football career, Alworth prefers life away from the spotlight, in the company of family and friends. When asked about the phenomenon that is memorabilia collecting, he was quiet, taking a moment or two to compose his answer.
"People love the game," he said. "I enjoyed playing the game, but I don't look at it as being extraordinary. It's just something that happened in my life. It is very difficult for me to relate back to people having heroes. I want to say to them, 'Hey, you're a pretty good guy yourself.'"
A look around Alworth's office confirms this. A couple of football items can be seen sitting on various shelves, but the decor mainly centers around Native American pieces, a handful of beach or deep sea fishing-related items and a lot of family photos.
That is not to say that his gridiron days have no meaning to him. On the contrary, Alworth has very fond memories of those times and maintains strong relationships with many of his former teammates. But it is the competition - not the adulation - that he recalls most fondly.
"There is one photograph that I really enjoy. It doesn't get sent to me often; I think it might not be as widely distributed as others. It's a black-and-white photo, and I'm catching a pass over the top against Willie Brown, who I felt was the best corner that I ever played against. It is a perfect photo as his hands are right over the top of my helmet, and the ball is just out of his reach and coming into mine. Willie Brown was the best, and it was a lot of fun to play against him. That photograph means a lot to me, and that's why it is my favorite item to sign."
One other item, the lone football-themed frame in his office, has significant meaning to Alworth as well. It is a letter printed on Chicago Bears stationary and sent from "Papa Bear," the legendary George Halas. In two paragraphs, Halas praises Alworth for his exceptional playing career and congratulates him on his induction into the Pro Football Hall of Fame. Considering Halas was one of the AFL's most vocal detractors in the 1960s, the letter conveys great meaning. Still, it is the sentiment, not the long-faded signature that is of importance to the great receiver.
"I've just been given so much. I don't feel guilty about it, but it is difficult for me to think about someone saying, 'You're so special, I want your autograph.' "
• • •
They Called Him "Bambi"
"Those big 'ole brown eyes and that baby face; the long eyelashes ... He looked like a little deer to me, and ran like one, too," remembered Charlie Flowers, the man credited with giving Lance Alworth the nickname, "Bambi." "We were trying to cover him before practice one time, just horsing around. He would beat us so badly that I wouldn't even know where he went. I couldn't have thrown my helmet and hit him with it."
• • •
For more information on football trading cards, please visit www.PSAcard.com/cardfacts/#5football-cards.
---
Please feel free to contact Todd Tobias at [email protected] if you have any additional information or comments. Thank you to Lee Mooney for providing cards for this article. Please note that the Population Report figures quoted and Set Registry rankings reported are those as of October 2016.