PSA/DNA Expert Profile
Meet Bill Corcoran
A Man with a Reputation
Knowledgeable and highly respected within the hobby, PSA/DNA is proud to welcome Bill Corcoran to the autograph authentication staff
Just ask anyone in the autograph hobby or business who has ever dealt with dealer and authenticator Bill Corcoran what they think of him and they'll tell you: "He has a reputation!"
The descriptive comments about Corcoran that then follow include: "extremely personable," "vastly experienced," "passionate," "service oriented" and "unquestioned integrity."
Joe Orlando, the president of PSA and PSA/DNA Authentication Services and the editor-in-chief of Sports Market Report, describes Corcoran in a similar fashion.
"Anytime we search for talent at PSA, we are not only looking for people who possess the requisite experience and knowledge for the specific position, but also for the type of person who will represent our brand well," said Orlando. "When it comes to Bill, all you have to do is speak to any of the hobbyists who have dealt with him over the last four decades. His reputation is outstanding, not only for the depth of his knowledge, but for the way he treats customers - large and small. I can tell you firsthand what kind of person Bill is. When I was a much younger man and had very little to spend, Bill treated me like I was his best customer. He would stay on the phone with me for long periods of time, talking about autographs, even though I may have been only interested in a $10 item. I never forgot that. I can't tell you how excited I am to add someone like Bill to the PSA/DNA team today. There is no doubt in my mind that Bill's professional approach and personable nature will help take our service to an even higher level."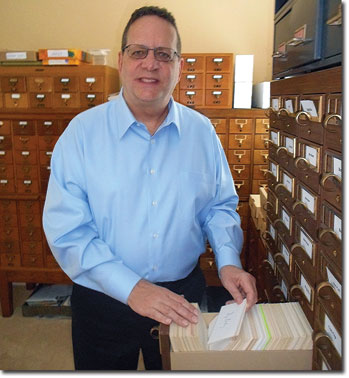 As Corcoran assumes his new responsibilities with PSA/DNA, we thought it would be the perfect time for Sports Market Report readers to get to know him better. We began our conversation by asking him how he first got bit by the autograph collecting bug.
Bill Corcoran (BC): I was raised in Syracuse, New York, which, at the time, was the home of the Syracuse Chiefs, a New York Yankees farm team. It was a great time to be going to those games because of the guys who were coming up - Ron Guidry and Thurman Munson. And then there were also the guys who would come in with the opposing teams and would go on to become big names - Willie Randolph, Jim Rice, Fred Lynn. I remember going to my first Chiefs game in 1968, and then two years later, finally getting up the nerve to obtain my first autograph.
Sports Market Report (SMR): Who was your first?
BC: [Laughing] I guess every autograph collector always remembers their first, and for me that was Bobby Mitchell. Not the guy who played with the Twins in the 1980s, but the guy who played for the Brewers and the Yankees. I had been going out to Chiefs games for a while and I would always watch other kids getting autographs. I was a quiet 10-year-old kid, and I always wanted to get players' autographs but was too shy to go up to them.
I clearly remember that day when I saw Mitchell signing for some kids, and I decided I was going to muster up the courage to get his autograph. So I just went over and held my program out and he signed it. That was my first autograph and I still have it. I also started sending out requests by mail in 1976, and the first player to respond was Robin Roberts.
SMR: Was it the connection to the Syracuse Chiefs that led you to become a Yankees fan?
BC: To be honest, I wasn't a Yankees fan. I was a Baltimore Orioles fan since I was very young. But I loved going to the Chiefs' games because I found it fascinating to track all the players that came through there and who were then called up to the majors. But even though I was an Orioles fan, the Yankees were the Yankees, so it was always kind of neat to be that close to them - getting to see players who would go on to become big names and also many of the former players, some of which were big names too, who would come. I went to the ballpark every night and just loved everything about the experience.
SMR: How did your love for baseball come about?
BC: It came from my father. In 1968, he started taking me to the games. My dad and his brothers owned a printing company, and they were the ones who printed the programs for the Syracuse Chiefs. They had season tickets - great box seats - right behind the Syracuse dugout. My dad had been going to the games since back in the 1940s. His dad would take him to the ballpark back when they were a farm club for the Cincinnati Reds.
Then, by the 1970s, I began to go on my own with friends. The way that stadium was designed meant that all the players would exit out of one door after the games. Some of my friends and I had gotten to know the clubhouse guy, and we would wait near that door and sometimes he would wave us over so we could be right up front as the players came out and get them to sign.
It was during that time - the 1970s - that baseball became a real passion. I really studied everything about the game. I read books and everything I could find about players. I also loved to study box scores. This was, of course, long before the Internet, so it was only through books, newspapers and magazines that I could learn about various players. Luckily, while my high school was small, it had a really good collection of baseball books in the library. I would go there every chance I'd get and flip through those books. To see pictures of those guys in books and then write to them and get something back from them - that was amazing to me.
SMR: Did you play baseball as a kid?
BC: In high school I ran cross country and indoor track. As for baseball, I only played sandlot. I never got involved with an organized league because I loved the game for the pure fun of it. I didn't want to be involved in structured play with all the competition that comes with that. I just wanted to have fun. I had a great group of friends who would set up these little ragamuffin games with cardboard bases. We all loved that because we had our own teams. We were the coaches, the players and the umpires. We made our own rules. And the best part: we all got to play!
SMR: Back to those early days of your autograph collecting, were you exclusively collecting baseball autographs?
BC: No. Once I got into making mail requests, I would write to anyone whom I found an address for. I wrote to many of the Olympian athletes of the time. I also remember getting my hands on a great list of addresses that included actors and astronauts. I wrote to them all and still have all the autographs I received.
SMR: There's nothing as thrilling as going out to the mailbox as a kid and finding a response, huh?
BC: It is so exciting. I remember one day I was home sick from school - just feeling lousy. Well that day I received three responses. That really lifted my spirits and made me feel better. I remember one of them was from Bob Cousy, which was really great.
SMR: Did you ever receive anything unique?
BC: I did. In the 1976 Olympics there was a track star named Willie Davenport. Because I was a runner, I was interested in those guys and had written to many of them, including Davenport. He not only signed a couple of 3 x 5 cards, he also sent me this really nice photo. He wrote on it: "To Bill: Be cool, stay in school." I was thrilled with that piece, and it will always be one that really stands out for me.
SMR: Bill, tell us a bit about your life after high school.
BC: I had always been a good student - a nerdy bookworm - so I went on to earn a B.S. from St. Bonaventure University in western New York, just south of Buffalo. I was a psychology major and also minored in biology.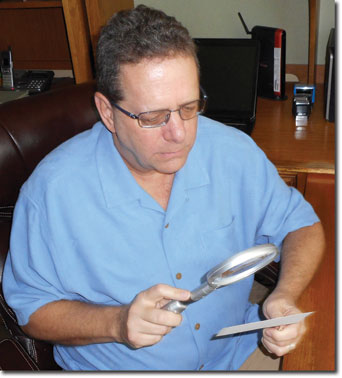 SMR: Were you still collecting during your college days?
BC: I had kind of slacked off a bit. My plan was to go on and get my Ph.D. and become a psychologist. Ever since I was a kid, I have always had this helpful side to my personality, so I thought that would be a good career choice for me. But even though I was focused on my studies, I was still sending out requests for autographs, and I also began buying and selling signatures with other collectors.
During that time, when I was home in Syracuse for the summer, I would go over to Cooperstown, New York, to the Baseball Hall of Fame. I always went for the inductions. It was so great because, back then, you could freely roam around the place. I remember once walking into the lobby and seeing Satchel Paige sitting there just telling stories to this group of people that had formed around him. It was amazing.
SMR: What became of your plan to become a psychologist?
BC: Well, I did go on to grad school and earned a master's degree, but I abandoned my plan to get a Ph.D. and moved to Atlanta. I had no job and no connections there, but I just felt that Atlanta had a young and vibrant job market. It was a thriving city, and after having lived through all those brutal northern New York winters, I was ready to live in the South.
I began working in the field of traumatic brain injury rehabilitation, which was somewhat of a new field at the time. I worked at a residential facility for three years doing case management, leading therapy groups, doing community reentry work and occupational and cognitive therapy, helping people get back to work or school. I really loved that work - seeing people get better and helping them take the steps to get their lives back together.
SMR: So, the more-than-obvious question is: How did you transition into being an autograph dealer?
BC: I loved working with the traumatic brain injury patients, but there is a high burnout rate in that career. So after I had taken a vacation in Tampa, Florida, where I met the woman who would eventually become my wife, I moved to Tampa and actually started working with patients with brain injuries again. By that time, however, I was always finding myself wondering how I could take my passion - collecting autographs - and make it into a living.
Back then it was unheard of to make a living as an autograph dealer. This was the late 1980s and early 1990s. It was hard to make a living buying and selling sports cards at that time, much less autographs. But this was also the time when shows really started taking off. Athletes were starting to do more private signings, and sports cards and other collectibles were beginning to get very hot. So I went into it full time in 1991.
I made the transition by continuing to do some consulting work, which gave me a very flexible schedule that, in turn, gave me the time to begin the autograph business. I was operating out of my house and connecting with other collectors through various periodicals and by word of mouth. Some of my clients were people I had known since I was a kid - people I used to trade autographs with. Then, the collectibles market really took off and my business snowballed.
SMR: You went from being an autograph collector to a dealer precisely when it went from being a small hobby to being a big business with third-party authentication and grading companies. Talk a bit about the evolution you have seen in the autograph hobby over the past three decades.
BC: I had collected stamps and coins as a kid, so I remember when they started grading and encapsulating those items. At first I wasn't sure about the whole thing. I understood it, but I wanted to stand behind my own items. I felt that I had armed myself with a high level of knowledge and didn't think I needed a third party telling me what was good and what wasn't. But I also understood the value of it. It provides a high level of trust within the hobby.
Today, we all know that if PSA/DNA authenticates and/or encapsulates a signed item, it is universally accepted and that, in turn, creates a far stronger market. It used to be that if you were buying and selling autographs, you had to be your own expert. I remember when I first started going to the National, 25 years ago, there were maybe three autograph dealers there. Today, almost every dealer is offering something that has been signed. So now every dealer and collector can confidently and comfortably buy and sell items.
Third-party authentication and grading gave people who were not experts in this field the opportunity to sell or buy an autograph, so you no longer had to rely on just a dealer's opinion. It also made it objective when it comes to valuations. Today, there is a pricing history that can be studied and evaluated.
So for those, and other reasons, you simply can't sell something online today without a PSA/DNA certificate or letter of authenticity. Knowledgeable collectors expect it. We would have never seen the prices realized with signatures, just as we have seen with sports cards, had it not been for what PSA/DNA has brought to the hobby.
SMR: You will now be working with PSA/DNA. How did that come about?
BC: I first met Joe Orlando many years ago, back when he was in school. He was a client. I remember dealing with him and he was a nice guy. Then we fell out of touch until years later when I saw he had become the president of PSA and I thought: "Well good for him!" We reconnected when he contacted me out of the blue and said he wanted to talk to me about coming on board.
He said he remembered being a kid and that I had been patient with him and took the time to really work with him. That's what I have always done with all my clients. He said I had impressed him because he was a small customer and I had treated him as if he were spending thousands of dollars. He also knew of the reputation I had carved out in the hobby, so he was impressed with my skills and my customer service.
SMR: What will you be doing?
BC: I'll be part of the authentication team as a lead member. My work will entail authenticating submissions and performing on-site work for dealers, auction houses and at shows throughout the country. It's exciting to be a part of a brand that is considered the best in the business. I'm excited to be a part of a company that dominates the hobby. I have always had the desire to be of help to people, which goes back to my desire to become a psychologist. I transferred that to helping people build their collections.
SMR: What do you specifically bring to the table for PSA/DNA?
BC: Having been involved in the hobby since I was very young, I think you would be hard pressed to find anyone who has my level of breadth and scope of knowledge when it comes to baseball signatures. I have a niche, with Latin players, obscure players - maybe a guy who only played in a few games. I have educated myself on the variations that exist in their signatures from their Minor League days on. Players like Willie Mays and Mickey Mantle had well-known changes in their signatures from their rookie year to their later years. So, yes, I know of those changes, but I also know of the variations in the signatures of the lesser-known players whose autographs I obtained back when they were in the minors.
I would argue that I have the most extensive collection of samples demonstrating the evolution of players' signatures - how players signed when they first came into the minors and then how their signatures have changed over the years. I have also always been focused on customer service. My reputation has been one of not only knowledge, but of really trying to help people. And one of the most important things I bring to the table is the willingness to admit what I don't know. A part of any great authenticator, grader or dealer is acknowledging the fact it's impossible to know everything. I bring a very high level of knowledge to PSA/DNA, but I also know there is always more to learn. I am always broadening my scope of knowledge.
SMR: Can you give us a sense of the current state of the autograph collecting hobby and where it may be headed in the future?
BC: Predictions are always tricky, but from all the indications I see, it is a strong hobby and will continue to be so. There's always some falling out and shaking out in every market. We have seen that in the past with sports cards, real estate, you name it. But that's a good thing. It places a check on things and serves as a scale to bring balance, and this brings things into a realistic range if they are getting too overheated. A periodic readjustment in any market is always a good thing for everyone involved.
I have always been very aware of the fact that autographs, like any hobby, are not a necessity. We don't deal in food or shelter. We help people in an area of their lives that deals with their discretionary income. We saw a dip during the recession, but that didn't really effect the serious collectors. There were some who got out of the hobby because of the recession and others who had been doing it a long time and just hit a plateau with their collection.
But I have recently seen a resurgence of interest with people who haven't collected in the past five to 10 years. They are now back and looking to get into a genre that is different than what they collected in the past. If I had one hope for the future, it would be to see kids and younger people becoming more interested in autographs.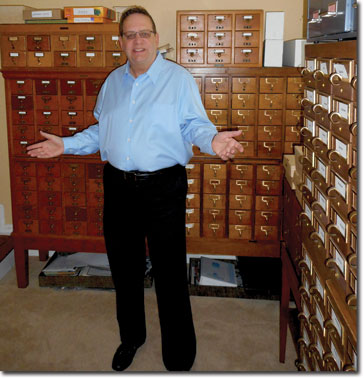 SMR: Let's talk about that. Kids today do everything electronically and don't even learn penmanship and cursive writing. Do you think that because people under 30 don't really have a connection to actually writing - forming letters on a page with a pen - that they don't have a connection to autographs?
BC: Let me address that in a few ways. Today's athletes may not have the beautiful, flowing signatures of those from the past - like Babe Ruth as an example - where every letter was written out. I am aware of the grumbling within the hobby in which someone pays big bucks at a show to get someone to sign something and all they get is a poorly formed letter or squiggly line - certainly nothing recognizable as being that person's name. But the reality is, that IS their signature.
I have two sons in their 20s and, unlike me, they do everything electronically, so they rarely have to write something or actually sign their name. I don't think that will really have a bearing on the hobby because it is just one of the many things that change as time goes by - music changes, everything changes.
There was a time when people took a certain pride in their signature because they valued the way they signed on legal documents and anything that represented something important taking place in their lives. These days, you just hit a block on an electronic pad and that suffices as your signature. Collectors know how coveted signed checks are. But today, even if you still write a check, the banks don't return them. Therefore, signed checks are an example of a commodity that will become scarcer over time.
But when it comes to autographs, especially athletes' autographs, sports is bigger than ever. And everyone has favorite teams and players, so there will always be the desire to have a signed baseball or helmet or bat. There is still that personal connection involved - that a player actually held that ball or that jersey and that their hand affixed a signature across it. That personal connection will always be there. You can collect photos or all sorts of items pertaining to a player, but nothing will ever have the meaning as something they actually touched, held and put their signature on.
SMR: As someone who has been passionate about autographs for so long, would that fact be evident to someone who walked into your home?
BC: [Laughing] Yes and no. We have a two-story home, so per an agreement I have with my wife, if you walked into our house it would look just like any other home. However, if you go upstairs, it's a totally different story. There's stuff all over the walls, and I have eight of those old library card catalog cases and each of those has over a hundred drawers filled with 3 x 5 cards and signed baseball cards. We call that room "the library."
SMR: As a longtime collector, do you have a favorite in your personal collection?
BC: I do have some favorites that I really love because of the way they look. As we just talked about, the old-timers studied penmanship in school and they spelled everything out. I loved the ornate, fancy and flamboyant signatures that were done by guys who took pride in the way they crafted their signatures. People always think your favorite is the most expensive or valuable, and I find that is rarely the case with collectors.
My personal favorite player to collect is a guy whose name won't mean much to most baseball fans: Eugene "Huck" Geary, a shortstop with the 1942-1943 Pittsburgh Pirates. Huck began to intrigue me when it was noticed that his name appeared on nearly every autograph want list. He was one of those guys who nobody seemed to have. I wrote to him several times using addresses in the Buffalo, New York, area, but every time the requests were returned unopened with a notation that he no longer lived there. At some point, I got a lead that he was living in Cuba, New York, which was literally down the road from where I was going to college - at St. Bonaventure. One Saturday I mustered up the nerve to drive over there and knock on the door.
To make a long story short - one that was kind of an unusual situation - he reluctantly signed for me without a single word.
Years later, I was at an antiques show and found an old copy of The Sporting News that included an article about Huck Geary and how on a couple occasions he just abruptly left the team. This kind of brought the story full circle, realizing that his reluctance to sign through all those years may have stemmed from a disagreement with the Pirates. Geary's elusiveness, followed by actually meeting him, sealed with a period story about his issues, I just find to be fascinating.
SMR: One last question: What is it about someone taking up a writing instrument and affixing their signature to an item that makes the result something you have such a passion for?
BC: Yeah, it's a great question, and I think that for people who don't get it, it's very odd. As someone with a background in psychology, when you really analyze it, even I can say I don't totally understand it. In the final analysis, it is something as simple as a piece of paper with lines made of ink on it.
So why does it hold such value and excitement for some of us? I think it is the physical evidence of the memory of the moment of getting the autograph. It is something that represents a moment out of the life of someone you admire or someone who did something significant. That connection is powerful, and I don't think the power of that connection will ever change or fade away.