PSA Set Registry
Collecting Bryce Harper Cards
Making Baseball (and the Hobby) Fun Again
He's the voice of baseball's new generation, and he wants to be free to flip his bat after he hits home runs.
To Bryce Harper, demonstrating this type of emotion is what baseball needs more of. To him, it's part of what makes baseball fun.
"Baseball's tired," Harper told ESPN The Magazine in a March 2016 article. "It's a tired sport, because you can't express yourself. You can't do what people in other sports do. I'm not saying baseball is, you know, boring or anything like that, but it's the excitement of the young guys who are coming into the game now who have flair."
Not surprisingly, his viewpoint clashes with those of traditionalists like Goose Gossage, who insist that baseball should continue to abide by its old school codes that dictate, among other things, that you don't show your opponent up on the field in any manner without expecting payback. But while maintaining the status quo is a romantic thought for ex-players, it's unlikely to appeal to the younger generation of fans that Major League Baseball desperately needs to engage.
So a bold, charismatic and supremely talented player like Harper, who's also arguably the best player in his sport, needs to be listened to when he says he wants to change the game and "make baseball fun again."
"I like Harper's outlook on the game," said Stan Wofford, who has assembled the No. 4 Current Finest Bryce Harper Master Set on the PSA Set Registry. "I think times have changed and Harper is leading the way. Baseball is in such a slump [in attracting younger fans], or whatever you want to call it, that they need more players like Bryce Harper."
Kevin McHolland, owner of the No. 1 Harper Master and Rookie sets on the PSA Set Registry, agrees.
"The game could certainly use a little more energy and excitement if it's going to bring back the kids," he said. "You have to have someone who if the game is on, you stick around until his turn at bat comes up just to see what he might do. I think you get that with Harper. And then with the SportsCenter cycles, if there's anything that he has done that's fun, it will make the highlights and leave an impression on people's minds. I don't have a problem with players like Harper showing emotion if you can back it up on the field with your performance and if you do it to celebrate your accomplishment rather than to show up the other guy."
The consensus seems to be that if anyone is capable of changing baseball, it's Harper. A prodigious, five-tool talent who has embraced the national spotlight since he was featured on the cover of Sports Illustrated when he was 16, Harper is refreshingly candid with reporters. He's active on social media, can talk fashion and has a savvy business sense, but he also possesses a strong knowledge of baseball history.
Of course, people are listening more closely to Harper these days after his 2015 MVP season that saw him lead the National League in runs, on-base percentage, slugging percentage and on-base plus slugging percentage, and tie for the lead in home runs.
When Harper was growing up in Las Vegas, his parents noticed his special talents as young as age 3 when he was competing against six year olds. By the time he was 12, he was being recruited by all-star teams around the country.
Harper was a standout pitcher and catcher in high school. He threw 96 mph and demonstrated remarkable power. As a freshman, he belted a ball an estimated 570 feet at his home park in Las Vegas, and when he was invited to an international home run hitting competition at Tropicana Field, he connected with a ball with an aluminum bat that ricocheted off the back wall of the dome 502 feet from home plate.
By age 16, Harper had grown bored with his high school competition and decided to obtain a GED diploma instead so he could attend college and be eligible for the major league draft sooner. In his one year in junior college, at the College of Southern Nevada, he hit .443 and walloped 31 home runs in 66 games.
It was clear to anyone that followed baseball that the Washington Nationals would select Harper with their first pick in the 2010 draft. Just 17 years old at the time, Harper landed a five-year, $9.9-million deal that included a $6.25 million signing bonus. Harper was assigned to the Nats' fall instructional league squad before splitting the next season between Class-A Hagerstown and Double-A Harrisburg.
After batting .399 for the Nats the following spring, Harper was briefly sent to Triple-A before being recalled for good on April 27. Harper would hit .270, belt 22 home runs and become the youngest position player ever selected for the All-Star game. For his efforts, he was named National League Rookie of the Year. However, when injuries curtailed his production in 2013 and 2014, baseball pundits, fans and collectors cooled on Harper.
"When Harper had all those injury problems, I think a lot of card collectors got scared and gave up," said Mike Maida, who has assembled the No. 3 Current Finest Harper Master Set on the PSA Set Registry.
But in 2015, Harper silenced his critics with one of the greatest seasons in major league history. Now 23 and in his fifth big league campaign, Harper is on pace to become one of the greatest players his sport has ever seen. According to Baseball Reference.com, his career numbers through age 22 are comparable to those of Hall of Famers Mickey Mantle, Hank Aaron and Ken Griffey Jr.
"Bryce Harper hit 42 home runs at age 22," noted Maida. "I was looking at what some of the other all-time greats have done at that age, and Babe Ruth had two home runs at age 22. Hank Aaron hit 26 and Ken Griffey Jr. hit 27. So for Harper to hit 42 is outstanding. Barring an injury, who knows how many home runs Harper is going to hit?"
Wofford offers a similar assessment.
"He's the best player on the planet," he said. "I think Harper can be as good as he wants to get. I think he has all the tools. He's a five-tool player, and he's only going to get better. He has no ceiling. His only drawback is that he plays so hard that he can get hurt."
Harper's superlative skills and bold personality seem to be the right combination to not only "make baseball fun again," but perhaps to make baseball card collecting fun again for some who left the hobby in recent years. Harper's cards are already some of the hottest in the hobby, but collectors feel their values will continue to climb, especially if Harper signs with a higher profile team like the New York Yankees when he becomes a free agent after the 2018 season.
"If he stays healthy, why can't he hit 600 or 700 home runs? I don't see why not," said Maida. "This guy's a prodigy, no doubt about it. I mean, who can withstand that pressure of being on the cover of Sports Illustrated when he was 16 and produce the way he has? A lot of people would have buckled under that pressure."
McHolland adds that if Harper inspires a new generation of fans, it could also spawn a new group of card collectors as well.
"If he really is the guy who brings fun back to baseball, there's a generation of kids that will grow up rooting for Bryce Harper, and there already seems to be a lot of kids rooting for him," noted McHolland. "And when these kids are old enough and they have their own income, they're going to want to go and fill in their own Bryce Harper collections, so I see a long life for his cards."
Harper's prospects and rookie cards generally generate the most interest. Hobbyists need to track down many of these cards for Harper's four sets on the PSA Set Registry: Basic (14 cards), Master (631 cards), Basic & Collectors (49 cards) and Rookie (20 cards).
Here's a rundown of some of Harper's most notable prospects and rookie cards:
Prospects Cards
2008 Upper Deck USA Baseball #47. Part of a factory set, this card pictures Harper in a Team USA (16U) uniform about to throw a ball. Only 2,665 of these sets were reportedly manufactured.
"It's a key card just from the standpoint that it's his first [major card]," said McHolland.
Of the 298 submitted, there have been 163 PSA GEM-MT 10s.
2010 Bowman Chrome 18U USA Baseball #BC8. The base version of this card is sought after simply because it's Harper's first Bowman Chrome card.
"I think a lot of prospects collectors look at this card as his first true prospects card," noted McHolland.
One of the 122 PSA 10s fetched $249.99 on eBay in April 2016.
There are also four refractor versions of this single: regular, blue, gold and orange. In addition, there is also an autographed version of this card that was limited to 100 copies, which collectors must acquire to complete their Master Sets.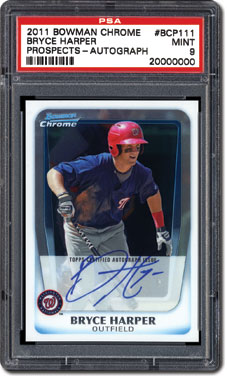 2011 Bowman Chrome Prospects Autograph #BCP111. The 2011 Bowman Chrome releases were the first to highlight Harper in a Nationals uniform. The Harper Master set includes more than 30 different 2011 Bowman Chrome cards, but his most renowned is his 2011 Bowman Chrome Prospects Autograph (#BCP111).
Inserted randomly in 2011 Bowman Chrome packs, this single boasts an on-card autograph, but is not serial numbered. There are also limited edition blue (#/150) and gold (#/50) refractor versions of this single that collectors must track down to complete the Master Set.
Rookie Cards
2012 Topps #661. This was a short-printed, last-minute addition to the 2012 Topps regular set. Harper is photographed batting on this card, which was inserted in second-series packs. There were also a limited number of autographed cards in packs.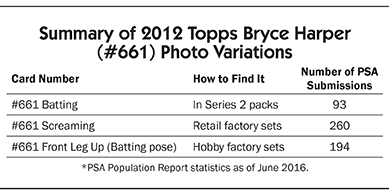 Complicating matters is that there are two other 2012 Topps Harper rookies with different photos but the same card number. Retail factory sets contained a card with a photo of Harper screaming, while hobby sets housed a pasteboard with a picture of Harper with his front leg up in a batting pose.
2012 Topps Archives #241. This was the first official Harper rookie released by Topps. It's a short print (but not serial- numbered), and it flaunts a retro 1984 Topps design.
"That's a nice looking card, and it's hard to find," said McHolland.
Only 24 have been evaluated by PSA and there are nine PSA 10s and 12 PSA MINT 9s.
There's also a Fan Favorites autographs card (#FFABHA) that employs the 1984 Topps design. This was one of more than 70 Fan Favorites autographs that Topps unveiled in 2012. The Fan Favorites autographs cards were inserted at a rate of two per hobby box. There have only been 22 graded examples of Harper's Fan Favorite autographs cards, with eight PSA 10s to date.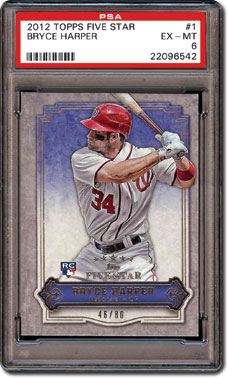 2012 Topps Five Star #1 (#/80). Just 80 of these were produced, making it Harper's rarest official rookie. This card was part of the high-end, Topps Five Star series that regularly sold for $400 per pack.
"It's tough to find in nice shape," said McHolland of the Five Star Harper rookie. "I think mine is a [PSA EX-MT] 6, but it took me forever to find one. It's a card where you take whatever you can get because it's a thick card and it has a lot of corner issues, plus the centering wasn't fantastic on some of them either."
Just four have been graded by PSA up until now, and there are two PSA NM 7s and two PSA 6s.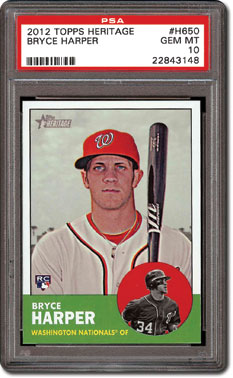 2012 Topps Heritage High Number #H650. Only 1,000 of these were manufactured, and they were available exclusively as part of a 100-card, high-number set that was sold through the Topps website.
"The 2012 Topps Heritage rookie has really gone up in value [since Harper's 2015 season]," said Wofford. "I only buy PSA 10s and you used to be able to buy it for $500 or $600; now it's going well north of $1,000."
Of the 59 submitted, there have been 10 PSA 10s and 25 PSA 9s.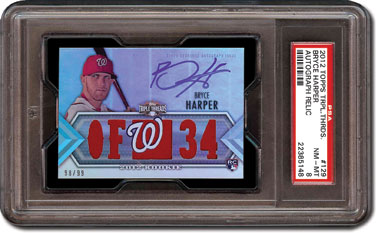 2012 Topps Triple Threads Autograph Relic #129 (#/99). This card is numbered out of 99, and it was the first official Harper rookie to include an on-card autograph or jersey swatch. The jersey swatch is visible behind his position and uniform numbers, which have been die cut into the card. McHolland notes that the only graded example is a PSA NM-MT 8.
For more information on Bryce Harper trading cards and autographs, please visit http://www.PSAcard.com/facts.
---
Please feel free to contact Kevin Glew at [email protected] if you have any additional information or comments. Thank you to Kevin McHolland for providing card images for this article. Please note that the Population Report figures quoted and Set Registry rankings reported are those as of June 2016.