PSA Set Registry
Collecting the 1982 Wrestling All Stars Trading Card Set - Series A & B
The First Mainstream American Wrestling Card Issue
by Kevin Glew
Veteran collector Rob England calls it the 1986 Fleer Basketball set of wrestling cards.
Produced by the Wrestling News magazine, the 1982 Wrestling All Stars series (Series A and B) offers the first standard trading cards of legends like Hulk Hogan, Andre the Giant, Ric Flair and Jesse "The Body" Ventura.
"It's a landmark issue," said David Peck, who owns the top Series A and Series B sets on the PSA Set Registry. "It's really the first vintage wrestling set that was produced on card stock in America."
Peck points out that some of the photos on these cards came from the Wrestling News archives.
"A lot of the photos are action shots, but you just can't tell," explained Peck, who has traced some of the card images to their original photos. "When I say action, I mean the wrestlers could've been in the ring."
The photos are surrounded by a white, shield-like design with the set title ("Wrestling All Stars") at the top and the wrestler's name at the bottom. Several different colored borders are used throughout the set, but cards with the same colored borders are grouped together.
"I definitely appreciate the design," said England. "A lot of the newer wrestling cards have busy action shots. I consider them to be too busy, and they don't feature the wrestler prominently enough. But I really like the basic design and the color schemes on these cards."
Danny Orozco, who owns the registry's No. 15 Current Finest Series A set, agrees.
"It's just a plain design. It's simple. They didn't need anything fancier," he said. "I love the set."
The horizontal backs of these cards come in two different colors depending on the series: Series A comes with a blue back while Series B has a yellow back. After that, the backs are identical; they exhibit the card number, wrestler's name and hometown at the top, followed by their biographical information. The bio often describes the titles the wrestler has held, their major ring rivals and their signature moves.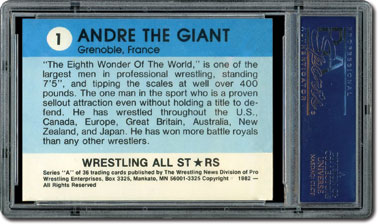 The only way these series could initially be purchased was as full cellophane wrapped sets via mail order through an ad in the Wrestling News or Wrestling Revue magazines. Each series could be purchased for $5, including shipping to anywhere in the world. In his research, Peck noticed that Series B was advertised for a longer period.
"I found that the 1982 A set was only advertised for about six months while the 1982 B series was advertised for like four years," he said. "But I was also told that the B series didn't sell well, and they actually threw a lot of them out."
These days, Peck and England rarely see sealed sets. Peck initially heard that about 2,000 sets were made of each series, but after communicating with one of the series' contributing photographers, Peck says the number could be as low as 500. Orozco has purchased three sealed sets over the years, and he says their price has gone up significantly.
England notes that a lot of wrestling fans wouldn't have even known that these sets existed at the time.
"You had to order them," he said. "So it wasn't like you could go to your local grocery store and buy them."
In recent years, Peck tracked down Norman Kietzer, the publisher of Wrestling News who created these cards with Vince McMahon. Kietzer revealed to Peck that he sold his photo inventory from the Wrestling News to Wrestleprints.com and threw in any leftover cards. At one point, Wrestleprints.com was the only Internet site selling the 1982 Wrestling All Stars cards.
Here's an extensive breakdown of Series A and Series B:
Series A
This is the more desirable series because it offers pasteboards of the most renowned wrestlers.
"Series A has many of the long-time stars," noted Peck. "It has the who's who of wrestlers from the 1950s up until the year it was published."
In fact, this series houses the Hulk Hogan (#2) rookie, which is the most sought-after wrestling card ever produced.
"Hulk Hogan is one of the most widely recognized human beings in the world," noted Peck.
England agrees.
"If anyone in this country ran into Hulk Hogan, they would know it was him. There's just an aura around him," he said.
This card presents an early headshot of Hogan on a yellow-bordered front. Peck has researched this photo and believes it was taken in 1980 before Hogan became an international superstar. This card is routinely plagued by poor top-to-bottom centering, and Peck and England both note that it sometimes has a large print dot to the right of Hogan's head.
"The Hogan card is one of the hardest cards to get in any type of [high] grade," said Orozco.
There has yet to be a PSA GEM-MT 10 example. Of the 144 graded, there have been 12 PSA MINT 9s, one of which sold for $2,230 on eBay in May 2015.
"I could see a PSA 10 Hogan card go for $25,000," said England.
Another coveted Series A single is the Andre the Giant card, which is also the first card in the series. This yellow-bordered card, which showcases the ring legend with long, curly black hair, is rarely found in mint condition. Peck, England and Orozco all pointed out that this card was the first card at the top of the cellophane wrapped sets, and as a result, was often damaged. It was also located on the top-right corner of the print sheet, a position that generally makes cards more vulnerable to flaws such as miscuts.
"There are many times when there is no lower lip [border] on the card," explained Peck. "It would be the equivalent of a card having 100/0 centering."
Peck also adds that a surface issue can be commonly found to the left of Andre the Giant's hair on the card. The three PSA 9s represent the highest graded examples.
Another elusive card in top grade is the Dusty Rhodes single (#6). This card is on the top-left corner of the print sheet, which makes it tough to find with proper centering. Its purple borders are also easily chipped. Of the 68 submitted, there has been one PSA 10 and four PSA 9s. One PSA 9 sold for $260 on Bay in February 2015.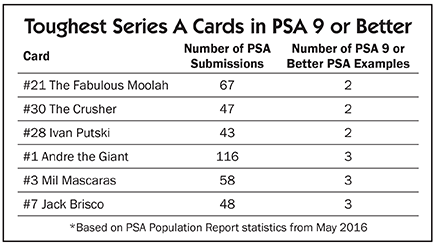 Though not particularly evasive in high grade, the Ric Flair single (#27) is also very popular. Poor centering is the only major condition obstacle that sometimes hampers this card. One of the six PSA 10s fetched $1,375 on eBay in August 2015.
According to the PSA Population Report (see accompanying chart), one of the toughest Series A singles to find in PSA 9 or better is The Fabulous Moolah (#21). This card highlights the "Lady Wrestling Champion of the World" at the time.
"There's a print defect that's like a rainbow that runs across her face," said Peck. "To find one that's well centered, with sharp corners and good photo quality is a challenge."
One of the two existing PSA 9s commanded $565 on eBay in December 2015.
Among the other notable wrestlers in Series A are The Junkyard Dog (#5), Terry Funk (#10) and Bruiser Brody (#20).
Series B
Though it doesn't have the star power of Series A, Series B does boast the first singles of several popular wrestlers.
Rick Martel is pictured on the first card in this series, and it's also the most elusive card in PSA NM-MT 8 or above in either series. Peck owns the only PSA 9 and there's just one PSA 8 (no PSA 10s). Like the Series A Andre the Giant card, this yellow-bordered pasteboard was on top of cellophane wrapped sets, which often resulted in it being damaged. This card was also located on the top-right corner of the print sheet, so it's not surprising that it's also tough to find properly centered.
Another elusive Series B single to track down in flawless form is the Kerry Von Erich (#7). Peck says this orange-bordered card is regularly uncovered with corner damage, poor top-to-bottom centering and print issues near the top. When opening Series B sealed sets, Peck says this card was second from the top, a position that made it more vulnerable to condition woes. It was also located on the right edge of the print sheet, just below the Martel card. Of the 59 submitted, there has been one PSA 10 and two PSA 9s.
One of the most recognizable names from Series B is Jesse Ventura (#20).
"That's a popular card, but he's not quite in the stratosphere of the Hogan, Flair and Andre the Giant cards," said England. "And that card isn't as tough to find in high grade."
Out of 70 graded examples, there are five PSA 10s and 15 PSA 9s. One PSA 9 sold for $135.99 on eBay in October 2015.
The most elusive card in this series in PSA 9 is the Ray Stevens (#24) (see accompanying chart). This card is the first card on the left in the fourth row of the print sheet, a position that often makes cards susceptible to flaws. Its green borders also chip very easily.
"I've never seen one that has better than approximately 70/30 centering from side to side," said Peck. "I don't know that you're ever going to find a [PSA] 9."
There has yet to be a PSA 9 or PSA 10 example and there are 12 PSA 8s.
Other notable wrestlers in Series B include Ricky Steamboat (#11), Tito Santana (#13), Sergeant Slaughter (#14) and The Iron Sheik (#25).
Condition Issues
England says PSA 8 is a strong grade for cards from either series and that high-grade examples are hard to uncover, even straight out of sealed sets.
"The sealed sets are such a crapshoot to buy," explained Peck. "I've taken a beating buying them. A lot of times you can't see the corner damage through the cellophane, and then you open them up and it's disappointing. And I'm not talking about just dinged corners, I'm talking about creased cards."
Orozco has had a similar experience. After purchasing a sealed set, he sent the cards almost directly to PSA for grading and the average grade he received for his cards was right around PSA EX-MT 6.
On top of the colored borders being easily chipped, many of the cards are hampered by print flaws.
"There are so many different print issues with the set," said Peck. "These cards were not made to be scrutinized on a scale of one to 10. It was a total mom-and-pop organization [that produced them]."
The dearth of high-grade 1982 Wrestling All Stars cards is one of the reasons that prices for them have increased in recent years, but with a low print run, these cards have become difficult to find in any grade.
"The supply has really declined, so you see more interest in the [PSA] 8s because they're still affordable. They sell pretty briskly," said Peck. "There have definitely been more people putting the sets together. The 1982 Series A cards have become consistently tougher to win [at auction]. If you'd told me six years ago, when I first started this venture, that some of my [PSA] 10s might be $1,000 cards, I don't know if I would have believed you."
England thinks more collectors will pursue this set in the future.
"It's always difficult to know with sports collectibles, but I think this set has as good a chance as any to garner strong prices in the future," he said. "There's a limited supply. There's the scarcity of finding these in high grade, and it's not a manufactured scarcity with variations. It's just a base set that's filled with star power, so I definitely can see the prices rising in value in the future. And in comparison to other genres, like the major sports, I think there's a lot of room for the values to grow."
For more information on the 1982 Wrestling All Stars Series A & B sets, please visit http://www.psacard.com/cardfacts/non-sports-cards/1982-wrestling-all-stars-series/16271 and http://www.psacard.com/cardfacts/non-sports-cards/1982-wrestling-all-stars-series-b/16272.
---
Please feel free to contact Kevin Glew at [email protected] if you have any additional information or comments. Thank you to David Peck for providing images for this article. Please note that the Population Report figures quoted and Set Registry rankings reported are those as of May 2016.