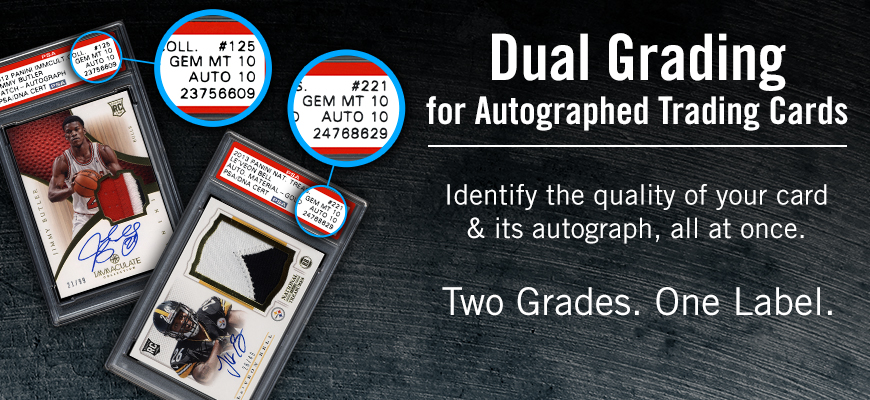 Professional Sports Authenticator (www.PSAcard.com) is now providing dual grading for autographed trading cards submitted for certification. The insert label within the PSA holder will indicate the individual grades for both the card and the autograph.
For example, a card might be graded PSA Mint 9 and the autograph could be PSA Gem Mint 10.
"PSA has long been in a unique position since we offer the top certification brands in both PSA trading card grading and PSA/DNA autograph authentication. For years, we have provided card and autograph grading services in separate fashion, but now those services can be provided in one complete package," said PSA President Joe Orlando.
"In addition, since the individual grades are noted on the label for both the autograph and the card, collectors can now use the item for either the PSA or PSA/DNA Set Registry, which is now home to well over 100,000 collections. In terms of sheer size and participation, no other registry in our hobby comes close," explained Orlando.
Each PSA-certified dual grade card is encapsulated in a state-of-the-art PSA holder with enhanced security features, including an embedded PSA security hologram that is part of the insert label paper.
Fees for this new service start as low as $25. Collectors of event tickets, such as Super Bowl and World Series tickets, can also submit autographed tickets for PSA dual grading. For additional information about autographed card and ticket authentication and grading, contact PSA Customer Service at (800) 325-1121 or visit online at www.PSAcard.com/Services.
Since 1991, PSA experts have examined and certified more than 25 million trading cards, autographs and other entertainment and sports memorabilia with an estimated cumulative value of more than $1 billion.