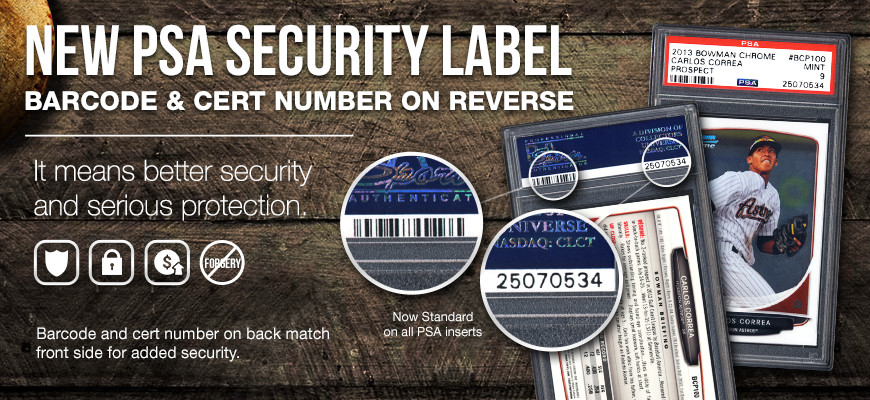 As part of its continuing efforts to enhance the security of its products, Professional Sports Authenticator (www.PSAcard.com) has added a new security feature to the back of PSA holder insert labels. The item's unique PSA serial number and barcode now will appear on both the back as well as the front of the label in the tamper-evident holders of PSA-certified trading cards, tickets and unopened packs.
"While these changes are subtle in nature, it's important that hobbyists are aware of these modifications. It's all part of our effort to give buyers and sellers even more confidence in PSA-certified collectibles," said PSA President Joe Orlando.
"The barcode, which can still be found on the face of each label in the lower left corner, is now repeated on the reverse. The second barcode can be found inside a white bar located directly beneath the embedded holograms of the PSA logo and reference to Collectors Universe," he explained.
"In addition, the PSA serial number will continue to be visible at the bottom right on the front, but it will also be repeated on the reverse like the barcode. The serial number will be located at the bottom right and found on the back inside the same white bar as the barcode," said Orlando.
This past April, PSA began using an embedded hologram on the face of every PSA encapsulated label to further enhance the security of its certification process. The hologram is part of the insert label paper, similar to the hologram feature already incorporated into PSA/DNA Certificates (COAs) and Letters of Authenticity (LOAs).
Since 1991, PSA experts have examined and certified more than 25 million trading cards, autographs and other entertainment and sports memorabilia with an estimated combined value of more than $1 billion. PSA is a division of Collectors Universe, Inc. (NASDAQ: CLCT).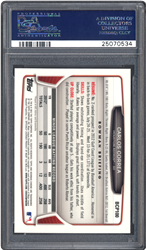 For additional information, contact Professional Sports Authenticator and PSA/DNA Authentication Services at (800) 325-1121. Email: [email protected]. Online: www.PSAcard.com.