Thomas Edison signed light bulb patent application, top secret D-Day invasion plans and the second oldest telephone directory in existence among the 100+ historical artifacts up for auction
Huge sports trading card lots, historically significant Michael Jordan game-worn items, 1952 Topps Mantle card & uncut sheet, Incredible Hulk #1, Spider-Man #1 and much more on the block through November 14th at www.GoldinAuctions.com
WEST BERLIN, N.J. (Oct 19, 2015) — Four rare historical artifacts including Thomas Edison's patent application for the light bulb, the second oldest telephone directory in existence, a collection of signed documents from every American President and the original document outlining the top secret plans for D-Day headline an eclectic collection of American historical artifacts up for bids in the 2015 Goldin Auctions October Legends & Americana Auction. The auction is Live from today through November 14th, at GoldinAuctions.com.
"We are truly honored to share these important historical items with collectors," said Ken Goldin, Founder of Goldin Auctions. "Whether these items end up in a private collection or a museum, it's exciting to know that they have been preserved for the world to enjoy."
Lot #1317 – Original Top Secret Plans for D-Day Invasion: Operation Neptune Archive -- This incredible set of documents, issued to an unknown U.S. Naval officer and stamped "TOP SECRET" with instructions to be burned after reading, is the plans for D-Day: the Allied invasion of Europe. The planning for an invasion of this size was unprecedented - 500,000 men were to be put ashore the first day alone. The entire exercise was called "Operation Overlord" and the most important, and most difficult component of this operation was dubbed "Operation Neptune". As the name suggests, Neptune was the naval component of the invasion. The culmination of those years of planning resulted in this 300-page bound document including fold out maps, intricate timetables, bombardment instructions, English Channel mine sweeping directions and convoy ship positions. The documents show how intricately thought out each component was, down to the precise part this unknown naval officer played in the early morning hours of June 6, 1944. These are the plans for D-Day.
Lot #1320 – Second Oldest Telephone Directory in Existence (1880) -- The Connecticut Telephone Company of New Haven was formed in 1878 and the state became the first to host a commercial telephone exchange. By 1880 the Connecticut Telephone Company expanded to include a Hartford Division, and then in September, 1880 issued this 12 page telephone directory. Measuring approximately 4 ¼ " x 6 ¾ ", the soft cover book is bound with a thin cord. Ten of the pages list the subscribers in alphabetical order, with businesses mixed in with famous residents such as Samuel L. Clemens and Mark Twain. The directory is in stunning condition considering that it was used as a reference and meant to be discarded when the new version arrived. The directory was kept with the important papers of the Goslee family of Hartford, one of Hartford's first families, settling the area in the late 1600's. To date only two earlier telephone directories have been discovered. The first, issued in New Haven in February 1878, consisted of a single one-sided sheet. The second the first proper "telephone book", a 4 page booklet published in November 1878 which sold at auction for $170,000 in 2013.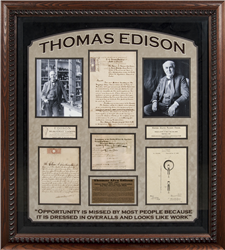 Lot #1331 – 1883 Thomas Edison Signed Patent Application for the Light Bulb - Presented here is the actual patent application for the light bulb that Thomas Edison sent to the Governor General of India on August 11, 1883. With his American patent secured, the inventor set his sights on the world. This unique specimen is titled "The Petition of Thomas Alva Edison of Menlo Park, New Jersey, United States of America for leave to file a specification under Act No 15 of 1859 of the Legislative Council of India," and flamboyantly signed in black fountain pen, "Thomas Alva Edison." It is miraculously preserved, bearing only a few small edge tears and minor soiling at bottom center. All writing is darkly and clearly scripted, grading "10", including Edison's signature. This patent application was kept on file in the country of India during its 14-year enforcement where manufacturers of Edison's new invention were required to pay him and his laboratory residual fees. When the patent term expired, it was returned to Edison's laboratory office in Menlo Park, NJ. This piece is displayed in a custom archival frame along with vintage photographs of Edison, a detailed plaque, a printed schematic diagram of his light bulb, and an original 1800's magazine advertisement for his new invention. It comes complete with an LOA from PSA/DNA, and is housed in a black leather slipcase with an embossed image of a light bulb on the cover, and embossed lettering on the spine that reads, "Patent Application for Electric Light Bulb" - Thomas Alva Edison - Signed"
Lot #1324 – Presidential Autograph Collection -- This is perhaps the finest and most comprehensive collection of Presidential signatures to ever come to market. Including every President from George Washington through Barack Obama, this unique archive is professionally bound in a 12" x 16" leather volume complete with gilt engraving and page edging, ensconced in its own leather slip case. Each spread features an engraved portrait on the left page while the right has a signed document, letter, or cut of the president depicted. Each of the signed pieces have been professionally mounted, but can be removed if so desired. The collection comes with full letter of authenticity from University Archives.
Lot #1398 – Robert F. Kennedy Assassination Tape – This is the original and only tape with an interview just 10-12 minutes after the shooting of Robert F. Kennedy from an eyewitness Donald Schulman a KNXT-TV employee who saw a second gunman draw his weapon and fire it. Schulman witnessed the second shooter Ace Security guard Thane Eugene Cesar draw his weapon and fire, hitting Kennedy. Within minutes of the shooting, Schulman telephoned his news station what he saw and KNXT news anchor Jerry Dunphy reported on the air while purported assassin Sirhan Sirhan was still at the Ambassador Hotel that "Don Schulman of KNXT tells us that Kennedy was shot three times." Mr. Schulman is the only known eyewitness to Cesar drawing his weapon and firing. Intriguingly, Schulman and Cesar are the only two eyewitnesses who have stated to researchers that Kennedy was indeed shot three times.
The Goldin Auctions October Legends & Americana Auction also features a wide assortment of sport and entertainment memorabilia including: Lot #1 - Michael Jordan's final Bulls regular season jersey worn on April 18, 1998; Lot #2 - a pair of Nike Air Jordan XI sneakers he wore during game three of the 1996 NBA Finals when he scored 36 points on June 9, 1996 versus the Seattle Super Sonics; Lot #3 - 1918 Red Sox Game 6 World Series Baseball signed immediately after the game three top Red Sox executives – E.G. Barrow, Harry Frazee and U.J. Hermann and inscribed by Ruth and dated Sept. 11th, 1918; Lot #4 – 1952 Topps Mickey Mantle Rookie Card Graded PSA Ex-MT 6; Lot #5 – a One-of-a-kind 1952 Topps High Number Uncut Partial Sheet of 25 Cards including Mantle, Jackie Robinson, Bill Dickey, Bobby Thomson, Hoyt Wilhelm, Dick Groat and others; Lot #912 – 1933 Goudey #106 Napoleon Lajoie PSA NM-MT 8 – One of just seven copies assessed at this quality; Lot #899 – 1916 D329 Weil Baking Co. #151 Babe Ruth Rookie Card – The highest graded example of this rare and desirable card graded 60 EX 5 by SGC; Lots #15-22 – Al Simmons Collection –directly from the estate of the former Philadelphia A's Hall of Famer: Lot #9 - the complete hockey rink from Madison Square Garden that was used by the Rangers from 1991-2013; Lot #6 – Jerry Lucas' copy of the NBA's 50 Great Players Signed Lithograph; Lot #7 – Moses Malone's Used & Signed Goggles from 1986-88; Lot #67 – Baltimore Ravens 2012 Super Bowl Ring (player Omar Brown); Lot #1360 - 1982 Thriller Contract Signed by Michael Jackson and The Jackson 5; Lot #1316 – Michael Jackson's Personally Owned MTV Music Award for the video Thriller; Lot #1323 – 1965 John Lennon Signed Motor Vehicle Registration for his Psychedelic Rolls-Royce Limousine - signed by the former Beatle with his full name – John Winston Lennon; Lot #1318 – 1962 Marvel Comics "The Incredible Hulk" #1 – Origin and First Appearance of the Hulk – CGC Universal Grade 7.5; Lot #1319 – 1963 Marvel Comics "the Amazing Spider-Man" #1 CGC Universal Grade 7.5.
To register for the auction and receive a free catalog or to see all 1,500+ lots, visit www.GoldinAutions.com.
About Goldin Auctions
Sports memorabilia impresario Ken Goldin has sold more than $600 million in memorabilia from many of the biggest names in sports, history and pop culture and was the pioneer of using the medium of television to sell sports memorabilia. Over the past few years, Goldin Auctions sold Babe Ruth's 1918 contract for a record $1.02 million, a Honus Wagner T206 card for a public sale record $2.1 million and a 1952 Topps Mickey Mantle Rookie Card for a record $400,950. Goldin Auctions strives to break new ground and offer collectors the best in collectible treasures up for auction in the marketplace. All game worn or autographed items come with team, player, league or additional LOA from industry leading authenticators; and collectors can bid with confidence that their proxy/ceiling bids remain confidential. For more information, visit www.goldinauctions.com.