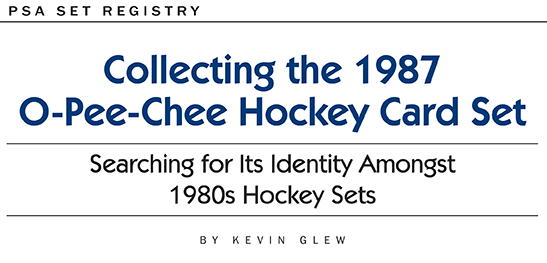 The 1987 O-Pee-Chee Hockey set suffers from an identity crisis.
Unlike its O-Pee-Chee predecessors that are anchored by the cardboard debuts of Steve Yzerman (1984-85), Mario Lemieux (1985-86) and Patrick Roy (1986-87), the 1987 set doesn't boast a defining rookie card.
It does, however, house the first pasteboards of several players that enjoyed long and successful NHL careers, including Hall of Famers Luc Robitaille (#42) and Adam Oates (#123), as well as potential future Hall of Famers Mike Vernon (#215), Claude Lemieux (#227) and Vincent Damphousse (#243).
"One of the things that inspired me to collect this set over the years was the number of good rookies that came out of it," said Dave Rose, who owns the No. 3 Current Finest, 1987 O-Pee-Chee Hockey set on the PSA Set Registry. "When these cards first came out, you knew some of these guys were good players. But as time went on, some of these guys became great players. When you look at the number of rookies in the set, it's actually pretty amazing."
Mike Clarke, whose No. 2 Current Finest, 1987 O-Pee-Chee set boasts an impressive 9.96 GPA, shares Rose's enthusiasm for the rookies in this set.
"I would say this set is fairly underrated," he stated. "When you look at the rest of the 1980s sets, a lot of the sets seem to have that one card. There's the Lemieux rookie, the Roy rookie, the Yzerman rookie, but this set has a whole selection of rookies."
On top of its abundance of solid rookies, this set also harbors the second-year Patrick Roy card (#163), a third-year Mario Lemieux (#15) and Wayne Gretzky's last card (#53) with the Edmonton Oilers.
The player cards in this 264-card issue present large, colorful photos on their fronts. Many of the pictures were snapped during pre-game warm-ups and while the players were on the bench, but there are also some great action shots. Robitaille, for example, appears to be considering his next move in a game against the Boston Bruins, while fellow Hall of Famer Dino Ciccarelli (#81) seems to be jostling for position with a New Jersey Devils forward before the puck is dropped.
You can see Bruins players in white jerseys in the background in many of the photos which indicates that a good number of them were taken in Boston.
"One thing I like about these cards is that the graphics that O-Pee-Chee chose to feature on the fronts do not detract from the player," said Dave Dunbar, who owns the No. 6 Current Finest, 1987 O-Pee-Chee Hockey set on the PSA Set Registry. "The photo is absolutely central to the card."
In addition to the photos, the white-bordered fronts also flaunt the player's name inside the blade of a hockey stick design at the base of the card. The team name is located in a puck design to the right of the blade, and the player's position is found on the bottom-left corner.
The horizontal backs present black print on a pink background with off-white borders. The player's vitals (e.g., Height, Weight, Shoots, etc.) are featured at the top, above the card number, player name and position. A hockey stick design separates this information from the player's statistics.
If there's room, a sentence or two of biographical information in English and French is included after the stats. This is generally restricted to the player's on-ice accomplishments, but in a few cases, we learn more about the player away from the ice. For example, the back of Hall of Famer Ron Francis's card (#187) reveals that he's "a cousin to goalie Mike Liut." And the text on Winnipeg Jets blueliner Jim Kyte's card (#226) shares that he's "a superb penalty-killer despite hereditary hearing deficiency."
The left side of the backs also flaunt the NHL, NHLPA and O-Pee-Chee logos.
The first 198 cards of the 1987 O-Pee-Chee set are essentially the same as those in the Topps set. However, some of the player cards have been updated with trade notations in the O-Pee-Chee offering. The final 66 cards (#199 to #264) in the O-Pee-Chee set feature players from the seven Canadian teams at the time, with the exception of three players - Gaston Gingras (#229), Dale Hunter (#245) and Clint Malarchuk (#246) - that were traded from Canadian to American teams during the production process. The photos on their cards have been airbrushed to reflect the trades.
Similar to the 1986 O-Pee-Chee offering, these pasteboards were distributed in seven-card/ 35-cent wax packs with gum. But while the card backs indicate a 1987 copyright, the wax box advertises the cards solely as a 1988 product. So the 1987 O-Pee-Chee cards were not likely sold until January 1988. We can definitively say that they were not released until after November 4, 1987, because that's when Willie Huber (#93) was dealt from the New York Rangers to the Vancouver Canucks for Michel Petit (#262), and their cards have been updated to reflect this transaction.
Rose sees far more cards and unopened boxes from this series than he does from either the 1985 or 1986 O-Pee-Chee issues. But the 1987 cards still pre-date the mass production that started in 1989.
"The 1987 set is the 'next-to-last' of the classic sets. It's right before the boom," noted Clarke. "Starting in 1989, the market was just flooded."
This was also the first hockey set for which O-Pee-Chee produced factory sets.
Collectors opening 1987 O-Pee-Chee wax boxes or factory sets today are hoping to pull a gem-mint Robitaille rookie. The Hall of Fame forward's first card is not particularly difficult to find in top condition. Of the 910 submitted, there have been 71 PSA GEM-MT 10s, one of which sold for $202.50 on eBay in July 2015.
Oates is the only other Hall of Famer to debut in this issue. Rose sees more centering issues on this card than on the Robitaille single, but it's generally not that elusive in higher grade. There are 61 PSA 10s and one fetched $81 on eBay in February 2015.
This set also harbors the rookie of Mike Vernon (#215), who many believe should be in the Hall of Fame, but he has yet to garner enough support for induction.
"He won two Stanley Cups with two different teams [Calgary and Detroit], and I don't think he ever got the respect he deserved in Calgary," noted Dunbar.
Vernon's birth date, birthplace and home are missing in the vitals section on the back of his card. Of the 245 evaluated, there have been 63 PSA 10s. One PSA 10 sold for $65 on eBay in June 2015.
But the rookie card of Vernon's goaltending contemporary Bill Ranford (#13) has proven to be more elusive in pristine shape. Like Vernon's single, his card also has an error on the back. His birth date is two days later than noted.
"The Ranford is a great looking card. It's one of my favorites in the series," said Rose. "It has centering issues, but it's not impossible to find centered."
There are just eight PSA 10s, one of which garnered $125 on eBay in February 2015.
Still, it's the first pasteboard of Philadelphia Flyers netminder Ron Hextall (#169) that's the most evasive in gem-mint condition. Not only is it tough to find properly centered, almost every example has a short, diagonal black line in the middle of the top, white border.
"Every one that I've seen has it. It looks like an eyelash fell in when they were running the printing plate," said Rose.
Clarke has noticed the same issue.
"There's a definite centering issue with that card, but it also has a little print defect up on the top," he said. "I guess it is ink from the original printing at the factory, but it seems like it's on every one of the cards."
Of the 208 Hextall cards submitted, there have been just three PSA 10s.
Among the other notable NHLers that debut in this issue are Rich Tocchet (#2), Esa Tikkanen (#7), Ulf Samuelsson (#23), Kevin Hatcher (#68), Craig Simpson (#80), Jimmy Carson (#92), Marty McSorley (#205), Claude Lemieux (#227), Stephane Richer (#233), Ken Wregget (#242) and Vincent Damphousse (#243).
As noted earlier, this set also offers the second-year Patrick Roy single (#163). This card showcases a full-length shot of the legendary netminder in the Canadiens' red, away jersey.
"The Roy card is one of my favorite cards in the set," said Rose. "He's in a stand-up pose and it looks like he's following the action."
There are 42 PSA 10s and one of them fetched $100 on eBay in December 2014.
Also, as mentioned earlier, this set houses Gretzky's last card (#53) with the Edmonton Oilers before he was dealt to the Los Angeles Kings.
"That photo shows Gretzky leaning over on his skates like pretty much only he would," said Rose. "And it appears like he's looking at the play and gauging where the pass is going to be. You can just feel the pass coming to him, just by looking at the card. It's a great photo."
Of the 764 submitted, there have been 51 PSA 10s, one of which commanded $185.99 on eBay in June 2015.
At this time, 40 Hall of Famers are part of this set, including Denis Potvin (#1), Lanny McDonald (#20), Peter Stastny (#21), Steve Yzerman (#56), Bryan Trottier (#60), Cam Neely (#69), Ray Bourque (#87), Paul Coffey (#99), Mike Bossy (#105), Mark Messier (#112), Jari Kurri (#148), Grant Fuhr (#178) and Larry Robinson (#192).
With just one PSA 10, the Bossy is the most difficult Hall Famer single to find in top grade. This card is located on the far-right end of the sixth row on a print sheet, an edge-sheet position that generally makes cards more susceptible to flaws.
"That card also has a bit of a print defect on it," added Clarke. "It's on every card I've seen. It looks like somebody just dropped some red ink on it. It's on the right side [of the card], close to the middle on the border."
But two commons are even tougher than Bossy to track down in gem-mint condition. There has yet to be a PSA 10 of the Doug Sulliman (#116) or Wilf Paiement (#180) singles. Both cards are generally found so miscut that the left border is significantly larger than the right border. Not surprisingly, both are located on the right edge of a print sheet. Sulliman is the last card on the right in the row above Bossy, while the Paiement is on the bottom-right corner.
There are also several uncorrected spelling errors in this set. For example, Randy Carlyle's last name is misspelled "Calryle" on the front of his single (#9), while Michael Thelven's last name is spelled "Thelvin" on the front of his (#24). O-Pee-Chee also mistakenly printed Gerard Gallant's first name as "Gerald" on his rookie (#67), missed the second "l" in Bernie Nicholls' last name (#183) and incorrectly listed Dirk Graham's first name as "Dick" on the front of his card (#184). Also, in a non-spelling miscue, O-Pee-Chee used a photo of Vancouver Canucks goalie Frank Caprice on the Richard Brodeur card (#257).
These idiosyncrasies, combined with a strong crop of rookies, great photography and some key Hall of Famer cards, should give this set an identity as an interesting and underrated issue.
"I think the set has a really good future," said Rose. "I think it's a great set, especially for a beginning collector. There are a lot of rookies, and some of which, I think, are still going to go into the Hall of Fame. It's an interesting set, and the supply isn't constricted enough so that the prices are through the roof; so it's affordable."
Clarke agrees.
"It's not an overly expensive set to start," he said. "To me, it's an ideal, mid-range starter set. If you're just starting to collect 1980s hockey cards, obviously you want to get the big sets. But if you want to get a feel for the players of the 1980s, this is a good starting set. I think the value of it will go up."
Dunbar offers similar thoughts.
Although this set isn't notably anchored by one or two key cards as many other sets are, Dunbar says this is simultaneously "what made the set very appealing to a person like [himself] who was just beginning to get involved at the grading end of it."
"I can go through this whole set and I don't have to worry about stealing $400 or $500 from my grocery kitty to get that one key card to complete the set... I think this set is a sleeper in that regard. There are so many guys in this set that really played great hockey for the better part of two decades, and I think that will become more apparent as time goes on."
---
Summary of Key Cards
Rookie Cards: Bill Ranford (#13), Luc Robitaille (#42), Adam Oates (#123), Ron Hextall (#169), Mike Vernon (#215), Claude Lemieux (#227), Vincent Damphousse (#243)
Key Star Cards: Mario Lemieux (#15), Wayne Gretzky (#53), Steve Yzerman (#56), Mike Bossy (#105), Patrick Roy (#163)
Toughest Common Cards in High Grade: Doug Sulliman (#116), Wilf Paiement (#180)
---
Fun Facts About the 1987 O-Pee-Chee Hockey Set
Six players featured in this set - Doug Wilson (#14), Don Maloney (#49), Steve Yzerman (#56), Bob Murray (#156), Ron Francis (#187) and Jim Benning (#260) - are current general managers in the NHL.
Hockey was definitely much more rough-and-tumble in the 1980s. If you want proof, just read the back of Ron Hextall's rookie (#169). It points out that Hextall set an NHL record for most penalty minutes in season by a goalie in 1986 with 104. That's more penalty minutes than many of the toughest forwards accumulate in a season today.
Collector Dave Dunbar points out there are a number of great bench shots in this series. He cites the Steve Larmer (#59), Bernie Federko (#83) and Tony Tanti (#97) cards as examples. Dunbar says these show more of the player's personality than the action photos. On a side note, it would be fun to have an "Add-Your-Own-Caption Contest" with the Federko card.
The card of Winnipeg Jets forward Dave Christian (#88) features him using a Christian stick. This stick was manufactured by a plant in Warroad, Minnesota, that was owned and operated by Christian's father, Bill, and his uncle, Roger. Sticks were made under the Christian brand until 2003.
In the modern sports card era, some players have cards produced of them several years before they play an NHL game. But if you look at the backs of the 1987 O-Pee-Chee Hockey cards, you'll see that some players had to wait years to have a card created of them. A good example is Vancouver Canucks defenseman Dave Richter (#261), who had played since 1981 and was with his third NHL team before O-Pee- Chee manufactured his first card.
---
For more information on the 1987 O-Pee-Chee hockey set, please visit http://www.psacard.com/CardFacts/Set/31/1987-o-pee-chee-hockey-cards.
---
Please feel free to contact Kevin Glew at [email protected] if you have any additional information or comments. Thanks to Dave Rose for providing cards for this article. Please note that the Population Report figures quoted and Set Registry rankings reported are those as of September 2015.
---
Copyright © 2020 PSA – A Division of Collectors Universe. Nasdaq: CLCT. All rights reserved.