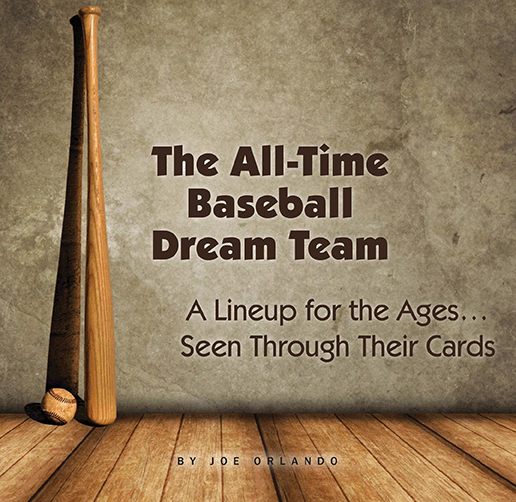 If you are a baseball fan or a collector, I am sure you have toyed with the idea of being manager for a day and attempted to fill out your personal All-Time Baseball lineup. There are some selections that most people would consider to be no-brainers, while other holes may be much tougher to fill. This is, of course, not because there isn't a plethora of talent to choose from... it's simply due to the fact that narrowing it down to one terrific player per position can be daunting.
The idea of going through this exercise is not a new concept, but it's always fun to pick your starters in a fantasy scenario. It's scary to think that my All-Time lineup is absent names like Hank Aaron, Joe DiMaggio and Stan Musial to name a few, but there are only so many openings on the roster.
It's also a lot of fun and important to create lists like this as a collector. We all either follow existing lists created by others or invent lists of our own to help steer our collections in a certain direction. The lists help us focus on a particular theme, keep us disciplined and working towards a specific goal. The list concept is at the core of collecting.
In the following article, I list my ultimate baseball lineup. It includes a starter at every position, including a DH, a starting pitcher, a closer and one bench player.
As part of each pick, I explain the reasons behind each selection. Some of my starters are expected, while others may provide a platform for debate, but that is the beauty of this process. This is MY Dream Team, and it's good to be the king. It's perfectly acceptable to disagree with any of my picks or the entire team for that matter. In fact, that is part of the fun. It's not just about raw statistics or names. It's about putting together the lineup of players that you think not only best complement each other, but also gives you the best chance to win.
Before we begin, here are a couple of important things to consider.
When I put together my All-Time lineup, I decided that each player had to exhibit a measure of sustained excellence over the course of their careers to be eligible. In other words, I did not consider players who may have enjoyed a few outstanding seasons but did not prove to be true greats over time. There are a lot of very good players who had great seasons, such as Roger Maris, but fell short of either Hall of Fame-caliber careers or were never considered amongst the very best at their position from a historical perspective.
In addition, the lineup being presented in this article is for a winner-take-all, single game. So, while each player was required to have a great career to be considered, I thought about each player as if they were at their best or in their prime. This was not a question of who had the best career or the most impressive career numbers. It was about selecting the player I would want during their peak years. While I did not include a full bench or pitching staff, I did leave one roster spot open for an additional position player. This player could come off the bench for a pinch-hitting appearance or improved defense in the later innings, or both.
Furthermore, when it came to selecting outfielders, I approached it as if they were somewhat interchangeable at least as it relates to left field. If you have the skillset to play center field or right field, then you certainly have what it takes to play left field. So, I approached this exercise with the idea that virtually any outfielder would be eligible for the left field position. It wasn't limited to those who only played left field during their careers.
Keep in mind that it is virtually impossible to compare players from different eras, at least in an accurate way. I don't care about all the alleged "advanced metrics" being thrown around these days; different eras are filled with different challenges. Myself included, we all try our best to guestimate certain aspects of each player's game.
For example, do I really have a great understanding of what kind of baserunner Napoleon Lajoie was? Of course not, but all we can do is read about these legends and try to see if either contemporary player insight or witness accounts can add to their stat lines. The bottom line is that if they were truly great in their time, they were great. We all attempt to provide as much context to their achievements as possible, but trying to compare Clayton Kershaw to Sandy Koufax to Walter Johnson is pretty tough.
Some baseball fans who like to compare players from different eras tend to be biased in one of two ways. There are those who strictly look at the raw numbers and think that many of the greatest players in baseball history all played during the same period about 75-110 years ago. They are heavily biased towards the old timers. Then, conversely, there are those who think that the old timers shouldn't be considered at all because, according to them, these players wouldn't stand a chance against today's athletes. Well, in my opinion, these extreme views are both wrong.
When you look back in time, especially in the first half of the 20th century, there were periods where the annual league batting average was in the .280-.300 range. In other words, hitting around .300 was common. Context, like this, has to be taken into consideration. On the flip side, the idea that the elite players of the past shouldn't be considered for an All-Time team is ludicrous. Great is great, no matter when a player suited up. You just need to look beyond the raw numbers to properly evaluate the players.
I would even take it a step further. I really believe that most of us, including me, would be surprised by the level of athleticism and skill some of the past legends possessed. Players like Ty Cobb and Josh Gibson are just a couple of examples where their physical gifts would match up well with stars from subsequent generations. We tend to give the players of past generations either way too much credit or not nearly enough. There is no perfect or scientific way to do it, but it's important that we all try to be as objective as we can.
On the issue of Performance Enhancing Drugs (PEDs), I want to make something clear about the team I have built and the selection process I went through. There are those who have been caught, those who have admitted use and those who have allegedly used during the last few decades. I decided not to consider those who have been directly tied to PEDs during that time. It was a hard decision in some ways. It's not because I accept the use of PEDs by any means; it's just hard to know where to draw the line and how much they altered the course of a player's career.
Personally, I am of the belief that the type of PEDs at issue over the last few decades make a huge difference, not a small one. No, PEDs can't help you hit a baseball or throw one all by themselves... but the point is they can do more than just help a little bit. You are taking an athlete who already has baseball-specific skills and giving them serious physical enhancements, particularly in strength and power. We all witnessed the difference between players, even star players, with PED assistance and without. The improvements are not immaterial. They can be dramatic. In some cases, PEDs helped turn average players into good ones, good ones into great ones and great ones into video game-like super humans.
For the record, I am not making a moral judgment. The decision to not consider players like this was more about comparing candidates in an equitable manner. It's hard enough to compare them when each player played under different conditions and during different eras, but I wanted to draw the line with PED use. The numbers for some players who I didn't consider are simply staggering. Without this arbitrary rule, I would have put Alex Rodriguez at shortstop and at least considered others like Barry Bonds at his peak, but I chose not to include such players. This was simply a personal choice.
Finally, remember that this is about assembling the best overall team and lineup. This is not about picking the nine best offensive players alone. That would, in some cases, result in different selections. If this were just an exercise of filling the holes with the players who simply had the best offensive statistics, then it really wouldn't be much of an exercise at all. Obviously, offense plays a big role and an even bigger role at certain positions, but this is about the whole package and how each player can round out the lineup.
As you go through that exercise, you start to realize that it's harder than you think because every selection you make can cause somewhat of a chain reaction. For example, if you choose to go with Rickey Henderson in LF because he is generally considered the greatest leadoff man of all time, then you may have to sacrifice a more powerful bat that could be present in the middle of your lineup at the LF position. These types of scenarios are endless. It's not about right or wrong; it's just that every pick affects the next one.
As a bonus and just for fun, we listed the ultimate stat line for each player selected... the best single-season figures for each particular category during their careers. These stat lines are generally from full seasons, but there might be an exception or two (virtually-full seasons) based on a few factors. Keep in mind that the stat lines included are very basic, covering just a handful of categories, and do not include some of the more advanced metrics used in MLB today.
Each section includes personal, full-season bests in Batting Average (BA), Runs (R), Home Runs (HR), Runs Batted In (RBI), On Base Percentage (OBP) and Slugging Average (SA) for position players. For the starting pitcher, we included Win-Loss Record/Winning Percentage (W/L), Earned Run Average (ERA), Strikeouts (SO), Strikeouts per 9 Innings (SO/9), Strikeouts-to-Walks Ratio (SO/BB), Hits per 9 innings (H/9) and Walks plus Hits per Inning Pitched (WHIP). For the closer role, we included a small sampling regular season and career Save (SV) and ERA marks.
So, without further ado, here is my personal All-Time roster decorated with some of their most popular cards. While it wasn't intentional, the names in my dream lineup cover every decade from the 1910s to the 2000s.
Let's begin.
---
My All-Time Lineup
---
Leading Off: Joe Morgan - 2B
I begin my lineup with one of the more controversial selections on paper. If this were a team of the best hitters at each position, then second base would belong to Rogers Hornsby without any hesitation. Hornsby could hit and hit with real power. His .358 career average and his ability to hit the long ball, clubbing 39 homers twice and 42 once, made Hornsby a rare commodity at the position. That said, I went with Morgan for his all-around game and his ability to act as a true leadoff man in my lineup.
Here's why: If you listen to his former teammates and opposing players talk about Morgan in his prime, they almost all say that he was one of the most complete players - at any position - ever. In his back-to-back MVP seasons (1975/1976), Morgan hit .327 and .320. More importantly, his OBP was .466 and .444 respectively during those same two seasons. At the time of his retirement, only Babe Ruth and Ted Williams had more career walks than Morgan. In other words, Morgan got on base... a lot. He also finished his career with 689 stolen bases and was only caught 162 times. As a defender, Morgan won five consecutive Gold Gloves (1973-1977). Beyond the sheer stats, Morgan knew how to win and was often praised for having one of the highest baseball IQs in the sport.
He may be a controversial pick, but Morgan is my leadoff man and starting second baseman.
Morgan's Ultimate Stat Line
Morgan's most popular card is his 1965 Topps #16 rookie. In my opinion, it remains one of the most overlooked Hall of Fame rookie cards of the decade and is one of four key rookies in the set, along with those of fellow Hall of Famers Steve Carlton, Catfish Hunter and Tony Perez.
For more information on Morgan's 1965 Topps #16 rookie, please visit http://www.psacard.com/CardFacts/Item/29765/astros-rookies-j-morgan-s-jackson-1965-topps-16-baseball-cards
---
Batting Second: Willie Mays - CF
Speaking of high baseball IQs, Mays is hitting in the second spot and playing center field. Like Morgan, and perhaps even more so, Mays was often admired for his incredible baseball instincts at the plate, on the basepaths and in the field. In my mind and the minds of many others, Mays is the best all-around player that ever lived. Mays was the quintessential five-tool player. He could hit, hit with power, run, field and throw at the highest levels.
Even though Mays was one of the easiest selections for me, let's just take a quick look at some of the facts. Mays, a career .302 hitter, hit over .340 twice (.345 in 1954 and .347 in 1958). As a power hitter, Mays eclipsed 50 homers twice (51 in 1955 and 52 in 1965). As a fielder, Mays won 12 consecutive Gold Gloves and is still considered among the best, if not the best, ever to play the position. I could keep going and going, but Mays was, arguably, the best offensive and defensive center fielder of his generation. Windy Candlestick Park in San Francisco wasn't exactly a great hitter's paradise either, so imagine the damage Mays could have done at a more hitter-friendly ballpark.
With his blend of speed, power, defense and instincts, Mays is the man I want patrolling centerfield and hitting second behind Morgan.
Mays' Ultimate Stat Line
Mays' most popular card is his 1951 Bowman #305 rookie. Along with the rookie cards of fellow Hall of Famers Whitey Ford and Mickey Mantle, this iconic rookie card is a key to this historically important and colorful set.
For more information on Mays' 1951 Bowman #305 rookie, please visit http://www.psacard.com/CardFacts/Item/22482/willie-mays-1951-bowman-305-baseball-cards
---
Batting Third, Mickey Mantle - LF
Some people look at Mantle's entire career and feel he might not measure up to some of the other legends of the game based on total numbers, but that is not what this exercise is predicated on. This is about evaluating players at their best, as long as those same players had great careers overall. At his best, Mantle was a freak of nature, and I mean that in the most positive way possible. At one time, Mantle may have been the fastest runner and the most powerful hitter in the entire game. Injuries robbed Mantle of his unmatched speed over time, but he remained quick for many years.
The power was always there. No one hit more tape measure shots during the 1950s and 1960s than Mantle did. By the way, while his batting average suffered during his final four seasons, his OBP was terrific throughout his career. His .421 career OBP is higher than Aaron, Mays and Clemente. Mantle didn't just launch titanic home runs; he got on base with great frequency. In the age of advanced metrics, Mantle's value would be greater in the present day than it was in years past. In addition to his speed, power and ability to get on base, Mantle was a switch hitter.
One of the things I reflected on as I delved further into this process is how the perception of Mantle's abilities and accomplishments has changed over time with the way baseball experts evaluate players today. When I was growing up in the 1980s, the prevailing thought was that Mantle was a great player, but a bit romanticized. In other words, the fact that he was a New York Yankee and a childhood idol to so many Baby Boomers resulted in the perception that Mantle was, in reality, somewhat overrated. Today, I don't think there is any question that Mantle may have actually been better than we previously thought, especially at his peak.
In my opinion, Mantle is the perfect guy to bat third behind Morgan and Mays, keeping the speed and power trend alive at the top of the lineup.
Mantle's Ultimate Stat Line
Let's face it, just about every Mantle card is popular, but his most popular card, without a doubt, is his beautiful 1952 Topps #311. This card has been taken to new heights in recent years as more and more collectors realize its symbolic value as perhaps the most iconic baseball card image in the hobby.
For more information on Mantle's 1952 Topps #311 card, please visit http://www.psacard.com/CardFacts/Item/23330/mickey-mantle-1952-topps-311-baseball-cards
---
Batting Fourth: Babe Ruth - RF
For me, this was the easiest pick of them all. In his prime, Ruth was more like a fairy tale character than a real person. He just seemed to be so far ahead of his time, and he revolutionized the game in many ways. For a player to emerge as truly one of the best pitchers in the game, perhaps the best left-hander in the league, and then to switch gears completely several years later to become the most feared hitter in the game sounds more like fiction than fact, but it's true. Ruth's overall numbers are already incredible, but imagine what they would have been if he started his career as a full-time position player? Scary stuff.
Now, from the outset of this article, I did establish that comparing players from completely different eras is a futile endeavor. However, for those people who claim that a player like Ruth couldn't compete in later eras or today because he wasn't a great athlete or used such a heavy bat, don't kid yourself. First of all, for a good portion of Ruth's career, he was very athletic. Forget about the stereotype, perpetuated by awful movies like The Babe with John Goodman, Ruth could move well for a big man and had a very strong arm. It wasn't until later in his career, when the partying and rambunctious lifestyle caught up to him, that Ruth lost his athletic ability.
Furthermore, Ruth used very heavy bats for a portion of his career, usually in the 40-44 ounce range. That was just as much a product of the time as it was a Ruth-specific ordering pattern. Most players used heavy bats in the 1910s and 1920s because the game was different in terms of the hitting approach and strategy at that time. Ruth was one of the first players to focus on consistently driving the ball with power. Even Ruth changed his bat-ordering pattern as the 1920s wore on. During interviews, Ruth acknowledged that he would have transitioned to a lighter bat earlier in his career if he had realized the benefits sooner: bat control and bat speed.
In fact, if we look at some of the documented Ruth gamers out there, you can see the transition from the heavier, thicker-handled Ruth gamers of the late-1910s to the mid-1920s to a clear reduction in weight and change in model from that point until the end of his career. As an example, a documented, side-written Ruth bat from the 1926-28 period with 11 home run notches carved near the center brand (something Ruth would occasionally do to document his victims at that time) weighs in today at 36.4 ounces. That was the era when Ruth hit 60 home runs in a season (1927), and he continued to smash home runs for several years afterward.
Most other players during that time and later did the same thing. As the game changed and they learned more about the science of the swing, they went to lighter bats. There are differences in every generation, which is why it is so hard to compare players from different eras, but I would bet the farm that Ruth could have been "The Sultan of Swat" in ANY era. The idea that a player of Ruth's once-in-a lifetime talent couldn't adjust or that he wouldn't benefit immensely from modern science or nutrition is laughable.
Ruth was that good and he is my cleanup hitter... for life!
Ruth's Ultimate Stat Line
Ruth's most iconic cards, from an image standpoint, are his 1933 Goudeys (#s 53, 144, 149 and 181), but the card that has become THE Ruth card over the past several years is his 1915/1916 M101-5 and M101-4 rookie. The 1914 Baltimore News Ruth rarity is clearly tougher, but the above-mentioned card is considered his major league rookie card as a member of the Boston Red Sox.
For more information on Ruth's 1915/1916 M101-5 and M101-4 rookie, please visit http://www.psacard.com/CardFacts/Item/20146/babe-ruth-p-boston-red-sox-1915-16-m101-5-sporting-news-151-baseball-cards and http://www.psacard.com/CardFacts/Item/19868/babe-ruth-p-boston-red-sox-1915-16-m101-4-sporting-news-151-baseball-cards
---
Batting Fifth: Jimmie Foxx - 1B
Along with Morgan, my guess is that this will be viewed as one of the most controversial selections for my starting lineup. Why? Most people would probably go with Lou Gehrig at first base. How could anyone blame them? I certainly wouldn't. Gehrig's numbers are incredible, and he sustained a level of excellence that rarely can be matched. That said, if you compare Foxx and Gehrig at their best, they are virtual mirror images of each another. Offensively, they could seemingly do whatever they wanted to at the plate. They hit for average, drove in runs and hit with immense power. Due to Gehrig's tragic illness, we never witnessed the normal, natural decline in his numbers since he had to retire so abruptly. With Foxx, like most others, we did. His last several seasons were pretty rough by Foxx standards, which brought some of his career averages down.
I went with Foxx for a couple of reasons. First, I love the thought of Ruth and Foxx hitting back-to-back. The most devastating left-handed hitter of the era followed by the most feared right-handed hitter, a hitter that had even more raw power than Ruth according to most observers. It is simply too good to pass up for the dreamer in me. In addition, according to many accounts, Foxx had a presence at the plate that can't be measured by statistics. His nickname was "The Beast." Some of the most telling quotes about a player's sheer presence were made about Foxx. One great series of quotes came from a fellow Hall of Fame pitcher.
Lefty Gomez once said of Foxx, "He wasn't scouted, he was trapped." During a game, after Gomez shook off every sign the catcher gave him and still refusing to throw a pitch, a meeting was called on the mound. The pitcher allegedly whispered to his backstop, "If we stay out here long enough, maybe he'll (Foxx) just go away."
It would be worth the price of admission just to watch the opposing pitcher sweat with Ruth at the plate and Foxx on deck.
"The Babe" and "The Beast" - back-to-back.
Foxx's Ultimate Stat Line
Foxx doesn't have a ton of cards to choose from during his playing days, but the 1933 (#s 29 and 154) and 1934 (#1) Goudeys are his most popular issues. In particular, the #1 card in the 1934 Goudey set takes on an extra level of significance due to its position in the set and the fact that Ruth was absent from the production entirely.
For more information on Foxx's 1934 Goudey #1 card, please visit http://www.psacard.com/CardFacts/Item/20498/jimmy-foxx-1934-goudey-1-baseball-cards
---
Batting Sixth: Ted Williams - DH
When baseball historians debate which player is the greatest hitter of all time, it often comes down to two men: Ruth and Williams. With Ruth, he lost many plate appearances early in his career to time on the mound. With Williams, baseball lost the legendary hitter to military service on more than one occasion, accounting for years of lost time during his prime. Even with the lost time, baseball had plenty of chances to see what both men could do with the bat. It's scary to think that I placed one of the two best hitters ever in the sixth spot, but somehow that is where the great "Teddy Ballgame" ended up.
Let me explain. First, I selected Williams as the DH simply because he was never known for his speed, defense or throwing arm by most accounts. That is not to say that Williams wasn't adequate in those areas, although some would argue that he wasn't, but his ultimate value is at the plate. That is no secret. If I didn't have a DH spot open, I might have put Williams in left field over Mantle in a tough decision... but I'm glad I don't have to make that decision. I want them both in the lineup! I like Mantle in the third spot over Williams because of his clear speed advantage on the bases, ahead of the big boppers in the middle of the lineup.
Second, Williams' all-around hitting ability and ability to get on base was really only rivaled by Ruth. Williams' career OBP is #1 at .482. Ruth is #2 at .474. Ruth's career slugging average is #1 at .690. Williams is #2 at .634. The comparisons go on and on. For the same reason I like Foxx behind Ruth, I like Williams behind Foxx. Ruth-Foxx-Williams, 4-5-6, left-right-left. All with precision, all with power and all with swagger. Doesn't that sound tempting?
Did I mention a sweaty pitcher?
Williams' Ultimate Stat Line
Williams has several great cards that are both popular and historically important, from the early Play Ball issues (1939-1941) to the colorful Bowman and Topps cards of the 1950s. For the purpose of this article, we went with his classic 1939 Play Ball rookie... a simple, black-and-white design featuring the skinny, young prodigy known by many as "The Splendid Splinter."
For more information on Williams' 1939 Play Ball rookie, please visit http://www.psacard.com/CardFacts/Item/21058/ted-williams-1939-play-ball-92-baseball-cards
---
Batting Seventh: Mike Schmidt - 3B
Let's get something straight right off the bat, no pun intended of course. Michael Jack Schmidt, with emphasis on Jack, was the best third baseman ever. Don't try to argue with me, just accept it. George Brett, Eddie Mathews, Brooks Robinson and even Chipper Jones were all outstanding and arguably better than Schmidt in one specific area or another, but Schmidt was better overall. This three-time NL MVP winner was one of the greatest threats at the plate throughout his career, leading the league in homers eight times. Schmidt was also one of the premier defensive third basemen in history with 10 Gold Glove awards. On top of all his personal achievements, Schmidt was a winner, leading the Philadelphia Phillies to several division titles and one World Series title (1980) during his career.
I chose to bat Schmidt seventh simply because of the abundance of offensive talent above him. In addition to his powerful bat and great glove, Schmidt was also pretty nimble on the bases early in his career before his knees starting giving him trouble. He actually stole 23 and 29 bases respectively in back-to-back seasons (1974/1975). During his playing days, Schmidt was arguably the best player on both sides of the field at his position. That is a rare commodity, and it helped make this selection easy for me when filling out my All-Time lineup card.
The opportunity to have this caliber of a defender at the hot corner along with this kind of pop is too good to pass up.
Schmidt's Ultimate Stat Line
Without a doubt, the Schmidt card that generates the most interest with collectors is his 1973 Topps #615 rookie. Like many other rookie cards of iconic players, Schmidt's rookie has jumped to a new level in the last couple of years. His rookie card now consistently sells north of $2,000 in PSA Mint 9.
For more information on Schmidt's 1973 Topps #615 rookie, please visit http://www.psacard.com/CardFacts/Item/35240/rookie-3rd-basemen-r-cey-j-hilton-m-schmidt-1973-topps-615-baseball-cards
---
Batting Eighth: Johnny Bench - C
When it comes to selecting the greatest catcher of all time, there is very little doubt about who you would want manning the position. Yogi Berra, Mickey Cochrane, Bill Dickey and a host of other catching legends could easily hold their own on an All-Time team, but Bench - at least in my opinion - has the most to offer as the total package. The two-time NL MVP was easily the premier offensive and defensive catcher of his era. He had an absolute cannon for an arm, was a natural leader on the field, extremely agile and a perennial winner with "The Big Red Machine" of the 1970s, leading the team to six division titles, four NL pennants and two World Series titles in 1975 and 1976.
One of my favorite Bench statistics is that, as a catcher, he drove in more runs than any player in the major leagues during the 1970s. He also fell just six homers short of leading the league in home runs AND RBI for that period. As a catcher? This is one of those things that I am fairly sure will never happen again over the course of a decade. The wear and tear at the position makes it so hard to remain an elite offensive player for 10 straight years. In fact, Bench could have been even better had it not been for an extremely invasive surgery he underwent after the 1972 season. After a routine physical, a spot was discovered on one of Bench's lungs. While the spot turned out to be benign, the surgery was serious and Bench, while still a great ballplayer for several years, was never quite the same after that.
When it comes to digesting Bench's greatness, Sparky Anderson summed it up best when a reporter asked the manager to compare Thurman Munson, the best catcher in the American League at the time, to his backstop during the 1976 World Series, "I don't want to embarrass any other catcher by comparing him to Johnny Bench."
That says it all.
Bench's Ultimate Stat Line
Bench's most popular and desirable card is, without question, his 1968 Topps #247 rookie. While not considered an overly tough card to acquire in high grade, the Bench rookie remains a key in the set along with the rookie card of Nolan Ryan. It is also a must for hobbyists who collect premier rookie cards of the greatest Hall of Famers.
For more information on Bench's 1968 Topps #247 rookie, please visit http://www.psacard.com/CardFacts/Item/31850/reds-rookies-johnny-bench-ron-tompkins-1968-topps-247-baseball-cards
---
Batting Ninth: Cal Ripken, Jr. - SS
When it came to selecting my starting shortstop, I will be the first to admit that I struggled with this position player slot more than any other... and that's saying something considering how tough the process is at virtually every position. This is where the lack of detailed information about defense, when it comes to some players of the past, makes the process so tough. Defense matters, especially at the shortstop position, and it matters to me as the manager.
Fielding percentage is one indicator we can use to determine the value of a defender, but it doesn't tell the whole story. Based on that stat alone, a player like Honus Wagner looks terrific on paper for a shortstop from his era. In fact, Wagner led the league in fielding percentage several times and by all accounts possessed good range and a strong arm. Physically, he may not look the part in a traditional sense, but Wagner was a good defensive shortstop. As a result of his stellar offensive numbers and, at minimum, solid defense, many people would select Wagner as their starter... and I can't blame them.
I chose to go with Ripken instead, but it's the choice I actually felt least comfortable with during this process. The reason I went with the two-time AL MVP and two-time Gold Glove winner is that there are some outstanding offensive and defensive shortstops to choose from, but few of them combined strong value in both areas at their best. Ernie Banks played a portion of his career at the position and put up some incredible power numbers, but he didn't stay at the position. Ozzie Smith was "The Wizard" at short, but remained a defensive specialist for the most part.
With Wagner, I just wish I knew more about his defense. I can read about his defense and look at all kinds of numbers, but it's really difficult to ascertain just how good any player was during the pre-1920 era. In truth, Wagner may be the right choice, but I am sticking with Ripken because of what we know about him. Ripken, at his best, excelled on both sides of the field. With his size and athleticism, Ripken paved the way for an entirely new breed of shortstop.
"Iron Man" rounds out my starting lineup, providing a significant bat at the bottom without sacrificing quality defense at a defense-first position.
Ripken's Ultimate Stat Line
Ripken has a handful of 1982 rookie cards to choose from, including the regular-issue Donruss #405, Fleer #176 and Topps #21. The most desirable Ripken rookie, however, is the 1982 Topps Traded #98 card, which sells for substantially more than the other three.
For more information on Ripken's 1982 Topps Traded #98 rookie, please visit http://www.psacard.com/CardFacts/Item/37508/cal-ripken-jr-1982-topps-traded-98t-baseball-cards
---
Starting Pitcher: Pedro Martinez
Baseball and sports, like everything in life itself, is about context. It's the only way to measure a player, or anything else, properly. Without it, comparing players from different generations is simply without any real merit. Choosing a starting pitcher, since there is only one slot to fill in this exercise, is extremely tough. Accurately trying to compare all the great arms in baseball history that once dominated from the mound is even harder to do. So, after digesting all of the relevant numbers, I ended up with Martinez as my starter.
Here's why.
At his best, Martinez had a repertoire of pure filth. In addition to his mid-to-upper 90s fastball, Martinez had a devastating changeup and wicked curveball, to go along with pinpoint control for good measure. Martinez was also not afraid to pitch inside and move hitters off the plate with his electric heater, which made his off-speed pitches that much tougher to hit. Beyond all of the statistics, some of which point to his superior stature when you dig into the advanced metrics, is the context I referred to earlier.
Martinez pitched during an era that was filled with PED issues and record-setting offense. He may have pitched in, arguably, the most pitching-unfriendly period the game has ever seen. Now, take your time and relook at those prime Martinez numbers. In 1999, when Martinez finished with 313 strikeouts, the only other pitcher in the entire American League to reach 200 strikeouts that year was the runner-up at exactly that number. When Martinez finished the 2000 season with an ERA of 1.74, the next best ERA in the American League was nearly two full points higher at 3.70, and five of the top 10 ERA leaders that year were north of 4.00. These are just examples.
Context, context, context.
The easy and perhaps more popular pick for the starting job would be someone like Walter Johnson, Bob Gibson or a prime Sandy Koufax. Koufax would be a terrific choice, but the context argument is what persuaded me to go with Martinez. In essence, Martinez was Koufax during a period when the league was Hulked out.
Martinez had the stuff and attitude to be "The Man" in a single game scenario. He wants the ball and I am going to give it to him.
Vote for Pedro.
Martinez's Ultimate Stat Line
Martinez's most popular mainstream rookie card is his 1992 Bowman #82. This rookie, along with those of Trevor Hoffman, Mike Piazza and Mariano Rivera, are the keys to the set and can be found in PSA Gem Mint 10 condition without too much trouble. Martinez does have a 1991 Upper Deck Final Edition card, but the Bowman rookie is more popular with collectors.
For more information on Martinez's 1992 Bowman #82 rookie, please visit http://www.psacard.com/CardFacts/Item/78911/pedro-martinez-1992-bowman-82-baseball-cards
---
Closer: Mariano Rivera
There are several dominant closers to choose from in baseball history. Some had an intimidating presence like Goose Gossage and others shut the door with visible flair like Dennis Eckersley, but one man spent nearly 20 years at the top of the sport with the chilling, emotionless stare of a horror movie killer. If everything was on the line and you needed one pitcher to come in to slam the door shut, Rivera is your man.
Perhaps the most remarkable aspect to Rivera's stellar career is that he spent virtually the entire time throwing one pitch - the cutter - and he did so with one of the most effortless-looking deliveries in baseball history. Everyone at the plate knew what was coming, and they still struggled to hit it. Sure, did Rivera occasionally mix in a four-seam fastball or something else? Yes, but 95% or more of the time, the cutter was on its way.
Rivera destroyed more wood than a termite on Walter White's special blue meth. When you hear hitters talk about what it was like trying to hit Rivera's special pitch, they all say the same thing. Opposing batters tried to anticipate where the pitch would end up, but they simply couldn't square up the bat to the ball. Righties thought they were right on the pitch, only to have the cutter move just out of the hitting zone; while that same pitch would just bore into the hands of lefties, leaving their bats in pieces. Even when Rivera's velocity declined in his later years, hitters still struggled to barrel the ball.
In the case of Rivera, as the saying goes, the numbers don't lie... especially in the postseason where the pressure is the greatest for a closer. When you have time, I suggest you check out his numbers in detail online.
Since we are building this team for a winner-take-all scenario, Rivera is the perfect guy for the job.
Enter "Sandman."
A Sampling of Rivera's Stats
Along with Martinez's inaugural issue, Rivera's most popular rookie card appears in the 1992 Bowman set at card #302. It has become the most valuable of the four major rookie cards in the set, a set that boasts the potential for four potential Hall of Famers.
For more information on Rivera's 1992 Bowman #302 rookie, please visit http://www.psacard.com/CardFacts/Item/79131/mariano-rivera-1992-bowman-302-baseball-cards
---
Off the Bench: Roberto Clemente
Well, if you thought filling out the lineup card above was difficult, now all you have to do is think about the rest of the remaining legends in baseball history. You need to consider the stars at every single position, and figure out who you would want on your bench in case an offensive or defensive need arises.
No problem, right?
Some people might prefer a guy who is adept at starting a rally by getting on base. Others might want access to a booming bat in case the game is close and they need a guy that can change the game with one swing. You could choose to go with a speedster who could wreak havoc on the bases or a defensive replacement who could help secure the victory in the late innings. Under this category, there are so many options. It can make your head hurt.
One key to remember is that we already have a starting lineup, so this slot is not necessarily reserved for who the best player left is. The more accurate question is which player would complement your existing team best? This is why the bench slot would receive the widest range of answers from would-be managers.
After wrestling with so many scenarios and potential additions, I decided to go with a balance of most of the skills detailed above. I wanted a guy who had all-around ability, an athletic player who could get on base if need be, drive the ball with authority and provide quality defense if needed at a position where defense may matter more towards the latter stages of the game.
I went with Clemente.
This selection, maybe more than any other on my list, is destined to be met with some level of skepticism. It's no knock on Clemente at all; it's just that so many big names are available, even after I filled out my starting lineup. Clemente hit over .340 on five different occasions and won four NL batting titles during his career, although his OBP was admittedly modest. While he wasn't a traditional power hitter by any stretch, Clemente had good power. Even though he played at the cavernous Forbes Field for most of his career, which was 365-ft to left, 406-ft to left-center and 457-ft to center, he finished with 240 homers overall. Clemente's fielding ability and arm are legendary. He won a total of 12 Gold Gloves and had one of the best throwing arms the game has ever seen.
Cobb was certainly one of the greatest players ever and probably would be a popular choice for the lone bench spot. He was one of the best hitters in baseball history and a very good athlete, possessing excellent speed on the bases and in the outfield. That said, Cobb was never really considered an elite defender as a result of an average arm and very mediocre fielding average for the time. Plus, let's face it, Cobb would probably be ticked off that I had him on the bench anyway. Just kidding... or not.
I thought about adding Gehrig's phenomenal bat, but first base isn't as important defensively as some other positions, and I already have Foxx there. What about, perhaps, one of the most complete players in baseball history in Ken Griffey, Jr.? He was probably the closest thing to Mays during the 1990s and 2000s, but his peak was during a time when the entire league had inflated numbers. He also played at the very hitter-friendly Kingdome, so the context argument was material for me.
I considered the ultra-consistent Aaron. I also contemplated adding the horribly underrated and intimidating Frank Robinson, whose best seasons are right there with Aaron and Mays. Both are great choices based on the criteria here. Each man possessed superior power at the plate, but I felt my lineup already had plenty of pop and the difference in Clemente's defensive superiority was meaningful enough to give him the edge. I just have this vision of Clemente coming into the game in the late innings and cutting someone down at the dish in a close contest as Bench applies the tag.
In any event, I went with Clemente off the bench because I think he could fill different needs if those needs should arise during the course of the game... especially if Mantle and Ruth partied too hard the night before and started to fade late in the game or if I needed to bring in Ruth from right field to face a batter or two from the bump.
Is it really that far-fetched?
Clemente's Ultimate Stat Line
Much like Mantle, it seems as if every card featuring Clemente is a popular one with collectors. That said, the Clemente card that has risen above all others is his classic 1955 Topps #164 rookie. Considered one of three key rookies in the set, along with those of Koufax (#123) and Harmon Killebrew (#124), the Clemente is the toughest and clearly the most valuable of the three.
For more information on Clemente's 1955 Topps #164 rookie, please visit http://www.psacard.com/CardFacts/Item/24758/roberto-clemente-1955-topps-164-baseball-cards
• • •
There it is... my ultimate All-Time Baseball lineup. Of course, as I was writing this, I struggled through the selection process. The game of baseball and the hobby are ever-evolving things. If you ask me to go through the same process a month, a year or five years from now, who knows what my team might look like at that point in time. For now, I'm rolling with this fantasy team and feel pretty good about my chances.
It's always fun to build customized hobby lists from scratch. Whether the readers agree with all, some or none of the picks above, hopefully this will help inspire collectors to create lists of their own. Whether you collect rookie cards, like some of those featured in this article, or memorabilia like autographs or professional model bats, starting with The List is a key to collector happiness.
So, which names would get a roster spot on your All-Time Baseball lineup?