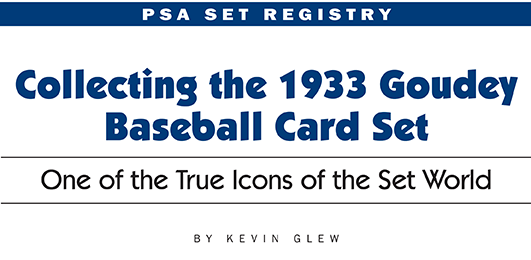 "What a baseball card set!"
That's how the authors of the 1933 Goudey "Big League Chewing Gum" card backs might summarize this ground-breaking set if they were still alive today. If you read these card backs, you'll quickly discover that the scribe was prone to exclamations that read like outbursts from an excited fan.
"What a ballplayer!" is the first sentence on the back of Kiki Cuyler's card (#23).
"What second baseman!" begins the second paragraph on Max Bishop's single (#61).
And understandably, Lou Gehrig's card backs (#92 and #160) include the phrase "What a hitter!"
This folksy commentary is part of the appeal of this set. Through the biographical information on the card backs, we're able to see just how much Major League Baseball has changed since 1933. The text takes us back to a time when spitballs were still tolerated, players had offseason jobs and a 6-foot-1, 200-pound pitcher was labeled a "big fellow."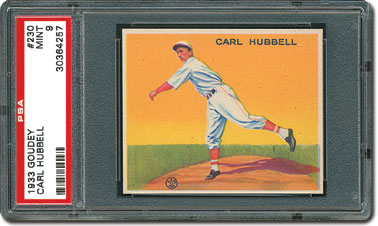 And you can't help but be charmed by the player descriptions. For example, according to the author, New York Yankees pitcher George Pipgras (#12), "used to be wild as a hawk" before he conquered his control issues. And nervous pitcher Phil Collins' biography (on card #21) offers this visual: "They call him 'Fidgety Phil.' He hitches his trousers, pulls at his cap and tramps around the pitcher's box, before delivering the ball."
---
Offseason Jobs
With the average annual major league salary exceeding $4 million today, big league players don't have to worry about finding work in the offseason, but that was not the case in 1933. If you read the backs of the 1933 Goudey cards closely, you'll see what some of these players had to do to make additional income. Here's a summary of some of their offseason occupations:

#9 Dave Harris - A sheriff in his hometown of Greensboro, N.C.

#40 Taylor Douthit - Insurance salesman.

#43 Lew Fonseca - "Could earn his living as a singer if he weren't in baseball. Has sung in vaudeville in Winter months."

#111 Monte Weaver - "If his pitching arm ever goes back on him, Monte Weaver won't need to worry, for he has served as a college professor at the University of Virginia."

#148 Eddie Farrell - A registered dentist.

#201 Ernie Orsatti - "If Ernie Orsatti, the St. Louis Cardinal outfielder, ever decides to give up baseball, he could make a living in the movies, for he has already played before the flicker lights."
---
While many of today's hurlers employ an elaborate pre-pitch ritual, it's safe to say that none of them involve hitching their trousers.
And while much has been made of the beauty of the fronts of the 1933 Goudey cards - and rightfully so - the backs should also be celebrated for the fascinating details they offer of a bygone era.
The 1933 Goudey set revolutionized the baseball card industry. It was the first major issue to use baseball cards as an incentive to sell gum, and the quality of the cards was a giant step up from previous tobacco and candy efforts. Enos Gordon Goudey, a Canadian who moved to Boston, eventually started a gum company in 1919. For a short period, Goudey's treasurer was Harold C. DeLong, who was not only good with numbers but was also a strong creative force.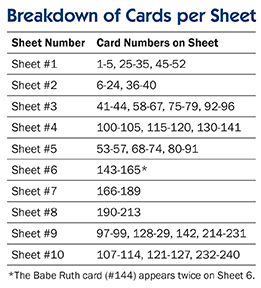 While Goudey actually sold the company by April 1932 and DeLong was no longer employed by the company at that time, it's likely that this duo had considerable input into the design and production of the 1933 Goudey offering.
"The 1933 Goudey set has always been considered one of "The Big Three," along with the 1909-11 T206 and 1952 Topps Baseball card issues," said PSA president Joe Orlando. "The set is also one of my personal favorites. To begin with, the combination of its visual appeal and the incredible selection of Hall of Famers helps make it one of the most attractive overall sets ever produced."
"The colorful artwork captures so many of the biggest names in baseball history, which includes more than one card each of legendary sluggers like Lou Gehrig, Jimmie Foxx and Mel Ott to name a few. Furthermore, it always helps when a set offers some key rarities, so the #106 Napoleon Lajoie card simply adds to the intrigue of an already terrific set. Finally, to me, Babe Ruth will always be the greatest name in all of sports. So, when you have a set that is anchored by four different Ruth cards, it doesn't get much better than that. This set, in my opinion, truly has it all."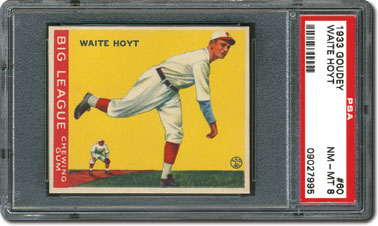 Like the Indian Gum cards released by Goudey earlier in 1933, these singles measure 2-3/8" by 2-7/8" each and were the most colorful baseball cards that had ever been released. They were produced on more durable stock than the preceding tobacco and candy issues. Although, the first two 1933 Goudey sheets (which housed cards #1-40 and #45-52) were printed on lower grade stock. As a result, cards from these sheets are more difficult to find in top condition.
The white-bordered fronts of the 1933 Goudey Baseball cards present a color art reproduction of a portrait or action picture. The bulk of the images are displayed vertically, but there are four cards - Fred Schulte (#112), Rogers Hornsby (#119), Glenn Wright (#143) and Carl Hubbell (#230) - that employ an eye-catching horizontal format.
The quality of the pictures and bright background colors give these cards tremendous eye appeal. The player's name is indicated in black across the top, and cards from sheets one through seven (see accompanying chart) have the words "Big League Chewing Gum" in a red banner across the bottom. Singles on sheets eight through 10 did not exhibit this branding.
The vertical backs offer green text on a gray background. The card number, player name and team name are highlighted at the top above biographical information. An advertisement which states that the card is "one of a series of 240 Baseball Stars" ensues.
The cards don't follow any set sequence, although there are several instances where players from the same team are grouped together. The last 11 cards (#230 to #240), for example, are devoted to the 1933 World Series-winning New York Giants.
All 16 major league teams are represented in the set. With 30 cards devoted to the Washington Senators, they are the most represented team, while the Detroit Tigers (seven cards) garnered the least attention (see accompanying chart).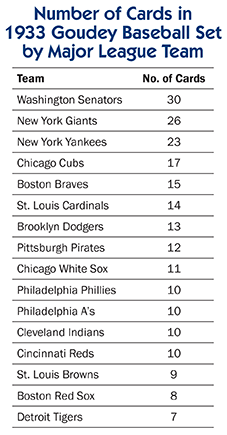 There are also 15 cards of players from 14 different minor league teams from the International League, American Association, Southern Association and Pacific Coast League. The bulk of these cards are in two clusters (#85 to #90) and (#174 to #177).
The 1933 Goudey cards were printed on 10 sheets with 24 cards on each that were released throughout the season. According to Marshall Fogel, the printing of these sheets was outsourced to an unnamed company in Springfield, Massachusetts. Because several cards on sheet #10 - the final sheet - mention events from the 1933 World Series, it's safe to conclude that these cards were not issued until after October 7, 1933, the date of the last game of the Fall Classic.
These trailblazing pasteboards were issued in penny packs with a slab of gum. The United States was still mired in the Great Depression when these cards were released, but Fogel believes that these cards were popular in the areas where they were available. Nonetheless, he doesn't believe that they were distributed as widely as the T206 cards.
Ambitious youngsters were stumped, however, when they tried to find card #106 to complete their 240-card sets. Though Goudey never fessed up to it, it's widely believed that the company left this card out to trick collectors into buying more packs. After receiving complaints, Goudey directed collectors to write to the company if they were looking for the card, and in 1934, they produced a Napoleon Lajoie card with the No. 106 on the back.
The Lajoie card showcased the 1934 Goudey front design but a 1933 back design, and it was mailed out to collectors who requested it. Unfortunately, when Goudey mailed this card, they sometimes paper-clipped it to a letter which damaged the card. Even though this card was not widely distributed, a surprisingly decent number have been uncovered in top condition. There are nine PSA MINT 9s, one PSA NM-MT+ 8.5 and seven PSA NM-MT 8s. One of the PSA 9s fetched $118,500 in a Robert Edward Auctions sale in May 2012.
One example of card #106 has also been uncovered that features Leo Durocher. Hobby pioneer Woody Gelman reportedly obtained this card directly from a contact at Goudey. The card, which was later owned by storied collector Barry Halper, appeared to have been hand cut, so it was likely a pre-production proof.
There's no question that Goudey employed some savvy marketing strategies to sell this product. Not only did the company make collectors search fruitlessly for the Lajoie card, but they also included four Babe Ruth cards. Of the four Bambino cards, #53 and #149 have the same image but different colored backgrounds. Card #53 has a yellow background, while #149 boasts a red background.
They are also the set's two most difficult Ruth cards to obtain in pristine condition (see accompanying chart). Just 16 examples of card #53 have been graded PSA 8 or higher, while 21 of card #149 have been deemed PSA 8 or better. One PSA 8 of card #149 garnered $66,000 in a Memory Lane, Inc. auction in January 2015.
Card #144 presents a full-length image of Ruth, but this card appears on sheet #6 twice (once in place of card #106), making it a double print. So it's not surprising that this card has been submitted to PSA more than any other Ruth single in this issue. Of the 1061 evaluated, 36 have received grades of PSA 8 or better. One PSA 8 fetched $28,880.60 in a Mile High Card Company auction in March 2015.
The final Ruth card (#181) fashions a non-action shot of the "Sultan of Swat." This is the easiest Ruth single from this series to obtain in top condition. Thirty-nine have been graded PSA 8 or better. One PSA 8 commanded $28,524 in a Mile High Card Company auction in March 2015.
Ruth's Yankee teammate Lou Gehrig is also featured on two cards (#92, #160). Though both cards are often found with focus and print issues, card #160 is more elusive in flawless form. Of the 625 submissions of #160, there have been two PSA 9s, two PSA 8.5s and 14 PSA 8s.
Philadelphia A's slugger Jimmie Foxx (or "Jimmy" as he's listed in this issue) is also highlighted on two cards (#29, #154). Because it was printed on lower quality stock on the first sheet, card #29 is the tougher card to find in mint shape. There has yet to be an example grade above PSA 8. One of 14 PSA 8s sold for $21,488.80 on eBay in April 2015.
Several other Hall of Famers also have multiple cards in this issue, including Joe Cronin (#63, #109, #189), Heinie Manush (#47, #107, #187), Rogers Hornsby (#119, #188), Mel Ott (#127, #207) and Goose Goslin (#110, #168).
By my count, there are 63 cards in total that feature Hall of Famers in this set. Among the other Cooperstowners represented are Dazzy Vance (#2), Bill Dickey (#19), Bill Terry (#20), Pie Traynor (#22), Paul Waner (#25), Tony Lazzeri (#31), Eddie Collins (#42), Mickey Cochrane (#76), Tris Speaker (#89), Lloyd Waner (#164), Lefty Gomez (#216), Lefty Grove (#220) and Dizzy Dean (#223).
The Vance card (#2) has proven to be the most elusive Hall of Famer single in top condition. Not only was this card printed on inferior stock on the first sheet, it was also subjected to additional wear and tear by being near the top of collector piles. There are just 12 PSA 8s (no PSA MINT 9s or PSA GEM-MT 10s). One PSA 8 sold for $16,214.20 in a Mile High Card Company auction in December 2014.
But the card positioned just before Vance in this set is even more difficult to track down in near-mint-to-mint or better condition.
"This set begins with one of the more iconic No. 1 cards, Benny Bengough, in the entire card collecting world," noted Orlando. "The Bengough probably ranks a close second, slightly behind the 1952 Topps Andy Pafko in that regard."
Like the Vance card, the Bengough was also printed on the first sheet and was subjected to abuse being on top of collector piles. It's also regularly found with poor centering. Of the 424 submissions, there has been one PSA 9, one PSA 8.5 and six PSA 8s. One PSA 8 sold for $26,662.50 in a Robert Edward Auctions sale in May 2013.
With just five PSA 8s (and nothing grading higher), the aforementioned Pipgras card (#12) has proven to be the toughest to find in top condition. It, too, was printed on the first sheet. With just seven and six PSA 8s each respectively (and no examples grading higher), the Bob O'Farrell (#34) and Joe Moore (#231) cards are the second and third most evasive pasteboards in near-mint-to-mint grade.
The editorial quality control was pretty high on this set. The only error that was corrected was on the Jimmy Dykes single (#6). The first version of his card stated that his age was 26. This was later changed to his correct age (36). Also, on card #219, George "Mule" Haas's last name is misspelled "Hass" on the front, however, this wasn't corrected.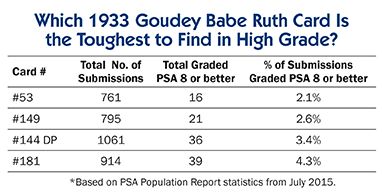 Due to the primitive printing process at the time, you can sometimes find cards with varying shades of background colors, and there have even been cards uncovered where the text on the back appears to be aqua blue rather than green. And aside from the inferior quality stock employed on the first two sheets, these cards are regularly found with spotting due to their age.
But the challenge of finding these cards in high grade only enhances the set's appeal for collectors. This is a set that revolutionized the way baseball cards were designed and distributed, and it continues to rank as one of the best baseball card sets ever produced.
This set is so good, in fact, that if the author of the card backs were still alive today, they would likely look at the cards and exclaim, "What a baseball card set!"
---
Spitballers
The spitball was outlawed by Major League Baseball in 1920, but the pitchers that were throwing it prior to this regulation were allowed to continue throwing it. There are three pitchers in the 1933 Goudey set that are identified as spitballers on their card backs.

#64 Burleigh Grimes - "Spitball pitcher and a great one."

#78 Jack Quinn - "One of the few remaining spitballers in the big show."

#79 Urban (Red) Faber - "One of the few spitball pitchers in the big league. Claims a spitball is easier on the arm than a curve."
---
For more information on the 1933 Goudey Baseball card set, please visit http://www.psacard.com/CardFacts/Set/134/1933-goudey-baseball-cards.
---
Please feel free to contact Kevin Glew at [email protected] if you have any additional information or comments. Please note that the Population Report figures quoted are those as of July 2015.