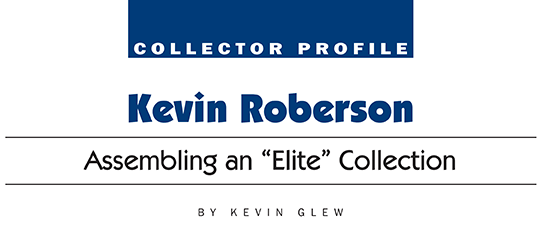 For over 15 years, Kevin Roberson has been building an "elite" basketball and football card collection on the PSA Set Registry.
During that time, the affable Sacramento native, who goes by "elitecards" on the registry, has tracked down and acquired some of the hobby's most coveted, high-grade rookies.
"I've always been a perfectionist," said Roberson. "PSA NM-MT 8s don't excite me that much, but having rare PSA GEM-MT 10s really excites me."
On top of owning PSA 10 rookies of legends like Michael Jordan, Walter Payton, Joe Montana and Jerry Rice, Roberson also possesses the sole PSA 10 Nate Archibald and Dave Cowens rookies. And his greatest accomplishment might be that he has secured these cards without an unlimited budget.
"I am by far not the richest guy out there doing this [i.e., collecting]," said Roberson. "I'm an Office Depot store manager. So for me, it has been about contacts and networking. You can put together a collection like this in two ways: you can be super rich, throw a lot of money at people and get anything you want, or you can network and build relationships with people so that they call and offer cards to you. I've done a lot of networking. I think that most people who collect basketball or football cards on the registry know who I am."
But someone who has known the 49-year-old hobbyist since he was a child might be surprised to learn that he's so passionate about collecting sports cards. After all, when Roberson was growing up in California's Central Valley in the 1970s, he wasn't even a sports fan, let alone a card collector.
"I wasn't like a lot of guys on the registry that started collecting as a youngster," he explained. "I actually started getting into collecting in my mid-twenties. And it just started out as a basic interest. I got into [collecting] probably back in 1989."
At that time, Roberson was working as a store manager at Circuit City after attending Fresno State University.
"I went into a Big 5 Sporting Goods store and they had a pack of cards there. That kind of intrigued me, so I bought one pack and the rest is history," said Roberson. "I kind of got hooked on the chase and then I started buying more packs."
He initially collected baseball cards and remembers looking for a Rickey Henderson rookie and the Donruss Elite inserts of the early 1990s.
"I can remember opening up boxes and boxes trying find those Donruss Elite cards and I can tell you I never found one," he said with a chuckle. "But it was still fun."
He also noticed that most people at card shows were pursuing baseball cards.
"I've always been one who enjoys collecting rarities, so what I quickly figured out is that everybody has baseball cards and that's when I decided to shift my focus towards football cards, and especially basketball cards," said Roberson. "I just found that not as many people were collecting those sports."
By the mid-1990s, he had amassed a huge quantity of cards, and at one point, he even bought out a card shop.
"There was a time when I probably had 500,000 cards, but those 500,000 cards weren't really worth much," he said. "I quickly realized that it was best to have better quality cards, so I decided to go with quality instead of quantity."
By this time, Roberson had also become a big Michael Jordan fan, and when the NBA announced its top 50 players of all time in 1996, he decided to make that the focus of his collection.
"I started to buy the rookies for the NBA Top 50 set in the highest grade that I could get them in," said Roberson.
But even before this, Roberson had begun submitting cards to PSA.
In those days, Roberson always found card shops' grading practices "very interesting." One day they would sell you a Michael Jordan rookie as a mint card, but if you went back the next day with the same card, all of a sudden it was near-mint, recalled Roberson.
"So that's really where I saw the value of the PSA-graded cards initially and that's why I thought [third-party grading] was the way to go. And then after I got into buying the high-end cards, it gave me the security of knowing that the card had been certified by a credible third-party service."
Roberson worked diligently to build his NBA Top 50 Rookies set on the PSA Set Registry and he came within a 1957 Topps Bill Russell card of completing it.
"It took me about three or four years [to compile that set], and then something else came along and I ended up selling every single card," he explained. "Six months after I sold every card, I regretted it and I started the challenge again. I rebuilt the set in higher grade than I initially built it and that's basically the set I have today. The only card I'm missing is the 1961 Fleer [Wilt] Chamberlain."
Roberson's set is currently ranked second on the PSA Set Registry.
Like most hardcore collectors, once Roberson only needed a few cards to complete his set, he started looking for a new challenge. So in 2011, he began amassing the Basketball Hall of Fame Rookies set on the registry. Four years later, through tenacity, networking and some aggressive bidding, he now owns the registry's No. 2 set.
On top of the aforementioned one-of-one PSA 10 Archibald and Cowens rookies, Roberson's Hall of Fame set also boasts a PSA 8, 1933 Sport Kings Nat Holman (#3), a PSA 9, 1933 Sport Kings Joe Lopchick (#32), a PSA 8, 1948 Bowman George Mikan (#69), a PSA NM-MT+ 8.5, 1957 Topps Bill Russell (#77) and a PSA 9, 1961 Fleer Oscar Robertson (#36).
Last year, with the Hall of Fame set all but complete, Roberson began working on the 1957 Topps Basketball set.
"I'm three cards shy of finishing that [set] in PSA 8 or better," he said.
On the football side, Roberson's interest in PSA-graded football cards began after he met San Francisco 49ers legendary receiver Jerry Rice.
"Back in 2000, one of my managers at Office Depot was pretty good friends with Jerry Rice and he knew that I enjoyed football, so he invited him out to the store," said Roberson.
Roberson remembers Rice and basketball player Mitch Richmond cruising up to the store in a Cadillac Escalade.
"I was like a little kid. I was all excited and he gave me a signed football," said Roberson. "About a week later, he came by again and we went to lunch, and that was quite an experience going to lunch with Jerry Rice."
Those interactions inspired Roberson to collect the 1986 Topps Football set, which contains the Rice rookie. His set is now No. 1 on the PSA Set Registry and boasts an incredible 9.99 GPA.
"That set is 11 cards shy of being a perfect [PSA 10] set," he said.
Roberson has since built several 1970s and 1980s football sets that rank at or near the top of their respective registries, but he has recently started selling some of these.
"I've moved my direction from set collecting to focusing on just Hall of Fame and key rookie cards," he said.
Not surprisingly, his PSA 10 Rice rookie is one of his favorite cards.
"For me, there's a difference between a favorite player and a favorite card because there are some cards that are truly rare," said Roberson. "I think one of my favorite cards is my 1933 Sport Kings Joe Lopchick. That card was really tough for me to find in a PSA 8. I looked a long time for that card in PSA 8 and I never found it, but I did find a PSA 9."
Other favorites in his collection are his Mikan, Russell, Robertson and Archibald rookies. He also particularly prizes his PSA 10, 1974 Topps George Gervin rookie (#196) and his PSA 10, 1986 Fleer Michael Jordan (#57) rookie.
"Of my football cards, I really love my Walter Payton [PSA 10] rookie and I'm pretty fond of my [PSA 10] Montana rookie," he said. "And probably my favorite card is my 1986 Topps Steve Young [PSA 10]."
Roberson says he'll be looking for a new registry challenge soon. The Football Hall of Fame Rookies set, 1933 Goudey Sport Kings and 1971-72 Topps Basketball sets are three sets that intrigue him.
"This whole thing is about the chase," he said. "Once you get the sets done, you're like, 'Okay, what's next?'"
And of course, he's always looking to upgrade his sets, something that he has been successfully able to achieve in the past thanks to his connections on the registry.
"What I like about the registry is the competitiveness because I'm a very competitive individual," he said. "I also really like the networking that's involved. I just like the fact that it allows you to meet other collectors, make friends and build relationships."
Speaking of relationships, what does his wife, Cynthia, think of his collection?
"We got married back in 2000, and when I first started, she wasn't really fond of [my hobby] because she saw an awful lot of money going out of the checking account and no money going into [it]," Roberson admitted. "But what she has discovered, even though I'm not necessarily selling my cards, is a visible increase in the value of the cards. So she sees it as an asset. You can't [participate in] this hobby unless your wife is supportive, because it gets too expensive."
Roberson's 12-year-old son, Brandon, is also starting to show an interest in his collection. This excites Roberson because he hopes to hand his collection down to his son in the future.
"Unless I get to a point where I can't pay for my next meal after I'm retired, I don't plan on selling these [sets]," said Roberson. "Ultimately, they'll be Brandon's cards."
But for now, Roberson continues to enjoy adding to his "elite" collection.
"For me it's a passion," he said. "I have no intention of selling these cards, unless I have to."
---
Thanks to Kevin Roberson for providing cards for this article. Please note that the Set Registry rankings reported are those as of June 2015.