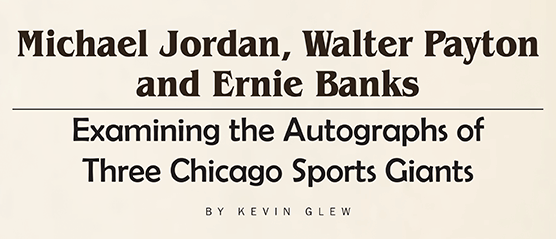 If Ernie Banks was "Mr. Cub," then surely Michael Jordan is "Mr. Bull" and Walter Payton was "Mr. Bear."
These three sports legends are the greatest players in the history of their respective Chicago franchises, so it's not surprising that there is significant demand for their autographs. Sadly, with Banks' death in January of 2015, Jordan is the only surviving member of this trio, but it's his signed items that continue to command the most interest.
"Jordan is no doubt the most coveted [of the three]," said PSA/DNA's principal authenticator, who's also a Chicago native. "He transcended Chicago sports like no other person has or ever will again."
Dr. Steve Stryker, who lives in Chicago and has autographed items from each of these greats in his collection, agrees.
"Michael Jordan is just iconic," he said. "Whenever I traveled around the world in the 1990s and early 2000s, people everywhere would say, 'Oh, you're from Chicago.' Then they'd say, 'Michael Jordan.' He's symbolic of Chicago to many."
Veteran PSA Set Registry enthusiast Jay Toomey, whose collection also boasts autographs of all three, shares a similar perspective.
"Jordan is by far the most desirable," he said. "He's probably the most marketed, celebrated and accomplished."
On top of six NBA championship rings, Jordan also holds the career record for most points per game during the regular season (30.12) and playoffs (33.45). He was also a five-time NBA MVP and 14-time All-Star who won two Olympic gold medals (1984, 1992) and 10 NBA scoring titles.
Not bad for a player that couldn't crack his high school team as a sophomore. But that slight is largely responsible for his competitive fire, and it helped him earn a basketball scholarship to the University of North Carolina (UNC). In the 1982 NCAA championship game, Jordan sank the winning shot against Georgetown as a freshman.
Following his junior year, Jordan would enter the NBA draft and was selected third overall by the Bulls. Chosen after Hakeem Olajuwon (Houston) and Sam Bowie (Portland), Jordan wasn't projected to be an offensive force, but he quickly proved his detractors wrong by scoring 28.2 points per game in his rookie campaign.
From there, Jordan proceeded to revolutionize his sport. His dunks became posters and his affiliation with Nike made his shoes must-have footwear around the world.
Jordan's autograph is not rare, but the demand for his signature still outweighs the supply. His college signature, however, can be challenging to track down. When he was at UNC, his signature was tidy and simple and you could read every letter of his name. Items bearing his college signature command a premium today.
The lead PSA/DNA authenticator says Jordan was an accommodating signer early in his professional career.
"I started to get Jordan in person during the 1986-87 season, and he was a great signer," recalled the PSA/DNA autograph expert, who generally scored his autographs at team functions that he attended with his cousin, a season ticket holder.
He also remembers tracking down Jordan at the Bulls' training complex in Deerfield, Illinois.
"I think the best time ever was during the 1988 season, and I remember it was cold that day - it had to be in February. My brother and I went up there early and waited for the guys to come out, and basically we just wanted Jordan," the authenticator reflected.
"I remember I had a Ford Bronco, and I had all these posters, most of which were dry mounted, and we parked next to Jordan's Corvette. When he came out, I remember that a few ladies gave him some cookies and then we asked him to sign. He threw his stuff in his car, started it and came over to my car where we had the back gate down. And he signed - he signed whatever we had."
PSA/DNA experts further note that fans who wrote to Jordan care of Nike or care of the Bulls in the mid-1980s to early-1990s sometimes received a stamped signature, while those that contacted Jordan care of his foundation were sometimes sent a photo with an autopen signature or their item was signed by a secretary.
"Many people used to send him cards in the mail to sign via his foundation in Chicago and those were often signed by a secretary," adds the PSA/DNA authenticator.
Around 1991, Jordan also stopped signing as regularly in person.
"The last time I really got him in person after a practice was in 1991 after the Bulls' first championship," said the authenticator. "After that, he was a very difficult signature to obtain. He rarely signed in person."
In 1992, Jordan inked a deal with Upper Deck which secured the rights to his autograph on cards and memorabilia for the company. His contract was extended this past March and many of the authentic Jordan items on the market today originate from Upper Deck.
PSA/DNA states that the style of Jordan's autograph has changed over the years, but his signatures for Upper Deck have remained "pretty consistent."
"His in-person signature, which once contained every letter and was flowing and beautiful, is now a little less legible and that just happens over time," said the PSA/DNA expert. "He still has a nice signature. His 'M' is always the distinctive feature."
Depending on what has been signed, Jordan's autograph can command hundreds to thousands of dollars. For example, a signed 1986 Fleer rookie graded Mint 9 by PSA sold for $14,129 in a Heritage Auction in 2015, while a pair of signed game-worn Nike Air shoes (the first ever pre-Air Jordan shoes to be sold in the hobby) authenticated by PSA/DNA commanded a whopping $71,553 in a SCP Auctions sale this spring.
With his autographs realizing such huge sums, it's not surprising that Jordan's signature regularly ranks in the top five of PSA/DNA's annual "Most Dangerous Autographs" list. PSA/DNA estimates that 75% of the Jordan autographs submitted to PSA/DNA are not authentic.
"You would be amazed at the Jordan items we get submitted to us on a regular basis," says PSA/DNA. "The counterfeit ones are usually poorly done, and there are so many of those. Then there are the decent fakes, the ones that are really intended to fool collectors, but those are easy to spot [for experts]."
For more information on Michael Jordan autographs, please visit http://www.psacard.com/AutographFacts/AutographDetail/54/michael-jordan.
To a lesser extent, collectors have to be wary of Walter Payton forgeries.
One of the greatest all-around running backs in NFL history, Payton didn't even play football until his junior year in high school. He later attended Jackson State University and the Chicago Bears selected him with their first pick (fourth overall) in the 1975 draft.
Starting in his sophomore NFL campaign, Payton topped the league in rushing attempts for four consecutive seasons and transformed the Bears back into contenders. In all, in his 13-year professional career from 1975 to 1987, Payton eclipsed the 1,500 yards from scrimmage mark ten times. He also landed a spot on the NFL's All-Pro First Team five times, played in the Pro Bowl nine times and he earned a championship ring in Super Bowl XX.
At the time of his retirement, he held NFL records for most career rushing yards and touchdowns. For his efforts, he was inducted into the Pro Football Hall of Fame in 1993. Sadly, Payton passed away just six years later from a rare liver disease and bile duct cancer when he was just 45.
Though he died at a young age, Payton signed a lot of items during his lifetime. PSA/DNA says the only truly rare Payton autograph would be something from his college days.
"I've seen a handful of autographs [from his college days] and that 's it," said the lead PSA/DNA authenticator. "I own one. I have a nice album page signed by him before he came to the Bears. I think an album page from his college days, compared to one from his pro days, would be worth five times more, easily."
During his professional career, Payton was a gracious signer.
"The guy was a machine," recalled the autograph authenticator. "He was awesome. He was at car shows. He made local appearances. He was great with all of his fans."
He got Payton's autograph several times.
"I first met Payton in the late 1970s at the Chicago Auto Show," he recalled. "He was very nice, and I met him many times throughout his career and post-career."
Payton sometimes included his number (34) and his nickname ("Sweetness") with his autograph, and he would fairly consistently scrawl an attractive, full signature; however, there were times when he shortened it so he could sign for more people.
"He signed in a rushed manner at times during the mid-to-late 1970s, but by the early 1980s, he had his style down and he didn't change it much," explained the PSA/DNA expert. "His autograph was dominated by the 'W' in Walter - that was the most beautiful part of his autograph."
Following Payton's retirement, he formed a company that marketed his autograph to the masses.
"He did have a company that handled his appearances and his autograph requests," explained PSA/DNA. "He signed a large number of items for this company through the years, and we're seeing those come out from time to time in large quantities."
Payton items can command anywhere from under $100 for a PSA/DNA authenticated index card to several hundred dollars for a signed jersey. An autographed jersey with several inscriptions that was authenticated by PSA/DNA garnered $1,466.99 in May of 2015.
As noted earlier, there are counterfeit Payton autographs out there, but PSA/DNA says they aren't that difficult to discern.
"No one can do the 'W' [in his first name the way Payton did it] quite right," he said. "They also haven't been able to replicate how he wrote '34.' The bad ones are always easy to spot."
For more information on Walter Payton autographs, please visit http://www.psacard.com/AutographFacts/AutographDetail/79/walter-payton.
There haven't been nearly as many attempts to forge Banks' autograph because "Mr. Cub" signed so frequently in person, at card shows and in private signings.
"There are a lot of signed items out there for 'Mr. Cub,'" so they're easy to get at a reasonable cost," said Toomey.
Banks played 19 seasons with the Cubs and collected 2,583 hits, including 512 home runs. Competing in the National League against Willie Mays, Duke Snider and Frank Robinson, Banks captured two National League MVP awards (1958, 1959).
An ailing knee forced him to move from shortstop to first base in 1961, but he continued to be a prolific slugger, smashing 37 homers in 1962. Despite his heroics, however, the 14-time All-Star would retire without participating in the post-season. He was elected to the National Baseball Hall of Fame in 1977, and in 1982, his No. 14 was retired by the Cubs.
With this resume, combined with his enthusiasm, it's easy to understand why fans would want Banks' autograph in their collection.
"Throughout the time that I knew him and in the public settings that I saw him, he was very generous with his time," said Stryker, who has been one of the top Banks collectors on the PSA Set Registry and was a personal friend of his. "If someone asked him for his autograph, especially young children, he was very friendly with them. He was a very playful guy."
PSA/DNA says that Banks' rookie-era signature is particularly nice, but it shares many of the same characteristics as his more recent signatures. He adds that Banks' signature was "pretty much" the same from 1960 to the time of his death.
"He also signed his mail during his playing days, but he would also utilize a stamp [on and off throughout his career] to place his signature on items," said the PSA/DNA authenticator, who further noted that Banks used a stamp periodically in the 1970s as well.
Because Banks signed so much, many of his autographed items - including cards (non-rookie), photos and balls - can be picked up for under a $100 each. For example, a signed, PSA/DNA-authenticated Hall of Fame plaque postcard sold for $79.95 on eBay in April, while a model bat authenticated by PSA/DNA with several inscriptions fetched $119.96 in May.
Despite the relative affordability of Banks' autograph, there are still people who attempt to forge it.
So the bottom line is, if you're pursuing autographs of "Mr. Cub," "Mr. Bull" or "Mr. Bear," you should proceed with caution and educate yourself on what to look for before opening your wallet.
"Collectors have to be wary when they buy autographed items of these three legends," said the PSA/DNA expert. "My advice would be to buy items that have already been certified by PSA/DNA."
For more information on Ernie Banks autographs, please visit http://www.psacard.com/AutographFacts/AutographDetail/160/ernie-banks.
---
Please feel free to contact Kevin Glew at [email protected] if you have any additional information or comments. Thanks to Jay Toomey and Steve Stryker for their contributions.