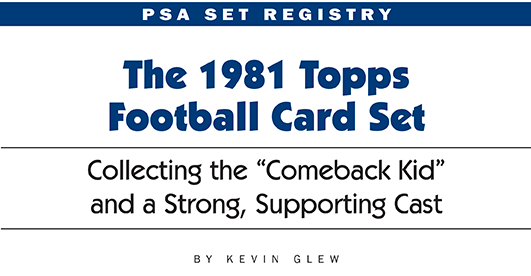 It's about more than just the Montana.
That's what hardcore gridiron collectors will tell you about the 1981 Topps Football set.
There's no question that the Joe Montana rookie (#216) is the centerpiece of this 528-card issue, but three other Hall of Famers - Kellen Winslow (#150), Art Monk (#194) and Dan Hampton (#316) - also debut in this offering.
"There are also some other rookies that have large collector followings, like Billy Sims," noted Roger Rumsey, co-owner of 4 Sharp Corners in Walpole, Massachusetts. "Dwight Clark and Mark Gastineau are also pretty big rookies, and you've still got some of the old-time Hall of Famers in there. You've got the last cards of Bob Griese, Joe Greene and Alan Page."
This strong combination of rookies and legends has helped make the 1981 Topps Football set one of the most desirable of its decade. The fronts of the white-bordered, player cards feature photos above a wavy pennant that boasts the team and player name. The player's position and a Topps logo are also showcased, and 1980 All-Pro players are designated as such by a black bar near the card bottom. This was also the last year that Topps airbrushed team logos out of the photos.
"It's a simple design, but it appeals to me," said Brian Long, who has been building his No. 4 Current Finest set on the PSA Set Registry since 2007.
The horizontal backs flaunt the player's name, position and card number inside a pennant situated at the top, followed by the player's vitals (e.g., Height, Weight, College, etc.) and, in most cases, year-by-year statistics and biographical information (if there's room). Some cards also have cartoons that illustrate a fact about the player.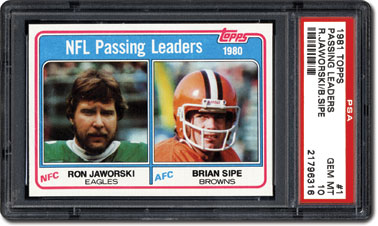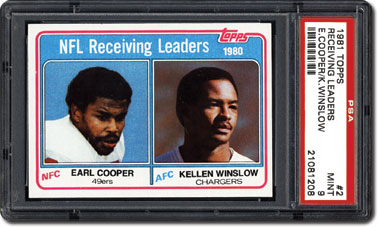 The 1981 Topps Football set houses several subsets, including League Leaders (#1 to #6), Record Breakers (#331 to #336) and Playoff cards (#492 to #494). Team Leader cards - which highlight each franchise's 1980 offensive and defensive leaders - are sprinkled throughout the set. And for the first time since 1972, "action" cards were included.
With the words "Super Action" emblazoned in red against a yellow background at the top, these cards exhibit action photos of some of the best players of the era. The backs feature the card number, player name, position and team above a large black football design that houses the words "Super Action." Some of the player's accomplishments are outlined below the football.
The 1981 Topps Football cards were distributed in 15-card/30-cent wax packs. Each pack also contained a piece of gum. Cards were also available in 27-card cello packs that sold for 49 cents, 36-card grocery rack packs, 48-card rack packs and 500-card vending boxes. A case of 24, 500-card vending boxes sold for $14,926 in a Collect.com auction in April 2014.
Of course, if you're cracking one of these vending boxes or packs today, you're hoping to pull a Montana rookie. So far, out of 13,051 submissions, just 79 have been deemed PSA GEM-MT 10s.
"We just got our first PSA 10 [in October 2014] and we submit a lot of cards," added Rumsey. "That's a legitimately tough card. There are print defects on that card, but for me, it's [difficulty] has more to do with [poor] centering."
Rumsey says they listed their PSA 10 on their website for $12,000 and within an hour it was sold for a slightly discounted price.
Of the four Hall of Famer rookies in this issue, the Hampton (#316), with just 11 PSA 10s, is the most elusive in pristine form. Not surprisingly, this card is located in the top row (third from the left) on the edge of a print sheet, a position that generally makes cards vulnerable to condition woes like miscuts.
 "Most of the Hamptons that I've seen have really, really bad centering problems," said Kevin Roberson, owner of the No. 1, 1981 Topps Football set on the PSA Set Registry.
Rumsey has had a similar experience.
"That card is just notoriously off-center with a ton of print defects," he added. In Rumsey's experience, you either get this card with poor centering or with print defects, sometimes even both.
With 75 and 43 PSA 10s respectively, the Winslow (#150) and Monk (#194) rookies are not difficult to uncover in high grade. In PSA 10, however, they can both fetch some pretty lofty prices. A PSA 10 Monk, for example, sold for $481 on eBay in October 2014.
As noted earlier, this set also boasts the rookies of several other well-known NFLers, including Vince Evans (#11), Charles White (#69), Billy Sims (#100), Mark Gastineau (#342), Dwight Clark (#422) and Eddie Murray (#440).
Just 11 PSA 10 Gastineau rookies exist, and because of the former New York Jet's larger-than-life persona, high-end examples of his rookies are widely sought after. A PSA 10 Gastineau commanded $399 on eBay in September 2014.
There are also only 10 PSA 10 Clark rookies, one of which garnered $649.99 on eBay in July 2014.
On top of the aforementioned Page (#160), Griese (#482) and Greene (#495), other Hall of Famers in this set include Jack Lambert (#155), Franco Harris (#220), Jack Ham (#235), Dan Fouts (#265), Steve Largent (#271), Terry Bradshaw (#375), Walter Payton (#400), James Lofton (#430), Ozzie Newsome (#435), Harry Carson (#475) and Tony Dorsett (#500).
Payton has both a "Super Action" single (#202) and a regular issue (#400).
"The Payton 'Super Action' card is a really tough card," said Rumsey. "There's an incredible action shot on that card. That picture is what you think about when you think of Walter Payton."
So far, there are just five PSA 10s, one of which sold for $600 on eBay in July 2014.
But tracking down some of the set's commons in immaculate condition has been the biggest challenge for collectors. One of the most elusive cards is the Wallace Francis (#51). There has yet to be a PSA 10 example and there are just three PSA MINT 9s. This card is located on the top-right edge of a print sheet, a position that often makes cards susceptible to condition woes.

Similarly, the Don Bass card (#347) is also evasive in top grade. With just 11 evaluated, it's the least submitted card from this set. There have been three PSA 10s and five PSA 9s. Like the Francis single, this card is also on the edge of a print sheet (first card on the left, second row).
One of the most difficult cards for Roberson to uncover in flawless form has been the Robin Earl (#501). Just 13 have been sent in to PSA and the three PSA 9s represent the highest graded examples. This card is located in the top row of a print sheet (third card from the right).
Among the general condition issues that plague these cards are miscuts (particularly diamond cuts), print defects, registration issues and smudges on the name plates.
"These cards are tough to find centered," said Long. "And the card stock wasn't what it is today. There are a lot of print defects, and quality control back in the day wasn't what it should've been."
Rumsey adds that the narrow borders on these cards make them hard to find centered.
These condition issues, combined with its strong selection of rookies and Hall of Famers - on top of the "Comeback Kid's" cardboard debut - should make this 1981 issue an even more desirable set in high grade in the future.
"In my opinion, it's the second-best football set from the 1980s," said Roberson. "I would even put it ahead of the 1985 Topps set…There might even be some that argue it's the No. 1 set of the 1980s. It's a good rival to the 1986 set in terms of star power."
 "With the Montana rookie, I think it's always going to be a sought-after set," added Rumsey. "But this set has four Hall of Famer rookies. That's pretty respectable. And it also has the rookies of a number of other key players that are not Hall of Famers. I think this set is going to be highly collected, even though many underestimate just how hard it is to put together in [PSA] 10."
For more information on the 1981 Topps Football set, please visit http://www.psacard.com/CardFacts/Set/78/1981-topps-football-cards.
---
Please feel free to contact Kevin Glew at [email protected] if you have any additional information or comments. Thanks to Kevin Roberson for providing cards for this article. Please note that the Population Report figures quoted and Set Registry rankings reported are those as of June 2015.