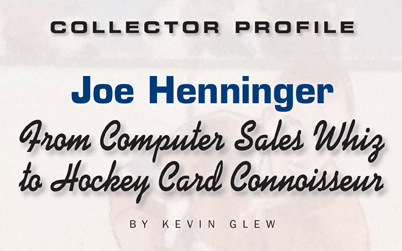 The roots of Joe Henninger's PSA Set Registry collection can be traced back to a squabble he had with his brother more than 20 years ago.
"I had a complete 1968 Topps Football set that I collected as a kid and I guess I'd forgotten about it. So one year in the early 1990s I went to my brother's house for Thanksgiving dinner, and we're all out there having a big turkey and my brother says, 'Hey, do you want to see my football cards?' I said, 'Yeah, sure' and he brings them out and it's my 1968 Topps Football set," recalled Henninger. "I said, 'Hey these aren't your cards. These are my cards.'"
His brother, Jim, who's a year-and-a-half younger than him, insisted that the cards were his, so to maintain the peace, Henninger offered to buy them.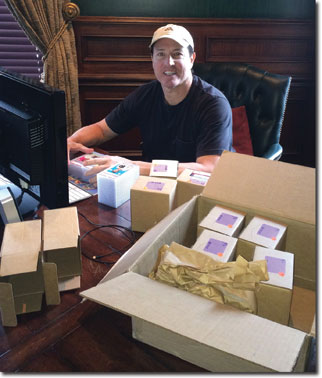 "I said, 'How much do you want for them?' and he said, '$350.' But I was thinking of offering about $20," remembered Henninger. "So I said, 'Forget that.'"
Disappointed that he couldn't work out a deal, Henninger went and found a card publication and bought a 1968 Topps Football set from a dealer for $300.
"I got the set and it was all these mint cards," he said. "It was perfect, except for the centering on some cards; so I ordered another set and pieced the two sets together, making an even better set. Then I was off to the races and I started buying all the sets that I could buy. And that's what got me into collecting again."
Henninger has long since buried the hatchet with his brother. In fact, the charismatic collector is now thankful that his brother kept that set.
"My brother not giving me back my football set really triggered my getting into this," said Henninger.
And by "this," Henninger is referring to his impressive list of PSA Set Registry sets. After beginning with the 1968 Topps Football set, he started stockpiling raw sets from all of the major sports, but he eventually shifted his focus to vintage hockey issues. He now possesses several of the registry's top hockey sets.
When he started collecting as a nine-year-old in Livonia, Michigan, Henninger couldn't have imagined that one day he would own some of the world's most highly coveted hockey cards.
The first issue he pursued as a kid was the 1968 Topps Baseball set and he remembers trading an "inch-and-a-half" thick pile of 1968 Topps Baseball cards for the Bill Robinson card (#337) that he needed to complete his set.
"There could've been a Nolan Ryan rookie in that pile," lamented Henninger.
Like a lot of boys in the 1960s and 1970s, Henninger and his brother, Jim, played sports outside with the neighborhood kids from morning till dusk. He was fortunate to live near Detroit, a city with four major sports franchises.
"I remember going down with my dad to the Lions games at the old Tiger Stadium and going to Tigers games," he said. "We also went to Pistons games and Red Wings games."
Henninger's dad and grandfather, both also named Joe, worked as engineers, and it was expected that the younger Joe would follow in their footsteps when he enrolled at Oakland University.
"I went to college and took my first computer class and it was the old punch cards," recalled Henninger. "I just couldn't get the hang of it. I just didn't like it. And I said to my dad, 'I just don't know about this engineering thing. I just don't like the computer part of it.' And my dad was like, 'You know, Joe, you're making a big mistake. There are always calls for engineers. You should stay with engineering.' And I said, 'I just can't do it.' So I switched into marketing and management."
While attending the university, Henninger also worked full-time hours at a car stereo shop. One day he sold a $1,000 stereo to a man named Larry White, who was so impressed with Henninger's sales skills that he offered him a position selling computers. Still a student who didn't like computers, Henninger declined, but after he finished at the university, he reconsidered and contacted White. He was hired by Inacomp Computer Centers soon after.

"I went into that job not knowing anything about computers," said Henninger. "I just studied an IBM brochure, and on the first day a guy walked in, and I didn't know what I was doing. I sold him a computer and I made about $500. And it was like wow - I was off to the races."
Off to the races is an understatement. In 1983, Henninger broke Inacomp's annual sales record by selling $1 million worth of computer equipment. His performance made headlines in Computer Dealer magazine and Apple's magazine dubbed him "The Million Dollar Man."
Henninger eventually opened his own computer business, and his sales figures continued to climb in the 1990s. At the same time, he continued to add raw sets from all of the major sports to his collection.
"Back then, no one really collected the common cards," he said. "They only collected the stars, so I was basically getting free rein of all of these commons."
During this period, he also discovered a 1968 hockey card with French on the back that he hadn't seen before. This turned out to be his introduction to O-Pee-Chee Hockey cards.
"It was kind of fascinating seeing these cards for the first time, so I started buying 1968 O-Pee-Chee sets like crazy," he said.
But it wasn't until 1997 that he bought his first PSA-graded card (a PSA NM-MT 8, 1986 Fleer Michael Jordan rookie). Shortly thereafter, he started to submit his own cards for grading.
Today, nearly 20 years later, Henninger owns several of the top vintage hockey sets on the PSA Set Registry, including the 1965 Topps, 1969 O-Pee-Chee and 1975 O-Pee-Chee sets. But it's his top-ranked 1968 O-Pee-Chee Hockey set that's the pride and joy of his collection.
Despite owning the sole PSA MINT 9, 1966 Topps Bobby Orr rookie, Henninger ranks Orr's 1968 O-Pee-Chee card (#2) as his favorite.
"It's just so hard to find in high grade," he noted. "It's much harder to find than his 1968 Topps card. The 1968 O-Pee-Chee card is always tilted, off-center or miscut."
There are just three PSA 9s (and no PSA GEM-MT 10s). One PSA 9 sold for $13,547 in a Mile High Card Company auction in December 2013.
The 1968 O-Pee-Chee Hockey checklist (#121) is another card that Henninger particularly cherishes. He owns the sole, unqualified PSA 9.
"That card is always off-center," said Henninger.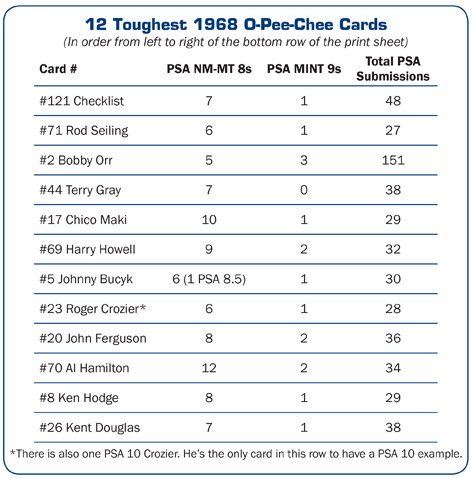 The tenacious hobbyist has an uncut sheet of the 1968 O-Pee-Chee Hockey series, and he points out that the checklist is on the bottom-left corner of that sheet and that the Orr is two cards to the right of it in the same row. Henninger soon discovered that 12 of the most difficult cards to track down in high grade from this series are all in that same bottom row (see accompanying chart).
It's become difficult for him to upgrade his 1968 O-Pee-Chee set, so he has moved on to even bigger challenges. Henninger is now attempting to amass every base set Topps Hockey card from the 1950s and every O-Pee-Chee card from the 1960s and 1970s. He ranks first on the registry in the Basic 1960s and 1970s O-Pee-Chee Run sets and second on the 1950s Topps Run.
"Right now, my biggest focus is trying to complete my 1970s O-Pee-Chee run. I'm down to 65 cards that I need. There are over 3,500 cards in that set," he said.
When Henninger sold his computer business in 2006, he thought he would have more time to work on his registry sets. But his entrepreneurial spirit got the best of him when his son, Joe, was looking for a house. While on the hunt, Henninger made some inquiries and was introduced to sheriff's auctions, and this has led to a successful second career flipping houses.
His new venture is called Blue Horseshoe Holdings and his friends have told him the name is fitting because he has been lucky over the years. Henninger, who also has a tireless work ethic, doesn't dispute that he's had some good luck in his life.
"I was kind of lucky getting into [card collecting again] because of my brother. I got into the flipping business because my kid needed a house," said Henninger, who has also invested in a combat optics company. "And then I went into the computer business because I ran across a guy who came into the [car stereo] store. So I've been really fortunate."
But he feels most fortunate about his family. He lives in Birmingham, Michigan, with his wife, Monica and his 16-year-old step-daughter Makayla. He's also very proud of his son, Joe and daughter, Dayna.
And his fellow collectors would also tell him that he's also lucky that his wife helps him with his collection.
"She's not at the card shows shopping or looking for cards or anything like that, but I can hand her a card, ask her what she thinks of it and she'll give me a grade," he said. "She has an eye for it."
Speaking of grading, Henninger's appreciation for PSA has grown over the years.
"PSA grading really lends credibility to the cards and I think my cards are graded fairly," he said.
The PSA Set Registry has also helped him connect with other collectors and he especially likes the PSA Shop Button that was recently introduced.
"I'm really trying to complete these big runs of cards and this new PSA Shop Button that they've instituted has really helped me out. I can hit one button and I can see all of the cards that are available on eBay or elsewhere that will upgrade my collection," he said.
"Before, if I wanted to upgrade my set that had 400 cards in it, it would take me forever to type in each number to see if there was anything out there. Now I can hit the [PSA Shop] button and it shows me the card and the price. It's a huge timesaver. I'm hooked on it."
The PSA Shop Button has helped Henninger improve some of his already hobby-leading sets and he has no plans to slow down.
"When I get my submission back of my 200 cards or so from PSA, that's probably the best part of it for me," he said. "I love getting the cards fresh back from PSA and then going through my registry sets to see which cards I can upgrade."
And for the joy Henninger now gets from his collection, he can thank his younger brother, Jim, who wouldn't return his 1968 Topps Football set more than 20 years ago. The squabble about that set has now become a running joke in his family.
"I'm thankful that my brother didn't give me back my set then and I started buying sets [in the 1990s], because it would cost me 10 times as much now to put together what I have," said Henninger.
---
Please note that the Population Report figures quoted and Set Registry rankings reported are those as of May 2015. Thanks to Joe Henninger for providing images for this article.