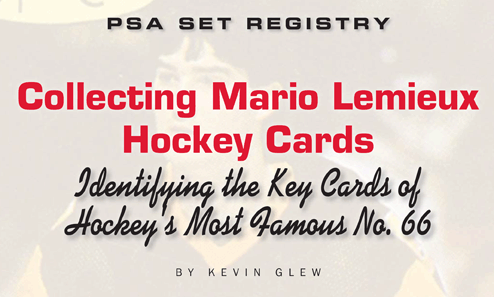 Hockey card collectors who witnessed Mario Lemieux's magnificence on the ice could probably give you several reasons why it's worth pursuing the legendary Pittsburgh Penguin's sets on the PSA Set Registry.
But the biggest reason might be that despite being one of hockey's greatest players, his cards, for the most part, remain relatively inexpensive compared to those of fellow 1980s superstar Wayne Gretzky.
"He is, was, and always will be my favorite hockey player and athlete of all time," said Tim Parish, who writes about his Lemieux collection on his hobby blog (http://dogfacedgremlin.blogspot.ca/). "Growing up outside of Pittsburgh during the 1980s and early 1990s, I had the privilege of watching 'Super Mario' play on a nightly basis on TV and seeing him live at the Civic Arena more times than I can count. The man was magic on the ice and he inspired me to become a hockey player (although that dream never materialized). So when I started collecting hockey cards exclusively in 1993, it was only natural to focus my collection on Lemieux."
Like Parish, Johnstown, Pennsylvania, native, Todd Bidelman, was also inspired to track down Lemieux cards after watching No. 66 dominate on the rink.
"When I watched him, he was just so much better than everyone else," said Bidelman, who didn't start following hockey until the late 1980s. "I think Lemieux is the best player of the generation that I got to see [play]. I didn't really get to see a lot of Gretzky."
Mike Giobbe, who owns the registry's No. 2 Lemieux Basic and Collector Issues set, also marveled at "The Magnificent One's" skills.
"When I watched Lemieux, I thought it was remarkable that a guy who was 6-foot-4, with that amount of reach, could skate and stick handle so well and just have such a great touch," he said. "I mean, he was not only a great scorer, but he was a great passer. When he was playing, they used to [jokingly] say that if your grandmother was on his left wing, she could score 40 goals. He made everybody around him better."
There's no question that Lemieux made the Penguins better. Selected first overall in the 1984 NHL Entry draft, the Montreal native landed with the bottom-feeding Pens, who were playing to less than half capacity at their arena. The 6-foot-4, 200-pound forward scored on his first NHL shift and proceeded to tally 100 points and earn the league's top rookie honors.
"The Penguins were a pretty lousy franchise for their first 20 years, but I stuck with him," explained Giobbe. "When they drafted Lemieux in 1984, it completely changed the team. He transformed them into something very entertaining and then eventually a winning team."
Lemieux's climb to the top of the NHL scoring leaders corresponded with the Penguins' ascent up the standings. In 1987-88, Lemieux notched 168 points to unseat Gretzky as the NHL's top scorer. For an encore, he tallied 199 points the following season and sparked the Pens to their first playoff appearance since 1982. Two years later, Lemieux led the Penguins to their first of back-to-back Stanley Cup championships.
But with back woes already plaguing him, the superstar center shocked the hockey world in January 1993 when he announced that he had been diagnosed with Hodgkin's lymphoma. Lemieux continued to play that season and in 22 games in the following campaign while undergoing radiation treatments, but fatigue would shut him down for the 1994-95 season.
Lemieux made a triumphant return in 1995-96 and reclaimed the NHL scoring title. He again topped the league in points in 1996-97, before announcing his retirement. At that point, the nine-time NHL All-Star had won six Art Ross trophies (as the league's top point scorer), three Hart trophies (as the league MVP) and had averaged almost two points a game. For his efforts, the Hockey Hall of Fame waived their traditional three-year waiting period and inducted him in 1997.
After Lemieux retired, the Penguins franchise again fell on hard times and declared bankruptcy in November 1998. The Pens superstar, who had deferred $32.5 million in salary over the years, was the club's biggest creditor. With the franchise destined to fold or move, Lemieux proposed to convert $20 million of what the Pens owed him into equity, which would give him controlling interest in the team. His proposal was accepted and he became the majority owner, president, chairman and CEO of the Penguins in 1999.
Not only did Lemieux forge a plan that turned the franchise's fortunes around, but he came out of retirement on December 27, 2000, and would play parts of four more seasons in the NHL. He hung up his skates for the final time in January 2006 when he was diagnosed with atrial fibrillation. He continues to serve as the co-owner and chairman of the Penguins. Now led by Sidney Crosby, the Pens won the Stanley Cup in 2009, making Lemieux the first person to have his name engraved on the Cup as both a player and an owner.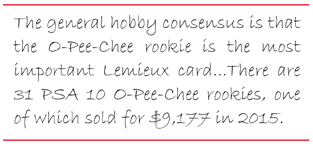 "To me, what he's done for hockey in the city of Pittsburgh is everything," said Bidelman. "I think he's an outstanding person for what he does. Sometimes players get themselves into trouble off the ice, but he just seems to be a great guy. And for someone who follows Pittsburgh sports, he's at the top for me - him and Roberto Clemente."
Parish holds Lemieux in similar esteem.
"I have never met Mario in person, although I tried to on a number of occasions when I was a kid and once as an adult," he said. "I'm sure he hears it all the time, but [if I were to meet him] I would tell him how much of an inspiration he was to me growing up, teaching me that there are no obstacles in this world that you can't overcome."
And judging by the passion with which a group of collectors are pursuing Lemieux's six sets - Master, Basic & Collector Issues, Basic O-Pee-Chee, Basic Topps, Master O-Pee-Chee and Master Topps - on the PSA Set Registry, Parish and Bidelman are far from alone in their affinity for "The Magnificent One."
Here's a rundown of some of the key cards of hockey's most famous No. 66:
1983 Canadian National Juniors Postcard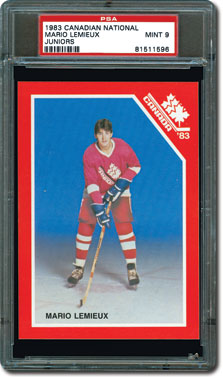 This unnumbered postcard was distributed in shrink-wrapped, 21-card team sets to commemorate the Canadian National Junior team's participation in the 1983 World Junior Championships in Leningrad, Russia. The 3-9/16" by 5" inch Lemieux card is the most coveted single in this set that also features pre-rookies of future NHL All-Stars Steve Yzerman, Dave Andreychuk, Pat Verbeek and Mike Vernon. The size of these cards made them difficult to store and their red borders chip easily.
"I have only seen this card in person once (technically twice, but that was in a boxed set)," said Parish. "Both times I couldn't touch it with the money I had available.
Bidelman owns a PSA MINT 9 example.
"The only good thing about the Lemieux is that when you open up the set, that card sits right around the middle," he explained. "So it's not on the end where it would get a lot of wear from all of the years of being bounced around."
There are only two PSA GEM-MT 10s and Memory Lane, Inc. sold one of them for $1,476.51 on eBay in July 2013.
1985 O-Pee-Chee Rookie #9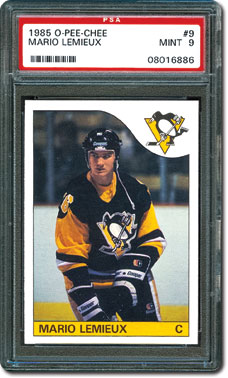 The general hobby consensus is that the O-Pee-Chee rookie is the most important Lemieux card.
"To get one that's nicely centered is difficult," said Giobbe.
Bidelman has had the same experience.
"I've opened 400 packs and I've probably pulled eight to 10 of his O-Pee-Chee rookies," he said. "At one time, I had six of them that I sent in [to PSA for grading] and five of them came back PSA 9 Off-Center (OC) and one PSA [NM-MT] 8."
Collectors also have to be wary of counterfeits. The best way to ensure that your card is authentic is to purchase it already graded and authenticated by PSA. However, if you're reviewing a raw card, the counterfeits will generally showcase fuzzier photos and less detailed graphics than the authentic examples.
There are 31 PSA 10 O-Pee-Chee rookies, one of which sold for $9,177 in 2015.
1985 Topps Rookie #9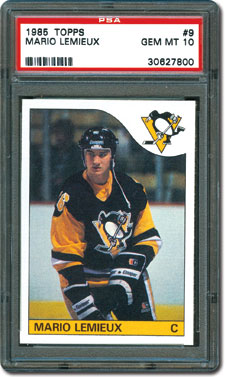 Bidelman says Lemieux's first-year Topps single is easier to find in top condition than its O-Pee-Chee counterpart.
"I've probably opened 500 of those [1985 Topps Hockey] packs, so I have those packs mastered," said Bidelman. "The Lemieux cards only came in the packs in two different ways: it either came on the back of the wax pack, where the back of the card would be stained, or it came right in the middle of the wax pack with a Gretzky card right in front of it."
There have been 51 PSA 10s.
Counterfeits have also been uncovered of Lemieux's Topps rookies. Hobby experts say one way to discern a fake is by examining the Penguins logo on the top-right corner. Under magnification, this logo should showcase solid black coloring. If the colors appear dotted, the card is likely a counterfeit.
1985 O-Pee-Chee and Topps Box Bottom cards
The bottoms of the 1985 O-Pee-Chee and Topps wax boxes feature one of four, four-player panels. Lemieux is showcased on a panel with John Ogrodnick, Gilbert Perreault and Glenn Resch.
"The early box bottom cards are definitely the toughest, in my opinion," said Peter J.T. Leonard, who has assembled the registry's No. 5 Current Finest Lemieux Master Set. "Most of the boxes were tossed out, and the majority of the remaining boxes were beat up. [Furthermore,] most people seem to cut the cards below 2-1/2" inches by 3-1/2" inches in size, which only permits them to qualify for a 'PSA Authentic' designation. The problem is that it's tough to obtain more than one nicely-cut card per box bottom. If you try to get four cards from a box bottom, then it is likely that none of the four cards will be nicely cut."
Of the 65 O-Pee-Chee Box Bottom Lemieux cards submitted, there have been four PSA 9s (with nothing grading higher).
The 1985 Topps Box Bottom Lemieux is similarly difficult to find in pristine condition. Just four PSA 9s exist and no PSA 10s.
1986 O-Pee-Chee #122
Some hobbyists contend that Lemieux's second-year O-Pee-Chee single is more elusive in flawless form than his rookie.
"His second-year card is especially difficult to find centered," said Giobbe.
Of the 460 evaluated, 146 cards are PSA 8s, two are PSA NM-MT+ 8.5s, 44 are PSA 9s and only eight are PSA 10s.
"The cards in the 1986 O-Pee-Chee regular set are generally tough [to uncover] in PSA 10, and centering is the issue," noted Leonard. "That year's design seems to make a card look off-center even when it is not."
1996 Select Certified Mirror Gold #10
Each of the 120 cards in the regular 1996 Select Certified set was also produced in a limited gold parallel version. The gold backgrounds on these cards distinguish them from the regular singles. One card from the Mirror Gold series was included in every 300 packs of the regular Select Certified product, so it's estimated that no more than 25 of the Mirror Gold Lemieux cards were manufactured. Seven Mirror Gold Lemieux singles have been submitted to PSA and five of them have been deemed PSA 10s.
1999 Upper Deck Century Legends - Jerseys of the Century Signed #JC5
This card carries the highest weighting in the Lemieux Master Set. One of the six-cards in the Jerseys of the Century offering was inserted in every 475, 1999 Upper Deck Century Legends packs. Lemieux signed 25 cards for this issue and only two have been graded by PSA, with a PSA 8 being the highest grade to date.
2001 Topps Mario Lemieux Returns Autographs (MR1 to MR5)
Sixty-six of each of the five cards that comprise this insert set were signed by Lemieux to commemorate his 2000-01 comeback.
"The excitement of that game was so deeply embedded in my memory that I was obsessed with getting this set," said Bidelman, who was at Lemieux's comeback game on December 27, 2000. "Mario autographed 66 of each card. There are cards MR1 through MR5 and they were randomly inserted into [Topps Hockey] boxes."
It took Bidelman years to track down all five cards.
"I think these are the rarest Lemieux items I own," said Bidelman, "because even though there are 66 of each of them, I've only seen six or eight of them in total."
---
Please feel free to contact Kevin Glew at [email protected] if you have any additional information or comments. Thanks to Tim Parish, Mike Giobbe, Chris Elias, Peter J.T. Leonard and Todd Bidelman for providing the images to go with this article. Thanks also to Bobby Burrell for his assistance on this article. Please note that the Population Report figures quoted and Set Registry rankings reported are those as of May 2015.