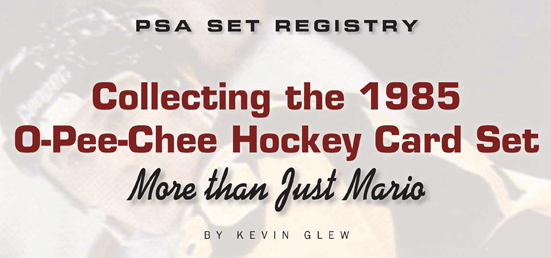 Hardcore hockey collectors can probably come up with 66 reasons why you should pursue the 1985 O-Pee-Chee set, but the biggest reason is No. 66 himself.
Mario Lemieux, who some argue would have broken many of Wayne Gretzky's scoring records if not for his health issues, makes his cardboard debut in this offering.
"I think the Lemieux rookie ranks, for sure, in the top 10 hockey rookies [of all time] and maybe the top five, depending on whom you're talking to," said James Wade, who owns the No. 1 Current Finest, 1985 O-Pee-Chee Hockey Set on the PSA Set Registry.
Frank Boutzis, who possesses the registry's No. 2 Current Finest, 1985 O-Pee-Chee set, agrees.
"The Lemieux rookie would definitely be in the top 10 [hockey rookies of all time]," he said.
The NHL's most famous No. 66 is also featured on a second card - a Rookie Scoring Leaders single (#262) - in this 264-card set. But while this set is best known for the Lemieux rookie, hardcore hockey hobbyists will tell you there are plenty of other reasons to collect it.
Unlike the 1984 O-Pee-Chee Hockey cards, the regular 1985 pasteboards showcase just one photo on their fronts.
"I really like the photos; they were close-ups of the players," said Dave Rose, who owns the No. 8 Current Finest, 1985 O-Pee-Chee Hockey set on the PSA Set Registry. "Not all of them were action shots, but they're so close up in some cases that you can read their lips,"
The team logo, player's name and position are also featured on the card fronts.
"It's a very simple and clean design," said Wade. "I like a really clean-looking card."
Boutzis also favors the design.
"It's very simple and understated, and the photos are good," he said.
The horizontal backs flaunt mostly blue text on a burgundy or pink background. The card number and player name are indicated in a stripe across the top, followed by the player's vitals, yearly statistics and biographical information in English and French (if there's room). The NHLPA, NHL and O-Pee-Chee logos run down the left side of the backs.
Rose has also uncovered a dark back variation of these cards that resembles the 1985 Topps Hockey backs. On these cards, the burgundy is closer to purple in color and the white background areas (e.g., behind the name, the card number and the logos) are gray. Rose speculates that the dark backs might have been a test run, or perhaps O-Pee-Chee simply ran out of their original stock. Although the dark backs appear to be quite rare, they don't yet command a premium.
Various reports suggest that the 1984 O-Pee-Chee Hockey cards were overproduced to the point that both the manufacturer and dealers had trouble selling all of their stock. This likely explains O-Pee-Chee's decision to make the 1985 set a barebones, 264-card issue, down from the 396 cards that comprised each of O-Pee-Chee's previous 11 hockey sets. The League Leaders cards (#257 to #264) are the only subset in the 1985 O-Pee-Chee offering.
And not only did O-Pee-Chee reduce the size of the set, they appear to have printed fewer cards.
"I think the [1985] print run must have been much less, but I have no proof of that," said Wade. "You can find a lot of the [O-Pee-Chee Hockey] cards from past issues very easily, but these [1985] cards were always harder to find."
Rose has had a similar experience.
"It does seem like there are fewer 1985 [O-Pee-Chee Hockey] cards than other years," he said.
Collectors who were able to track down packs of these cards must have been disappointed when they opened them because while the pack price (35 cents) remained the same as the previous year, O-Pee-Chee reduced the number of cards inside by more than 50%, from 15 in 1984 to seven for this issue. The 1985 packs did, however, contain one insert sticker that featured either a 1984 All-Star or one of the 21 NHL team logos.
O-Pee-Chee also introduced box-bottom cards for this issue. Each box had one of four different, four-card panels. One of the panels featured Lemieux, while another showcased Gretzky. These yellow-bordered cards flaunt different photos than the regular cards and had to be hand cut off of the boxes.
"The problem with those cards is that the bottom of the boxes would get scuffed up," said Wade.
There has yet to be a PSA GEM-MT 10 box-bottom card of either Lemieux or Gretzky. One of the four PSA 9 Lemieux singles sold for $734.99 on eBay in February 2015. Wade feels that these cards are undervalued considering how difficult they are to find in high grade.
"If you're trying to buy and invest, I think those box-bottom cards are still kind of untapped," he said.
Another interesting feature of the 1985 O-Pee-Chee boxes is that they are advertised solely as a 1986 product on the box. This seems to indicate that they were not released until at least January of 1986. It can be concluded with certainty that these cards were not unveiled until after November 14, 1985. That was the date that the Boston Bruins traded Pete Peeters (card #75) to the Washington Capitals for Pat Riggin (card #136), and their cards have a notation to reflect this transaction.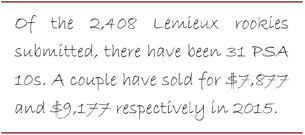 The 1985 O-Pee-Chee Hockey set may not harbor the quantity of Hall of Famer rookies that its predecessor does, but the stature of the Lemieux rookie makes it an elite modern issue.
Of the 2,408 Lemieux rookies submitted, there have been 31 PSA 10s. A couple have sold for $7,877 and $9,177 respectively in 2015.
"I keep trying to get a PSA 10 Lemieux, but it's gone up significantly [in price] three straight years," said Wade, who recalls PSA 10s selling for less than $3,000 in 2012.
Unfortunately, collectors have to be wary of counterfeit Lemieux rookies. The best way to ensure that your card is authentic is to buy it in a PSA holder, but if you want to purchase a raw example, you should examine the background of the photo. This background will be a bluish tint on the counterfeits. Also, if you flip the card over, the area behind the statistics on the counterfeits is more of an orange color rather than pink.
As noted earlier, Lemieux is also featured on a Rookie Scoring Leaders single (#262). There are just eight PSA 10s.
Former Calgary Flames defenseman Al MacInnis is the only other Hall of Famer with a rookie card (#237) in this issue. One of the 17 PSA 10s fetched $430 on eBay in February 2015.
A number of other notable NHLers also debut in this offering, including Peter Zezel (#24), Kevin Dineen (#34), Kirk Muller (#84), Ed Olczyk (#86), Kelly Hrudey (#122), Tomas Sandstrom (#123), Dave Ellett (#185), Al Iafrate (#210) and Tom Kurvers (#219).
Boutzis points out that several second-year singles of Hall of Famers are also in this set, including Steve Yzerman (#29), Chris Chelios (#51), Doug Gilmour (#76), Pat Lafontaine (#137) and Cam Neely (#228). Located on the top-left corner of a print sheet - a position that generally makes cards more vulnerable to condition flaws - the Lafontaine is particularly difficult to find with decent left-to-right centering. There has yet to be a PSA 10.
By our count, three dozen Hall of Famers have cards in this issue. Mustachioed hockey legend Lanny McDonald leads off the set and his card is very tough to find in flawless form because it was subjected to additional wear and tear as a result of being on top of collector piles. It's also the final card on the right in the fifth row of a print sheet, an edge-sheet position that made it susceptible to condition woes. The sole PSA 10 McDonald garnered $150 on eBay in December 2014.
Wade and Boutzis also applaud the fact that this set has four Gretzky cards: regular (#120), Goal Scoring Leaders (#257), Assists Leaders (#258) and Scoring Leaders (#259). Not surprisingly, "The Great One's" regular issue single is the most coveted. This card is sometimes found with a diamond cut.
"I've submitted probably four examples of that card myself and they've all been [PSA MINT] 9s," said Boutzis. "I just can't get to that [PSA] 10 grade."
Of the 519 submitted, there are just five PSA 10s, one of which commanded $1,750 on eBay in November 2014.
Two of Gretzky's leaders cards are also elusive in gem-mint grade. There are just two and three PSA 10s of his Goal Leaders (#257) and Scoring Leaders (#259) singles respectively.
Denis Potvin (#25), Peter Stastny (#31), Mark Howe (#35), Ray Bourque (#40), Bryan Trottier (#60), Paul Coffey (#85), Marcel Dionne (#90), Mike Bossy (#130), Ron Francis (#140), Jari Kurri (#155), Mark Messier (#177) and Grant Fuhr (#207) are among the other Hall of Famers in this offering.
The Howe card (#35) has been the most difficult Hall of Famer for Boutzis to track down in top grade. This card is located on the top row of a print sheet next to the Lafontaine, and it's regularly found with a diamond cut. There are just three PSA 10s and four PSA 9s.
Boutzis, Rose and Wade all note that the Pelle Lindbergh memorial card (#110) is another widely sought-after single. Sadly, the Philadelphia Flyers goalie was killed in a car accident on November 11, 1985, when he was just 26 years old. O-Pee-Chee was able to add a black stripe to the lower portion of his card that simply read "1959-1985."
"That was such a tragedy. He seemed to be headed towards a promising career," said Rose. "It was important for me to get that card. I made sure it was one of the first cards that I bought for this set."
There are 24 PSA 10s of the Lindbergh card and one garnered $89.99 on eBay in April 2014.
Rose says the set's first checklist (#165) is one of the most elusive cards to find in pristine form. On top of being checked off by young collectors, this card was also positioned on the bottom-right corner of the print sheet. Twenty-seven have been submitted and there has yet to be a PSA 10.
So while the Lemieux rookie is the main reason to pursue this set, collectors also prize its clean design, strong selection of Hall of Famers and the fact that it appears to have been produced in smaller quantities than its predecessor. Another of the 66 reasons that hardcore hockey collectors might offer to collect this set is that PSA 9s remain relatively affordable and should rise in value in the future.
"In my opinion, it's the nicest looking set of the 1980s," said Wade. "I think it's a great investment…It might be the lowest printed set in the 1980s, and I don't think people are giving it the credit it's due yet."
Boutzis agrees.
"I think, to some extent, it's underappreciated," he said. "I believe this is a very strong set. The Lemieux rookie carries it, but there are many great rookies and second-year cards in it, plus four Gretzky cards. It's such a strong set that I think it will have a bright future."
---
Please feel free to contact Kevin Glew at [email protected] if you have any additional information or comments. Thanks to Dave Rose for providing cards for this article. Please note that the Population Report figures quoted and Set Registry rankings reported are those as of May 2015.