(San Diego, California) -- Visitors to the PSA booth (#5617) at the ComicCon® International: San Diego, July 9 - 12, 2015, will have the exciting opportunity to win a free photo autographed by four of the stars of the 1977 Star Wars© cast.
The photo showing the actors in costume was personally signed by Harrison Ford ("Han Solo"), Mark Hamill ("Luke Skywalker"), Carrie Fisher ("Princess Leia Organa") and Peter Mayhew ("Chewbacca"). The signatures have been certified authentic by PSA/DNA, the autograph authentication division of PSA.
While supplies last, visitors to the PSA booth can receive free samples of PSA-certified Star Wars trading cards and complimentary copies of a special ComicCon edition of SMR magazine with feature stories about Star Wars collectibles. SMR is a monthly magazine filled with useful information about trading cards, autographs and other entertainment, sports and historical memorabilia and collectibles.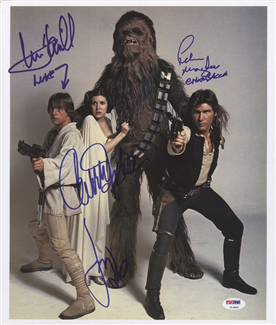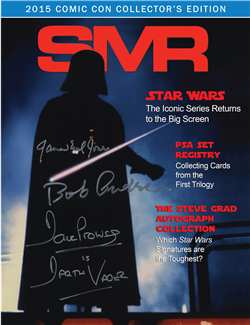 PSA (www.PSAcard.com) is the world's largest trading card, autograph and memorabilia authentication, grading and certification service. Since 1991, PSA experts have examined and certified over 20 million collectibles with a combined value of over $1 billion.
"Star Wars trading cards and cast members' autographs are popular collectibles, and some items bring very high prices at auction. We're seeing a resurgence in market activity now because of the tremendous anticipation about the seventh Star Wars movie that is scheduled for release in December," said PSA President Joe Orlando.
The estimated value of the autographed Star Wars cast photo is $1,000. No purchase is necessary to enter the drawing, and the winner does not need to be present for the drawing. Complete rules and an entry form are online at www.PSAcard.com/ComicCon.
Experts from PSA/DNA Authentication Services will be at the show daily to provide autograph certification services. PSA/DNA will offer a special $10 authentication rate for any autographs obtained at the show and submitted for certification at the PSA booth. Proof of autograph purchase must accompany the signature when submitting it for certification. PSA Customer Service representatives will be at the booth to provide submissions information.
The July 2015 ComicCon International: San Diego (www.comic-con.org/cci) will be held in the San Diego Convention Center 111 W. Harbor Dr., San Diego, California.
For additional information about PSA and PSA/DNA services, visit online at www.PSAcard.com, call (800) 325-1121, or email [email protected].