The current Clean Sweep Auction, ending on Wednesday June 3, is one of the largest auctions that they have offered in terms of sheer physical size of the lots in the auction. Loaded with fresh material and top collections, Clean Sweep thanks the many key consignors and loyal customer base for making this possible. In this time of seemingly endlessly recycled material, this auction should really hit the spot for collectors looking for items that have not been previously offered at public sale.
In a departure from Clean Sweep's traditional auction structure, you'll find so many great game used bats and jerseys in this auction that these categories will open the auction. Items of special note include game used bats from Roberto Clemente and Willie Mays, several fine Yankee jerseys including a 1963 Dale Long, a 1995 Wade Boggs full uniform, a 1996 Jimmy Key, both with LOAs from the Yankees and several items from the personal collection of Charlie Hayes, including 1996 World Series game used equipment, a Barry Bonds 1999 jersey and a Willie Mays 1999 Old Timers Day jersey. Other top items include an A Rod 1996 game used glove inscribed to Keith Hernandez and a Justin Verlander signed gamer. The auction continues with baseball memorabilia. Notable items here include a fabulous circa 1915 Negro League broadside and a simply incredible 1904 Negro League scorecard with Rube Foster and the boxer Jack Johnson.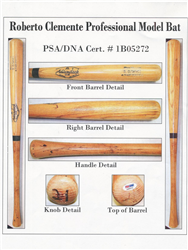 Autographed baseballs are a simply incredible category here. Checking in at possibly over 1,200 balls, you'll find a good run of scarce single signed balls with key HOFers and several rarities, a terrific collection of New York Yankee singles offered by the decade in lots of 100 or more and also a great Red Sox single signed ball collection offered in lots. As if that was not enough, there are also great larger lots with HOFers and current stars. For no sensible reason, these lots represent simply incredible values in today's market, and are worth pursuing even if you are not a dealer as one can save so much money versus buying these individually at retail pricing. Collectors of team balls will see baseballs going back to the 1930s, a new ball with Babe Ruth and Lou Gehrig, several terrific All Star balls from the 1950s and 1960s and some great early Yankee team balls with Thurman Munson, including a 1969, 1970 and 1971.
The Dave Berman Mets collection comes next, to which we devoted the back cover. This is an almost peerless collection with all sorts of unique and special items that were collected by Mr. Berman for more than 30 years. Far too much for one auction, these items will be featured in our next three auctions. Key items in this auction include the best collection in the world of Mets yearbooks, with all four variations of the 1962, including the incredibly rare first edition with the black and white cover, various rare cards including Topps test issues, a 1968 Topps Ryan Rookie in a PSA 8 holder, an exceptionally high quality Topps Mets run and his world class collection of modern Mets cards, numbering over 20,000 in total, offered in lots by year for Topps and by manufacturer for the other companies. These lots represent incredible potential values to bidders. Mets autographed items include some wonderful period items from the 1969 Mets and a great collection of Mets team balls.
Baseball cards are well represented in this auction as well. Notable items include an 1895 Mayo Cap Anson, a great run of the wonderful 1899-1900 large format M101-1 Sporting News premiums with keys Ed Delehanty and Cy Young and a top 1934 Goudey set, offered as singles. In addition, there is a fresh midgrade E95 set and many nice Topps and Bowman sets from the 1950s through the early 1970s. Basketball collectors will see a top quality run of 1957/8 Topps cards in 8 holders, a Beckett 9.5 Gem Mint Michael Jordan 86/87 Fleer Rookie Card and some truly great vintage 1950s autographed items. Hockey collectors will see a beyond stunning quality 1954/55 Topps hockey set, mostly all PSA 8s, offered as singles.
Collectors of historical and entertainment autographs will also see some wonderful items, including a fine George Washington cut signature, an incredible Martin Luther King handwritten speech and signed program and a terrific original eclectic 1950s and 1960s autograph collection offered over many lots.
In many ways, some of the best items are saved for last. The auction ends very well with baseball autographed flat items. Highlights include several fine signed card sets, a truly world class collection of Boston Red Sox and Braves-related autographs with a profoundly rare Frank Selee autograph (deceased 1909), which are one of only seven in existence. There is an incredible lot of 2,000 Red Sox 3x5s in one lot, some fine Babe Ruth signed items, a Kid Nichols signed black and white HOF plaque and a fantastic 1950 Cooperstown Program signed by Ty Cobb, Ed Walsh and Cy Young among others.
Be sure to visit www.cleansweepauctions.com and bid before this auction ends Wednesday, June 3, 2015.
Any questions, please contact Clean Sweep Auctions at 516 338 8557, or via email at [email protected]