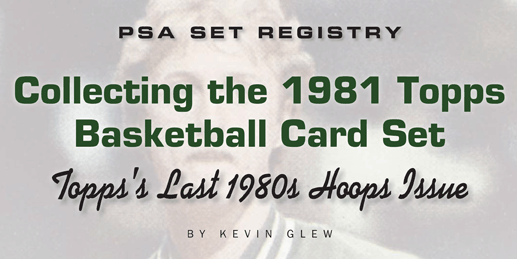 The popularity of Larry Bird and Magic Johnson wasn't enough to halt the demise of Topps basketball sets in the 1980s.
After their 1981 issue - which featured the first full-sized singles of Bird and Magic - Topps stopped producing hoops issues until 1992. It was a decision that cost them the opportunity to release a Michael Jordan rookie.
But whatever Topps's reason was for discontinuing their basketball line, you couldn't say that they didn't try new distribution strategies on their way out. With their 1981 issue, Topps manufactured customized subsets for three U.S. regions.
In their last 1980s hardcourt effort, Topps created 66 cards (#1 to #66) that were available in wax packs across the nation, but they also unveiled three separate, 44-card regional subsets (East, West and Mid-West). Cards from each of these subsets were only available in packs in their respective region.
Treated as a continuation of the national series (#1 to #66), the regional cards were numbered from #67 to #110, but the card numbers were prefaced by the region. For example, someone opening packs in New York would have discovered a combination of national cards (#1 to #66) and "East" cards. (The "East" cards were numbered EAST 67 to EAST 110.)
"I didn't know there were regional sets at the time," said Bill Potter, who owns the No. 2 Current Finest, 1981 Topps Basketball set on the PSA Set Registry. "I lived in Michigan and I was only able to buy Mid-West packs."
Creating regional subsets was an interesting strategy by Topps, but it must have been frustrating for collectors when they realized that they had no chance of pulling cards of stars that didn't compete in their area. For example, West Coast collectors had no hope of finding a Kevin McHale rookie (EAST 75) in their packs, while hobbyists in the East couldn't pluck a Magic Johnson Super Action single (WEST 109) from theirs.
Compounding the confusion was that the pack design was the same for each region. Even today, collectors purchasing unopened boxes can't tell what region the cards are from until they open a pack and examine the card numbers.
But at least Topps tried something different for their final 1980s hoops issue, and the design of the cards themselves was a step up from their three-panel, 1980 predecessors.
The white-bordered fronts on the regular 1981 cards showcase large photos. Like many of the Topps issues from that era, a lot of the pictures were snapped in Washington. The frames surrounding the photos are color coordinated for each team and the player's position, name and team are indicated in a partial starburst on the bottom-left corner. A second small starburst can be found on the lower right if the player changed teams during the production process.
"I like the design of these cards because most of the key cards have action shots," said Barry Call, who owns the No. 4 Current Finest, 1981 Topps Basketball set on the PSA Set Registry. "There are some good pictures of the players and the color is strong on them."
The horizontal backs offer brown-and-orange print on gray stock. The card number is indicated inside a ball and hoop graphic on the top-left corner, with the player's name and vitals (e.g., Height, Weight, School, etc.) to the right. The player's statistics and biographical information ensue, and a cartoon on the left illustrates a fact about the player.
Twenty-three Team Leader cards (#44 to #66) are among the national cards in the series. These shine the spotlight on each team's scoring, rebounds and assists leaders. Some of these cards are particularly coveted because they boast multiple photos of Hall of Famers. The Boston Celtics card (#45), for example, features two photos of Larry Bird.
Call says the Milwaukee Bucks (#56) and New Jersey Nets (#57) cards are two of the most difficult singles to find in top condition. Both are frequently found with print defects and there's just one PSA GEM-MT 10 of each.
At the end of each regional subset, there are Super Action cards of many of the top stars of the era. All of the players featured on these singles, with the exception of Kevin Porter, are showcased on separate, regular singles in the national series (#1 to #66). The fronts of the Super Action singles present exciting action photos, but you have to flip the card over to find the player's name. The backs also offer the player's collegiate and playoff statistics.
Potter says the Bird Super Action single (EAST 101) is the set's toughest card to find in flawless form. Of the 581 submitted, there are just five PSA 10s.
"The reason I would say it's the most elusive is because it's almost never centered [left to right], and there have been so many submissions on it," said Potter. "I've probably had 1,000 of them and I've only had eight or 10 that were worth submitting."
One of the PSA 10s sold for $1,495 on eBay in September 2013.
With a few exceptions, the national cards and cards in the regional subsets are sequenced alphabetically by team city. Within each team grouping, the cards are, for the most part, in alphabetical order by the player's last name.
Topps increased the price of packs from 25 to 30 cents for this issue and there were 13 cards in each pack. Potter says he used to be able to buy 36-pack wax boxes for $150 to $200, but now they sell for closer to $400.
"There are very, very few wax boxes left," he said.
Potter has opened boxes from each region, but in his experience, the "West" packs are the most elusive today.
The Kevin McHale card (EAST 75) is the sole Hall of Famer rookie in the set. Of the 1,421 submitted, there have been 37 PSA 10s, one of which sold for $1,399.99 on eBay in December 2014.
"The McHale rookie dominates the set," said D'Orsay Bryant, who has assembled the No. 1, 1981 Topps Basketball set on the PSA Set Registry.
The second-most notable rookie is the Bill Laimbeer card (MID-WEST 74). There are just four PSA 10s, and Bryant says this card is often found with poor centering and print defects.
"I just obtained my PSA 10 this year and I've been looking for that card for 20 years," he said.
One PSA 10 Laimbeer rookie fetched $749.99 on eBay in May 2014.
Several other notable NBAers also debut in this issue, including Darrell Griffith (#41), Mike Gminski (EAST 78), Rick Mahorn (EAST 98), Joe Barry Carroll (WEST 71), Larry Smith (WEST 75), Jim Paxson (WEST 87), Vinnie Johnson (WEST 99), Mike Dunleavy (MID-WEST 85) and Ernie Grunfeld (MID-WEST 94).
Bryant counts nine players with rookies in this set that have gone on to become head coaches in the NBA.
Another feature Bryant finds alluring about this set are the rookies of players who later played for the Detroit Pistons' championship-winning, "Bad Boys" squads in 1989 and 1990.
"You not only have Bill Laimbeer's rookie card, but you have the Vinnie Johnson and Rick Mahorn rookies," said Bryant. "These players were drafted by different teams, but they were the real foundation of those Bad Boys teams."
As noted earlier, this set also harbors the first, full-sized singles of Bird and Johnson. There are 43 PSA 10s of the Bird single (#4) and 52 PSA 10s of Johnson (#21).
"The [PSA 10] Bird cards have been averaging around $850 to $875 on eBay," said Call. "The Magic card usually sells for half that amount. The Celtics won the championship in 1981, so that might have something to do with it."
A long list of other Hall of Famers are also in this set, including Nate Archibald (#3), Robert Parish (#6), Artis Gilmore (#7), Dan Issel (#11), Moses Malone (#14), Kareem Abdul-Jabbar (#20), Julius Erving (#30), George Gervin (#37) and Adrian Dantley (#40).
As of press time, there were nine cards - including the aforementioned Nets and Bucks Team Leaders singles - that have only one PSA 10 example each. This includes the cards of Abdul Jeelani (MID-WEST 77), John Long (MID-WEST 83), Mike Bantom (MID-WEST 89), Grunfeld (MID-WEST 94), Checklist 1-110 (WEST 97), Dave Corzine (MID-WEST 101) and Ben Poquette (WEST 105).
Bryant, Call and Potter have all had troubles finding the checklist from the West series (WEST 97) in high grade.
"The West checklist is ridiculous. There are only 10 PSA [MINT] 9s and one [PSA] 10," said Call. "That's the only PSA [NM-MT] 8 I have in my whole set and a lot of people are in the same category."
Bryant recently obtained the sole PSA 10 of this checklist.
"That's a very, very difficult card to even see in a [PSA] 9," said Bryant. "I have a lot of raw examples and they're all off center."
Potter adds that the Poquette (WEST 75) is another "West" series single that's rarely found properly centered.
"I was fortunate enough to get one out of all my packs that was worth grading, and I got a [PSA] 10 on it, which is the only one in existence," he said.
Potter adds that poor centering is a problem on many cards from this issue.
"The centering is so incredibly terrible," he said. "You can open a box and know right away whether the box is going to be good or bad. After about five or six packs, if the cards aren't [turning out] centered, you're not going to get any centered cards in the whole box, generally speaking."
The scarcity of some of the 1981 cards in PSA 10, combined with the set's solid player selection and its relative affordability, should make it more popular in the future.
"There should be more interest because it's a very tough set to obtain in high grade," said Potter. "I don't think it has caught on yet, but I believe that collectors will catch on [to it eventually] because this set has got great value."
---
Please feel free to contact Kevin Glew at [email protected] if you have any additional information or comments. Thanks to D'Orsay Bryant for providing cards for this article. Please note that the Population Report figures quoted and Set Registry rankings reported are those as of April 2015.